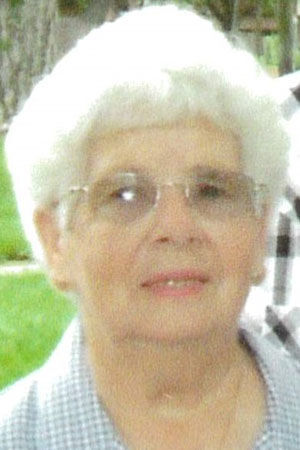 Elma Jean "Jeanie" Vanover Stevens Meckem,86, loving mom and grandma passed away peacefully surrounded by her family on Saturday, July 18, 2020 at her home. She was born on August 23, 1933 in Prairie Grove, AR. Her parents were George and Blanche Asher Vanover. Jeanie married Junior Lloyd "Shorty" Stevens on August 31, 1951. Five children were born of this union: Gerald Wayne "Jerry", Karen Lynn, Jim Dean "Jimmy", Lisa Kay and Kim "Kimmy" LaRae. Jeanie and Shorty later divorced. On December 23, 1974, she married Milton Meckem and he was the love of her life. Jeanie attended the Salvation Army Church where she helped with Sunday School and Summer Bible School. She also secured a job as the store manager at the Salvation Army Thrift Store where she was known as the "Salvation Army Lady". It was the perfect job for her because she was aware of the hardships people go through in their lives since she had also come from living in poverty. She was known for her kindness, caring and empathy for those in need. She was the epitome of what the Salvation Army is all about. Her life was a living example of Ephesians 4:32 "And be ye kind one to another, tenderhearted, forgiving one another, even as God for Christ's sake hath forgiven you." She worked at the store for 37 years, retiring in the year 2000.
Jeanie also did a lot of babysitting, sometimes for free. She loved babies, some of those "babies" still recognize and stayed in touch with her. After her retirement they became "snowbirds" going to camp in the desert in Arizona. They dry camped for nine years from October to March of each year. While there they made many new friends that they have stayed in touch with after they decided not to camp anymore. Milton and Jeanie had a lot of good times in the 40 plus years they were married. It was a tremendous life changing loss for Jeanie when Milton passed away on December 15, 2015. Jeanie enjoyed collecting cookbooks and trying out new recipes on the family. She also like playing pitch, dominoes, doing word search, looking at old pictures and telling the story behind them and of course going to thrift stores. She loved country music especially Johnny Cash, Neil Diamond and Alan Jackson. She loved the Vanover and Stevens reunions and getting to see extended family she had not seen for a while. You could say she had the "gift of gab" she loved to talk. The best moments of her life were the years with Milt and her children, grandchildren, great-grandchildren. She had many friends but her lifelong friend of 68 years was Ruth Stevens, she was always there for her to talk, shop and help each other with their children, housework, laundry, cooking, or whatever else was needed.
Jeanie is survived by her five children, Gerald (Karen) Stevens of Beatrice, Karen (Dan) Oehm of Valdosta, GA, Jim (Cindy) Stevens of Beatrice, Lisa (Steve) Martin of Omaha, and Kim (Dennis) Crosier of Lincoln; two step-children, Brenda (Pat) Greenwood of Orangeburg, SC and Gail (Jeff) See of Firth; 21 grandchildren and 36 great-grandchildren; half-sisters, Bonnie (Ron) Lee of Broken Arrow, OK, Doris Hodson of Topeka, KS, Janice Longan of Anderson, MO; three children that Milton helped raise, Marvin, Loren and Mark Baird and their children and grandchildren. Jeanie was preceded in death by her parents, first husband, Junior "Shorty" Stevens; second husband, Milton Meckem; sister, Betty Chandler; half-sisters, Connie Johnson and Barbara Sanders; half-brothers, Daniel, George,Jr., Billy and Donald Dean Vanover; one great-grandchild, Sean Stevens Coy.
Private family funeral services will be held at 10:30 a.m. on Friday, July 24, 2020 at Fox Funeral Home of Beatrice with Chaplain Sharon Schuster officiating, casual attire is requested. Burial will be at the Pleasant View Cemetery of rural Pickrell at approximately 11:15 a.m. on Friday with social distancing the public is invited to meet at the cemetery. The body will lie in state at the Fox Funeral Home from noon Wednesday until 8:00 p.m. on Thursday and then one hour preceding the service on Friday. Social distancing will be practiced at the service and visitation. Masks are required at the service. Memorials are suggested to the family's choice in care of Fox Funeral Home. Condolences may left online at www.foxfuneralhome.net Arrangements entrusted to Fox Funeral Home of Beatrice.
To send flowers to the family of Elma Meckem, please visit Tribute Store.
Obituaries Newsletter
Sign up to get the most recent local obituaries delivered to your inbox.