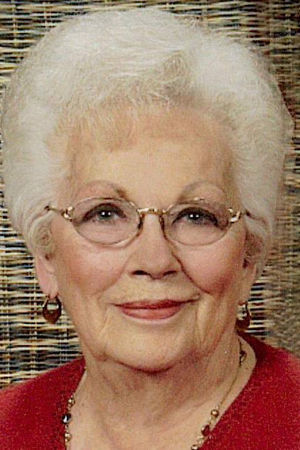 Eula Mae "Judy" Meints, 93, of Beatrice passed away at the Beatrice Community Hospital on Tuesday, January 14, 2020. She was born on May 19, 1926 at Lanham, attended High School in Odell and then graduated from Beatrice High School in 1943. Judy married Lloyd Meints on June 10, 1945. She worked at Dempsters in the shell plant, J.C. Penney's, and at the Beatrice State Developmental Center for 17 years, retiring in 1989. She was a member of St. John Lutheran Church of Beatrice. She was also a member of the American Legion Auxiliary of Beatrice. She enjoyed traveling, camping, dancing, her many friends, and especially her family. Judy loved to spend her weekends listening to a good band and being on the dance floor dancing the night away. Everyone commented on how great a dancer she was. And she was! In her later years one of her biggest joys was being able to live out the rest of her days in the comfort of her own home where she could continue to have family gatherings. She loved the times spent with her sons, grandchildren, and great-grandchildren in her home creating lifelong memories. To write down a few words to express a reflection of what made Judy so special in this world is an impossible task. Her capacity for loving family and friends, or the compassion she showed towards any stranger was endless. Most of all, she was totally devoted to her Lord and Savior, Jesus Christ. She started and ended each day of her life in prayer. Although Judy's work here on earth is done her family has the greatest satisfaction knowing her main goal in life has been achieved. She is now living with her Lord and Savior and once again dancing to her heart's content.
Survivors include three sons, Ronald Meints, Michael (Karen) Meints and Robert Meints, all of Beatrice; seven grandchildren, Alissa (Dan) Hansen, Charlene (Jesse) Howard, Christina (Justin) Zaruba, Jason (Katie) Meints, Brian (Chelsea) Meints, Ryan (Tiffany) Meints, and Nathan Meints; ten great-grandchildren, Aspen and Rune Hansen, Kaylee Kelley, Weston, Alexys and Lincoln Howard, Evan and Ava Zaruba, Madelyn and Emma Meints; sister-in-law, Dona Wieden; nieces and nephews. She was preceded in death by her parents, Henry and Minnie (Leuhring) Wieden; her husband, Lloyd, who died January 11, 1981; father-in-law and mother-in-law, George and Minnie Meints; brothers, Verlyn and Darrell; daughter-in-law, Dottie Meints; two sisters and one brother who died in infancy.
Memorial services will be held at 11:00 A.M. on Monday, January 20, 2020 at St. John Lutheran Church of Beatrice with Pastor Leah Lawson officiating. Inurnment of the cremains will be in the Evergreen Home Cemetery of Beatrice. A family prayer service will be held at 10:45 A.M. on Monday in the church chapel. There will be no viewing or visitation. A memorial has been established to St. John Lutheran Church for future radio broadcasts. www.foxfuneralhome.net Fox Funeral Home of Beatrice is in charge of the arrangements
Obituaries Newsletter
Sign up to get the most recent local obituaries delivered to your inbox.