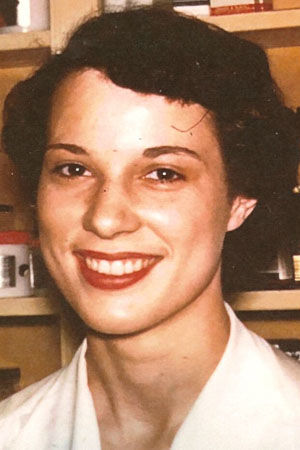 Garoldene "Gari" Ann (Gormley) Pinkerton, 90, of rural Blue Springs passed away on January 11, 2021. Gari was born March 23, 1930 in Beatrice to Garold Arthur and Vera Adeline (Brown) Gormley. Gari graduated from Beatrice High School in 1948, having also spent time in Washington, Arkansas, California, and Colorado due to her father's military career. After marrying her high school sweetheart, George E. Pinkerton, on May 28, 1951 at St. Joseph's Catholic Church in Beatrice, she raised nine children and expertly managed a farming household for almost seven decades. Once her children were older, Gari pursued a college education and received her Bachelor of Arts degree from the University of Nebraska – Lincoln in December of 1986. She began a career as a Probation Officer for the 1st District Court in Beatrice on October 13, 1987 until her retirement January 31, 2002. Gari was an exemplary hostess and enjoyed hosting dinner parties and bridge games for friends, along with countless family gatherings. In addition to her family and her career, she enjoyed traveling, needlework, crossword puzzles, and reading – collecting books by the hundreds. She was an active member of St. Joseph Catholic Church in Beatrice.
Gari is survived by her children: George (Linda); James (Judith Collins); Thomas (Jennie); Daniel (Peggy); Katherine; Elizabeth (Terry) Schuster; Robert (Lenece); David (Rhonda); daughter-in-law Pam Pinkerton Gerdes; 29 grandchildren; 35 great-grandchildren; one great-great-grandchild; sister-in-law Cecilia Linscott; many nieces and nephews. Gari is preceded in death by her husband of 68 years, George; her parents and four infant siblings: Joan Marie (1933), Unnamed Girl (1934), Nancy Lee (1935) and Loran Wesley (1937); son Michael Pinkerton (2005); great-granddaughter Ellie Lutjemeier (2013); brother and sister-in-law Dean and Betty (Bertsch) Gormley; brother-in-law Kenneth Pinkerton and sister-in-law Ardath (Young) Pinkerton (2020); and brother-in-law Dean Linscott (2014).
Gari was a model of faith, intellect, hospitality, and sophistication. The examples that she set for her family and all she encountered will not soon be forgotten. It was always amazing that such a diminutive person could be such an enormous influence on all our lives. Her strength, her love, her wisdom is our loss. Gari was without a doubt the matriarch of a large, close family. She embraced life with a loving smile and good intentions to all her family. Each of us will miss her in our own special way. "The pain of parting is nothing to the joy of meeting again" (Nicholas Nickleby, Charles Dickens)
Mass of Christian Burial will be held at 12:00 p.m. Saturday, January 16, 2021 at St. Joseph Catholic Church with Father Robert Barnhill officiating. The services will also be Livestreamed on the funeral home Facebook page. Interment will be at the St. Joseph Catholic Cemetery. Public visitation will be held Friday from 10:00 a.m.-8:00 p.m. at the Griffiths-Hovendick Chapel in Beatrice. Rosary will be held at 11:30 a.m. Saturday at the church. Masks and social distancing are required at all events. A memorial has been established to the Gari Pinkerton Scholarship Fund with the funeral home in charge. Sign Gari's online guest book and view her video tribute when completed at www.ghchapel.com. These services have been entrusted to the Griffiths-Hovendick Chapel in Beatrice.