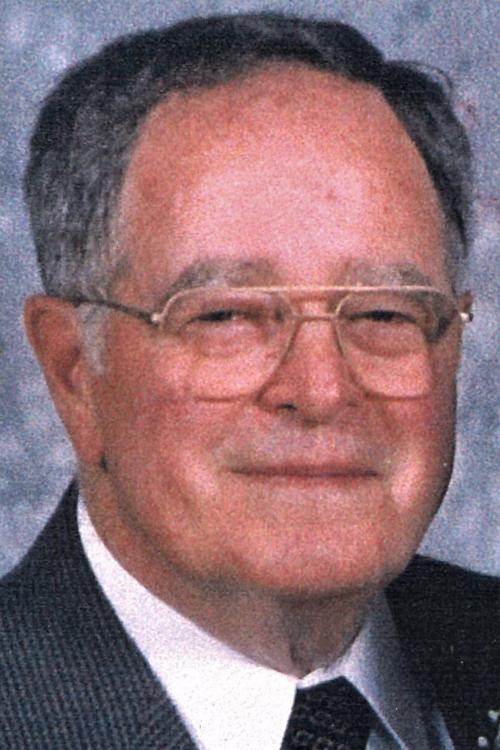 George E. Pinkerton, 90, of rural Blue Springs, passed away October 30, 2019, after a long struggle with Parkinson's Disease. George was born August 29, 1929 in Omaha, to George R. and Harriet K. (Klotz) Pinkerton. George lived a long eventful life. He graduated from Beatrice High School, class of 1947; he was a 1951 Graduate of the University of Nebraska-Lincoln with a degree in Agriculture. He served his country during the Korean War as a Lieutenant, retiring as a Captain in the Army Reserve. George operated a successful farming operation in Gage County for over 50 years; at the same time, he was employed for 30 years as an Engineer for Burlington Northern Railroad. He enjoyed hunting with friends and family, fourth of July celebrations, and family dinners. He was a member of St. Joseph Catholic Church, Beatrice, and was a member of the Knights of Columbus.
You have free articles remaining.
Preceded in death by his parents; son Michael Pinkerton (2005); great-granddaughter Ellie Lutjemeier (2013); brother-in-law Dean Linscott (2014); and brother and sister-in-law Dean and Betty Gormley.
Survivors: wife of 68 years Garoldene "Gari" Gormley Pinkerton; children George (Linda); James (Judith Collins); Thomas (Jennie); Daniel (Peggy); Katherine; Elizabeth (Terry) Schuster; Robert (Lenece); David (Rhonda); daughter-in-law Pam Pinkerton Gerdes; 29 grandchildren; 35 great-grandchildren; one great-great-grandchild; sister Cecilia Linscott; brother Ken (Ardie) Pinkerton; many nieces and nephews.
George died as he lived: with courage, strength, and honor. George's family will be buoyed by remembering these qualities, as well as his tenacity, generosity, and wisdom; he often said that if you know which way is north, you can never be lost.
Mass of Christian Burial service 10:30 A.M. Tuesday, November 5, 2019 at St. Joseph Catholic Church with Father Robert Barnhill in charge. Interment at the St. Joseph Catholic Cemetery with military honors by the United States Army and Bitting-Norman Post #27, American Legion. The body will lie in state on Monday from 9:00 A.M.-5:00 P.M. at the Griffiths-Hovendick Chapel in Beatrice. A scriptural prayer service will be held at 5:30 P.M. Monday at St. Joseph Catholic Church with the family greeting friends following in the Parish Center at the church. In lieu of flowers, a memorial has been designated for a scholarship fund with the funeral home in charge. Sign George's online guest book and watch his video tribute when completed at www.ghchapel.com. These services have been entrusted to the Griffiths-Hovendick Chapel in Beatrice.
To plant a tree in memory of George Pinkerton as a living tribute, please visit Tribute Store.