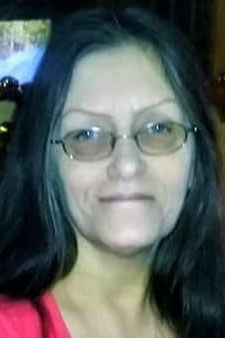 You have free articles remaining.
Judith A. Knowles, 59 years of age, of Beatrice passed away at Beatrice Community Hospital Wednesday morning, October 30, 2019. She was born on September 7, 1960 in Beatrice to William and Donna (Meyer) Murray. She was raised in Joplin, MO and attended St. Mary's Catholic Church; moved back to Beatrice in 1968 and attended Paddock Lane Elementary and St. Joseph Catholic School, and then moved to Plymouth and attended Tri County School. Judith and Michael G. Knowles were married on October 4, 2004. She had been employed as a CNA at Good Samaritan Center, Beatrice Manor and Parkview Center, and at CRT and MB Distributing. She enjoyed flowers and plants; loved Halloween, Christmas and Super Bowl parties; music; was a Chicago Bears fan; and loved spending time with her grandchildren.
Survivors include husband Michael; children Heather Hartung and significant other Jason Williamson of Table Rock, Nathan Hartung and significant other Bobbie Rodriguez of Beatrice, Farren Hartung and significant other Terrance Whiting of Beatrice, and Faith Knowles and significant other Brandon Putnam of Beatrice; siblings Dort Hanshaw and husband Doug of Virginia, Mary Bock and husband Mike of Beatrice, William Murray and wife Debbie of Beatrice, Steve Meyer and wife Alicia of Palo Alto, CA, and Joe Meyer and wife Kim of San Bruno, CA; 11 grandchildren and 1 great-grandchild; many nieces and nephews and great-nieces and nephews. She was preceded in death by her parents; stepfather Harold Meyer; brother Tom Meyer; niece Kaitlin Meyer; parents-in-law Thelma and Howard Knowles; brother-in-law Robin Whitmore; and friends Retha Morehead, Rick Rowden Sr., Tom Retchless and Ed Parker.
Funeral services will be held at 1:00 P.M. Sunday, November 3, 2019 at the Griffiths-Hovendick Chapel in Beatrice with Chaplain Sharon Schuster officiating. The body will lie in state Saturday from noon-8:00 P.M. at the funeral home with the family greeting friends from 4-6:00 P.M. and on Sunday from 12:00-1:00 P.M. In lieu of flowers, a memorial has been established to the family's choice with the funeral home in charge. Sign Judith's online guest book and watch her video tribute when completed at www.ghchapel.com. These services have been entrusted to the Griffiths-Hovendick Chapel in Beatrice.
To plant a tree in memory of Judith Knowles as a living tribute, please visit Tribute Store.