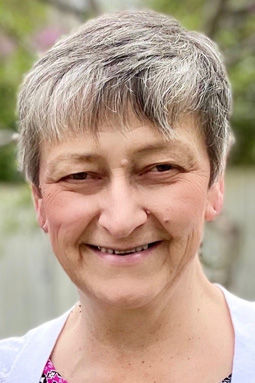 Karen Lynn (Grefe) Reynolds
Karen Lynn (Grefe) Reynolds, age 59 years, passed away at the Monarch House in Lincoln, Nebraska, on July 1st, 2020 after a hard-fought battle with ovarian cancer. She was born on April 28, 1961, in Beatrice, to Alwin and Rosella (Niemeier) Grefe. She was baptized and confirmed at Immanuel Lutheran Church.
Karen grew up on her family farm east of Plymouth. After attending First Trinity-Immanuel Lutheran School from Kindergarten to 8th grade, she graduated from Tri County High School in 1979. She then graduated from Doane College with a double major in music and elementary education and received a master's degree from the University of Nebraska-Lincoln.
Karen was united in marriage with Jeffrey Reynolds on June 28, 1986, at Zion Lutheran Church, rural Harbine. Two children were born to this union: a son, Curtis, and a daughter, Krista. The family became members of First Trinity Lutheran Church in May 2010.
Karen dedicated her life to teaching. She began her career as the vocal music instructor at Fairbury High School for nine years from 1983 until 1992. After that she returned to her alma mater and taught for 25 years at Tri County High School from 1992 until 2017. She left a rich legacy at both schools. Most notably she put her stamp on the annual POPS concert at Tri County and provided countless concerts, honor choir trips, and extra opportunities for students.
Karen also was passionate about music. One of her first jobs was playing piano and organ for many area churches. She was a member of the Fancy Free Band from 1982 until 1996 where she met her husband, Jeff. The band reconvened for a "reunion tour" in the summer of 2012. Karen was also active at Beatrice Community Players and with the Beatrice Children's Theatre, serving as president for several years.
Most of all, Karen led a life of service. After retiring from teaching in 2017, Karen continued to be involved at Tri County Schools as a long-term office sub. She also took up a leadership position with the local TeamMates program as well as served on the board for the Plymouth Library. For many years she assisted her husband, Jeff, with the creation and running of the Tri County Legion Baseball organization.
Karen was preceded in death by her husband, Jeffrey Reynolds; her parents Alwin and Rosella Grefe of Plymouth; sisters Mary Lee Grefe and Linda Grefe of Fairbury; and brothers-in-law Wayne Reith and William "Bill" Reynolds.
Survivors include son Curtis of New York City, daughter Krista of Omaha; a sister, Barbara (Don) Ruhnke of Fairbury; parents-in-law Clifford and Harrietta Reynolds of Beatrice; sister-in-law Jennifer (Clark) Bauer of Gibbon; brother-in-law Andrew (Heidi) Reynolds of Norfolk; nieces and nephews: Tim (Kendra) Reith of Minden, Stephanie (Bruce) Wetter of Washington, Kansas, Hallie (Chad) Hartman of Gibbon, Carlie Bauer of California, Alexandra Bauer of Gibbon, Natalie, Sydney, and Ashlyn Reynolds of Norfolk, and many other relatives and friends.
Celebration of Life Services will be held at 10:30 a.m. Wednesday, July 8, 2020, at Peace United Methodist Church in Plymouth. To comply with current pandemic guidelines, family members and Tri County Schools staff and administration are invited to attend the service at the church. For all other guests, the service will be live-streamed at the Plymouth Community Center as well as on the funeral home's Facebook page. Inurnment will be at the Immanuel Lutheran Cemetery, R. Plymouth. Public visitation will be held from 9:00 a.m.-9:00 p.m. Tuesday at the funeral home with the family greeting friends from 5:00-8:00 p.m.. Due to the current pandemic situation, everyone is asked to wear a mask to all these events and practice social distancing. There will also be no public reception following the services.
A family prayer service will be held at 10:15 a.m. Wednesday at the church. In lieu of flowers, memorials to the Jeff and Karen Reynolds Scholarship Fund, Karen Reynolds Memorial Scholarship Fund at Community Players, the Reynolds TeamMates Scholarship Fund, and the Tri County Music Department with the funeral home in charge. Sign Karen's online guest book and watch her video tribute when completed at www.ghchapel.com.
These services have been entrusted to the Griffiths-Hovendick Chapel in Beatrice.
Obituaries Newsletter
Sign up to get the most recent local obituaries delivered to your inbox.