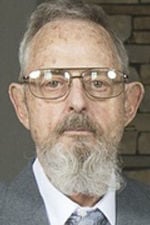 Milford LeRoy Smith, 82, of Odell, passed away on May 21, 2020 at Goldcrest Nursing Home in Adams. He was born on September 26, 1938 in Long Pine, Nebraska to Robert L. and Emma (Lambrecht) Smith. He graduated from Chadron High School in 1956 and from Chadron State Teacher's College in 1960. In 1960 he also married the love of his life Betty (Adsit) Smith. He completed his Master of Education and Educational Specialist Degree at the University of Nebraska-Lincoln. Milford was a lifelong proponent of education. He taught in Sunol, Bridgeport, Long Pine and Brewster, before becoming the Superintendent of Schools at Brewster. In 1972, he became the Superintendent at Odell Public schools where he served for 29 years. Smitty, as he was known to his friends, was an avid advocate for rural Nebraska Schools. He was appointed by Governor Ben Nelson to serve as a member of the property tax review committee and served on Ben Nelson's commission on local government innovating and restructuring committee. Twice he had the honor of being appointed an Admiral of the Great Navy of the State of Nebraska. Once by Governor Ben Nelson on Sept. 26, 1998 and again by Governor Mike Johanns on April 2, 2000. He was awarded the District 1 Honor Award from the Nebraska Council of School Administrators in 1995 and in 2000 was awarded the Outstanding Superintendent Award by the Nebraska Rural Community Schools Association. Upon retirement, Smitty helped co-found the Nebraska Coalition for Education Equity and Adequacy to make sure small Nebraska schools had a voice in the Nebraska legislature.
In the Odell community he was active in the Odell Community Foundation, Odell Volunteer Fire and Rescue Department, and served on the Village Board. He was a member of the Odell Area Community Enrichment Organization and was named volunteer of the year in 2007. Smitty was an avid outdoorsman and loved to fish, loved to travel and loved to joke. He was a lifelong Husker fan, enjoyed cooking and was known to cross-stitch while supervising the MUDECAS Basketball Tournaments. To others he was known for his poetry and by his pen name "The Southern Gage Sage."
Milford is survived by his wife of 59 years, Betty Smith of Adams, three daughters, Sheri (Mark) Christensen of Milford, Sandy Renken of Adams, and Sonja (Stephen) Peetz of Wahoo, and Foreign-Exchange Student son Fausto Almeida of Ecuador, 7 grandchildren (Stephen Christensen, Caitlynn Ensley, Kendall Shinn, Brannon Renken, Shannon Arena, Brendan Arena, and Bryanna Landkamer) as well as 2 great-grandchildren, sister Hazel Thomas of Louisiana and numerous nieces and nephews.
He was preceded in death by his parents Robert L. and Emma Smith, his sisters Elsie Amick, Mary McKenzie, and Gladys Eckley, and grandson Matthew Cole Christensen.
Funeral Services will be held at 10:00 a.m. on Wednesday, May 27th, at the Our Savior Lutheran Church in Odell with Pastor Greg Stuckwisch officiating. Visitation will be from 1:00 p.m. to 7:00 p.m. on Tuesday, May 26th, at the Vance-Gerdes Funeral Home in Odell. Interment will be in the Odell Cemetery, Odell, Nebraska.
Current social distancing guidelines will be followed at all services. In lieu of flowers, memorial contributions may be made at Odell State Bank for a scholarship fund to Diller-Odell Public Schools. Online condolences may be sent to www.gerdesmeyerfh.com
Obituaries Newsletter
Sign up to get the most recent local obituaries delivered to your inbox.