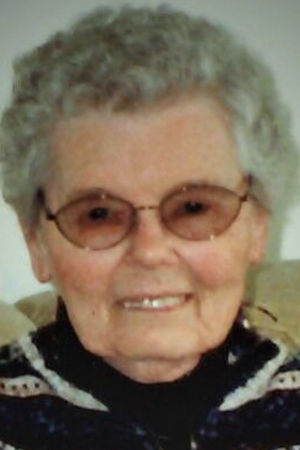 Naomi Spielman, 95 years of age, of Beatrice passed away at Beatrice Health and Rehab Saturday morning, September 7, 2019. She was born on May 14, 1924 at Cook to Henry and Anna (Hesterman) Rosenthal. She moved with her parents to Beatrice in 1929 and attended School District 150 and St. Paul Lutheran Schools. Naomi was employed at the former Lutheran Hospital. Naomi and Herman Spielman were married on February 28, 1943 at St. Paul Lutheran Church in Beatrice and they resided in Endicott, and then to a farm near Oketo, KS. They later moved to Lincoln where Naomi was employed by Safeway Food Stores for nearly 23 years and retired in 1973. They moved to Camdenton, MO and then to Lewiston, NE where she worked part time for Maple Grove Nursing Home. They then moved to DeWitt and then to Beatrice. Naomi was a member of the St. Paul Lutheran Church in Beatrice. She enjoyed bowling, golfing, quilting, crocheting and knitting.
Survivors include many nieces and nephews. Naomi was preceded in death by her parents; husband Herman (2005); brothers John, Oscar, Arthur, Arnold, Delmar and Eldon Rosenthal; and sister Madonna Waltke.
Funeral services will be held at 10:30 A.M. Friday, September 13, 2019 at the St. Paul's Lutheran Church in Beatrice with Reverend Timothy Wagner officiating. Interment will be in the Zion Lutheran Cemetery, R. Harbine. The body will lie in state Thursday from 10-8:00 at the Griffiths-Hovendick Chapel in Beatrice and at the church one hour preceding the service on Tuesday. A family prayer service will be held at 10:15 A.M. Tuesday at the church. A memorial has been established to the church with the funeral home in charge.