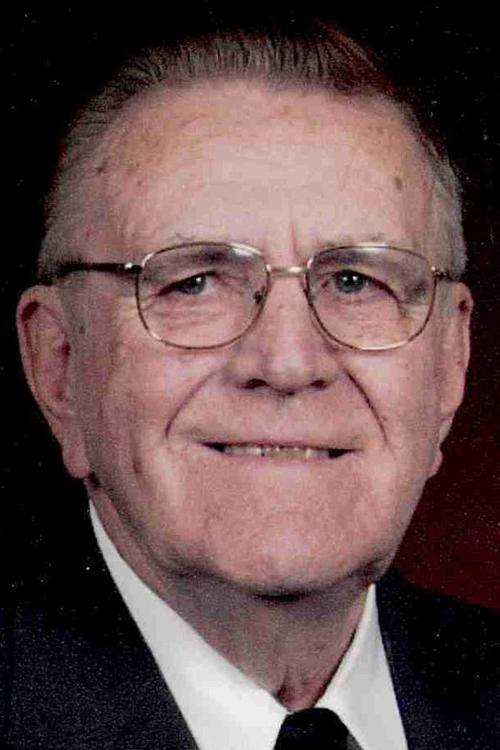 Virgil R. Riens, 89, of Beatrice passed away October 10, 2019 at Beatrice Good Samaritan Society. He was born December 26, 1929 at rural Pickrell and was baptized and confirmed in the Lutheran faith. He attended rural grade school until moving to Beatrice with his parents and then attended Beatrice Public Schools. He married Bethel A. Nickeson on October 9, 1949 at St. John Lutheran Church of Beatrice. Virgil served in the 134th Division of the National Guard. He was employed by his father, working on automobiles, then for Paul Logan dealership until he and Bethel moved to a farm near Ellis, then Swanton, where they farmed until moving to DeWitt in 1959. He served on the DeWitt Board and Trinity Lutheran Council, along with the Ellis Cemetery Association. He also worked for Dempsters and Steel Tanks. He then became a salesman for Peet's Feed in the Saline, Jefferson and Gage County area for 40 years until his retirement. They moved to Beatrice in 1984. He was a member of Holy Cross Lutheran Church of Beatrice. In his retirement years, he enjoyed garage sales, repairing bicycles and clocks. In later years, he spent much time watching and feeding his backyard birds and other wildlife. He loved his family and often you would see him cruising the neighborhood on his scooter with his beloved little dog on his lap.
Survivors include his wife, Bethel of 70 years; three children, Judy (Darol) Grummert of Daykin, Larry (Carol) Riens of Beatrice and Dan (Cindy) Riens of North Platte; ten grandchildren, Matthew (Leslie) Grummert, Mitchell (Traci) Grummert, Michael (Keri) Grummert, Curtis Riens and girlfriend Taneil and her daughter, Tenli, Kelsie (Cory) Schroeder, Kimberly (Tyler) Raasch, Brett (Jennie) Griffeth, Kristal (Kip) Shestak, John (Nancy) Riens, Jesse (Michelle) Riens; 15 great-grandchildren, Alysa and Lilly Grummert, Bronx Grummert, Eric (Sarah) Bridgmon, Wyatt, Weston and Jackson Grummert, Tristan and Preston Raasch, Cade Schroeder, Ayden and Kasen Griffeth, Kooper Shestak, Jaelynn and Wesley Riens; two great-great-grandchildren, Brantley and Jesse Bridgmon; brother-in-law, Eugene Seidel; sister-in-law, Shirley Nickeson; numerous nieces and nephews. He was preceded in death by his son, Johnny D. Riens who died in 1971; parents, Harm and Marie (Parde) Riens; sisters, Eunice McKernan, Janice Seidel and Irene Kracke; brothers-in-law, Robert Kracke, Joe McKernan and William Nickeson; sister-in-law and brother-in-law, Earl and Evelyn Tiemann.
Funeral services will be held at 10:30 A.M. on Tuesday, October 15, 2019 at Holy Cross Lutheran Church of Beatrice with Pastor Kathee Forrest officiating. A family prayer service will be held at 10:15 A.M. Tuesday at the church. In lieu of flowers, a memorial has been established to Holy Cross Lutheran Church and the family's choice with Dallen and Nancy Johnsen in charge. The body will lie in state at the Fox Funeral Home of Beatrice on Sunday from 4:00 P.M. to 8:00 P.M., Monday from 8:00 A.M. to 8:00 P.M. and at the church one hour preceding the services on Tuesday. Burial will be in the Evergreen Home Cemetery of Beatrice. www.foxfuneralhome.net Fox Funeral Home & Cremation Services in charge of arrangements.
To plant a tree in memory of Virgil Riens as a living tribute, please visit Tribute Store.