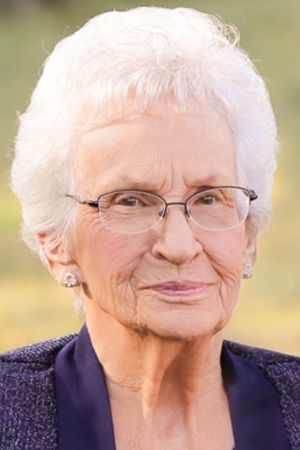 You have free articles remaining.
Virginia LeNell (Vaughn) Lottman, daughter of Clay Price Vaughn Sr\. and Minta Wilhelmina Ridder was born on May 2, 1924, rural Endicott and died Feb. 10, 2020 at her home surrounded by her loving family. She was baptized April 20, 1930 and confirmed at the Endicott United Methodist Church where she was deeply involved with Sunday School, organizations and many activities. She graduated from Endicott High School in 1941 then attended Fairbury Jr College that year being the year it was established. She was employed in Washington D.C. for the Counter Intelligence Division, being the first office to move into the Pentagon after its completion. She then worked at the Bruning Air Force Base, Bruning, and the Kearney Air Base in the Air Craft Inspection Division. She became a confirmed member of St. Paul's Lutheran Church of Diller upon her marriage to Harold (Bud) Lottman of Diller, while on his furlough serving in the Army Air Corp on October 26, 1945 at Zion Lutheran Church, Hanover, KS by Harold's brother-in-law, Pastor Lorin John Wolff. To this marriage three children were born, David, Susan, and Douglas, all of Diller. Along with husband Harold (Bud), they owned and operated Bud's Service Station and Salvage Yard in Endicott for ten years. Moved to Diller in 1957, when they purchased the Cafe and Tavern known as Bud and Virginia's for 22 years. She was the bookkeeper for her 2 sons and son-in-laws construction business known as Lottman Carpenter Construction for 10 years before her retirement. Her hobbies were her family, gardening, family history and volunteering. She was a member of the Diller Commercial Club for 35 plus years, holding various offices, was a parade chairman for the Diller Picnic for 9 years. was a member of the Diller Development Team, Charter member of the Diller Foundation, on several committees for St. Paul's Lutheran Church, took E.M. T. training, former member of the American Legion Auxiliary of Diller and Disabled Veterans Auxiliary member of Beatrice and a member of the 3 D Extension Club.
She leaves son David Lottman and wife Leana, daughter Susan Carpenter and husband Robert, and son Douglas Lottman and wife Cindy, all of Diller; eight grandchildren, Tina Frost and husband Dave, Tim Lottman and wife Anne, Jason Carpenter and wife Dawn, Zac Carpenter and wife Holly, Linsey Gronewold and husband Josh, Chad Lottman and wife Courtney, Shawn Lottman and wife Jill, Shelly Smith and husband Jesse; 23 great-grandchildren Hailey & fiance Jack, Hayden and fiance Madi, and Madysin Frost, Connor Lottman, Lilianna and Morgan Cowell, Corey & Liz Peters, Jacob and Kaylee Carpenter, Sadie, Devyn, and Beau Gronewold, Braedyn and Azlyn Carpenter, Cassey and husband Josh and Corina Lottman, Ashlen Vanover, Eden, Valerie and Madelyn Lottman, Wyatt & Lilly Smith and one great-great-granddaughter Charlotte Anderson; sisters-in-law Betty Vaughn of Fairbury and Nora Vaughn of Wichita, KS; nieces and nephews of the Vaughn and Wolff families. She was preceded in death by her parents Clay Sr. and Minta Vaughn, brothers Clay Vaughn, Jr. and Jack L Vaughn, grandson-in-law, Ronald Walker, and husband Harold in 2011.
Funeral will be held 10 a.m. Friday, February 14, 2020 at St. Paul's Lutheran Church of Diller. Family visitation 6-8 p.m. Thursday at the mortuary. Gerdes Meyer Funeral Home is in charge of the services.
To send flowers to the family of Virginia Lotmann, please visit Tribute Store.