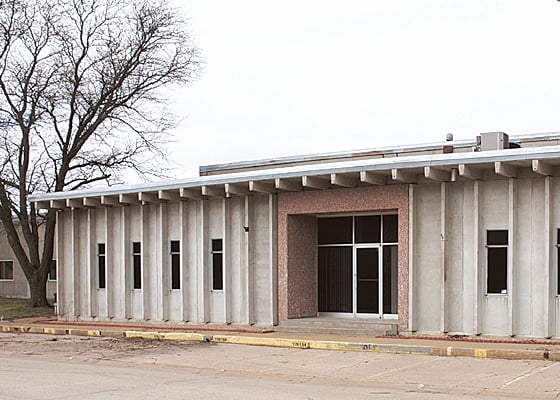 A group of local investors presented an alternative option for a new Gage County jail to the county's law enforcement committee Tuesday morning.
The group presenting the idea included Steve Meyers of Lincoln, and Gene Caspers, Doug Lottman and Bob Carpenter of Gage County.
The proposal centered around the group tearing down the old Kees building at 700 Park Street, owned by Meyers, and
building a jail at their own expense.
The group would then lease the newly constructed building to the county.
Supervisors present at the meeting included Shirley Gronewold, Dave Anderson and Dennis Byars. Also present was Gage County Sheriff Millard "Gus" Gustafson and jail
administrator Amber Mulberry.
Each of the county officials stressed that this was an idea brought forth to them, not solicited by county officials.
"I don't think the board is really considering doing anything with the jail at this point until we get done with the courthouse," Gronewold said.
Anderson and Byars agreed with Gronewold, saying the board isn't seeking out these ideas, but rather listening to the ideas that people are bringing forth to them.
"They're business men," Byars said. "They're bringing an idea to the board of supervisors and I think we as a board need to look at all options.
"They brought us an idea as business men and they have a property that they'd like to do something with in the city of Beatrice that is positive and we obviously have to make decisions for the future on what we're going to do."
You have free articles remaining.
Tuesday's alternative plan comes about four months after a special election for a new jail was held and overwhelmingly defeated by the voters.
The final tally from the Nov. 10 special election was 1,481 for the new jail and 6,077 against.
Proponents for a new jail said that the current 30-bed jail, built in 1977, is too small to meet the county's needs.
There have also been concerns with safety and problems with the overall maintenance of the building.
Since the vote failed, officials have pondered the future of the jail and the problems it still has. 
The four individuals presented the committee with a floor plan of the proposed jail on Park Street and also some sketches of the possible building. 
Details were minimal, but the sketches allowed room for 50 beds in the facility and additional space would be left for future expansion if needed.
It would also allow room for about 80 parking spaces.  
The county would be asked for a 20 to 25-year lease plan, but the cost of the lease was not yet determined.
The four investors figured construction of the facility would take less than a year.
The meeting lasted about 15 minutes.
Byars said that even though nothing can be done now, it's still good to listen to ideas.
"Right now, financially we probably don't have the means to do anything," Byars said. "But looking at ideas and looking at the future is a good thing."