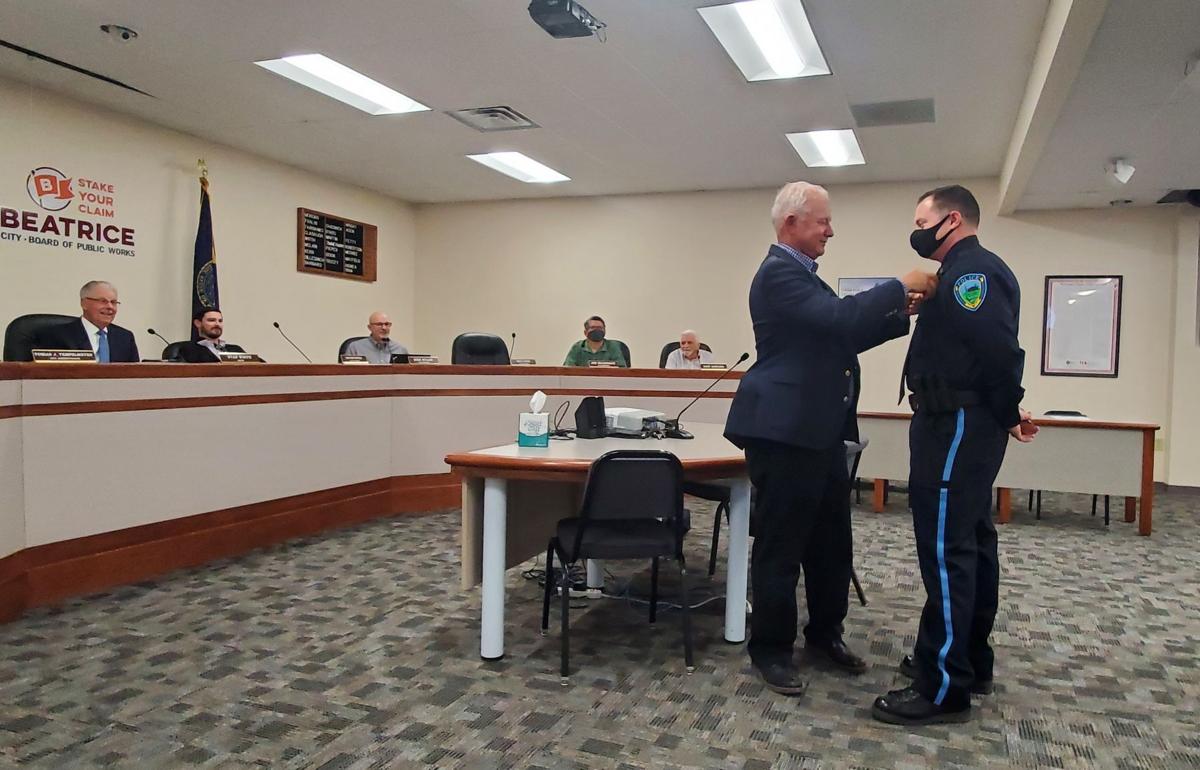 A Beatrice Police officer was promoted during the city council's meeting Monday evening, filling the opening previously held be an individual with over 20 years of experience with the department.
Beatrice Police Chief Bruce Lang announced that Sergeant Doug Coon announced his retirement earlier this year to take a position with the Nebraska State Probation office.
Coon had worked for the city since 1997.
"It's a real important position for the city, and I know Derrick is going to do a great job," Lang said.
Lang said there were several applicants for the position, and that he was pleased to present the promotion of Officer Derrick Hosick to the night sergeant role.
Hosick has worked for the police department since 2015.
In the fall of 2019, he became the handler to the department's second K-9 unit, Thomas, a black shepherd mix from the Czech Republic. He's also helped lead the department's Citizen's Academy, which is a several week course that covers the instruction and training of equipment and uniform requirements, radio procedures, the role of School Resource Officers, Investigations, SWAT team, and K-9 Unit, and provides training in less lethal options and defensive tactics.
"I, Derrick Hosick, do solemnly swear that I will support the constitution of the United States and the constitution of the state of Nebraska against all enemies, foreign and domestic, that I will bear a true faith and allegiance to the same, and that I take this obligation freely without mental reservation or purpose of evasion, and that I will faithfully and impartially perform the duties of the office of police sergeant according to law and to the best of my ability," Hosick said. "I do further swear that I do not advocate, nor am I a member of any political party that advocates the overthrow of the government of the United States or this state by force or violence, and that during such time in this position I will not advocate nor become a member of any political party or organization that advocates the government of the United States or this state by force or violence, so help me God."