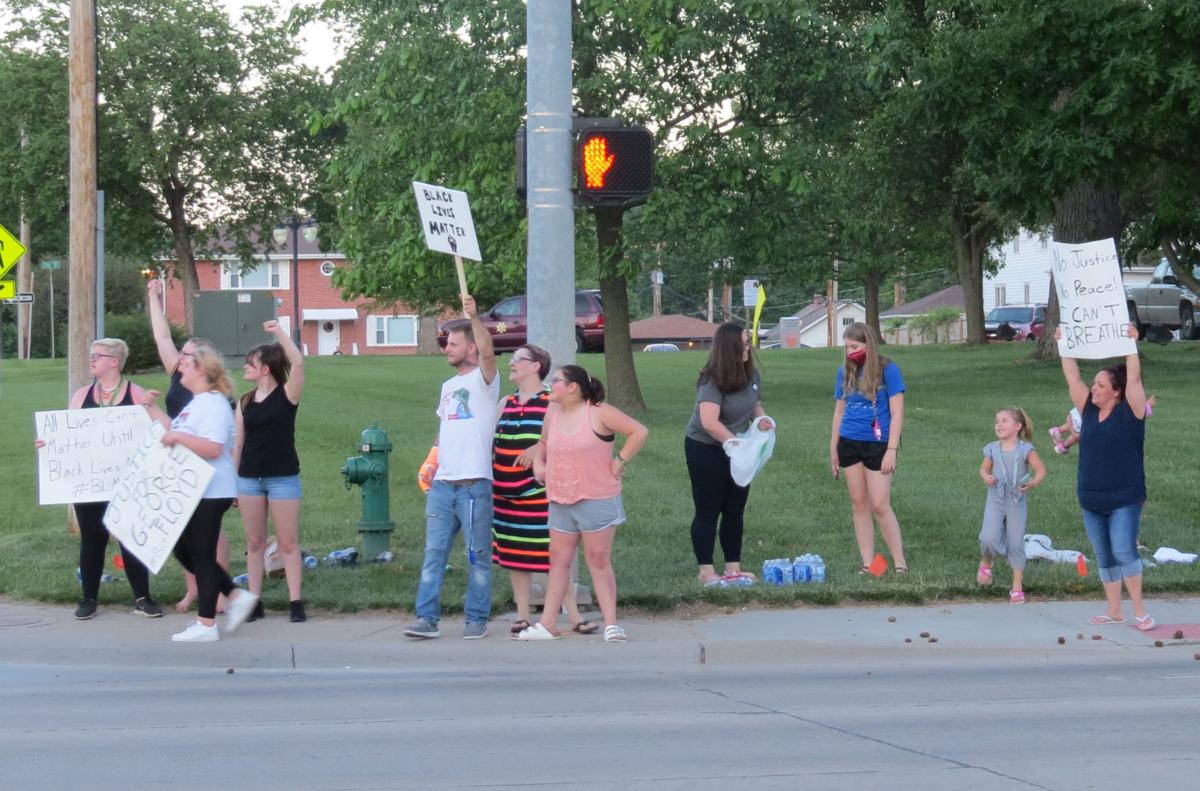 With signs reading "Black lives matter" and "Choose understanding and peace," a small group of peaceful protesters gathered at Sixth and Lincoln Street on Thursday evening.
"I'm just tired of all of the hate," said Emmalee Underiner. "I don't want to be out here, but it's important."
"All three of my children are a different race and so this matters to me," said Ellen Young. "That's why I'm out here."
The protesters said they planned to remain peaceful and said several passing cars would honk their horns as they passed. A few had stopped to give them water or a donation.
"When you live in a small town that is predominantly white, you're going to see a lot of racism," said Ainsley McGinty. "That's another reason we want to bring equality to this community. I feel like if a person of color would look at the statistics of Beatrice and want to move here, it would put them off."
Missy Marlett added that sparking a conversation is an important issue.
"I just believe in equal rights for everyone," she said. "I think it's important that people take the time to listen to each other and learn to understand why this movement is happening. This has been happening for hundreds of years. Let's try to understand justice and peace and what that means in our community."
While the protest remained mostly peaceful, one man was cited for misdemeanor assault by Beatrice police.
Police chief Bruce Lang said the citation was issued to a 67-year-old Beatrice man who was in a vehicle. He got out of the vehicle and is accused of shoving a 17-year-old protestor.
The man left and was contacted by police a short time later, when he was cited.
"Obviously, when people are peacefully protesting on a sidewalk or other public place we will work diligently to protect their rights to be able to do that," Lang said. "We will have zero tolerance for people trying to prevent them from doing that. They were not violating any laws, just exercising rights."
Protests and riots erupted across the country over the death of George Floyd in Minneapolis. Floyd, who was black and was handcuffed, died after a white police officer, Derek Chauvin, used his knee to pin down Floyd's neck for several minutes while Floyd pleaded for air and eventually stopped moving.
Get local news delivered to your inbox!
Subscribe to our Daily Headlines newsletter.