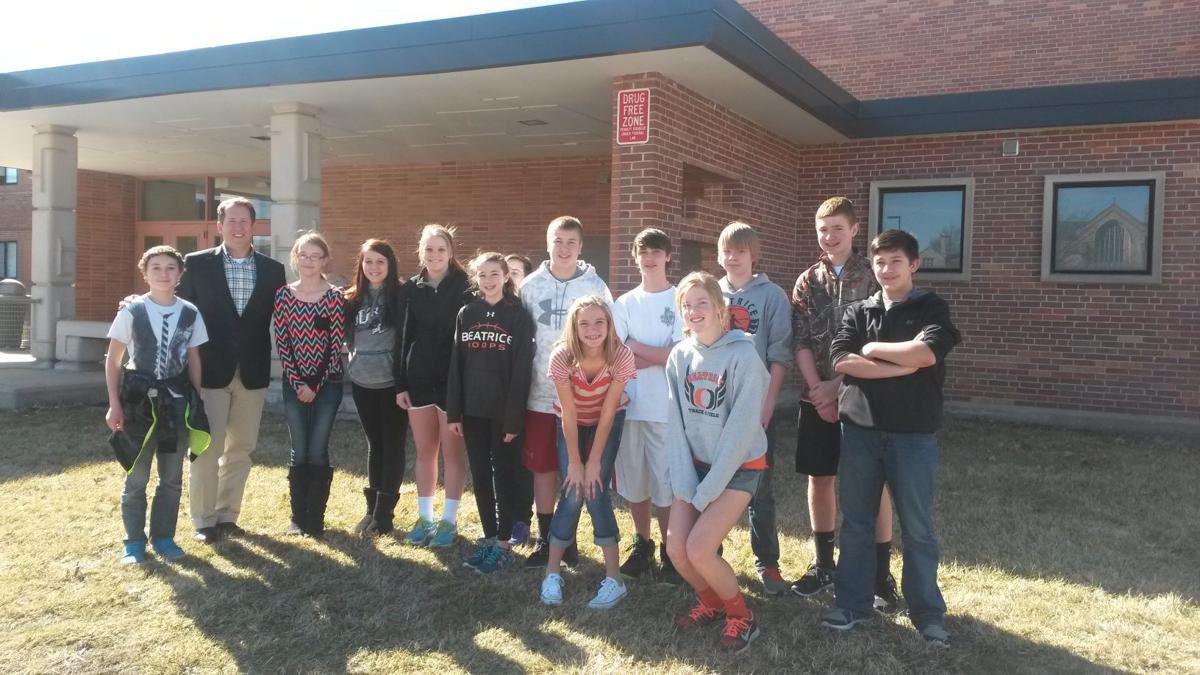 Nebraska's Third District Representative Adrian Smith took advantage of a week-long break in congressional duties last week to pay a visit to various cities within the district.
"It's always good to be back in the district to meet folks where they are," Smith said. "Solutions are much more often found among the people than just coming from Washington, D.C., with a one-size-fits-all approach.
Smith came to Beatrice on Friday to visit Beatrice Middle School, talking with Mike Policky's eighth grade civics class as they were outside learning about retiring a U.S. flag. Smith answered questions from students and discussed patriotism, civic leadership and the responsibility of citizens, Policky said in an email.
Smith also stopped by the Daily Sun to share his thoughts on a variety of topics.
Critical access hospital regulations
Smith said he is working to get rid of certain regulations that hamper the function of relatively small critical access hospitals like Beatrice Community Hospital.
"There are these regulations that really undermine the relationship between the (medical) provider and a patient," Smith said. One of those rules is a Medicare requirement that any patient that needs more than 96 hours of care be immediately referred to a general hospital such as those in Lincoln, he explained.
If a patient has a case of pneumonia that might require more than four days of care, for example, their doctor "must immediately refer out, despite the fact that a medical staff like here in Beatrice is very capable of providing that (care)," Smith said.
Another regulation is the 'physician supervision rule,' as Smith called it, requiring a doctor to be on the same floor of a hospital as a nurse performing even basic medical procedures like drawing blood, which Smith said is unnecessary.



Smith has been an outspoken opponent of the U.S. Environmental Protection Agency's proposal to significantly expand the regulations of the Clean Water Act to include ditches, ponds and irrigation on farmland, among other bodies of water.
"We got the resolution of disapproval passed against Waters of the U.S.," Smith said. "We ultimately got that to the president's desk and it met an unsurprising veto. But I think it's still important we do our work, even if the president threatens a veto. I think it helps elevate the issue, especially as we approach a presidential election."
He added, "I think it's very discouraging when the president disregards the will of Congress … rather than working with Congress to change things."



The EPA's policy to combat climate change by significantly reducing emissions from coal-fired power plants was put on hold by the U.S. Supreme Court in early February. The Court is preparing to hear a lawsuit from 24 states, including Nebraska, challenging the policy.
"I'm concerned that this (policy) is yet another example of the president going around Congress, so I'm glad that the court system, the American people are weighing in," Smith said. "And I'm hoping they rule against the president's overreach. I think it's important to note the so-called Clean Power Plan would directly harm folks who can least afford it."
That isn't to say Smith is against pursuing alternative energy. "Given the finite resources of fossil fuels, I think it's a good idea to pursue all sources of energy. That's why I support the 'all of the above' energy approach," including hydro power and nuclear power, he said.
When Smith returns to Washington this week, he said Congress will begin the task of forging a federal budget, a very contentious process over the last few years.
"Our system is set up so that 12 appropriations bills each get a vote under 'regular order.,'" Smith explained. "Regular order has broken down every year for several years, leaving us with an 'omnibus,' basically all 12 bills getting voted on in one vote. That does not have the scrutiny that we really should provide as the legislative branch. Worse yet is a continuing resolution, which is last year's continuation of the same thing even if there are problems identified."
Smith said Congress wants to avoid having to pass another omnibus bill or continuing resolution, and restore regular order to the budgeting process.
"We need a balanced budget, plain and simple. I don't think we will cut our way into balance, I don't think we can tax our way into balance. But what we can do is work to grow our economy, and I think the very best thing we can do for our economy is simplify our tax code," which Smith said is "a mess."
Filling a U.S. Supreme Court seat
After Justice Antonin Scalia's death earlier this month, it falls to the president to nominate a new justice and the U.S. Senate to either confirm or deny the nominee. However, many conservative lawmakers have argued that Barack Obama should not be the president that replaces Scalia. Smith agreed.
"Given the fact we've got outstanding court cases right now relating to the president's agenda," including Waters of the U.S. and the Clean Power Plan, "that confirmation would be best left to the next president," Smith said.
"We're working on the Trans-Pacific Partnership (TPP)," Smith said. "That's a big trade item right now. There are some wrinkles in the current version that was negotiated by the Obama administration, we're hoping we can get those ironed out."
For example, "there's a concern among pork producers that how Japan interacts in this trade agreement is not opening up as much market access as there should be," Smith explained. "Another big wrinkle is pharmaceutical intellectual property standards."
Smith said all-in-all, he is in favor of responsible trade deals. "Generally speaking, trade is good. We want to see expanding opportunities to sell our products overseas."
Winner-take-all electoral votes
A proposal to return Nebraska to a winner-take-all system of electoral votes was debated last month in the state legislature. Smith said he thinks Nebraska should match the methods of the 48 states that use winner-take-all systems.
"We should either be winner-take-all, or every other state should be a state whose electoral vote is divisible. … That's really the only way you can make the electoral college work."
Otherwise, Smith said, parties funnel their efforts into specific electoral districts instead of campaigning for the entire state.
In reply to a common argument that Democratic Party candidates wouldn't visit Nebraska at all without a split allocation system, Smith said, "I'm not sure we've benefited from it, looking in hindsight. I would have been open to that … but I just don't think a tokenistic stop is really reflecting what Nebraska needs.
"We need fewer regulations. If Barack Obama was more responsive to the needs of Nebraskans as a result, I may look more kindly. It just hasn't seemed to work that way."
"From a national security standpoint, I think we want to have an incredible screening mechanism to sort out the folks seeking refuge from the folks seeking to do us harm. … This unrest overseas has obviously really complicated these matters."
2016 Republican presidential race
Smith hasn't endorsed a candidate for the Republican Party nomination. When asked if he was surprised there are still so many primary candidates, he replied with an emphatic "Yes," and said he is eager for the pool to be narrowed.
"As I look at the candidates, I want to ultimately support someone who articulates clearly what America is about, not just what he's against," Smith said "We want to articulate a vision of more opportunity, we want to articulate a view of history in a way that poses more opportunity for the future."
Smith elaborated that his preference would be a candidate that supports their vision with specific ideas. "Generalities are really easy to talk about, especially amidst criticisms, (but) if there are criticisms let's focus on solutions."
2016 Democratic presidential race
"I think Republicans are positioned better than the two candidates on the Democratic side," Smith said, pointing out Hillary Clinton's ongoing controversies with her email security and foreign contributions while she was secretary of state.
"Bernie Sanders wants to give away free stuff. I'm wary of any candidate who tries to win votes by giving stuff away, promising that someone else will pay for it. I think that is ultimately damaging to our country, it's ultimately damaging to economic opportunity and freedom."
Be the first to know
Get local news delivered to your inbox!