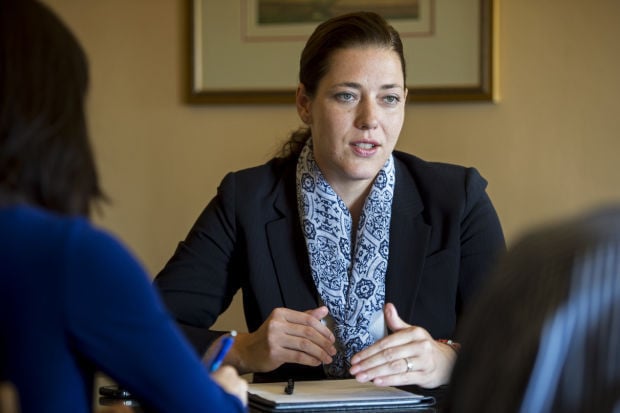 A nearly yearlong investigation into alleged sexual abuse of children and youth in Nebraska's child welfare and juvenile justice systems showed 50 verified victims in a recent three-year period, the state's inspector general for child welfare reported Wednesday.
It also showed attitudes toward sexual abuse of youth in state care that concerned Inspector General Julie Rogers and her staff, including "problematic attitudes" among system professionals and caregivers toward child sexual abuse and children in the state's care.
Department of Health and Human Services spokeswoman Kathie Osterman said a statement from HHS would be forthcoming.
Rogers said the investigation started last year with the accumulation of 36 sexual abuse reports since July 2013. The goal was to discover whether adequate steps were being taken by HHS to prevent and respond to abuse of youth in the state's care.
But when she and others dug into the reports, and asked for more data, they ended up with 50 cases, even after weeding down the 36 original cases because some were not state wards or former state wards.
"That was surprising to us," she said. "All of these kids had been abused and neglected or in juvenile justice ... And then they're abused and neglected while the state is their parent."
Some children reported the abuse occurred in a foster home, in an adoptive home or when when they were under state guardianship. Some were in the juvenile justice system or in a home licensed by the department or at a Youth Residential Treatment Center.
Among the 50 abused children and youth in the report, 27 were state wards and youth in residential placements and 23 in adoptive or guardian homes. They ranged in age from 4 to 18 when abuse was disclosed.
In each case, the abuse was reported to the Child Abuse and Neglect Hotline. They also discovered cases above the 50 that were either screened out incorrectly, not investigated properly and so not substantiated. Others they just couldn't gather the needed evidence.
Rogers said estimates show about 38 percent of child victims disclose sexual abuse, some years later but others not at all. Research shows only 4 to 8 percent of disclosures are false.
Child sexual abuse generally includes everything from rape to molestation, sexual touching and coercing or persuading a child to engage in any type of sexual act. It includes exposure to pornography, voyeurism and sexual talk by phone or internet.
During those three years covered by the investigation, there were 1,284 substantiated victims of child sexual abuse statewide, according to HHS. The agency does not track how many of those children were involved in the child welfare system, Rogers said, but research shows youth in the system are at higher risk than the population at large.
Among the 50 abused children and youth in the report, 36 were abused by adults, 11 by other youth and three by both, Rogers said. Half of them were sexually abused by caregivers -- foster and adoptive parents, guardians or facility staff. All were known to the children and had established relationships with them.
The cases involved sexual assault by fathers, foster brothers, foster fathers, a foster mother, adoptive fathers, other state wards, uncles, unrelated older men and women, older brothers, grandfathers, group home workers and a therapist.
Some of the youths were developmentally disabled or had mental illness.
"I feel like the biggest thing is the attitude about sexual abuse," Rogers said.
Caregivers and professionals at times dismissed or never reported disclosures, Rogers said, because they assumed troubled children were lying or "acting out." Inaction after concerns were reported left some children exposed to continuing abuse.
"They just have this harmful attitude about sexual abuse," Rogers said.
In some cases, disclosures were assumed to be a recollection of sexual abuse that occurred in the past, but then never fully investigated, she said. For some youth in the juvenile justice system, disclosures were treated as another example of the child breaking rules, defying authority, seeking attention or causing trouble.
Some children and youth were blamed by caregivers and system professionals for causing the sexual abuse they suffered, or their reports were minimized, the report said.
Rogers said a number of adults and system professionals did not report allegations to proper authorities even though the law requires it. Also, some calls to the child abuse and neglect hotline were screened out, preventing investigations and leaving children vulnerable to ongoing abuse.
The investigation discovered instances in which hotline workers incorrectly determined youth sexually abusing other youth did not meet the definition of child sexual abuse, the report said.
The attitudes contributed to errors and issues that left the system unable to effectively prevent and respond to abuse of youth in its care, she said.
When the state becomes the parent to a child, how does a caseworker talk to that young person about sexual abuse, secrets and what's private, and finding trusted adults?
"People need to know that this happens and we should be able to talk to kids about it in a developmentally appropriate way," Rogers said. "It's very tricky."
The office of inspector general called for the department to foster a culture of zero-tolerance toward child sexual abuse.
The impact of such abuse can be lifelong, Rogers' report said, with a heightened risk for physical and mental health diagnoses, academic problems, risky behaviors, and a possible negative impacts on lifetime earnings.
The inspector general's office made 18 recommendations to the HHS. The department accepted 11 of those, according to the report.
"Preventing and responding to sexual abuse of children is not, and cannot be, the responsibility of DHHS alone. It is a community problem, which will need solutions and action from many in our communities," Rogers said.
She hopes the report and recommendations to HHS, in addition to the action of Nebraskans will help make needed improvements so that children are better protected, she said.
Be the first to know
Get local news delivered to your inbox!