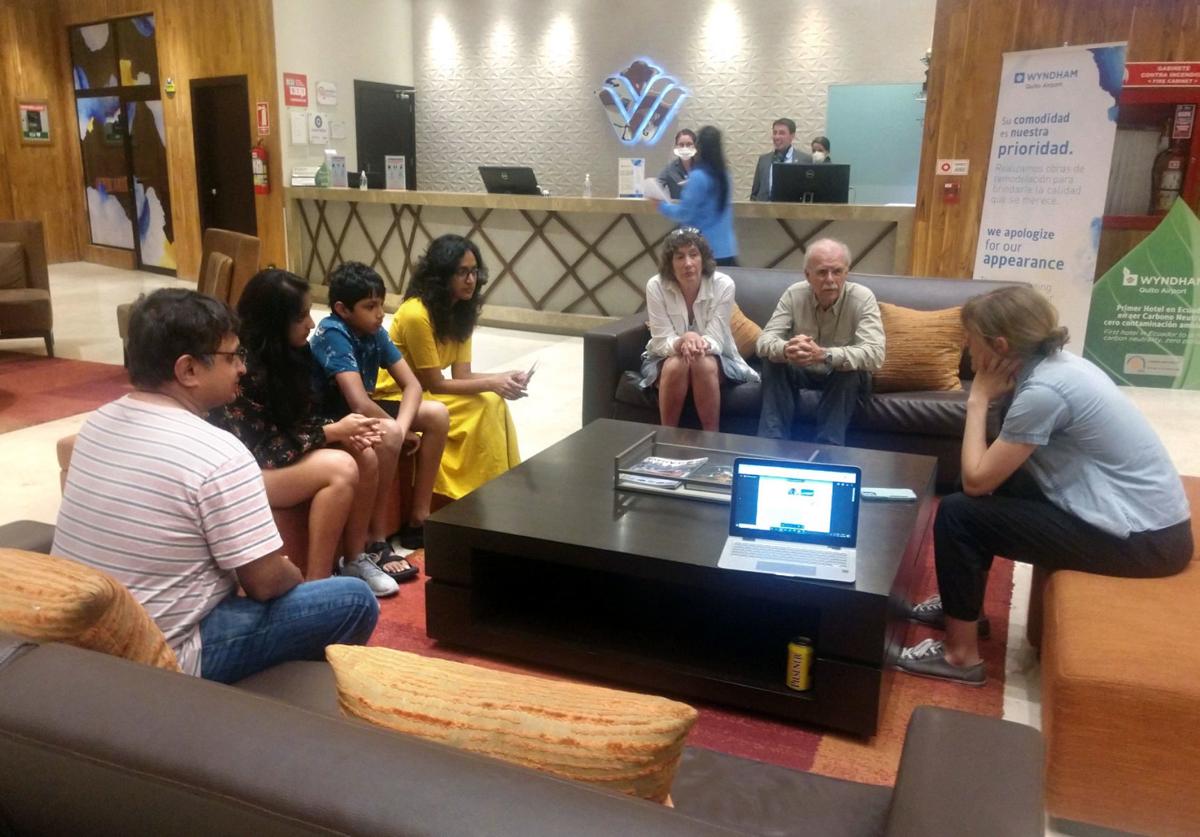 Sophia Iaquinta thought she would have more time. 
The 27-year-old Peace Corps volunteer from Lincoln was in Guatemala as news of the impending pandemic spread. She said it was only a matter of hours before the country was effectively on lockdown, leaving her and other volunteers stranded far from home. 
"It was sad, because I thought I would have a month to say goodbye to the place I lived for two years and thank my host family, but instead I got a couple hours to pack all my belongings and get out." 
Iaquinta said she was struck by Guatemala's rapid response to the spread of the coronavirus. Guatemala, a Central American country without much of a health care system, would be crushed if COVID-19 were to hit hard its 17 million residents. As of now, there are only 20 reported cases. 
Still, Iaquinta needed to leave.
"When there aren't enough beds for the people here, I absolutely could not risk the chance that I would take a bed away from a Guatemalan," she said.
What Iaquinta found upsetting was what she saw when she got back to the United States earlier this week.
"I was on a plane full of spring breakers," she said. "There was basically no screening at airports, and all the restaurants were open. It just seemed so irresponsible."
Curtis Dlouhy, a Nebraska Wesleyan University graduate who is now a doctoral candidate living in Oregon, said he saw much of the same when he got back from his extended spring break in Ecuador. 
"It doesn't make sense to me that Oregon has over a hundred cases, and we only have 80 tests available in the state right now," he said Monday afternoon. Oregon, which has tested more than 3,000 people, has been faced with limited testing kits. 
Dlouhy, who was biking and hiking with his girlfriend in Quito, said he diligently checked and rechecked the Centers for Disease Control website for travel information. 
Much like Iaquinta's experience, it was a matter of hours before Dlouhy and his girlfriend, Sara Hamilton, were jerked out of their idyllic vacation and faced with a crude reality. 
"All the commercial flights leaving Ecuador were canceled, and our other option was to drive seven hours to the next port and risk kidnappings and crumbling infrastructure," he said. "It was incredibly frustrating."
Finally reaching an airport and staying at a hotel onsite for a couple days, Dlouhy and Hamilton encountered about 50 other American travelers trying to get home.
"And that was just at this hotel," Dlouhy said. "Imagine how many others there were at different hotels."
What came next was a battle to get a chartered jet, which could range from $20,000 to $100,000, and had to be paid for upfront. 
"Then we had to choose who would get to be in the plane that only had enough seats for eight people," Dlouhy said.
That situation was also seen in Morocco's capital, Rabat, where more than 1,000 Americans were stranded at airports and hotels, many of them older than 60 and without necessary medicine. 
Catherine Ferguson of Omaha told the Associated Press "we really don't want to be here when things get worse in Morocco."
In Honduras, roughly 5,000 Americans are stranded with no information on how to get home. With canceled flights and exorbitant costs for chartered planes, groups are finding their journey home extended by days. 
Loany Ryder has a mother who is stuck in Honduras after visiting family and can't get back to Grand Island.
"I just have to constantly remind myself to be patient," she said. "I just want to have my mom home and safe."
Also in Honduras, a youth group of mostly teenagers from College View Seventh-day Adventist Church are facing a steep $145,000 bill to charter a jet. However, a group of 90 people and the U.S. Women's All-Star Football team, who were stranded 90 minutes away from them, were evacuated by the U.S. government.
Both Dlouhy and Iaquinta said U.S. embassies in their respective countries were more a source of information than a solution, and they saw little-to-no support from the State Department. Ryder said calls to the State Department involve long wait times or an automated response.
"I actually feel really let down by both the State Department and the commercial airlines," Dlouhy said.
Dlouhy's mother, Elaine Howe Dlouhy, said that with all the uncertainty, she started calling anyone who was available. Even Larry the Cable Guy. 
"I finally got a hold of Rep. Jeff Fortenberry, and I am just so grateful for the support his office gave me," she said. 
When Dlouhy and Hamilton finally got on a KLM Royal Dutch flight heading out of Ecuador to Miami, they were served ice-cold Corona beers.  
"We had a good laugh about that. I think we were just relieved to finally be on our way home," Dlouhy said. 
Iaquinta, who is now self-quarantined at home, reflected on the whole experience. 
"I'm really worried. There's still so much to do."
Concerned about COVID-19?
Sign up now to get the most recent coronavirus headlines and other important local and national news sent to your email inbox daily.