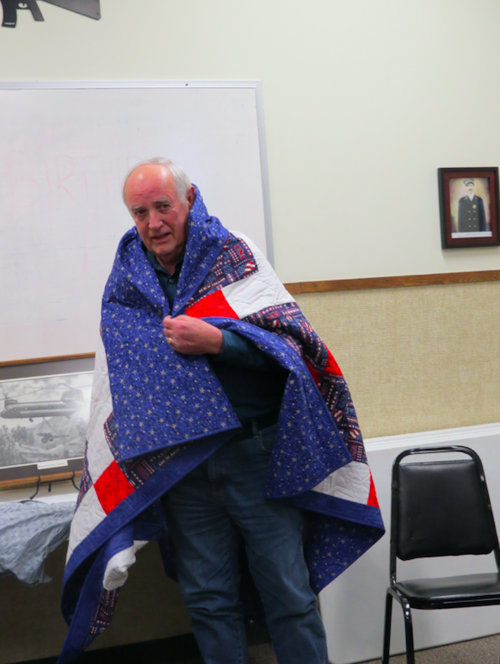 Joe Hawkins was awarded a Quilt of Valor in a surprise ceremony in his honor at the Beatrice Police Department on Friday afternoon.
The quilt was sewn by Gage County 4-H members during a 4-H Cares Workshop in May. Jetta and Margie Jane Harvey and Claire McGrury presented the quilt. Andrew and Josiah Harvey were also present and said they had picked up litter to pay for the materials for the quilt.
He retired from the Beatrice Police Department as a Lieutenant in March 2008 after 38 years of service.
"I'm honored. This means so much," said Hawkins. "I was young and scared, but I'd do it all again."
Hawkins enlisted in the US Army in 1965. He was first assigned to Fort Leonard Wood, Missouri for Basic Training. He went to Fort Rucker, Alabama for training on the OH-13, OH-23, and Huey helicopters. He received Honor Student status and was ranked first in his class.
He was then stationed at Fort Eustis, Virginia, for Chinook CH-47 training.
You have free articles remaining.
Given a choice of duty stations, Hawkins volunteered for Vietnam, wanting to serve his country where he was needed the most. In February of 1966, he was shipped to Vietnam and was stationed in Phu Loi, South Vietnam where they provided support for the 1st Infantry. He started as a Crew Chief on the CH 47 Chinook. Hawkins for soon promoted to Flight Engineer.
Joe and his Chinook, nicknamed "Granny," went on almost daily missions. In addition, the 178th and 1st Infantry base at Phu Loi was attacked an average of four nights a week.
One of his less dangerous, but memorable missions was transporting the Bob Hope USO show at Christmas of 1966. Unfortunately, he never got to see the show, instead having to stay with his Chinook.
After the quilt presentation, Hawkins told family and friends of missions that he had flown in and out of "hot" areas. He also spoke of one secret mission in Laos and Cambodia where they delivered equipment for repeater towers for downed pilots.
Hawkins refused to be rotated out and never to R&R when it was available. He instead volunteered for missions during those days, so that no other man would be forced to go on a mission in his place.
Some of the medals that Hawkins received was the Bronze Star, Army Commendation, Air Medal with seven Oak Leaf Clusters, National Defense Ribbon, Vietnam Cross of Gallantry, Vietnam Service Ribbon with Star for Valor, Overseas Bar, Expert Rating on M14, Marksman for M16, Presidential Unit Citation and the Good Conduct Medal.
Hawkins returned from Vietnam in March 1967 and returned to civilian life in late 1968. In 1969 he became a police officer.