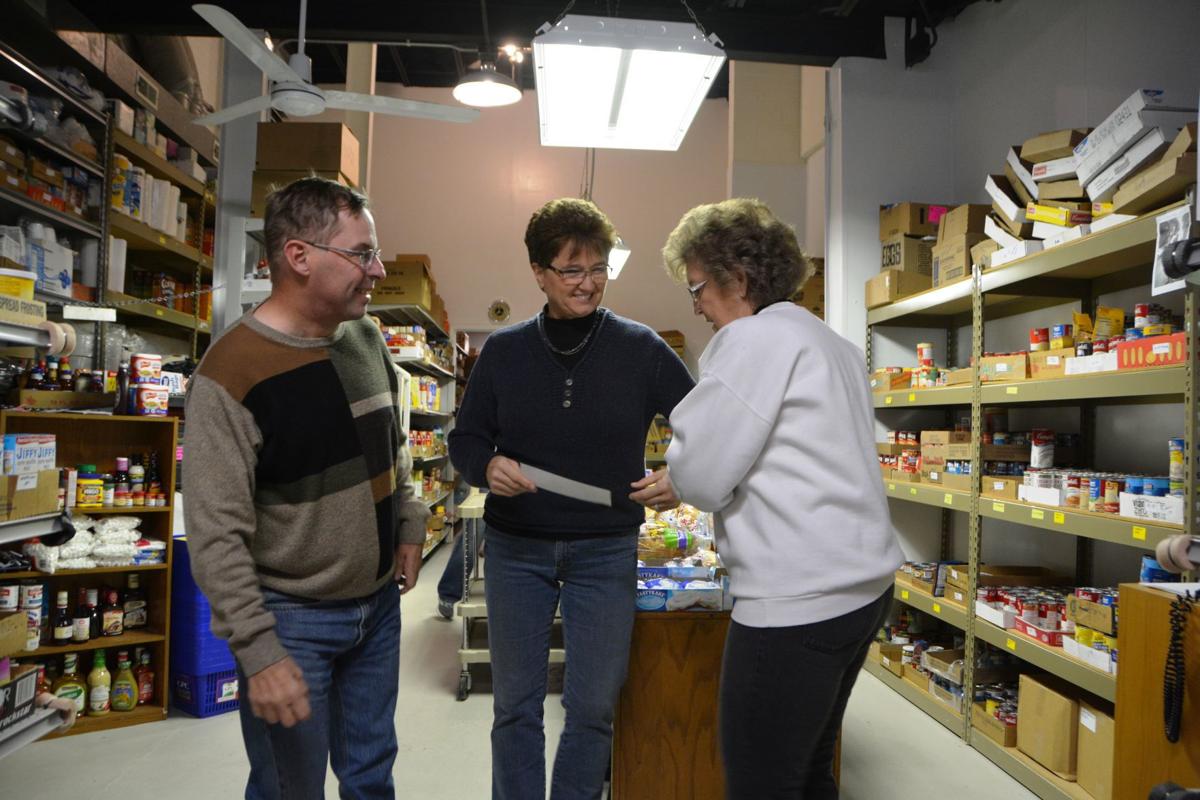 For the past few years, the Beatrice Community Food Pantry's shelves have stayed stocked, thanks in part to Christmassy nachos.
Taco John's owners Dave and Sheila Rosno donated a check for $3,095.27 to the Beatrice Community Food Pantry on Monday as something that's become an annual tradition.
Throughout the holiday season, Taco John's sells Nachos Navidad, served with multicolored chips, and for each one sold, diners have an opportunity to donate $1 or more that will go directly to the food pantry and the customer gets to write their name on a paper ornament to be hung on the wall of the restaurant.
This is about the seventh year for the Rosno's donations to the Food Pantry, the funds for which are also raised with a cash box for donations and they also run a fundraiser through the sale of less festive nachos.
"The store itself donates 50 cents for every large super nacho that's sold throughout the season and 25 cents for every small one," Dave Rosno said. "That was like 1,400 or 1,500 super nachos that get sold. That's not just because of this. That's normal."
The money donated will allow the food pantry to provide much needed food items they're running low on, said Karen Mains, the food pantry's coordinator.
Things like potatoes, eggs, margarine, sugar, flour, Tuna Helper and oil don't get donated as much as other goods, and she'll be able to keep the shelves stocked.
"I can buy whatever I need now," she said. "I can buy my staples. It allows me to buy the stuff that we need."
Other items that can't be purchased with food stamps are in high demand, she said. She'll be able to keep a steady supply of personal items like toilet paper, paper towels, laundry detergent, dish detergent, bar soap, shampoo, deodorant, razors and feminine hygiene products.
After the first of the year, donations start to slow down, Mains said. Once the holidays have passed, it's a struggle to keep food coming in as quickly as it goes out.
With nearly all of the pantry's supply of turkeys and hams gone after Thanksgiving and Christmas, the pantry is focused on trying to get enough hams in time for Easter, Mains said.
This isn't the biggest year for donations, Rosno said, that honor went to the first year they worked with the food pantry and raised more than $4,000. They'll continue to do it, he said, as both Taco John's and the food pantry work toward the same goal of feeding hungry people.
"We're in the food business," he said. "It's part of what we do and we sometimes forget that there's people that can't afford to go to the fast food restaurants or even go out to eat just because they can't. It's our way of giving back."
Get local news delivered to your inbox!
Subscribe to our Daily Headlines newsletter.