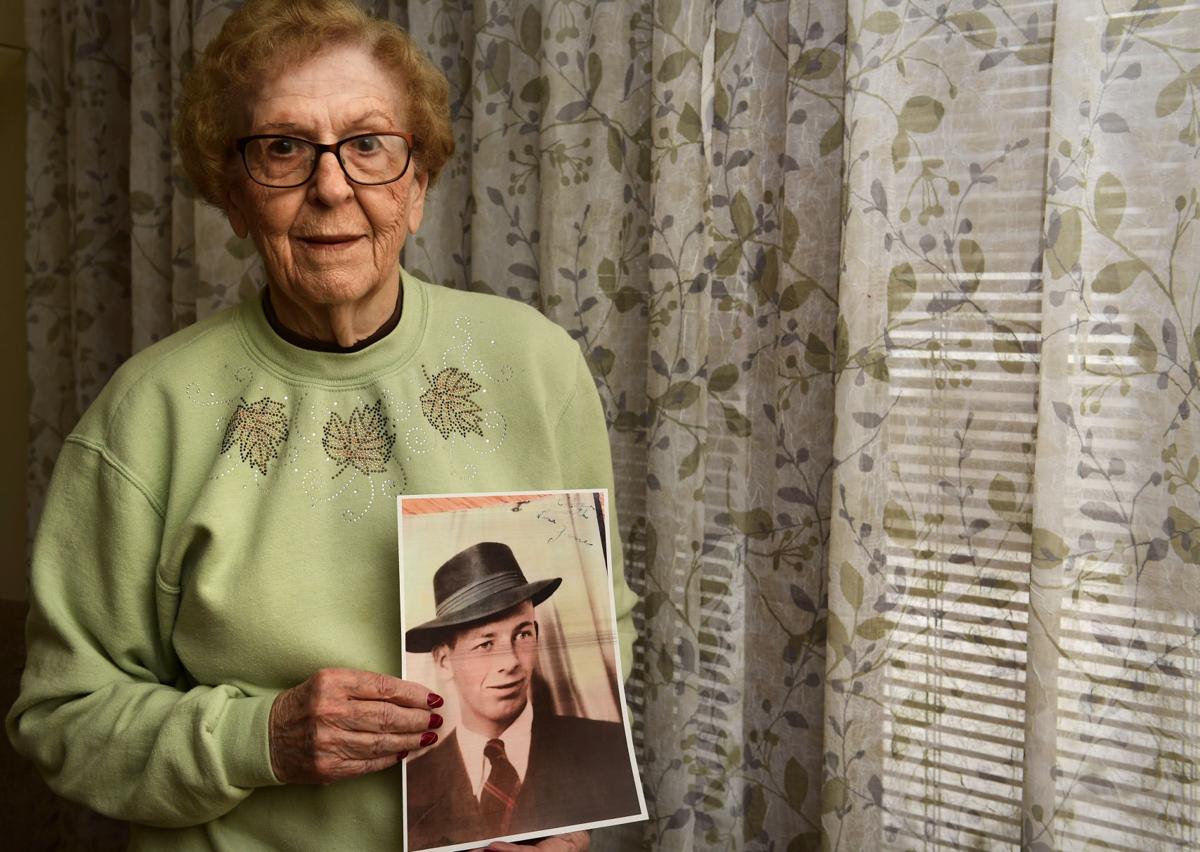 Ella-Mae Kubes begins with an apology.
She was only 12, or maybe 13, when her brother went off to war. She's been trying to recover memories of him, but that was such a long time ago.
She does remembers this: Eugene McBride was a good brother who guarded his three little sisters, meeting them after school to make sure they got home safely.
And if they were going somewhere, to the skating rink or the park at Capitol Beach, he would quiz them: Who are you going with? How long will you be? How are you getting home?
"We just kind of looked up to him," she said. "Mother always felt good about that."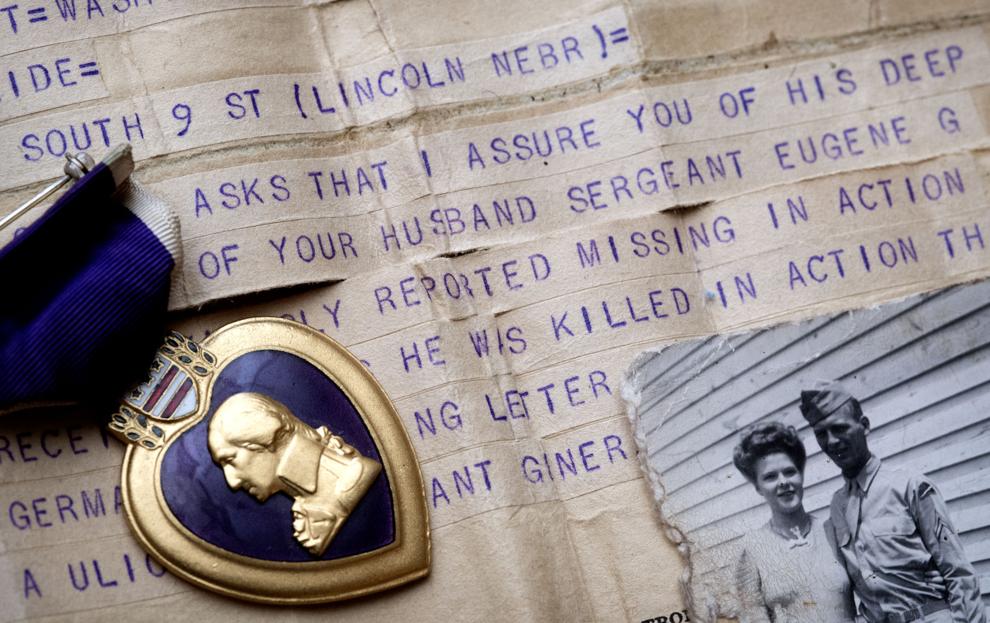 She also remembers the pain, and the faith her family members clung to, after the first telegram was delivered to their home in early 1945: Your son is missing.
"It was a sad time in our home, it really was. But I think everybody had a feeling that he'd come back. Missing means: 'Oh, you have hope he's still alive.'"
Then they received the second telegram, declaring their son dead from an artillery strike in Germany, though the military hadn't been able to identify his remains.
Rosella and Rufus "Mac" McBride wanted their son home. His mother wrote letters to the military, pleading for his body back. They even bought a gravestone with his name on it and planted it atop an unbroken plot at Lincoln Memorial Park.
They needed something solid.
"That was the only closure they could find," Ella-Mae said. "That was the only way they could do something for him."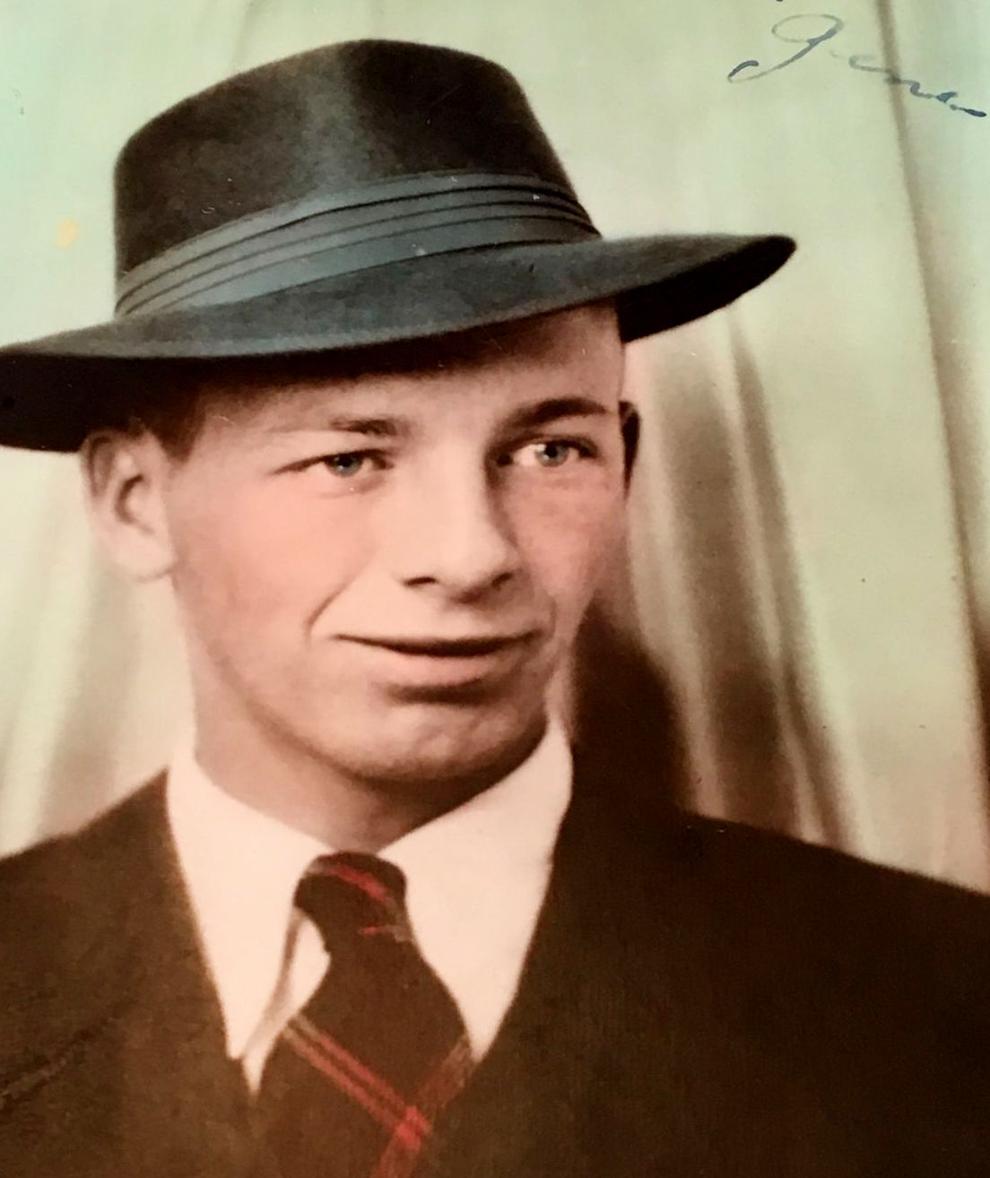 They called their brother Gene. They knew their parents had adopted him before the girls were born, and he might have been born in Omaha, but that's all they knew.
"My mom did not want to talk about it," Ella-Mae said. "I wish I would have prodded her more when I got older."
The family lived near High Street; Rufus ran a repair shop. But then the family pulled up roots: A sister had a breathing problem, so the family headed west in search of easier air and ended up in California.
"They put four kids in the car and away we went. My mother taught us all our schooling outside in a park."
They were gone nearly a year. Once back in Lincoln, the McBrides bought a house near 12th and Pawnee streets. Eugene McBride graduated from Lincoln High, surprised his family by marrying a friend's 17-year-old sister, and surprised the family again by joining the Army.
"Of course, Mom and Dad didn't want him to sign up," his sister said. "He said, 'Don't worry; I'll be back.' But I think they all say that."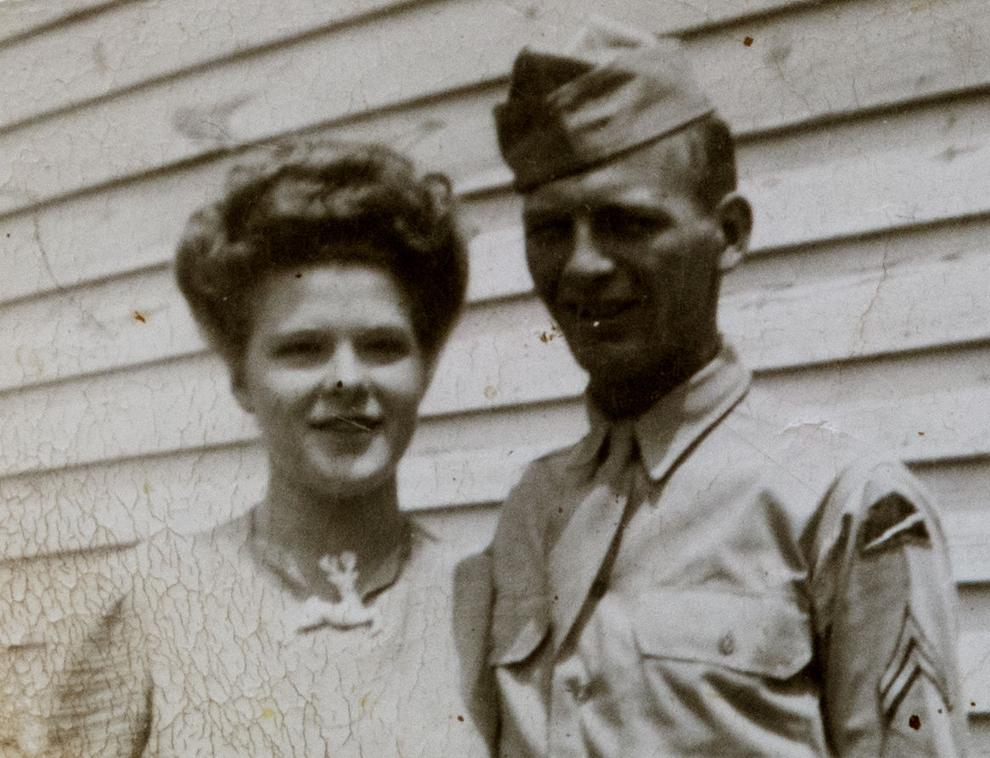 He'd met Eileen at his friend Glen's house. Glen played the guitar and his mother the piano, and it was common for a crowd to gather at their home on South Ninth Street to sing.
This is how they stayed entertained before TV, said Martha Seiple, Eileen and Glen's youngest sister.
"He and Eileen started getting closer and closer, and the next thing we knew, they were getting married," said Seiple, who lives in Illinois.
There was no wedding. Eugene McBride and Eileen Abker instead slipped away in early 1943 to marry quietly in Papillion.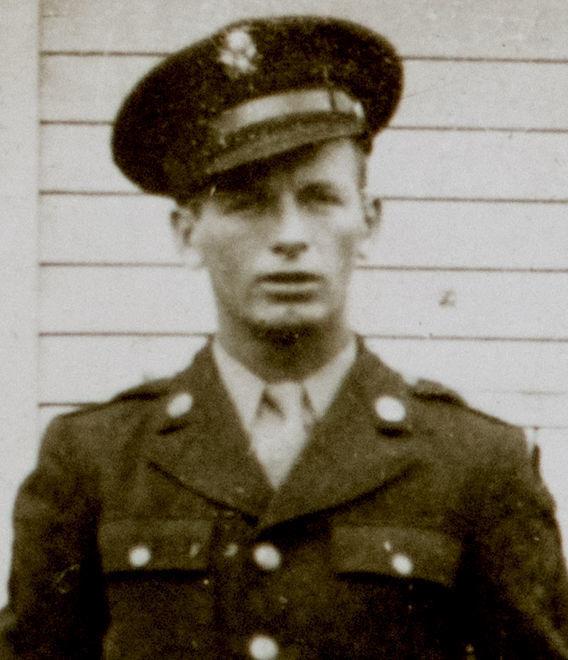 A month later, McBride was sent to North Carolina for training, and, in September 1944, he went overseas.
Eileen was living at her mother's house in early 1945 when she learned she'd lost her husband, her sister said.
"I can still see the guy walking down the street to tell her he was missing in action, and a few weeks later, killed in action. Those things stick out," Seiple said. "When I talk about that now, it just brings a lump in my throat."
Eileen would remarry and raise a family and die at 41 from cancer. She never discussed her first husband, at least not with her daughter, Susan Stolley.
"I never knew anything about it until she died," Stolley said. "Nobody ever talked about it."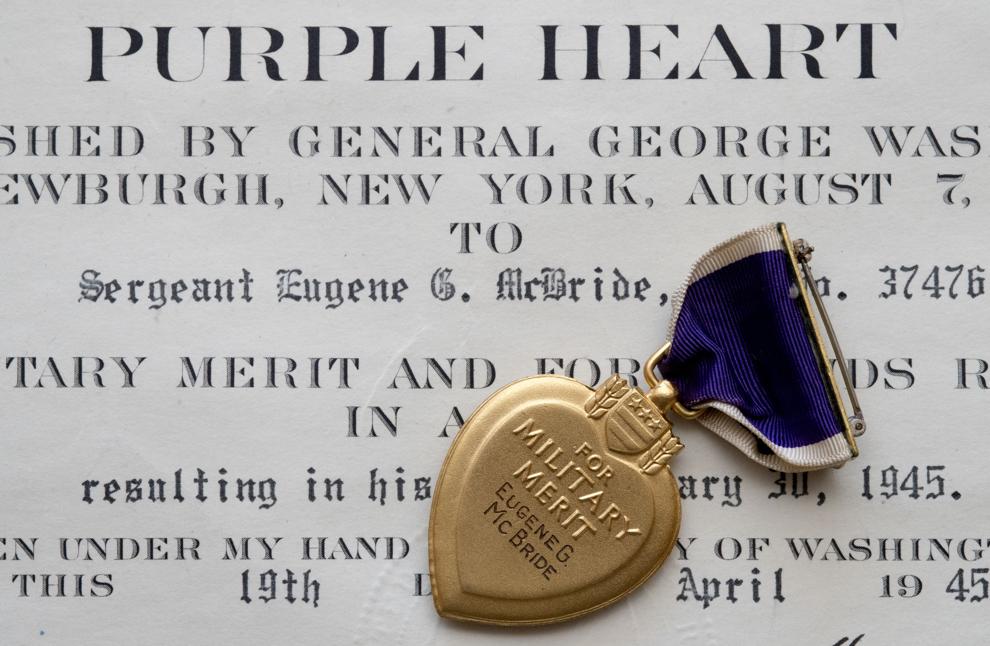 But Stolley ended up with the soldier's "war stuff," his Purple Heart awarded posthumously, the heart-breaking telegrams, his service photos — and with a connection to a man she didn't know but who was now somehow part of her history.
"It's been on my heart, and been on my mind, for 40-some years."
After her son's disappearance and death, Rosella McBride wrote to Washington.
"I have thought of this constantly and his father and I both feel, that it would be better to have him here close to home."
She signed it: By a Gold Star Mother, Mrs. R.F. McBride.
In another letter, she wrote: "This was my only son, and these things are hard for Mothers to take."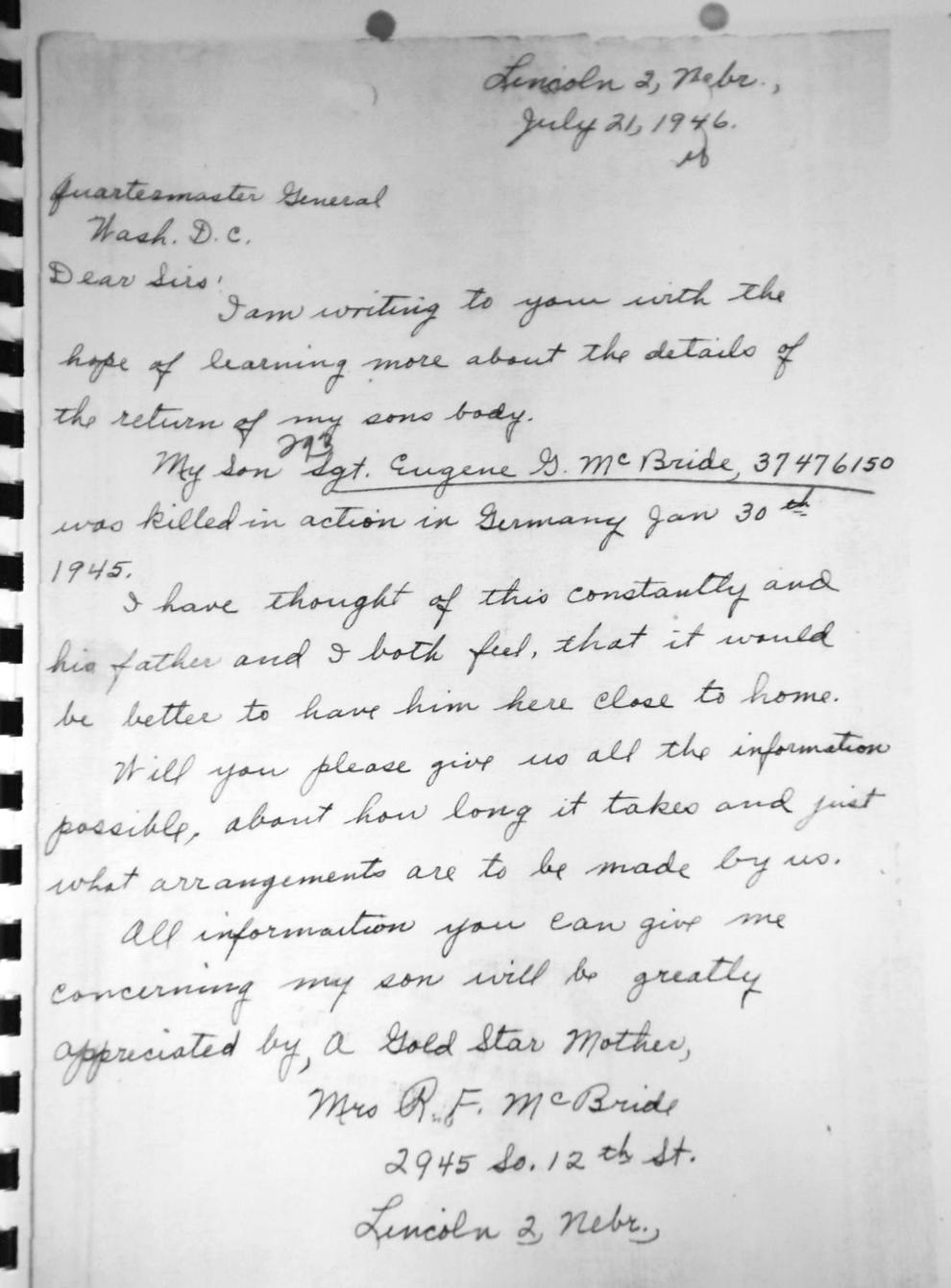 The Army offered condolences. "His conduct was in keeping with the highest traditions of the United States Army ... He was a man who wasn't satisfied with just the best; he wanted to do better," a colonel wrote.
But the Army could offer little information.
Sgt. McBride had died Jan. 30, 1945, in Germany from an artillery blast. The Army was able to identify others killed in the attack, but not McBride.
Nearly three weeks later, officials from the U.S. Military Cemetery in Margraten, Netherlands, received the remains of a soldier who had been killed in the area. But without ID tags, they buried the remains as X-90 Margraten, an unknown soldier.
They didn't forget about him. In 1949, officials explored the possibility X-90 Margraten was McBride, but they couldn't be positive, and the remains were moved to an American cemetery in France in 1952, where they would stay for nearly 65 years.
His family didn't forget about him, either, his sister said.
"It always stays in your mind."
Ella-Mae Kubes opened her door recently to a pair of visitors, a man from Offutt Air Force Base and a man from Fort Knox.
They spent hours telling her brother's story, leaving her with a book documenting his service, his death and his identification all these years later.
Sgt. McBride and eight other men from Company 1, 3rd Battalion, 311th Infantry, had marched 3,000 yards through the Hurtgen Forest on Jan. 30, 1945, approaching the German village of Huppenbroich.
A corporal called the men close to inspect an enemy machine gun inside a stone farmhouse. Later, the corporal would sketch a map of the farmyard, and even later, Ella-Mae Kubes would study it inside her condo near 48th and Van Dorn.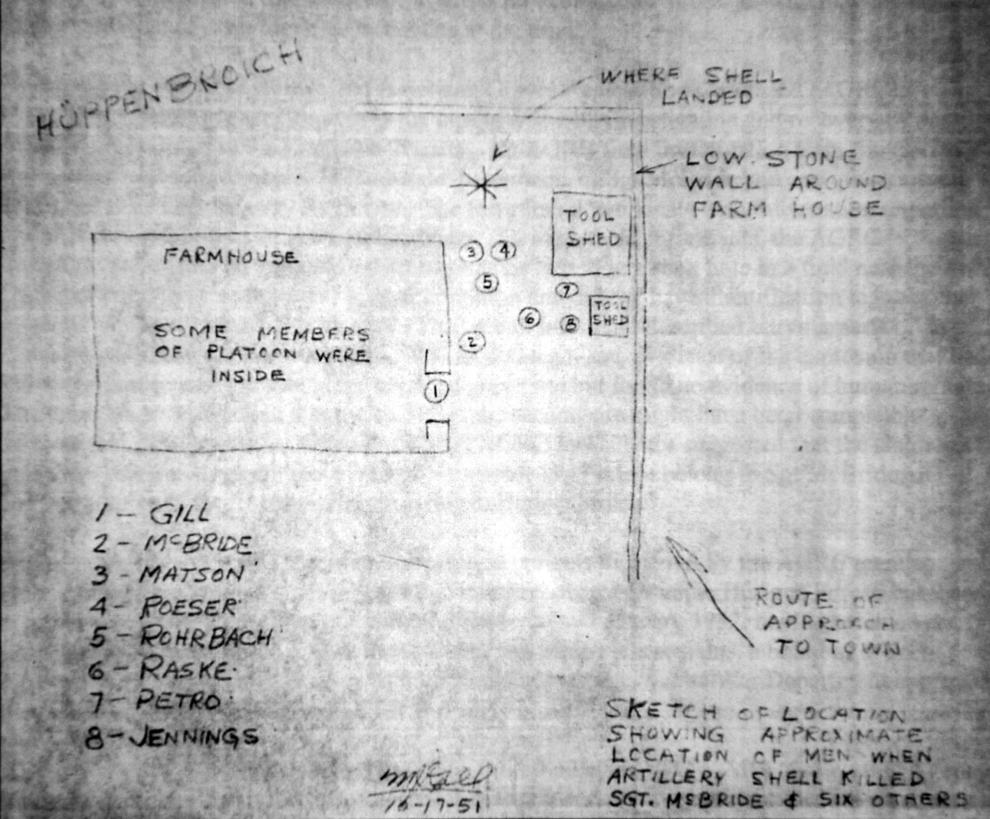 This is where her brother — the boy who had picked her up from Saratoga Elementary School, the boy who had protected her — was standing when the shell hit 73 years ago.
This is where the men died, all except for the corporal, who was in the home's doorway.
Six bodies were identified, though not immediately, according to an Army document.
"There is no explanation why the six resolved soldiers killed alongside Sgt. McBride were processed on three different days, at two different cemeteries, in two different countries, by graves registration personnel."
McBride's body remained unidentified, moved from cemetery to cemetery.
But in 2016, a historian with the Defense POW/MIA Accounting Agency reopened the case — studying where the remains were found, and the personal belongings recovered with them — and determined they could be McBride's.
A year later, they were unearthed and flown back to Nebraska, to the agency's laboratory at Offutt.
Still, anthropologists had five potential candidates, unidentified soldiers possibly associated with the remains. After examination, they determined the soldier had been a male, 18 to 25, 5-foot-3 to 5-foot-9. And McBride — almost 21 and 5-foot-8 — became the top candidate.
That still wasn't enough proof, said Mike Mee, chief of identifications for the Army's Past Conflict Repatriations Branch.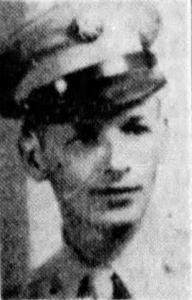 They didn't have dental records, he said, and they couldn't compare DNA because McBride had been adopted.
But they had a chest X-ray. During World War II, the tuberculosis scare had prompted the Army to start taking X-rays of incoming soldiers, Mee said. So decades later, scientists used computer modeling to compare the bones on the table with McBride's X-ray.
"And they came up with a match, with no unexplainable discrepancies," Mee told the Journal Star.
On Sept. 10, the Army declared Sgt. McBride identified. And Mee started making arrangement to travel to Nebraska to talk to Ella-Mae Kubes.
Sgt. Eugene McBride will be buried with full military honors Monday in the plot his parents bought decades ago.
Stolley, whose mother was married to him briefly, plans to be at the ceremony. She's part of this, she said.
Martha Seiple, his former sister-in-law, will take comfort knowing he made it home. "It's taken me back 70 years," she said. "But it's just like a peace that washes over you."
And the soldier's youngest sister takes comfort in the permanence of this homecoming. His remains had been moved and moved again, but now they'll find a final resting place.
"Thank God he is coming home," she said. "It will be a closure for everything, and that's what my parents wanted so badly."
Sgt. Eugene G. McBride burial, 11.12.18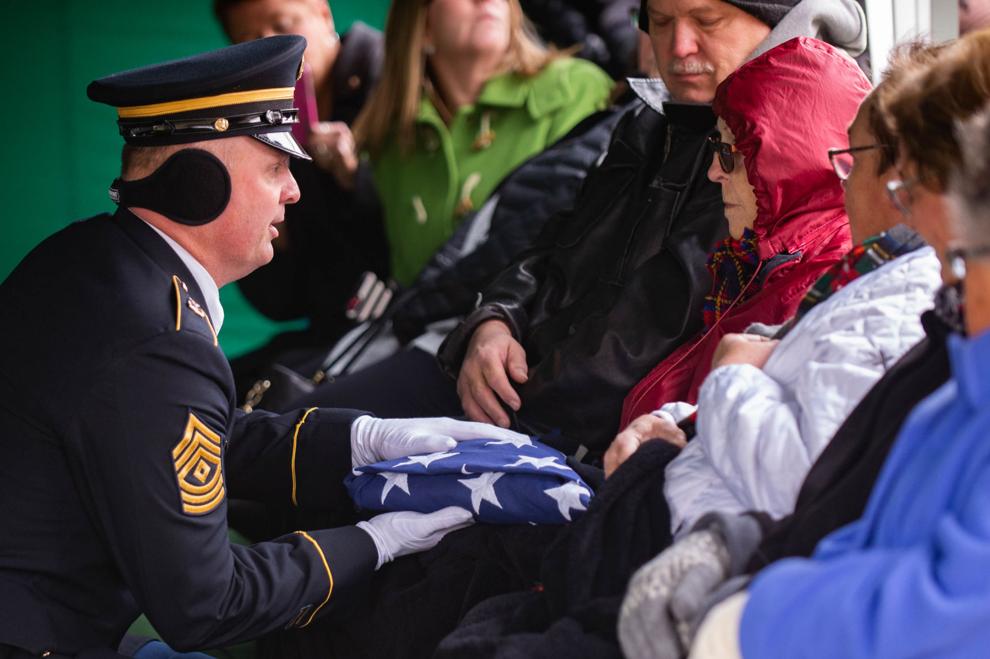 Sgt. Eugene G. McBride burial, 11.12.18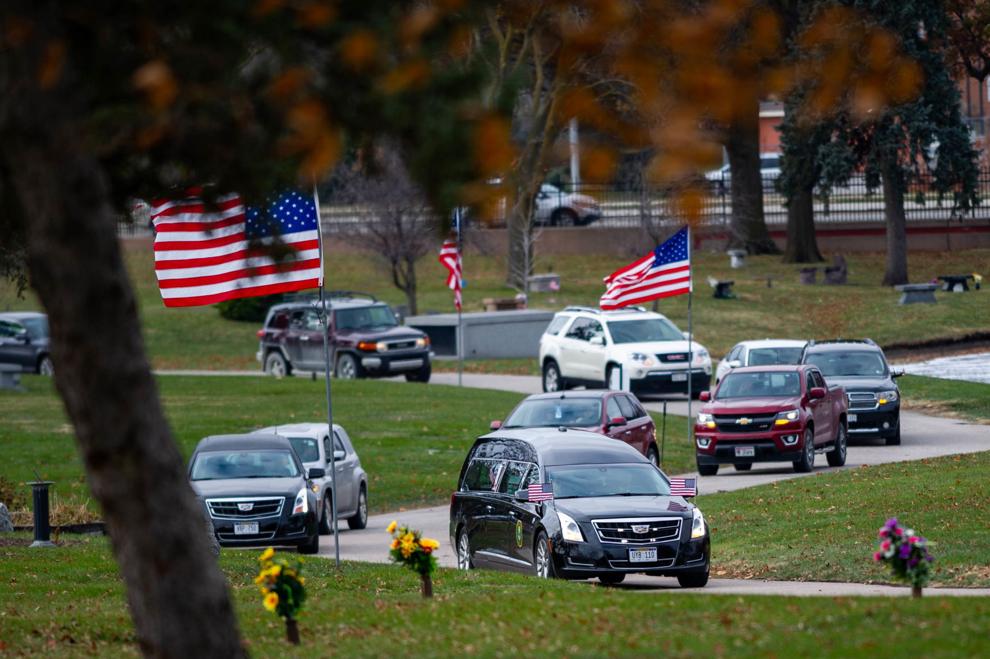 Sgt. Eugene G. McBride burial, 11.12.18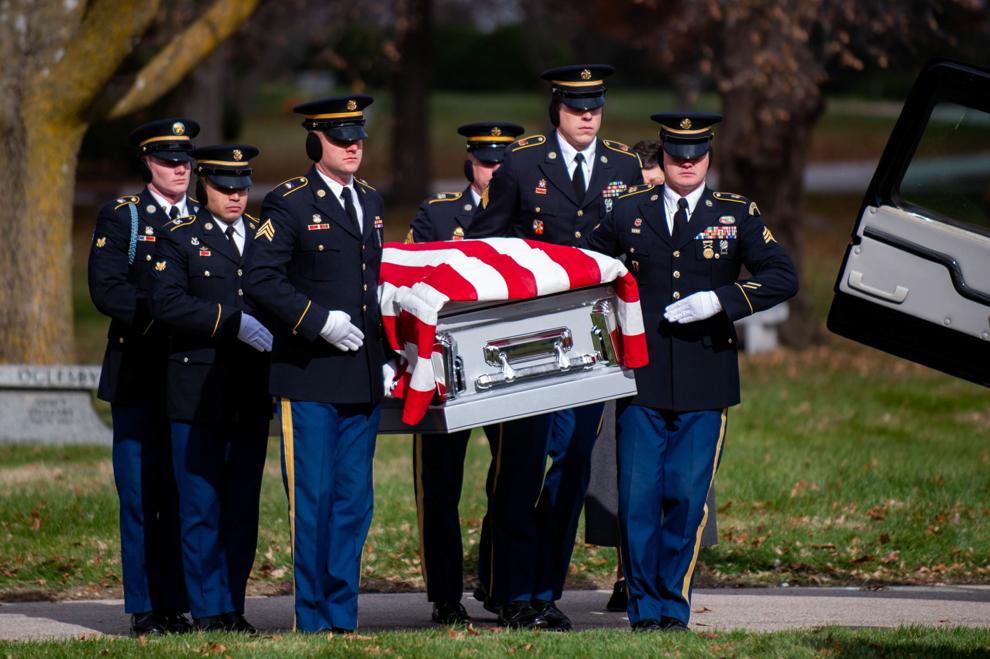 Sgt. Eugene G. McBride burial, 11.12.18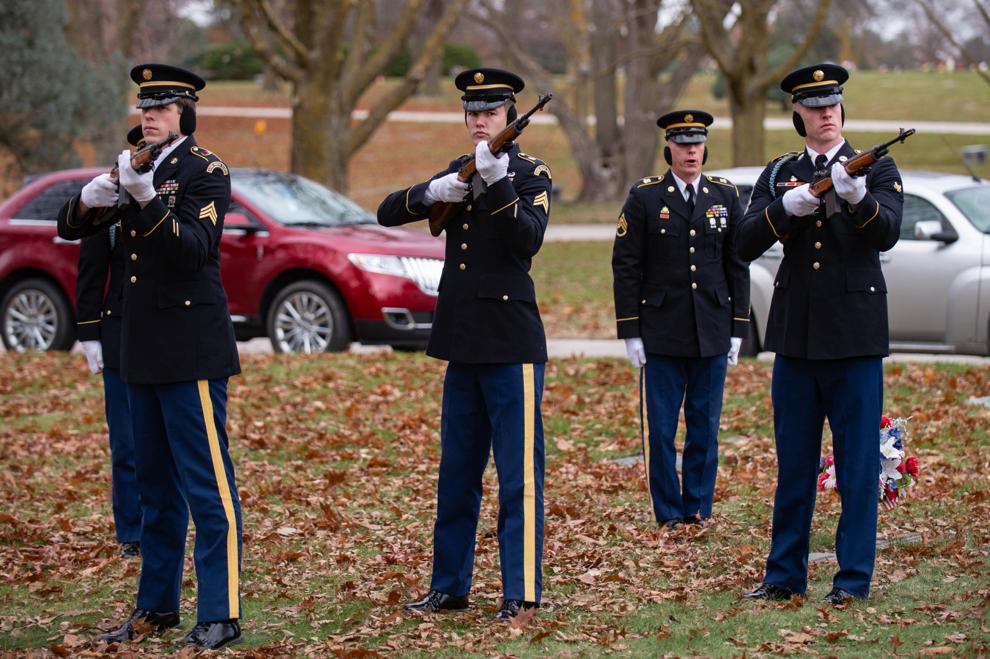 Sgt. Eugene G. McBride burial, 11.12.18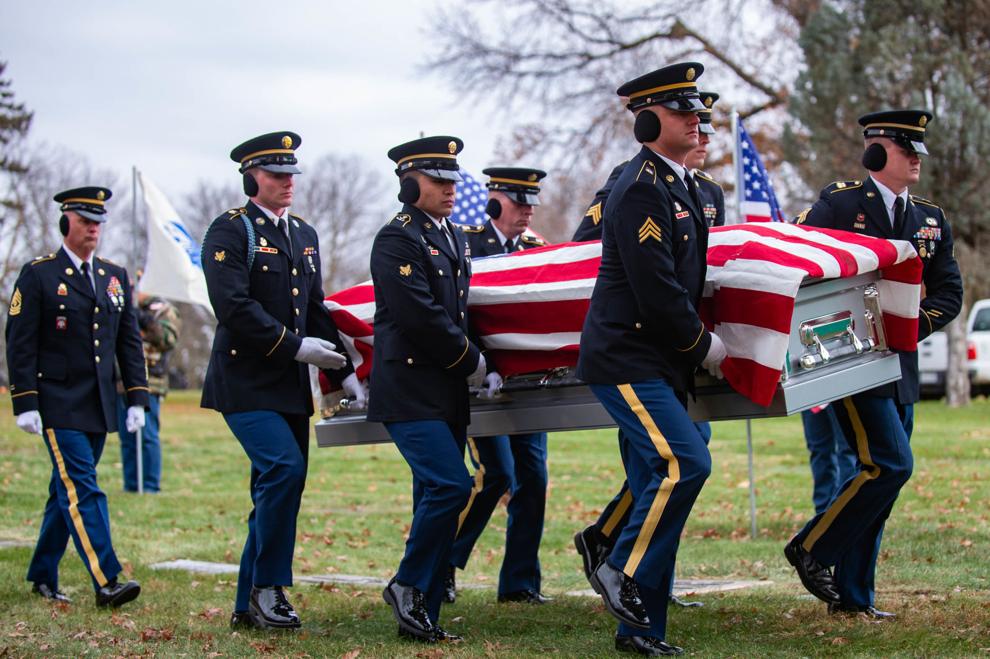 Sgt. Eugene G. McBride burial, 11.12.18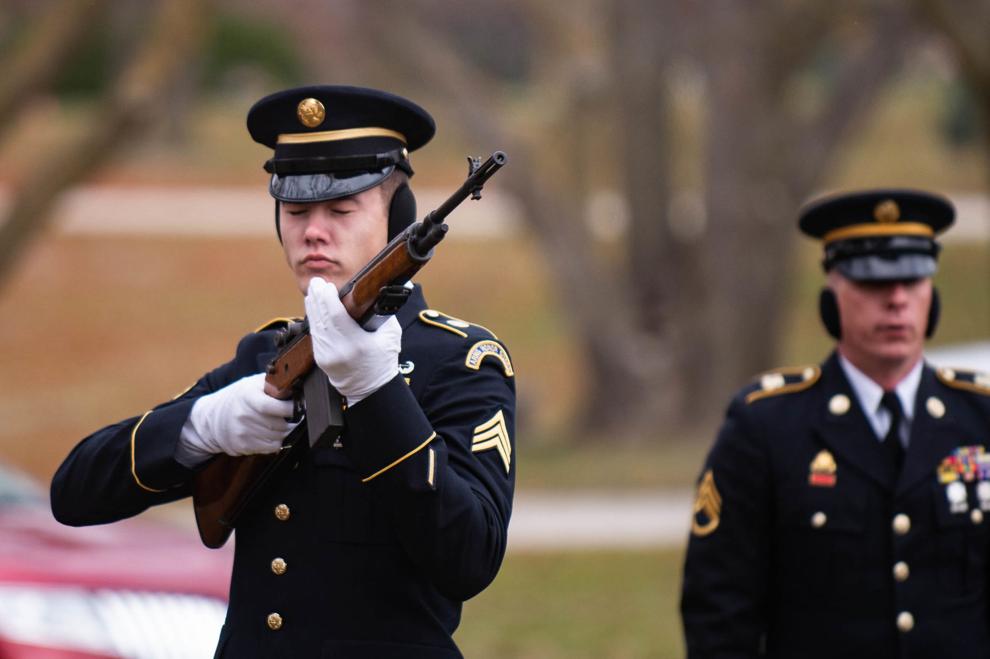 Sgt. Eugene G. McBride burial, 11.12.18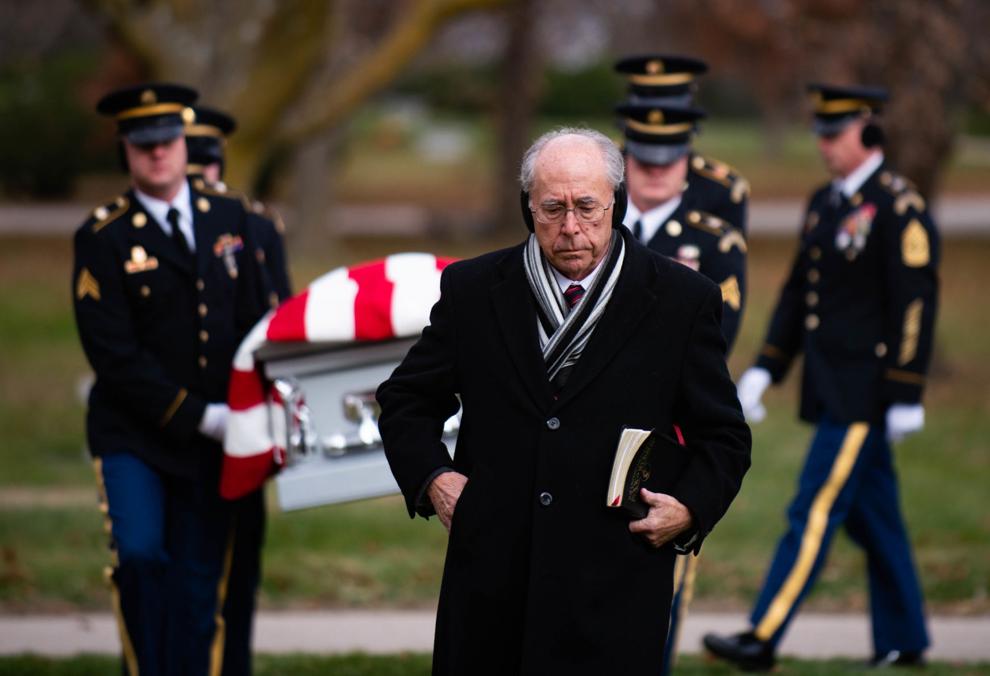 Sgt. Eugene G. McBride burial, 11.12.18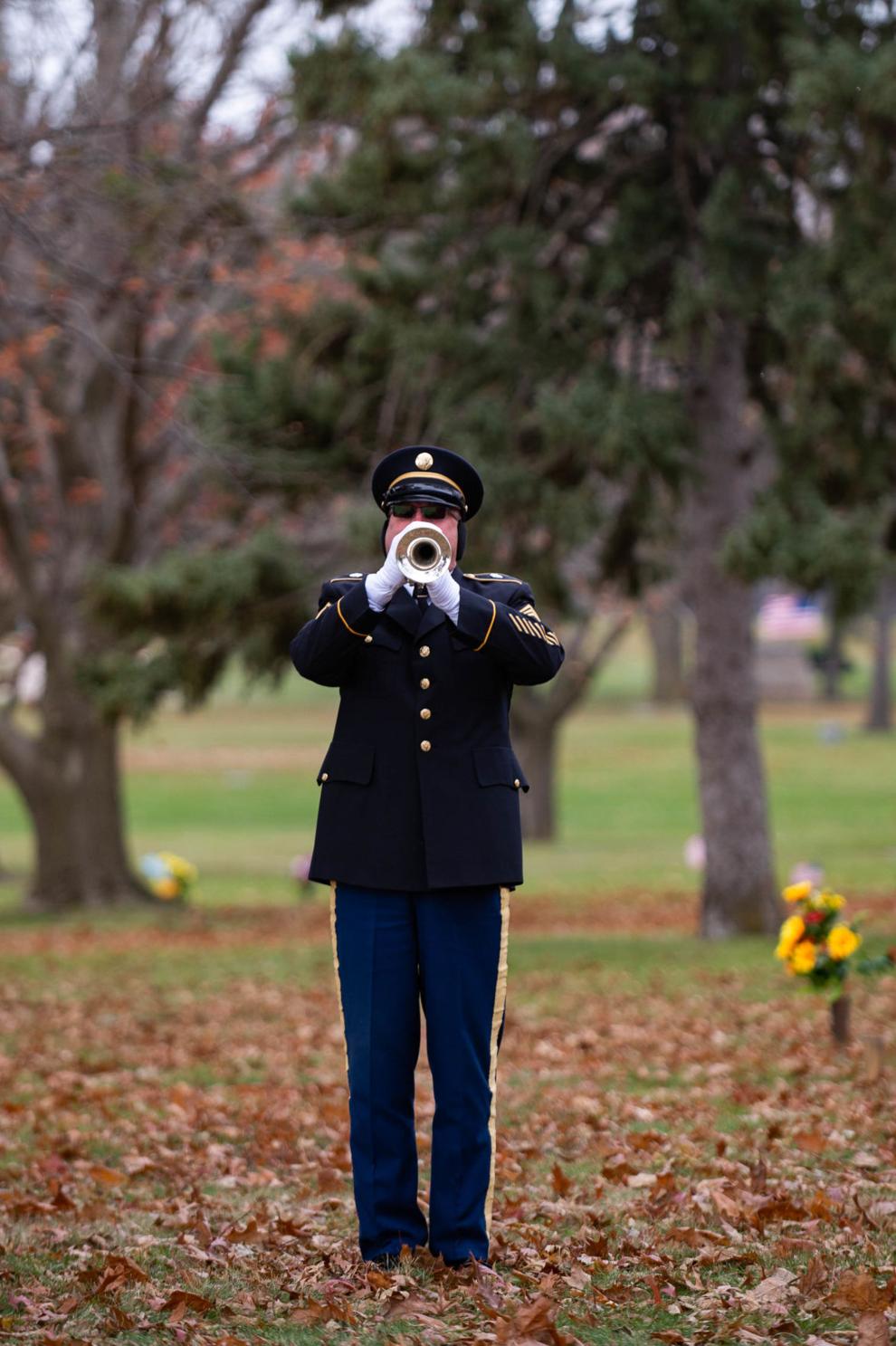 Sgt. Eugene G. McBride burial, 11.12.18