She stood in the yard of the Logan County ranch and watched the car pull in.
She wasn't expecting anyone.
She didn't recognize the small, white SUV.
And then they piled out, and one of them — a woman with wavy hair — looked familiar to Melissa Anderson.
In late August, Melissa had spent a week on the eighth floor of the University of Nebraska Medical Center at the bedside of her partner, Matt Schaeffer, the father of their two little ones and the man she'd planned to marry last spring before COVID-19 came.
There had been an accident, Matthew in the payloader helping pull a tractor stuck in the mud, the heavy chain breaking and slamming through the window of the loader and into the back of his head.
He was flown from the hospital in North Platte to Omaha late that night, and Melissa and the kids spent a long week watching over their gentle giant in the ICU.
On the last days of their stay, they passed by a room with a police officer keeping watch outside the door.
Melissa had seen a woman in that room, standing beside the bed.
Now that woman — a widow and a mom, like Melissa — was standing in her driveway.
Carrie Herrara reached out her arms for a hug.
The idea of the Christmas surprise started with pictures, simple homemade drawings from two grieving children.
Melissa had a routine at the ICU in Omaha, bringing her daughter, Rikie, 7, and her son, Tye, 6, to sit with their dad in his room while they ate breakfast and lunch.
Matthew never recovered consciousness after the Aug. 20 accident and, seven days later, the doctors confirmed he had no brain function.
The family decided to donate his organs, and UNMC staff kept his heart beating until the time came.
During the three-day window of waiting, another patient and another family arrived down the hall to keep watch over their husband and father.
Mario Herrera, 50, had been shot helping serve an arrest warrant Aug. 26. The longtime Lincoln Police Department investigator arrived at UNMC two days later. Carrie and their four children — Carlos, Olivia, Adelina and Celia — never left his bedside.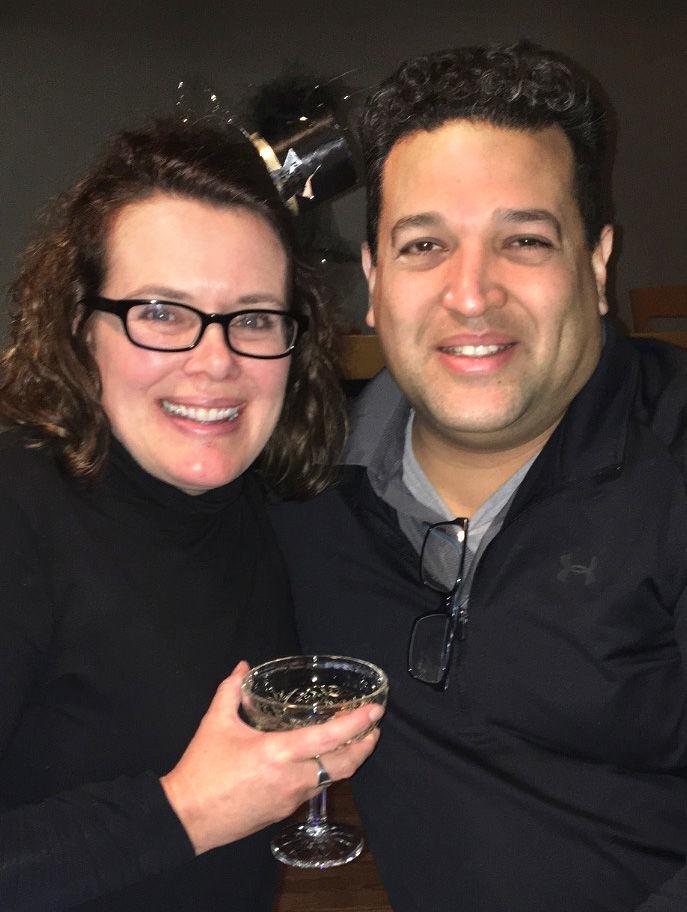 There were wide doorways in the ICU and giant doors that never closed, and on the second day of their 10-day stay, Carrie looked into the hall.
She saw a gurney and a solemn procession.
The Walk of Honor, the hall lined with staff and patients for that final journey of an organ donor.
This time, it was 40-year-old Matt Schaeffer's turn.
"Melissa was walking behind them with her two little kids and holding their hands," Carrie remembered. "I was in my own little world, but I thought, 'Oh, my goodness.'"
Her heart broke for them.
She didn't know their names then.
She just knew that the blond woman and those two towheaded kids had stopped in the hallway and offered three drawings to the officer stationed outside Mario's room one day.
A piece of pink construction paper covered in stickers — a police car and the Incredible Hulk — and the number 5 over and over again. A blue piece of paper with stickers of barns and a fire truck and a crayon signature "5 Tye."
And then a drawing of a chubby policeman with blue legs and a big medal on his chest. "Thank you for keeping us safe," Rikie wrote.
Tye told the officer that his dad was a hero, too, because he donated his organs so someone else could live.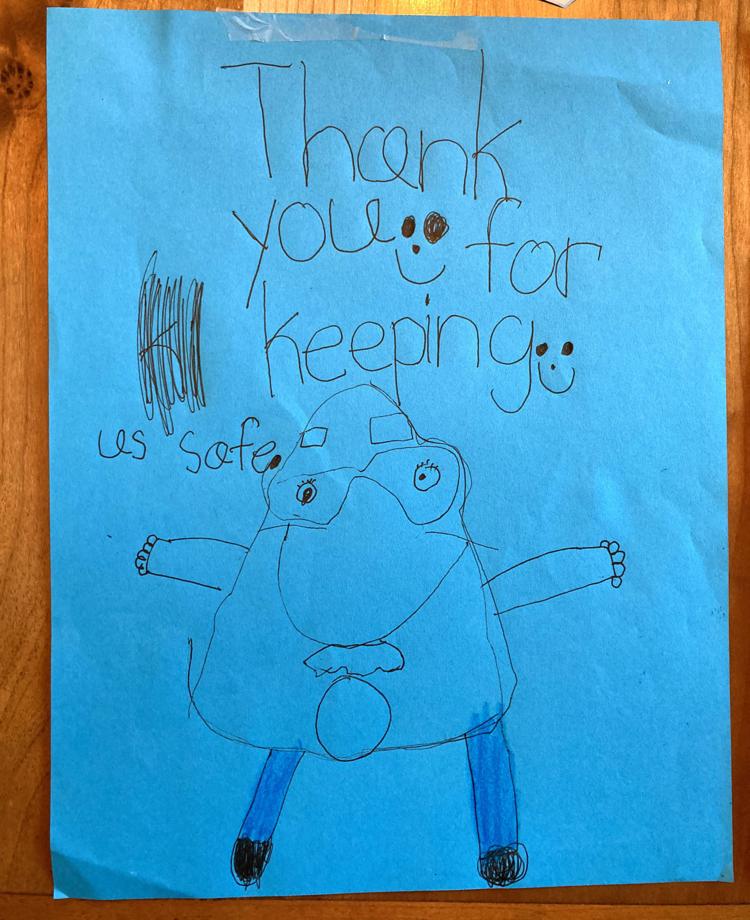 Carrie asked the nurse for tape and hung the drawings on the wall of Mario's room.
The hero in that room died Sept. 7.
His city grieved and the streets were lined with mourners and filled with police cruisers and state patrol cars and law enforcement vehicles from all over the Midwest and beyond.
Melissa remembers someone from the Lincoln Police Department calling for her address because they wanted to send a letter to thank her family.
The letter never came, but something else did.
They started planning for the Christmas surprise in Mario's hospital room.
Carrie's brother, Tim Cronin, is an LPD investigator. He was there at Bryan West Campus the day Mario was shot.
When Carrie saw him crying, she knew it was bad.
The story of those two kids from Logan County hit the police department pretty hard, Tim said.
He asked Carrie if she could get the family's name from the nursing staff. They learned a little more: That the man had a farming accident. That he lived way out west near North Platte.
Tim and Mario's partner, Matt Franken, and other officers got in touch with the Santa Cop program, and Carrie offered to buy some gifts, too.
Tim's wife Jessica did some sleuthing. She had college friends living in Stapleton and she reached out on Facebook. Everyone knew the story of the rancher who had died and they put Jessica in touch with a pair of Melissa's good friends.
Those friends told Melissa they wanted to throw a birthday party for Tye on Dec. 13, a few days after he turned 6.
She called and tried to cancel. They insisted.
She said her house was dirty. They said they'd help clean.
She called again and said she had a sick calf to tend. They said they would help with that, too.
And then that SUV showed up and it wasn't a birthday party after all.
The visitors from Lincoln unloaded Christmas presents. Nerf guns and games for Tye, and dance clothes and a dance bag and nail polish for Rikie. Kitchen supplies for Melissa, pots and pans, cookie-cutters and baking supplies to make Christmas cookies.
Carrie had gone shopping with her sister and her daughters.
"We probably went overboard, but those kids lost so much."
It had been a hard week, Melissa said.
Tears had kept Rikie up all night on a school night and Tye had begged to stay home.
Melissa didn't have the heart to buy a tree or decorate.
She cried when she got that big hug from Carrie.
"They came when we really needed 'em."
Melissa met Matt nine years ago; she'd grown up in Iowa but landed in west-central Nebraska when she was 20.
She trained horses and Matt had grown up on a farm near Stapleton.
Some friends planned a New Year's Eve party for the singular purpose of bringing them together.
Matt was a big man, 6-foot-7 and 400 pounds.
He was quiet if you didn't know him well and he had a heart as big as he was.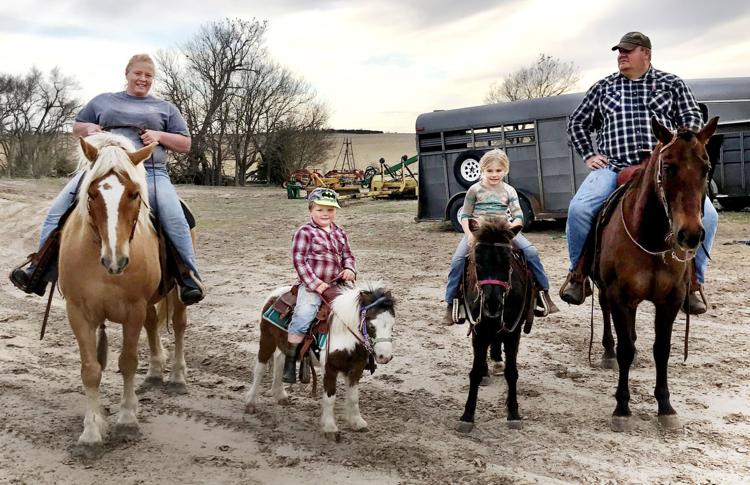 He was always stopping to help someone on the side of the road and sometimes that made Melissa nervous.
"He'd say, 'Look at me, I'm sure I'm bigger than they are.'"
He'd gotten sober a dozen years ago and helped those struggling with alcoholism.
When they found out they were expecting Rikie, they moved a trailer onto a piece of land near his parents' place. Matt's dream was to raise a herd of cattle.
They started with 22 head and had more than 200 when he died.
They'd just bought an all-terrain vehicle with four seats for the family to go survey their herd.
Now the work is all Melissa's.
She wants to keep his dream going.
The kids only want one thing for Christmas, she said.
"I'm trying to be Mom and fill his role, as best I can," Melissa said. "I don't want to get rid of what we have, it's how my kids grew up."
Carrie hurts for Melissa. Her kids are older; it's hard, but it's easier for them to understand.
"I wish it had been different for her," she says. "This is definitely not the story either of us wanted to tell."
Carrie met Mario when he left the Army and came to Lincoln in 1994. A pit stop on his way somewhere else. He got a job as a server at a sports-themed restaurant at 84th and O street called Knickers.
A cute girl named Carrie worked there. She'd grown up in Lincoln in a Catholic family with a sister and two younger brothers.
She remembers going to lunch with her mom and sister at Chi Chi's for her 21st birthday a few months later: I met this guy and I'm going to marry him.
Mario decided to stick around. They were married 24 years.
He worked at the prison and for the State Patrol before becoming an LPD investigator in 1997.
He loved his work but he didn't come home and share stories that would worry her.
When he died, people did tell stories. They told stories of his kindness and empathy. They told stories about his great head of hair and his long, winding tales.
"If you would listen to the beginning of the story and the end of the story, you could daydream in the middle," Carrie said.
He was humble. He was good. He believed in table manners. "Nobody wanted to sit to the right of him."
"He loved loved loved the kids," Carrie said. "He would not mow the yard because he did not want to miss playing with them."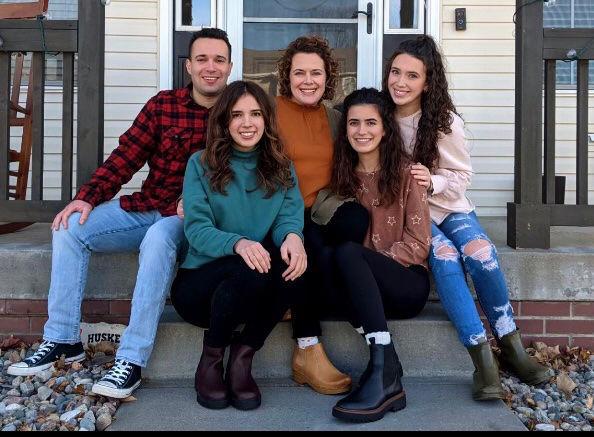 He wouldn't water it, either, because he grew up poor in a big family and knew that there were people out there who didn't have water to drink.
He was a Thanksgiving guy for that reason. "He loved the idea of making a big dinner, instead of a lot of presents."
Matt became a Christmas guy when the kids were born, Melissa says. It was the only day he put off feeding the cattle so Rikie and Tye could open their presents.
He took the kids everywhere on their 400 acres; they watched calves being born, excited each spring for the babies. They rode horses together and he never missed a single gymnastics meet or dance recital, Melissa said.
"He could heal anything with a hug from those huge arms."
Melissa and Carrie talked that day after the presents were unwrapped.
They found out they both had big, brand-new couches, picked out by their big husbands shortly before they died.
The two women hate what brought them together.
"Both of us were praying for that miracle that never worked out," Melissa said.
But they are grateful for the doctors and nurses who gave them all those days to say goodbye, the widows say.
Grateful for the afternoons Tye crept into his dad's ICU bed to take a nap in his arms, Melissa said.
Grateful that they were all with Mario when he died, said Carrie, that 15-year-old Celia could crawl into her dad's bed, too, beside him for his last breath.
A few days ago, Melissa sent Carrie a text. A song had come on the radio, "Angels Among Us," by Alabama.
Rikie listened to the words. She thought about the day the Christmas presents arrived and about the people who brought them.
Then she told her mom: I think maybe Dad sent them. They just seemed like angels coming here.