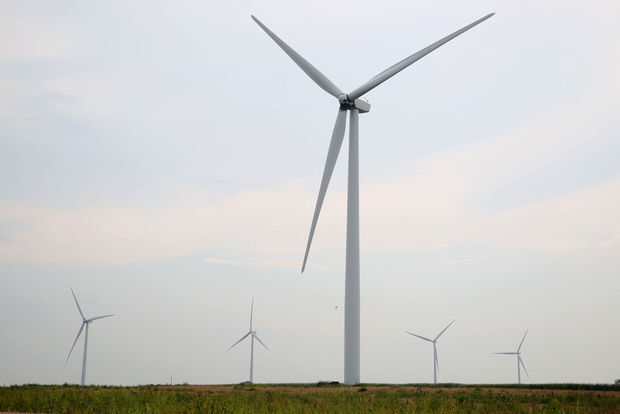 Applications for wind turbines in Gage County will continue to be accepted after the County Board of Supervisors declined to suspend wind permits while changes to the regulations are being considered.
The board's agenda at Wednesday's meeting included an item to suspend wind permits to allow for review or change of the wind regulations.
The suspension was promoted by a group of area residents looking to change the regulations, and have concerns that permits shouldn't be issued while changes are being considered.
However, the item was struck from the agenda at the request of County Attorney Roger Harris, who said permits should legally still be accepted while changes are being considered.
"The law is what the law is, that's always been the case," he said. "If I go in and apply for a driver's license, even if the legislature is going to change that… I still can get a license based on the law that is in existence when I go in and make that application."
Larry Allder, who lives near Cortland, expressed frustration that the proposed changes are taking so long to be considered, adding a request to amend the wind regulations was filed in March.
"I know this is a new process and I know this has been a learning experience, but we applied for this nine months ago," he said. "Now if the wind company comes in with a special permit, it goes in without hearing this. That's wrong. We should not be penalized for the system taking so long."
Prairie Wind Watchers is the group spearheading the requested amendments to Gage County's wind regulations. The group is focusing on two specific changes it would like to see made by the county.
A primary concern is increasing current setback requirements that stipulate turbines must be 3/8 miles from residences. The group is hoping officials will increase the setback to one mile.
The second requested change concerns how sound levels produced by wind turbines are calculated, and who does the testing.
Wording in the current regulations allows wind energy companies to conduct their own testing, which some think gives them an unfair advantage.
When the current regulations were passed the Planning and Zoning Commission recommended a ¼ mile setback, which the County Board ultimately increased to the current 3/8 mile requirement after hearing concerns from the public.
Officials are yet to reach a decision if they want to reopen the regulations to even discuss the proposed changes.
If the Planning and Zoning Commission does decide to consider amending the regulations, a public hearing would be held at a future meeting. The group would then make a recommendation regarding the regulations to the County Board of Supervisors, which has final say in if they would be changed or not.