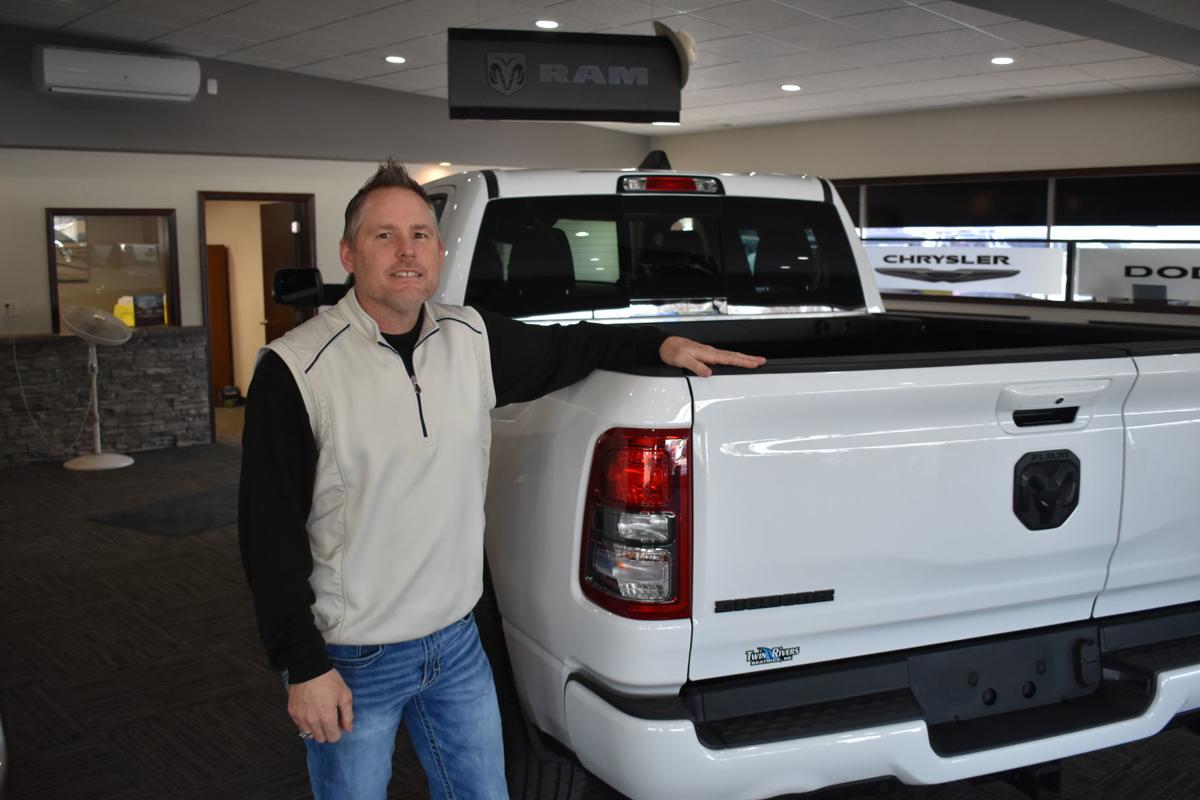 A Beatrice car dealership underwent a change in ownership earlier this month.
For 15 years, Twin Rivers Chrysler Jeep Dodge, at 529 W. Court St., has been owned by partners Steve Swarthout and Dave Eskra. As of Jan. 1 Eskra has retired from his ownership role, leaving the dealership solely in the hands of Swarthout, who has been an auto enthusiast for as long as he can remember.
"It started when I was a little kid and I can remember riding my bicycle as I grew up in Beatrice and Fairbury to the car lots and look at all the cars and dream about having one," he said. "I always had interest in that. I spent a lot of time just looking at cars."
His career began in the fall of 1987 in Evanston, Wyo., where he worked for two dealerships. One of them was Welling Ford, where he gained much of his early experience.
"I attribute most of my success to what I learned under Jay Welling in Evanston, Wyo.," Swarthout said. "He gave me a chance at 21 to do my own car deals and help out making deals, and I did my own finance contracts underneath him. I loved my job out there, but I loved Nebraska because that's where my family was and that's how I ended up back here."
He went on to spend eight years working at Riverside Chevrolet in Fairbury, before purchasing what was then Wallman Chrysler along with Eskra in 2005.
While no longer an owner of the dealership, Eskra is staying on to help with title work for up to five more years.
"I told Steve the light at the end of my tunnel is certainly visible," Eskra said. "It's just been wonderful to work with the community. We came in and bought a dealership that was six months from being closed. It was just prime for growing. Chrysler was coming back on board.
"Financially it's grown it and it has been a lot of fun to help build it and increase the payroll."
Eskra attributed much of that growth to the quality service the dealership has provided for the last 15 years.
"I'm really happy to be leaving it in good hands and in good shape," Eskra said. "I wanted to create an image. I wanted to create something where if you put name on back of a car or license plate frame you were proud of what you were using and willing to pass that on to friends who ask where do they buy a car. I think we've done that."
Swarthout said plans for him to take complete ownership have been in the works for some time.
"We had some goals made where I would take over eventually and I think the timing is perfect for him," Swarthout said. "I'm pleased for him as they've got two beautiful grandchildren now. It worked out well where he could step away."
Twin Rivers sells up to 100 new and used vehicles per month with a staff of around 35 full and part time workers, who Swarthout said are more like family.
"I absolutely love the cars and love my employees," he said. "When I lost my son in 2018 I was kind of at a crossroads and didn't know if I wanted to stay in the business. I had a hard time knowing if I even wanted to wake up, to be honest. If not for my family and my employees I don't know if I would have made it through that. That's the love we have for each other. It's more than a business."
Swarthout added that selling quality vehicles with hometown service has been key to the dealership's success, and are qualities area residents are lucky to find in all three Beatrice new-car dealerships.
"I think all the new car dealerships here in town are three very strong and very good dealerships for local people to choose from," he said. "I think that will stay strong through the future. That's important, to be able to take care of your customers."