Video, photos: Creating community during the COVID-19 crisis in Lincoln and Nebraska
From Christmas lights in Minden to a COVID-19 test relay by the State Patrol, many people have stepped up to spread cheer and kindness in Lincoln and Nebraska. Check out some examples:
Switching to hand sanitizer
2020 March 23 Coronavirus Community Update v5 Recording
The show went on … a month early
Coffee for health care workers
Homemade masks for the mission
Red Cloud's parking lot graduation
Lunch date with a squirrel
Guard helps Food Bank of Lincoln
Red carpet for essential workers
Lincoln East return and retrieval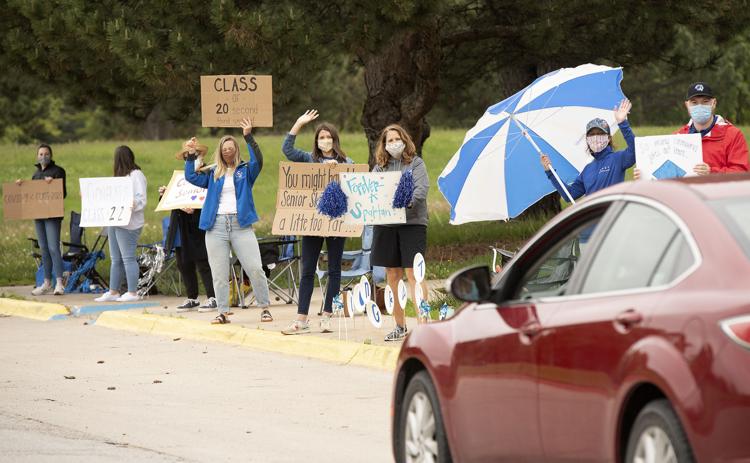 Nebraska National Guard flyover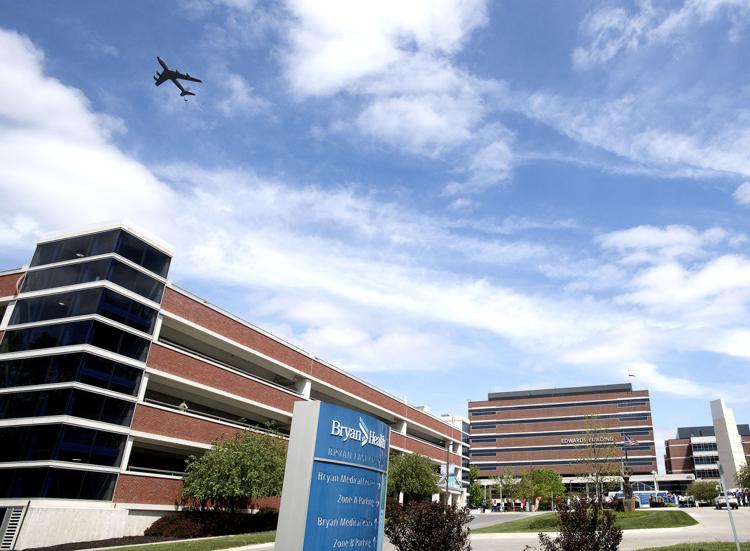 Tags
Related to this collection
By the end of the day Monday, families of children at three elementary schools had one less thing to worry about.
See the latest news as more coronavirus cases are identified in Nebraska.
"Our first daughter was born during the Ebola scare," dad said. "And our second was born during the Zika scare." Then he paused. "But the first two don't compare to what we're facing now."
People from all over Lincoln have shared their children's creations as well as where they have spotted eggs. 
All students will get "satisfactory" or "unsatisfactory" grades on all fourth-quarter assignments and on their final class grades. 
After his 3D printer sat in a box for almost two years, Nolan Miska finally had a reason to take it out.
Eighty-five percent of the hand sanitizer is being distributed at no cost to other public agencies, and the rest is being used by Corrections staff during this coronavirus outbreak.
Good news for Lincoln Public Schools seniors: Graduation ceremonies are tentatively planned for July 26.
Those wearing red in support are encouraged to post on social media using the hashtag #WearRedBeProudNE. 
Some plants are taking the temperature of employees before they enter facilities and offering protective face shields to workers who request them.
President Ted Carter said NU is watching state tax receipts and the ongoing budget process at the state level before it decides to cut any programs or impose salary cuts as the university seeks to "be a good partner" to state government.
Tavern employees baked 77 pizzas a couple of Saturdays ago -- hamburger and pepperoni -- and delivered them to the 68 households in town.
"It just seemed like a terrible idea ... to say here's this stranger," said the Lincoln High School teacher about having a substitute take her place.
American Sign Language interpreter Frances Beaurivage has been around awhile, but she's become more noticed over the last month. 
Wahoo became the latest to shine a light of recognition on their senior athletes, and it quickly became a socially-distanced party.
Nebraska State Fair officials are still planning — and hoping — to hold a full-fledged fair on schedule this summer.
The Urgent Care Clinic of Lincoln, located at 72nd and Pioneers, is now providing drive-up testing for COVID-19.
Facebook said Monday it removed posts attempting to organize anti-quarantine events in several states, including Nebraska, citing guidance from state governments.
Nebraska Crossing Outlets has clarified the announcement it made last week about reopening on Friday.
Nebraskans will be asked to support the testing initiative by their participation in an online assessment, the governor said.
"They're all at risk of you not seeing them when you come in for shift change the next day, because they could have died."
Troopers wrote 10 or more tickets in four Nebraska counties. Who tops the list?
Members of the Nebraska National Guard deployed to help Food Bank of Lincoln distribute food to those in need.
In the latest state figures, Hall, Dawson and Dakota counties -- all home to packing plants -- accounted for half of the state's 2,124 confirmed coronavirus cases.
Lincoln residents may have to wait a while longer to sit down for dinner at their favorite restaurant or get that unwieldy hair under control.
The number of tests performed was only about half the capacity that was available, but the Nebraska National Guard tested around 100 people in Crete on Thursday.
Nebraska Crossing Outlets owner Rod Yates said Sunday afternoon that the mall plans to have stores reopen later this week.
Nebraska State Patrol troopers at weigh stations and rest areas armed with trash grabber tools began distributing 100,000 cloth face masks to truck drivers rolling through the state.
Looking for a creative way to fill their time, Lincoln brothers Laz and Daniel Hundley decided to put some of their family's completed puzzles to good use.
Mom in quarantine finds creative way to celebrate son's birthday. 
The project, which aims to have Nebraskans copy all 1,189 Bible chapters to be assembled into a book, began this week.
Ramadan, an important month in the Islamic calendar wherein Muslims fast from sun-up to sun-down, is commencing during an uncertain time due to social distancing measures. While the usual traditions that come with this month are currently not an option, Muslims in Lincoln are finding unique opportunities to connect with their faith.
Birthday parties, graduations, weddings and other celebrations were canceled, which left people looking for other ways to mark milestones -- maybe with, say, a big sign in the yard.
A granddaughter posted a letter to Smithfield Foods and an ode to her grandfather, who died after contracting COVID-19. His son and daughter-in-law work at the plant but did not exhibit symptoms and the elder Mai lived with them.
A Lincoln family recreates a "Wishtree" in their front yard as a way to share hopes during the pandemic.
On Thursday, during both National Nurses Week and National Hospitals Week, the selfie walls were installed at both Bryan East and Bryan West Campus hospitals.
The Nebraska Air National Guard has scheduled a statewide flyover salute to health care professionals and all Nebraskans who are responding to the coronavirus pandemic Wednesday.
This columnist isn't ready to dine out yet, and some local venues aren't ready to have customers in the door yet, either. Find out who's in and who is waiting for COVID-19 cases to dwindle.
"The non-eastern part of the state is very, very stable at this time," Dr. Gary Anthone, the state's chief medical officer, said Tuesday during Gov. Pete Ricketts' daily coronavirus news briefing.
The Nebraska Air National Guard's scheduled flyover on Wednesday to salute health care professionals and others has been canceled because of low cloud ceilings forecast across much of the state.
The department has tested 20 inmates and is testing, as a precaution, those who will be discharging from Omaha's Community Corrections Center during the facility quarantine.
The total of four categories of gross receipts was $469 million, which is 41% below the forecast of $795 million. 
The Nebraska Air National Guard has rescheduled a statewide flyover salute to health care professionals and all Nebraskans who are responding to the coronavirus pandemic for Monday.
Bob Ravenscroft of Bryan Health said 34 patients there have received convalescent plasma as part of an investigational study, and a good number of them have had positive responses.
On Saturday, a Fremont High School commencement speech by U.S. Sen. Ben Sasse included a joke about the name Jeremy. In Lincoln, one Jeremy pokes back.
Monday's flyover was part of a pre-planned training flight and included more than 30 Nebraska hospitals, ending with those in Lincoln. 
Church leaders in Nebraska are used to making tough decisions for their congregations. But now, in the midst of a pandemic, churches must weigh their congregants' spiritual nourishment against a risk to their physical health.
At middle and high schools across the city, teachers made signs and hung decorations and put on costumes and played music to help students note the end of a school year where dining room tables and bedroom desks became the classroom.
The increase in patients is a sign of the pent-up demand for elective procedures that were temporarily prohibited, hospital officials say.
The Nebraska National Guard has been actively engaged on the front lines of the state's battle against the coronavirus.