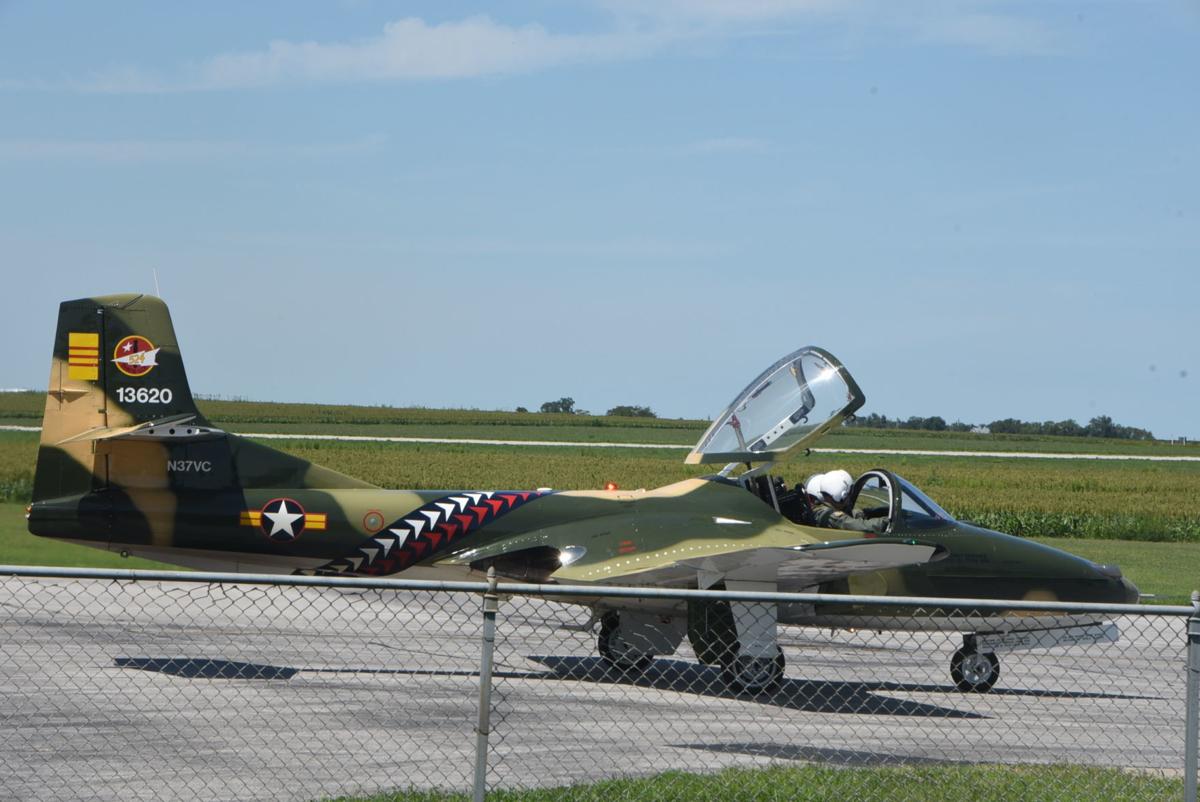 A not-so-little birdy loudly announced its landing at the Beatrice Municipal Airport Wednesday afternoon.
There are only two of the Cessna T-37 still flying in the United States, and this was one of them. Also known as the Super Tweet or Tweety Bird, the T-37 made a pit stop in Beatrice before continuing to Sioux Falls, South Dakota, to participate in a Vietnam search and rescue air show.
Rick Evans is the pilot, identified by the "Tweet Driver" patch with the Looney Tune itself on it.
Evans said the air shows are through the Cavanaugh Flight Museum, and are similar to the Pearl Harbor movie 'Tora! Tora! Tora!'
"We have a downed pilot that comes down in a parachute, like he's shot down," Evans said, "and then we have an O-2- it's a small, twin-engine propeller airplane- he identifies the target, calls it to us. Then we come in with the T-37 and two A-1s, and we do close air support. We're defending the position of the airman, and we have explosions going off around and all that. Then we have a Huey Helicopter that comes in and picks up the downed airman."
While the plane was painted to resemble what an A-37 Dragonfly looked like during the Vietnam War, other historically-accurate objects – like the machine guns – were left out. Instead, that area was used as storage space for snacks.
The T-37 was built and first flown by the Cessna Corporation in 1954. It was designed as a jet trainer for the Air Force. Only 1,269 T-37s were built, but it is estimated that over 100,000 pilots worldwide have earned their wings flying a Tweety Bird. After more than 50 years, the T-37 was replaced by the T-6 Texan in 2009.
In the second seat of the T-37 sat executive producer and radio talk show host Jeff Bolton. As an attendee of several air shows, Bolton said that it's important people see these planes flying instead of sitting static in a museum.
"It's important to remember that we have young men and women that are serving today, all across this world, on behalf of our nation," Bolton said. "When we fly these airplanes, we honor their service today, and we honor a lot of people that have walked before them. It's a big deal."
Bolton said he's interacted with several Vietnam veterans who haven't seen these planes in years.
One was a crew chief for a T-37, and checked to make sure Evans' and Bolton's seats were pinned.
"He told me if the seats weren't pinned, meaning the ejection seats didn't have the pins in them to make them safe so they could be worked on, he'd get a case of beer from the pilots," Bolton said.
Bolton said another veteran attended the air show with his son, who sat wide-eyed after seeing what his dad did as an Air Controller.
"If it doesn't fly, you don't reach people like that...War's an ugly business, and the relics of that are both the people and machines," Bolton said. "So when you can launch these things again, particularly for people who can't necessarily articulate what they went through, to see it and be able to touch it is immensely powerful."
While they work with the Cavanaugh Flight Museum, the T-37 is actually part of the Service Air Corps. The nonprofit organization provides military flyovers for veteran events like funerals, retirement celebrations and POW reunions.
They also allow paid flights, which cost roughly $1,950.
Evans said the money goes towards fuel for the flight and taking care of the plane, as well as helping to pay for the veterans events. More information can be found at serviceaircorps.com
Bolton explained that the planes are maintained through purchasing or trading parts, as well as having maintainers fabricate pieces.
More information about the museum and upcoming air shows can be found at cavflight.org/
Get local news delivered to your inbox!
Subscribe to our Daily Headlines newsletter.