As it prepared to send men to the moon, NASA had to think as much about how it would fuel its astronauts as it did the Apollo spacecraft that would take them there.
But it wasn't as simple as loading up a pantry full of snacks or packing drinks into a cooler.
Storage in both the command and lunar modules was limited. There was no way to prepare fresh meals. And getting medical help to an astronaut with a food-related illness on the moon's surface was out of the question.
Foods needed to be compact, easy to prepare and safe, and unlike the earlier missions in the manned space program that had relied heavily upon military-style rations.
NASA needed help expanding its menu to items that could sustain the crew for more than a week beyond freeze-dried fruits and bite-sized bacon squares, rehydrated cream of chicken soup and grape punch from a tube.
Even something as simple as sliced bread for sandwiches.
Fifty years ago, researchers at the University of Nebraska-Lincoln and its sparkling new Department of Food Science and Technology had an idea of how it could send bread to the moon that wouldn't grow stale or moldy.
Using the energy given off from radioactive isotopes like cobalt-60, foods can be pasteurized for long durations, said Ted Hartung, a former professor and administrator at UNL.
Nebraska's fledgling food science department already had some expertise with exploring how radiation could be used to kill bacteria, mold and other microscopic organisms in red meats, Hartung said.
"The gamma radiation passes directly through whatever food you're treating," he explained. "There isn't any radioactivity that remains in the food, so it's perfectly safe."
Bob Hutkins, a professor of food science at UNL who writes the "Ask the Food Doc" column for the Journal Star, said radiation can be used to "inactivate microbes" in a wide range of foods without affecting the flavor, appearance, texture or nutritional value.
During his Ph.D. program at Purdue University — the alma mater of astronaut Neil Armstrong — Hartung had conducted taste panels to see if there was any discernible difference in the flavor, appearance, texture or nutritional value of foods sterilized through radiation.
Another UNL faculty member, Burt Maxcy, had been conducting experiments with pasteurized hamburger meat.
Both were eager to use the $36,000 cobalt-60 irradiator the NU Board of Regents accepted on loan from the Atomic Energy Commission through the efforts of then-Sen. Carl T. Curtis.
In a Sept. 10, 1968 article in the Lincoln Evening Journal, Curtis said he hoped to engage with the Army, as well as the departments of Agriculture, Health, Education and Welfare, to discuss researching large-scale pasteurization efforts using the machine.
The 17-ton piece of portable equipment appeared like an oversized oven lined with lead. UNL spent $2,500 to pour a reinforced concrete pad and build a small structure to house it just outside Filley Hall on East Campus.
While many of the early studies on irradiating meat were conducted for the U.S. Army to study ways to keep soldiers' food from spoiling in the field, a former colleague of Hartung's at Purdue who had gone on to work for NASA suggested the method could have merits for space travel.
Hartung said his former colleague suggested NASA look at UNL, which had the expertise and equipment in place to test the hypothesis.
"They determined what they wanted in the way of specification for bread," Hartung said. "We then worked with Pepperidge Farm to meet that specification."
Each day, Pepperidge Farm would deliver bread loaves to UNL for testing. Researchers would run slices through the cobalt-60 irradiator, which would bombard them with radiation, before the slices were individually packaged and shipped to NASA.
The team soon met NASA's expectations, Hartung said. Not long before the launch of Apollo 11, on July 16, 1969, they learned "Nebraska Space Bread" would be on its way to the moon.
Hartung, Maxcy and Lloyd Bullerman were later overcome with pride when they saw astronaut Buzz Aldrin spreading ham salad onto one of their irradiated slices of bread during a television broadcast from space.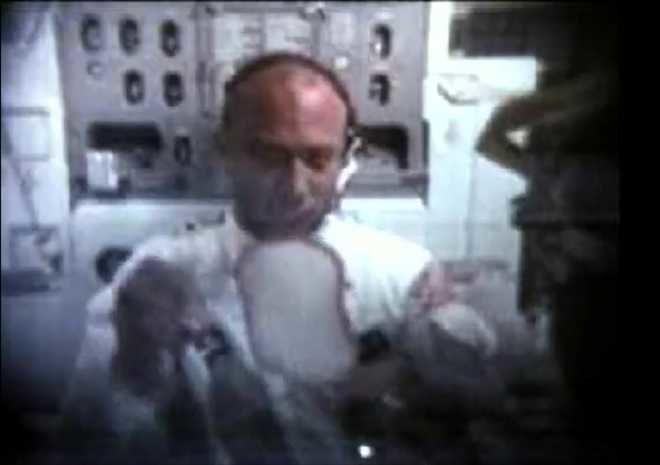 "We had been waiting to hear from the astronauts whether that was a feasible item or not, and it got back to us that, yeah, they wanted to do that on all the Apollo missions," Hartung said.
UNL-irradiated bread was on the menu for each of the seven flights that went to the moon, and later included during Skylab.
UNL's contribution — even if it was just "a little bitty piece" of the whole space program, according to Hartung — gave an early boost to the food science department, which now employs 35 faculty in a state-of-the-art facility at Nebraska Innovation Campus.
"I'm convinced it was a real help in getting some notoriety in the scientific world for the department," he said.
Unlike other technologies that emerged from the Space Race, Hutkins said irradiated food, while safe, never caught on with consumers, so food manufacturers largely abandoned the method.
Other innovations have emerged in the area of food science in the 50 years since the Apollo 11 moon landing, Hutkins said, that would give NASA plenty of options if it came calling on how to best feed astronauts on their way to Mars.
"Even though a round-trip Mars mission could last a couple of years, astronauts could eat quite well," he said. "There are plenty of microwavable, shelf-stable and quite tasty products that already exist.
"Making them more compact would probably be necessary, but not a problem."