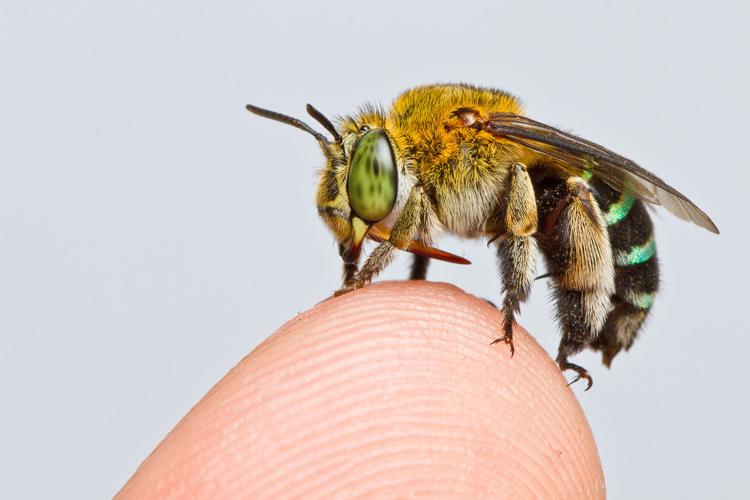 Researchers have taken an important first step toward bee conservation by creating the first modern map of bee species represented globally, according to a study published Thursday in the journal Current Biology.
Until now, accurate information about the number of bee species and patterns across the globe has been limited, especially in developing countries where publicly accessible records are slim, the study said.
The team's findings have established an important baseline and best practices for future studies on bees and other understudied invertebrates, the study said.
"We wanted to create the first modern map of bee species richness because we need to know where bees live to conserve them," said Michael Orr, the study's first author and a postdoctoral fellow at the Institute of Zoology at Chinese Academy of Sciences.
"This is an important first step for that, and in the future we can begin working more on threats to bees such as habitat destruction and climate change, and to better incorporate pollination services into ecosystem service analyses."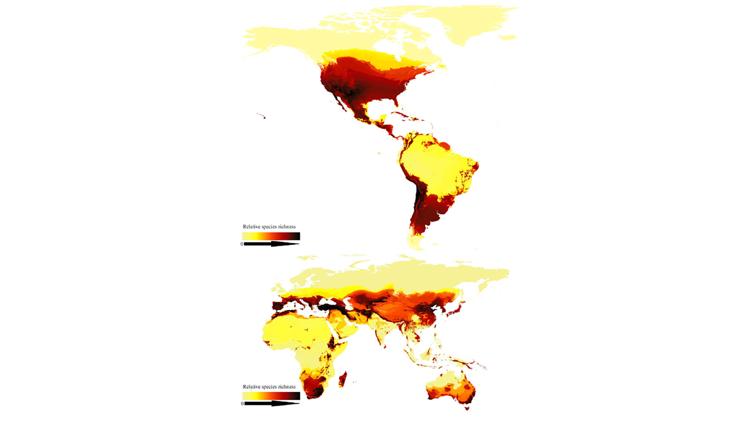 To develop their maps, researchers combined data from more than 5.8 million public bee occurrence records with a checklist of the distribution of over 20,000 bee species accessible online at the biodiversity portal DiscoverLife.org.
Their analyses resulted in a clearer description of the numbers and patterns of bee species distributed in different geographic locations. It revealed higher concentrations of bee diversity in the Northern Hemisphere than in the Southern Hemisphere and more in dry desert and temperate environments than in humid, tropical and forested areas.
Their findings support previous hypotheses that bee diversity follows a bimodal latitudinal gradient, meaning higher counts of bee species are found away from the North and South poles and fewer near the equator.
This hypothesis has often been proved false due to lack of sufficient data but researchers can now say confidently that bees are one of few insect groups that follow this distribution pattern, according to Orr.
"Surprisingly, despite the critical importance of bees as pollinators, until now there has been no comprehensive source of information on where the different bee species of the world are found," said Rachael Winfree, a professor of ecology, evolution and natural resources at Rutgers University.
"The authors of this paper are the world experts on this topic, and their work is a big step forward for the field of biodiversity conservation."
An accurate understanding and prioritization of the distribution of bee species can have a major impact on species survival in the future and has the potential to prove crucial for food security and maintaining rural livelihoods, said Orr.
"Climate change poses a large threat to many species," he said. "But that's going to be irrelevant if we don't protect the habitats species need that are being destroyed now."
---
Last week in weird news
Russian city to demolish derided 'Robot' building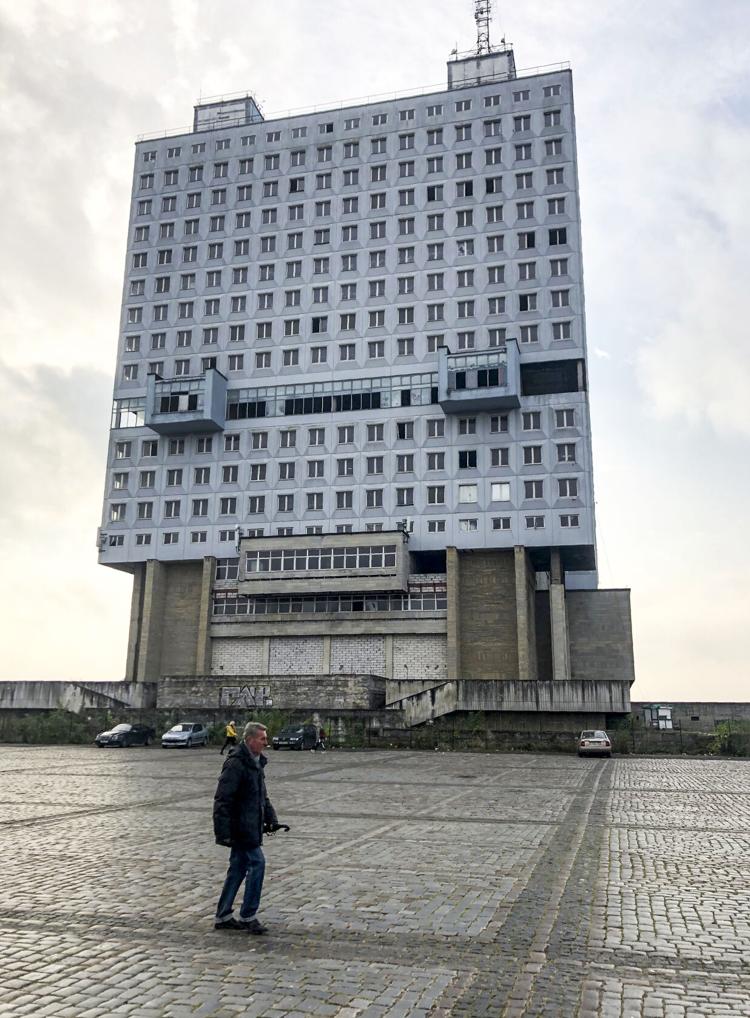 MOSCOW (AP) — A hulking, never-occupied building sardonically likened to a robot's head that has loomed over the Russian city of Kaliningrad for decades is to be demolished next year, the region's governor says.
The 21-story House of Soviets was left unfinished when funding ran out in 1985 amid the Soviet Union's economic struggles. The building, which later was assessed to be structurally unsound, and became one of the city's most widely known emblems, particularly when the fan zone for the 2018 World Cup matches in Kaliningrad was set up in a vast square next to it.
The Brutalist building's protruding covered balconies resembling two eyes and a mouth led to it being nicknamed "The Buried Robot."
Regional governor Anton Alikhanov said demolition is expected to begin early next year and that officials are discussing the possibility of making fragments of it available as souvenirs, the Komsomolskaya Pravda newspaper reported Wednesday.
Kaliningrad is the administrative center of the Russian exclave of the same name, which is located between Poland, Lithuania and the Baltic Sea.
NYC woman gets ill swan to clinic via foot, car and subway
NEW YORK (AP) — Ariel Cordova-Rojas went to New York's Jamaica Bay Wildlife Refuge last week to celebrate her 30th birthday.
She ended up rescuing a swan with lead poisoning, taking it to a wildlife clinic by foot, car and subway with the help of both friends and strangers.
Cordova-Rojas is trained in identifying and rescuing wildlife, the New York Times reported, having worked at the Wild Bird Fund clinic in Manhattan for five years.
She got to the Queens wildlife refuge on Nov. 5 and spotted a swan alone in the grass on the side of the water.
She approached it and saw it was unable to walk or fly. She wrapped the 17-pound bird, which she says is named Bae, in her jacket and carried it a mile to the refuge entrance, the newspaper reported.
Calls to various animal rescue services and the ranger stations yielded no immediate assistance. Then a couple with a car agreed to drive the swan and Cordova-Rojas to a nearby subway station. (The couple persuaded yet another friend with a car to help get Cardova-Rojas, her bike and the swan to a subway station.) An employee of Wild Bird Fund met them at the Nostrand station in Brooklyn and helped them get to the organization's clinic on the Upper West Side. Photos show the swan nestled in an orange jacket on a seat in a train car.
Cordova-Rojas told the Associated Press the swan was being treated for lead poisoning and with antifungals and antibacterial medications. She has made a friend of another swan at the clinic and is gaining strength and mobility.
It could take three weeks or up to two months before Bae returns to the refuge, Cordova-Rojas said.
The tale of the swan's rescue saga inspired an outpouring of affection.
"I think it just shows the immense compassion of New Yorkers. People always think that we are rude and heartless, but we are just busy and have places to go, so we move fast," Cordova-Rojas said. "Even though we live in a concrete jungle, we are surrounded by nature and wildlife if you just take a second to look around. The wildlife are just as much New Yorkers as we are, and it is our duty to keep each other safe."
The mute swan, which has an orange bill and holds its neck in a graceful S-curve, isn't native to North America. It has multiplied in New York, the upper Midwest and along the Atlantic coast since it was imported in the 1800s to adorn parks and opulent estates. Citing threats to native wildlife, plants and unwary humans, six states now have swan-removal policies that range from egg-shaking to shooting or gassing adult birds.
New York had its own anti-swan proposals that brought a deluge of protest, but Democratic Gov. Andrew Cuomo eventually signed a bill in 2016. It allowed for the killing of swans upstate if the birds can't be captured and relocated to facilities. Downstate, it emphasized population control by damaging eggs.
Female banded mongooses lead battle for chance to find mates
WASHINGTON (AP) — When families of banded mongooses prepare to fight, they form battle lines.
Each clan of about 20 animals stands nose to nose, their ears flattened back, as they stare down the enemy. A patch of scrubby savannah separates them, until the first animals run forward.
"Then they bunch up into writhing balls, chaotic and fast-moving, and you hear high-pitched screeches," said Michael Cant, a biologist at the University of Exeter who has been studying the species in Uganda for 25 years. "We call it mongoose warfare."
The catlike striped mammals only weigh up to 5 pounds each, but the vicious fights can last more than an hour. A question that has intrigued Cant and other scientists is: Why do these social animals fight?
Chimpanzees are the most famous example of family-oriented mammals who wage group warfare — both to defend or expand their territories and to take females from other families. But individual mongooses almost never leave the group they're born into.
Banded mongooses are known for almost unbreakable devotion to their birth family — as well as cooperative living habits, including sharing den-guarding and pup-rearing responsibilities, said Cant.
Combining field observations and analysis of 19 years of demographic and behavioral data for a population of 10 to 12 families – about 200 mongooses at any time – Cant and his colleagues have found that at least one purpose of the fights is to allow females a chance to mate with opponent males. That avoids or minimizes inbreeding.
"We think females play a role in inciting these conflicts to escape the males in their own family groups during the confusion and chaos of battle," said Cant.
Their research, published Monday in the journal Proceedings of the National Academy of Sciences, found that almost all fights are initiated by groups when their females are in estrus or fertile, which happens among all females at the same time. Often the females take a lead in steering groups to places where they will encounter combative neighbors. About 20% of pups in a group are sired by males from opposing groups, DNA analysis showed.
"This is fascinating research on a pretty unique situation," said Michael Wilson, a biological anthropologist at the University of Minnesota, who studies group fighting in mammals and was not involved in the new study. "What's driving this is partly the dilemma the females find themselves in."
The female mongooses are strongly motivated to find mates in other groups, Wilson said. "But it's really hard to do that because as soon as they come into estrus, they get followed doggedly by a male in their own group. The only way they can shake him off is to visit the neighbors and start a fight."
Because of the risk of predation from leopards, pythons and birds of prey, mongooses almost never leave their family groups to wander alone, said Francis Mwanguhya, who works with Cant as field manager of the Banded Mongoose Research Project in Uganda.
In most social mammals, such as gorillas, lions, wolves and humans, offspring of at least one gender leave their parents' group to find mates and join other families.
In the relatively few species where that's not the case, other strategies are needed to prevent inbreeding. Killer whales, for instance, rarely leave their birth families, but family groups come together for mating.
"You need different mating strategies when no one ever leaves the group," said Cant.
Follow Christina Larson on Twitter: @larsonchristina
The Associated Press Health and Science Department receives support from the Howard Hughes Medical Institute's Department of Science Education. The AP is solely responsible for all content.
A love for Disney and sheltering in place gave birth to a roller coaster in a California backyard
Many people have adopted new hobbies to help cope with spending more time at home during the pandemic, but few have taken it to the level of a California family, who built a 400-foot roller coaster in their parents' backyard.
Since their favorite theme park was closed due to Covid-19, Sean LaRochelle, a graduate student pursuing his master's in architecture at Clemson University, decided to bring a little bit of Disneyland right into their backyard.
LaRochelle, his wife and their three children were quarantining with his parents and his siblings at their home in California's Napa Valley when he decided on a whim to try and build a coaster.
"I went up to my dad and I was like, I think we're going to build a roller coaster in the backyard. And he's like, "Oh yeah, that's fine. No worries." I don't think he realized how big it was going to be, but he was super supportive," LaRochelle told CNN.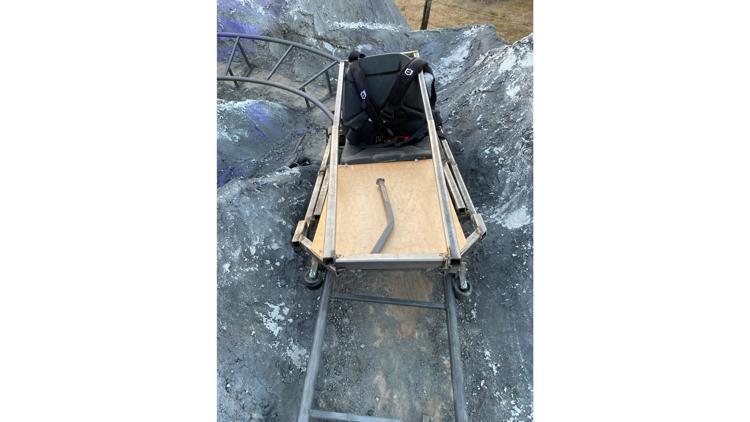 30 friends helped bring the vision to life
The coaster ended up being approximately 400 feet in length. Only one rider goes at a time, but it takes 50 seconds to ride from start to finish.
LaRochelle utilized the talents of 30 friends to not only create the roller coaster itself, but to bring it to life. It is based on the Matterhorn, a roller coaster at Disneyland in Anaheim.
The Matterhorn simulates an Alpine sled hurtling down a mountain while trying to avoid a yeti trying to capture the sled. The ride is named after the 14,692-foot peak in the Alps near the border of Italy and Switzerland.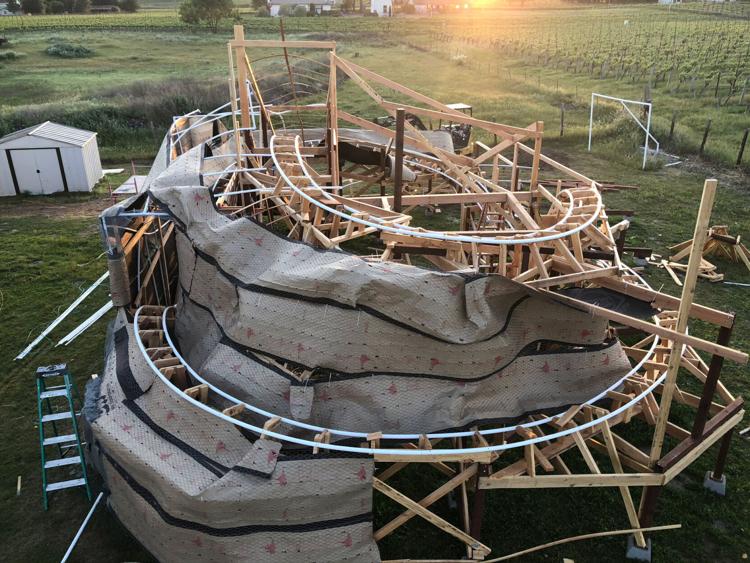 "We've got, you know, rock formations and waterfalls and an animatronic yeti. And you do a couple of loops around the mountain and try to escape its clutches," he said.
LaRochelle has fond memories of the iconic ride and trips to the park with his family, so the attention to detail was key for him.
"I wanted to do it really well. I wanted to be very detailed. I was like, imagine that I was an Imagineer and that I was trying to put the same care and quality into the product. And so for me, that was the most important thing," he said.
He started construction on it in March and finished in July. LaRochelle said it was basically a full-time job for he and his brother Michael on top of the full-time jobs they already had.
"Basically, it was after work every day, we'd work until it got dark. And then we'd wake up early in the morning, we'd work until we had to go to work. And then on the weekends, it was 24/7 pretty much," he said.
"We're not, you know, mechanical engineers. We're not, you know, artisans, we're just people. And you know, I think it goes to show that anyone can do this stuff."
LaRochelle said he and his brother used a lot of resources they found on the internet in addition to including their friends and family. In the end, all of the work paid off.
He didn't have an estimate for how much it cost to build. "The joke was, it was the Trump stimulus check coaster. We ended up spending a little bit more than that," LaRochelle said.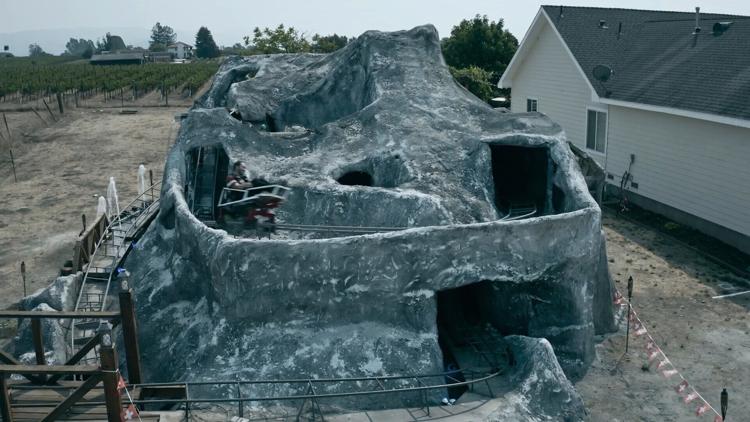 A lot of hard work to spread a little bit of joy
"Really, it's only been positive feedback. And I think, you know, we live in such a tumultuous time right now and having somebody, or just even seeing a collaborative group of people putting together something that is creative, that's trying to bring some joy to people, I think that that really only helps, especially because of everything that's going on," he said.
Though the ride will survive for a while longer, LaRochelle said it is only meant to be temporary and they will eventually knock it down, but for now, the intent is to continue to spread just a little bit of joy.
"I hope that the future of the ride is that people look at it as something that inspired other people, you know, and maybe we'll make another ride, who knows," he said.
Whole Foods will 'insure' your Thanksgiving meal
The most complicated part of the Thanksgiving meal is undoubtedly the tricky turkey. This year, Whole Foods is offering insurance just in case the cooking goes haywire.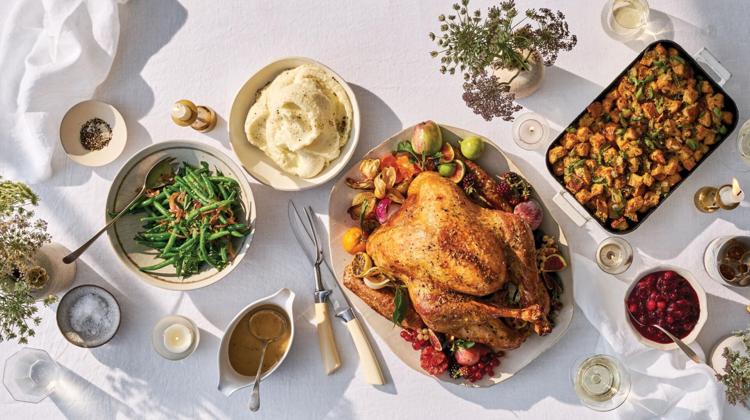 Together with Progressive, the market chain is offering "insurance" in the form of a free $35 Whole Foods gift card to customers who "commit a turkey cooking fail." The idea was prompted by coronavirus restrictions forcing households to host smaller gatherings and, in some cases, having inexperienced cooks prepare the stressful, multi-course meal.
"As we anticipate more smaller Thanksgiving gatherings and first-time cooks tackling turkey preparation this year," Theo Weening, vice president of meat and poultry at Whole Foods, said in a statement, "the Thanksgiving Turkey Protection Plan allows customers the freedom of culinary exploration, knowing all is not lost should their cooking go astray."
To be eligible, customers must purchase a Whole Foods-branded turkey from the store between November 11 and 22. If the final product winds up overcooked, undercooked, burnt or dry, failed chefs can submit a claim with a receipt, brief explanation and picture to a special website.
The promotion is limited to 1,000 customers and entries must be submitted beginning on Thanksgiving day through the next day at 3 am ET. Awarding the gift cards is at Whole Foods' "sole discretion."
As in previous years, the Amazon-owned grocer is offering deals on uncooked turkeys. Prices start at $2.49 per pound for non-organic birds, with Amazon prime members able save up to 50 cents per pound. Organic turkeys are slightly more expensive.
Around 40 million turkeys are eaten over the Thanksgiving holiday annually, according to the National Turkey Federation, an industry trade group. The group does not expect that figure to change much this year, but the sizes and types of turkeys will, Beth Breeding, spokesperson for the National Turkey Federation, previously told CNN Business.
Turkmenistan's authoritarian leader unveils huge golden dog statue in the capital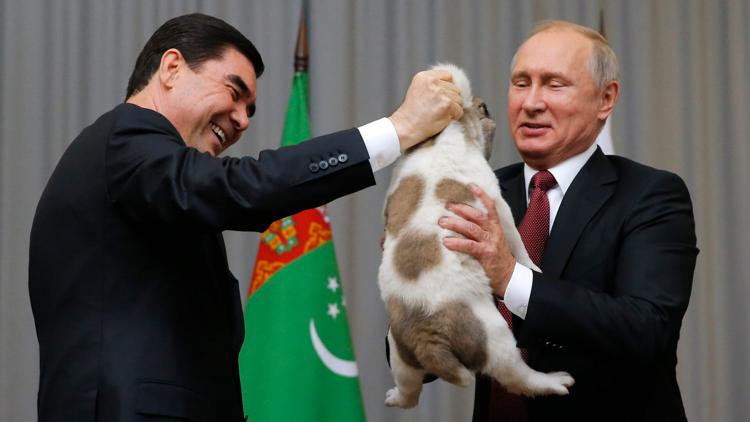 Depicted standing proudly on a plinth, the gold-coated canine is an Alabai, a Turkmen-bred variety of the Central Asian shepherd dog and a symbol of national pride in the reclusive, authoritarian nation.
State TV Watan Habarlary showed President Gurbanguly Berdymukhamedov waving to clapping onlookers as he unveiled the statue this week, in a ceremony replete with traditional dancers, a child holding a real Alabai puppy, and a balloon release. A video screen wrapped around the statue continuously plays footage of the local breed running through grass or the desert and playing with children.
Along with horses, dogs are considered part of the country's national heritage and are widely used by the many traditional herders among the population of six million. Berdymukhamedov, 63, has written a book and a poem about the Alabai dog and in 2017 gifted Russian President Vladimir Putin with a puppy for his birthday.
The large, stocky breed is known as "wolf crusher" for its prowess in guarding sheep and goats and is also used to guard homes.
The golden statue is the latest addition to Ashgabat's growing collection of monuments, joining a gold-coated statue of President Berdymukhamedov himself seated on a horse mounted on a white marble cliff, built at another major junction in 2015.
Berdymukhamedov has held tight control of the country since the 2006 death of his equally authoritarian predecessor Saparmurat Niyazov.
Other projects include a $2.3 billion airport shaped like a bird and a $5 billion so-called "Olympic village" for the 2017 Asian Indoor and Martial Arts Games, according to British think tank, The Foreign Policy Centre.
Despite the glitzy capital and billions of dollars spent on architectural curiosities, Turkmenistan's population faces hyper inflation and food shortages.
A 2019 report by The Foreign Policy Centre, suggests Turkmenistan's economy -- which relies on the country's vast reserves of gas -- is in the grip of its worst economic crisis and on the "brink of collapse," driven in part by low gas prices and falling natural gas exports.
The government's inaction to respond to the economic fallout from the coronavirus pandemic has also exacerbated the country's already dire food crisis, which has been compounded by poor harvests and shortages of subsidized food, according to a September report from Human Rights Watch and the Turkmenistan Initiative for Human Rights.
Local people interviewed by the rights group reported waiting for hours in lines for subsidized food, of which up to 70 to 80% of their income goes toward, as prices skyrocket. Adding to their economic woes is that the pandemic has put many Turkmen out of work and slashed foreign remittance money to families, according to HRW. Authorities have never released unemployment figures but the FPC estimates that up to 60 to 70% of the eligible workforce is either unemployed or underemployed.
But HRW said the Turkmenistan government denies the existence of poverty in the country and has failed to provide relief to communities struggling economically.
"Turkmenistan's government has prioritized the country's image over people's well-being," said Rachel Denber, deputy Europe and Central Asia director at Human Rights Watch, in a statement. "With no effort to identify and assist the people most in need at this critical moment, Turkmenistan is callously neglecting the most basic norms of human rights, which include the right to food."
Previously, the Turkmen Foreign Ministry did not respond to CNN requests for comment regarding allegations that the government is responsible for human rights abuses. CNN has reached out to the Turkmen Foreign Ministry for further comment.
Turkmenistan has officially reported no cases of Covid-19 -- one of very few countries in the world not to.
The US Embassy in Turkmenistan, however, said on its website the country "may be disinclined to do so if cases were confirmed" and that it has received reports "of local citizens with symptoms consistent with Covid-19 undergoing Covid-19 testing and being placed in quarantine in infectious diseases hospitals."
Information coming out of the former Soviet republic -- labeled by HRW as one of the world's most repressive -- is strictly controlled. There is no independent media and most foreign websites are blocked, according to the independent watchdog group Freedom House.
Human rights abuses are commonplace, activists often disappear, and forced labor is a concern, according to HRW. Foreign media outlets have little access to Turkmenistan; religious and political expression are "brutally punished" by the government; torture is rife in the country's prisons, and no independent monitoring groups are allowed in the country, HRW said.
CNN's Thomas Page and Julie Zaugg contributed reporting.
Stolen Bigfoot statue found along road in California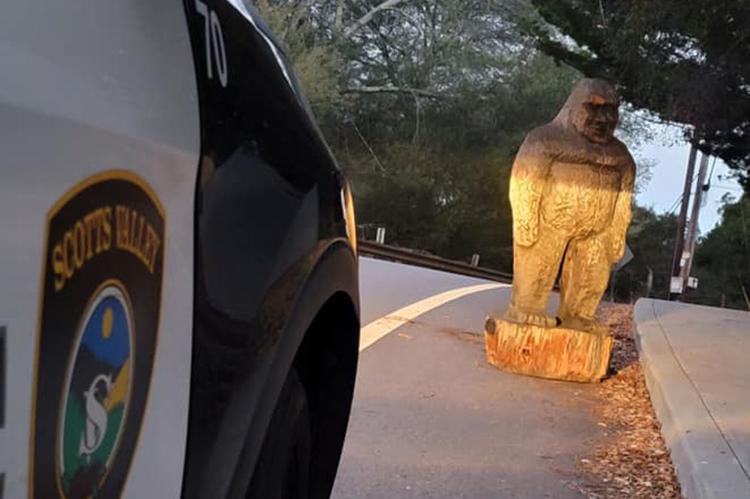 SCOTTS VALLEY, Calif. (AP) — Police officers in the mountains north of Santa Cruz responded to a suspicious figure in a roadway early Thursday and found Bigfoot.
"He was a little banged up but will be returned to his rightful place at the Bigfoot Discovery Museum," the Scotts Valley Police Department said in a Facebook post.
The Santa Cruz County Sheriff's Office had urged people to keep their eyes peeled for the 4-foot-tall wooden statue after it was stolen from outside the tiny museum in nearby Felton on Monday.
The museum dedicated to the mythical forest creature is outside Henry Cowell Redwoods State Park. It is temporarily closed due to COVID-19.
The-CNN-Wire™ & © 2020 Cable News Network, Inc., a WarnerMedia Company. All rights reserved.
Be the first to know
Get local news delivered to your inbox!