A single-car rollover crash Thursday morning could lead to felony charges for a Lincoln man, who is accused of his fifth DUI offense, according to the Lancaster County Sheriff's Office.
Deputies who responded to the crash northwest of Lincoln at about 11:45 a.m. Thursday found Grant Gregory's 2020 Nissan Rogue in a ditch — and smelled the odor of alcohol coming from the 26-year-old, Chief Deputy Ben Houchin said.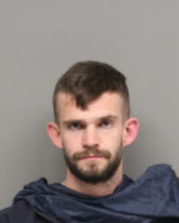 Gregory, whose driver's license had been revoked after his third DUI conviction, rolled his SUV near Northwest 42nd Street and Old Woodlawn Road, just north of the Lincoln Airport, Houchin said.
Gregory's blood-alcohol content was 0.096%. He was arrested on suspicion of fifth offense DUI, a felony, and driving during license revocation.
Deputies took him to the Lancaster County Jail, where he complained of arm pain as he was being booked, Houchin said. Authorities then drove him to a local hospital for treatment before he was taken back to jail.