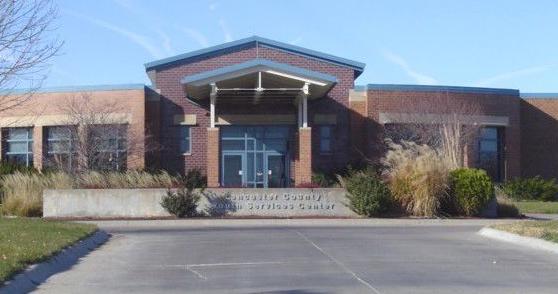 The Lancaster County Youth Services Center could be an option for male and female juvenile offenders from around the state who need more-intensive behavioral health services, the CEO of the Department of Health and Human Services said Monday. 
The state is discussing leasing a 20-bed area at the Lancaster County center, said HHS administrator Dannette Smith. It's possible the boys and girls who need more-intensive services could be housed there, with regular and special education, case management, probation and therapeutic recreation and transition services.
Once those youths return home, they could receive individual and group therapy and in-home family support, she said. 
It's still in the talking and planning stages, Smith said during a news conference Monday, when she gave an update on the Geneva crisis that became public about 10 days ago.
Girls at the Geneva campus have all been moved to quarters at the Youth Rehabilitation and Treatment Center in Kearney, where boys are housed. 
There, the 28 girls have been introduced to the system that will provide structure, support and clear boundaries for behavior, she said. Mental health services and case management support are available, and physicians there can manage medications. And the confinement policy has been reviewed to ensure its appropriate use, Smith said. 
All of those had been lacking or problematic at Geneva, according to residents, parents and others providing oversight. 
A team of workers from Geneva and other state 24-hour care facilities, including the Hastings Regional Center, have been moved to Kearney to provide needed services and support, Smith said. 
Security has been added and a September career fair will be held in Kearney and in Geneva to recruit workers for both campuses. 
Smith said it was time for transformation of the rehabilitation and treatment centers. The centers shouldn't be seen as a last resort, she said. 
"I think that's one of the things we have to struggle with, that if the YRTCs are considered (for) children bounced from a variety of different programs and placements, what becomes the role of the YRTCs?" Smith said. 
She said that's the question for not only HHS, but for community and key stakeholders.  
"Nebraska's children need us. Nebraska's families need us. They need us not to focus on fault, but on opportunities for change, systemic change," she said. "And that systemic change has already begun."
Smith said that in early July, a "community visioning" was held in coordination with Casey Family Programs, a foundation focused on safely reducing the need for foster care and building hope for children and families across America.
Invited were child advocates, first responders and members of the Nebraska judicial branch, in addition to Nebraska inspector general for child welfare Julie Rogers, the Ombudsman's office and the Legislature's Health and Human Services Committee chairwoman, Sara Howard. 
Smith said she was seeking to answer the question of what the rehabilitation and treatment centers need to be: correctional or treatment facilities or both. 
"The children that we're serving now out in Geneva and Kearney are very different than what we were serving five years ago, and they have significant mental health and behavioral health issues," she said. 
Geneva, she said, has been on a slow decline with programming, staffing and with facilities that are needed to accommodate the children, ages 14 to 18, being served.
What came out of the July discussion was that children need to have hope and a voice and choice in plans for their future, services and resources. They need to view their experiences at the YRTCs as a watershed moment, something with a profound, positive impact on who they are and will become. 
The focus of treatment needs to be on the whole family, she said, rooted in compassion and wellbeing. They need to transition from the centers with tailored services and treatment timelines, and expectations that are age and developmentally appropriate. 
Gov. Pete Ricketts said Smith identified the need for changes when she took the CEO position in February, recognizing the programming needs for the Geneva center have changed as the young people coming into the facility have more-intensive needs. 
Now, decisions have to be made about the damage to and obsolescence of the Geneva buildings.  
The Department of Administrative Services, which has responsibility for maintenance of the facility, is overseeing renovation in the LaFlesche cottage, which was damaged by vandalism. The work is expected to be complete by early November. 
An architect will be at the Geneva campus Tuesday, Smith said. 
Administrative Services Director Jason Jackson said last week his department has been in charge of day-to-day operational maintenance of the Geneva campus since April 2017, but finances for that maintenance were transferred to his department only in the most recent budget bill passed by the Legislature. 
Jackson toured the facility a week ago, and said it was in rough shape, mostly because a couple of cottages have had water damage, drywall punched through, electrical wiring yanked out, lighting broken, fixtures removed, tiles dug up.  
The buildings, drywall and current sprinkler heads aren't able to withstand the damage and vandalism that's occurring, he said. 
He said a team of four building management professionals are dedicated to the campus and working to keep the buildings in good repair and respond to issues, often in the middle of the night. 
"We're attempting to repair it in a way that it's more resistant to that kind of conduct," he said. 
He said the cottages can be upgraded successfully, but it will take several months. 
In the meantime, Sen. John Lowe of Kearney and eight other senators introduced a study resolution (LR103) in May aimed at reviewing staffing retention at the Geneva and Kearney YRTCs, and also the Beatrice State Developmental Center and the Lincoln Regional Center.
Also, Sen. Dan Quick of Grand Island and six other senators introduced a study resolution (LR200) to examine programming at the Geneva and Kearney centers. 
It would look at staff-to-youth ratios, mental health treatment options, the effectiveness of reentry planning and transition supports, education available and potential laws or changes in regulations to best support the staff and youth at the treatment centers.
The studies, to be conducted by the Health and Human Services Committee, would include a report on findings and recommendations to the Legislature. A hearing on the issue is scheduled for Oct. 3 at the University of Nebraska at Kearney. 
Get Government & Politics updates in your inbox!
Stay up-to-date on the latest in local and national government and political topics with our newsletter.