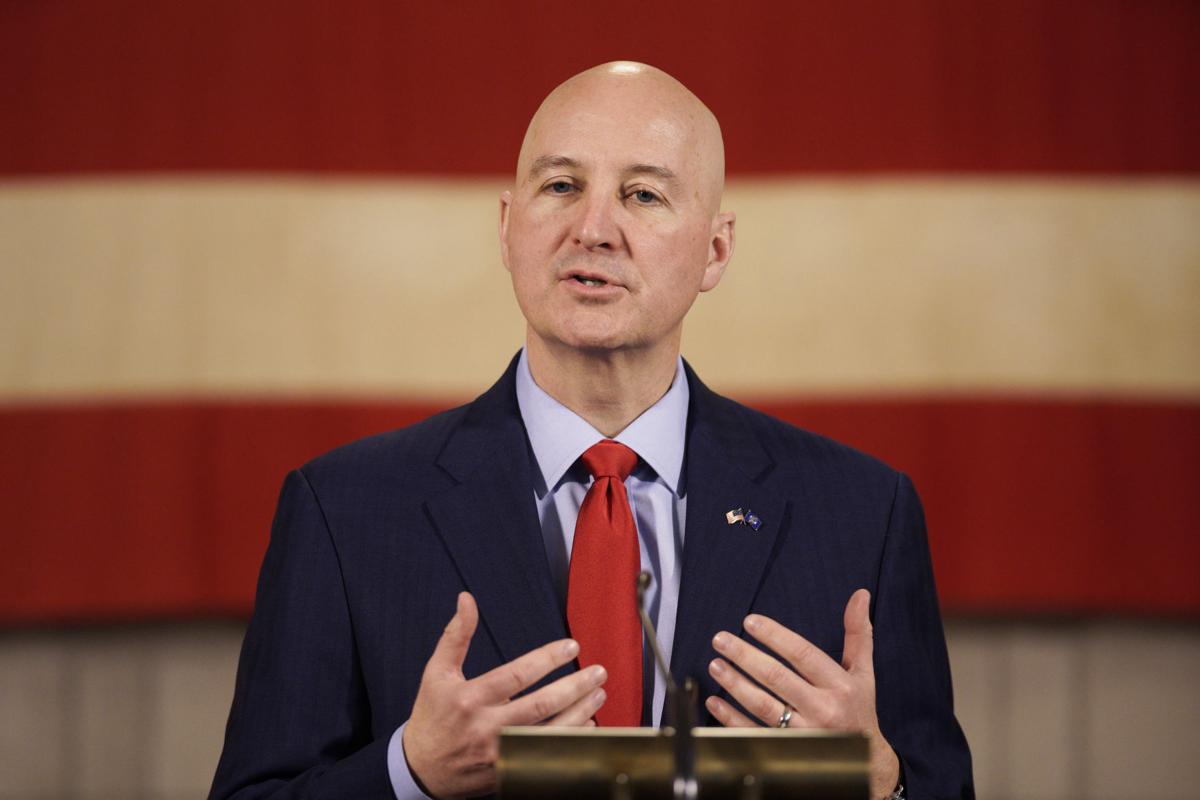 Gov. Pete Ricketts cautioned Nebraskans on Monday to expect "a tough month ahead" as the state anticipates that the coronavirus threat will peak in Nebraska in mid- to late-April.
March already has been "a trying month," the governor said during his daily coronavirus news briefing, with the virus beginning to creep into communities throughout the state and claim its first victims, including a Lincoln County man in his 90s, whose death was announced Monday.
The Washington Post on Monday published the results of a national modeling study by the Institute for Health Metrics and Evaluation at the University of Washington that projects there will be 424 coronavirus deaths in Nebraska by Aug. 4.
That study matches projections by federal scientists, the Post story said.
Ricketts said the state is "actually still working through our models and has nothing yet to compare" with those projections.
"All our efforts are to reduce the impact on the people of Nebraska," he said. 
Ricketts said the state is actively working now to help ensure there will be sufficient ventilators and personal protective equipment for medical personnel in Nebraska when the peak demand occurs.
"We have purchase orders in," he said, and expect deliveries soon. 
"We've got the next couple of weeks to get prepared and be ready," he said, and "we're working on those processes right now.
"We're all in this together," Ricketts said.
Testing is expanding in Nebraska now with a corresponding increase in the number of identified coronavirus cases anticipated. 
The state's third death was announced by the state Department of Health and Human Services late Monday.
The Lincoln County man in his 90s had underlying health conditions.
First cases of COVID-19 were reported in York, Kimball and Antelope counties, bringing the state's total cases to 155.
On Monday, the Douglas County Health Department alone announced 16 new cases in the hard-hit metro Omaha area.
And in Washington County, the Three Rivers Public Health Department said Monday night that 10 additional cases have been identified related to the Carter Place senior living home outbreak. The department said it would provide more information Tuesday.
Lancaster County, meanwhile, reported two new cases Monday.
Ricketts said he is in constant contact with other governors as they share what they have learned in confronting the virus.
"We share ideas," he said. "We learn from everybody."
Ricketts said "it was great to see people out" and enjoying the warm weather in Nebraska during the past weekend, but he said there's still a need to maintain physical distancing.
Thirty of the state's 93 counties, including Douglas and Lancaster, are included in directed health measures that restrict gatherings of more than 10 people. The heightened restrictions are triggered by cases of community spread, positive tests in which health officials are unable to trace the source of the virus.
The majority of cases in Nebraska are travel-related, and Nebraskans who may be returning to the state now after wintering in Arizona or Florida, or elsewhere, should quarantine themselves for 14 days as a precautionary measure, the governor said.
Ricketts praised President Donald Trump for extending restrictions that limit gatherings to no more than 10 people until the end of April, describing that decision as "great leadership."
The president had previously expressed an aspiration to have Americans free to gather in churches together on Easter Sunday two weeks from now.
In an effort to assist Nebraska's restaurant industry, which has been severely impacted by recent orders to limit service to take-out, drive-thru or delivery sales in Omaha, Lincoln and other areas threatened by spread of the virus, the governor officially proclaimed Take Out Tuesdays in Nebraska through April.
In addition to urging take-out restaurant purchases, Ricketts suggested that Nebraskans purchase gift cards to help restaurants.
"Everybody in the restaurant business is having a tough time now," the governor said.  
Concerned about COVID-19?
Sign up now to get the most recent coronavirus headlines and other important local and national news sent to your email inbox daily.