WAHOO — The men who served on the submarine Wahoo SS565 have held reunions every two years all over the country. But they had never gathered in the community that bears the same name as their beloved submarine.
So it was fitting that they decided to hold their final reunion in Wahoo at the site of a monument to another submarine that bore the same name.
"We thought we should go to Wahoo," said Tom Young, one of four men responsible for organizing the reunion April 29 at the Wahoo SS238 memorial, part of the Veterans Memorial on the Saunders County Courthouse grounds.
Young, who lives in Hamstead, New Hampshire, served on the Wahoo SS565 in 1955 and 1956, just one deployment during his 20 years in the Navy.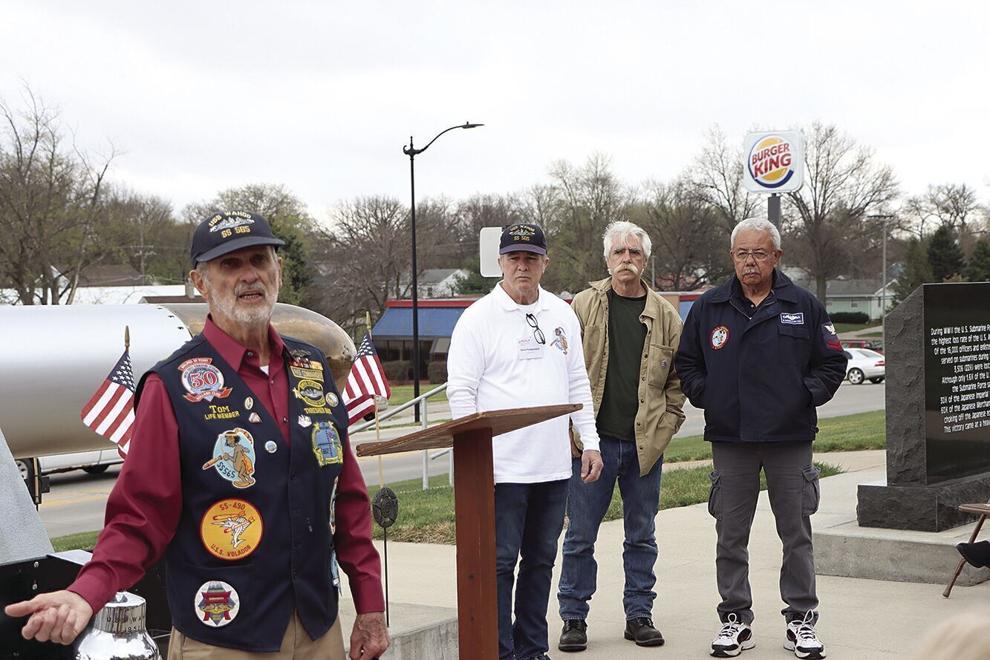 The first Wahoo submarine sunk during World War II on Oct. 11, 1943, during an air and sea attack in the LaPerouse Strait in the Sea of Japan while returning home from patrol. The 80 men on board, including Robert L. Jasa of Wahoo, died. The wreckage was discovered in 2006 by Russian divers.
Anyone who served on the second Wahoo was proud of the name because of the sacrifice paid by the Wahoo SS238 crew, said Ed Banda of Glendora, California.
"The original Wahoo lost all hands in combat," said Banda, who served on the Wahoo SS565 from 1967 to 1970.
The Wahoo SS565 veterans are well aware of the reputation of the first submarine that bore the name Wahoo.
"It had the highest kill rate," said Steve Ploeckelmann of White Bear Lake, Minnesota.
The second Wahoo submarine, this one tagged SS565, was in operation from 1952 to 1980. Young and the rest of the 16 men who gathered for the reunion from all parts of the country served on the submarine at one time during their Navy careers.
The day before the reunion, Young and the other three members of the organizing committee were in Wahoo for pre-planning. They stopped by the Wahoo Newspaper office to talk about their experiences on the Wahoo SS565 and the Navy, as well as the reunion.
Young said all submarine sailors volunteer for duty on a submarine.
"We're a special breed," he said.
Submariners are the "elite of the fleet," Ploeckelmann said. He was on the Wahoo in 1975-78.
Less than 2% of sailors qualify for submarine service, according to Banda.
Once they raise their hand to volunteer, the sailors undergo rigorous training to qualify for submarine duty. It can take up to a year to earn your "dolphins," the symbol of submariners.
"That is the ultimate goal, to get your dolphins," Young said.
Submariners are trained for specific jobs on the submarine, but also cross-trained to do everyone else's job, said Bill Smith of Lake Hughes, California.
Working in such close quarters, undersea for long stretches of time, forges a bond between submariners.
"The camaraderie on the sub is incredible," said Smith, who was on the Wahoo from 1974 to 1978 at the same time as Ploeckelmann. "It's a family."
"You knew someone had your back in case something went awry," Banda said.
Many have told Smith he was crazy to choose to be a submariner. But he said the tightness of the group was what drew him to the submarine service.
"That is what I thought was the best thing," he said.
Because of these close bonds, all submarines have reunions, Smith said. This reunion will be the last, however, as many of the veterans are aging and no longer able to travel. Also, their numbers are dwindling, said James Gee of Marble Falls, Texas.
The Wahoo SS565 was known as an attack sub, or a "hunter/killer," Banda said.
The whole purpose of the boat was to deliver arms and torpedoes,  Ploeckelmann said.
The reputation of those who served on the Wahoo SS565 was as storied as the submarine itself. Ploeckelmann recalled pulling into Puerto Rico and learning that sailors on a nuclear submarine were told to steer clear of the Wahoo crew because they had a reputation for fighting and winning.
"Do not engage," was the announcement from their commanding officer, Ploeckelmann said.
There was also a rivalry between diesel and nuclear submarines, which caused heated exchanges during leave when sailors from both types of submarines were in the same port, Banda said.
While these submariners may have been part of the reason the Wahoo had a reputation for toughness, they were quietly reverent when the ceremony took place on Friday. Smith tolled a bell as Ploeckelmann and Banda read the names of each sailor who had served on the Wahoo crew and had since passed away. The bell was an actual piece of the Wahoo SS565, which was given to the Wahoo Veteran's Club several years ago.
Many were sad to know this was the last time the Wahoo sub vets would gather for a reunion.
"I thoroughly enjoy these events," said Gee, who served on the Wahoo in 1959-60 during a 24-year Navy career.
Ed Kitt of Las Vegas was the only Marine at the reunion. He served on the Wahoo SS565 in 1959 as a cryptologist. Because of his job, he was not actually listed on the ship's manifest.
Kitt recalled an incident when the Wahoo got caught near Russia as their commander took photos with the submarine's periscope.
"Things got pretty hairy," he said. "We had to go down and laid for 52 hours to avoid (the Russians)," he said.
The entire crew had to remain silent. They couldn't eat or smoke to avoid being detected by sonar.
While they were on the bottom of the ocean, they could tell the Russians were "throwing" torpedoes above them that they were told were fake. But most didn't believe that.
"They said they were fake. They were not," said Kitt, who went on to a distinguished career as an educator after he was discharged from the Marines.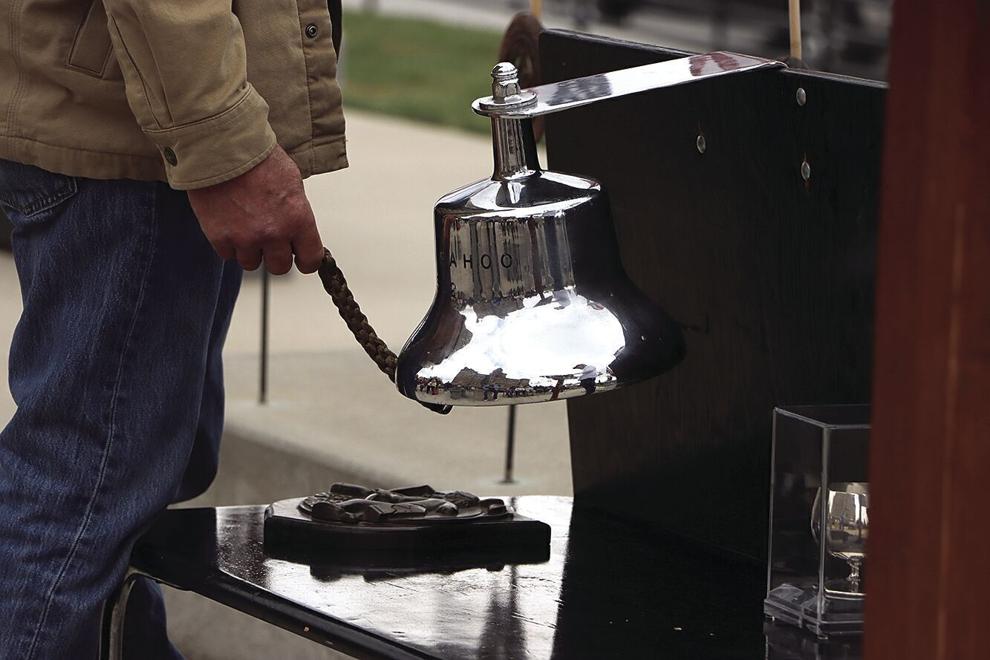 Also in attendance were Bruce and Lois Steyer of Lincoln. Bruce served on the Wahoo SS565 from 1959 to 1962 as an electronics technician. His wife, the former Lois Pearson, is a Wahoo native who graduated from Wahoo High School in 1962. The couple met after Bruce had completed his Navy service.
Steyer remembered signing a book as the Navy prepared to send one of the Wahoo's torpedoes to the city of Wahoo for the memorial, which was completed in 1962. Clark Hill, who served on the Wahoo SS565 in 1962, also remembered the torpedo donation.
After the ceremony, the submariners and their wives gathered for lunch at the vet's club. They were very impressed by the Veterans Memorial at the courthouse.
"It's probably one of the nicest memorials in the country," said Young. "It's amazing what Wahoo has done."
While local residents would like to think the submarines were named for the Saunders County capital, the name "Wahoo" came from a type of fish found in the waters of Florida and the West Indies. At the time, all submarines were named after fish, Banda said.
Young said a new Wahoo is being built. Wahoo SS806 could be ready in about four years. When it sets sail, a new set of submariners will learn the legacy the name "Wahoo" signifies in Navy history.
Nebraska veterans of courage, commitment and strength
Nebraska beet fields and Vietnam battlefields launched Marty Ramirez's activist voice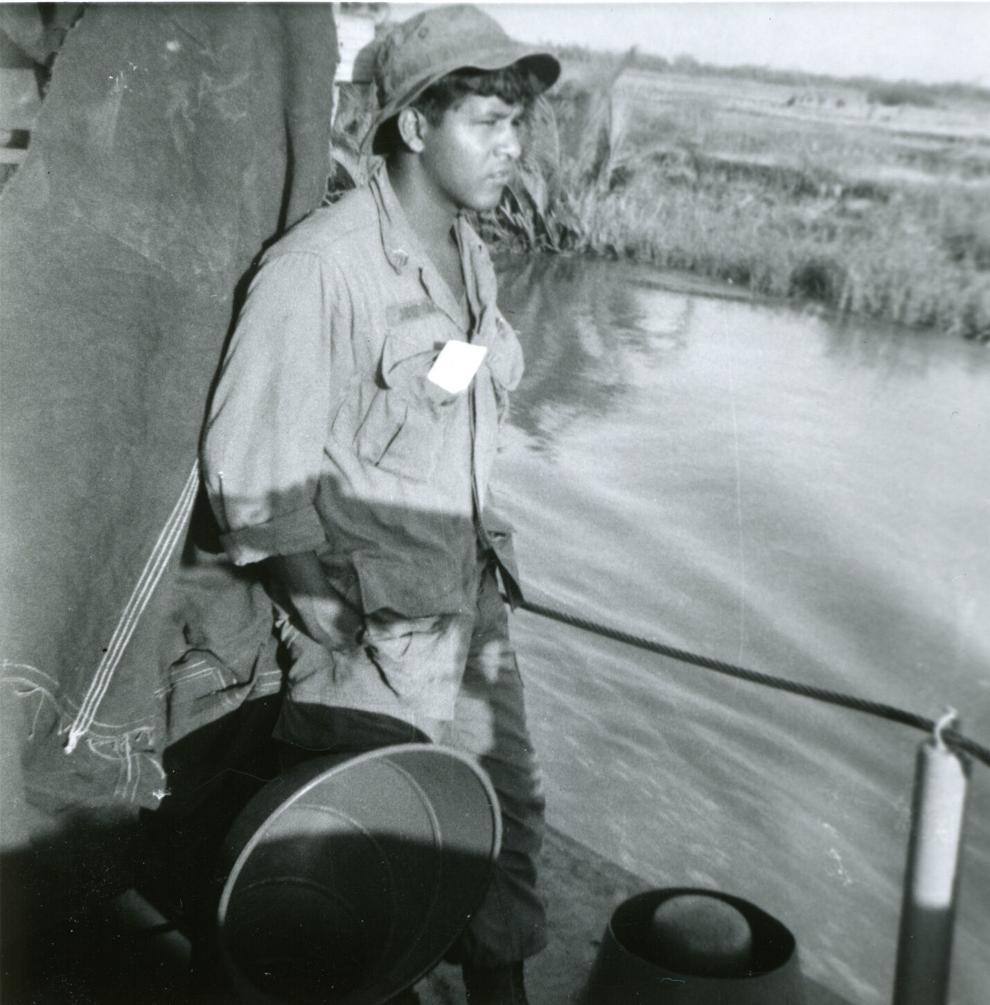 Marty Ramirez rarely had the nightmares or flashbacks of combat that have haunted many other Vietnam veterans.
In the more than 50 years since a rocket blast nearly killed him 10 days before his tour was to end, the Purple Heart recipient barely even discussed the war with his wife and their seven children.
But just recently — as the Scottsbluff native helped lead an effort to honor Latino vets of western Nebraska — emotions spilled. Memories, both dark and bright, awakened like never before.
Vivid in his mind's eye was that "brown boy from the barrio" who, fresh out of college, was drafted and sent to the front lines during the Tet Offensive, a period of the heaviest fighting.
Like it was yesterday, he saw that 22-year-old baseball standout who hadn't grasped the danger of it all — not until his first field assignment when he saw seven comrades blown up in a mine explosion.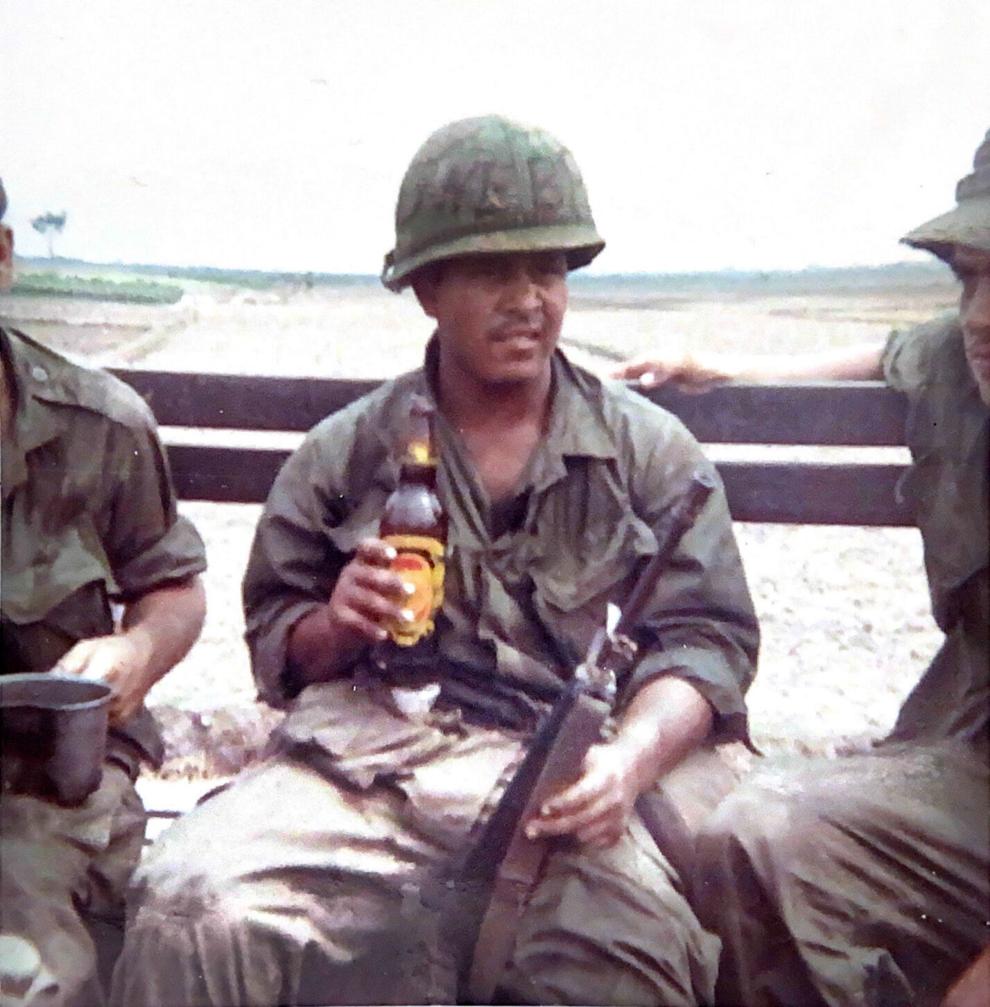 Eight more times that year would young Ramirez himself dodge death, protected by his U.S. Army helmet adorned with a Catholic Rosary and letters NEBR.
Now 75, Ramirez recalled in an interview that his post-war 1969 homecoming left him feeling marginalized, despite his service. He returned to a Latino neighborhood that remained largely without streetlights or paved roads. He felt the same stay-on-your-side-of-the-tracks attitude, and emerged with a newfound resolve to lift and stand up for his community.
Today, many describe the retired counselor psychologist as a mentor, motivator, leader — one of the state's most influential Latinos.
On this Veterans Day, Ramirez, who lives in Lincoln, again will be in his hometown of Scottsbluff to unveil the final phase of the Chicano/Mexican-American Veterans Monument engraved with names of some 600 who served from the area.
The grouping of stone memorials next to the town's Guadalupe Center reflect Ramirez's decades-long mission to ensure that his community is duly recognized for its contributions, particularly Mexican-American vets and their families.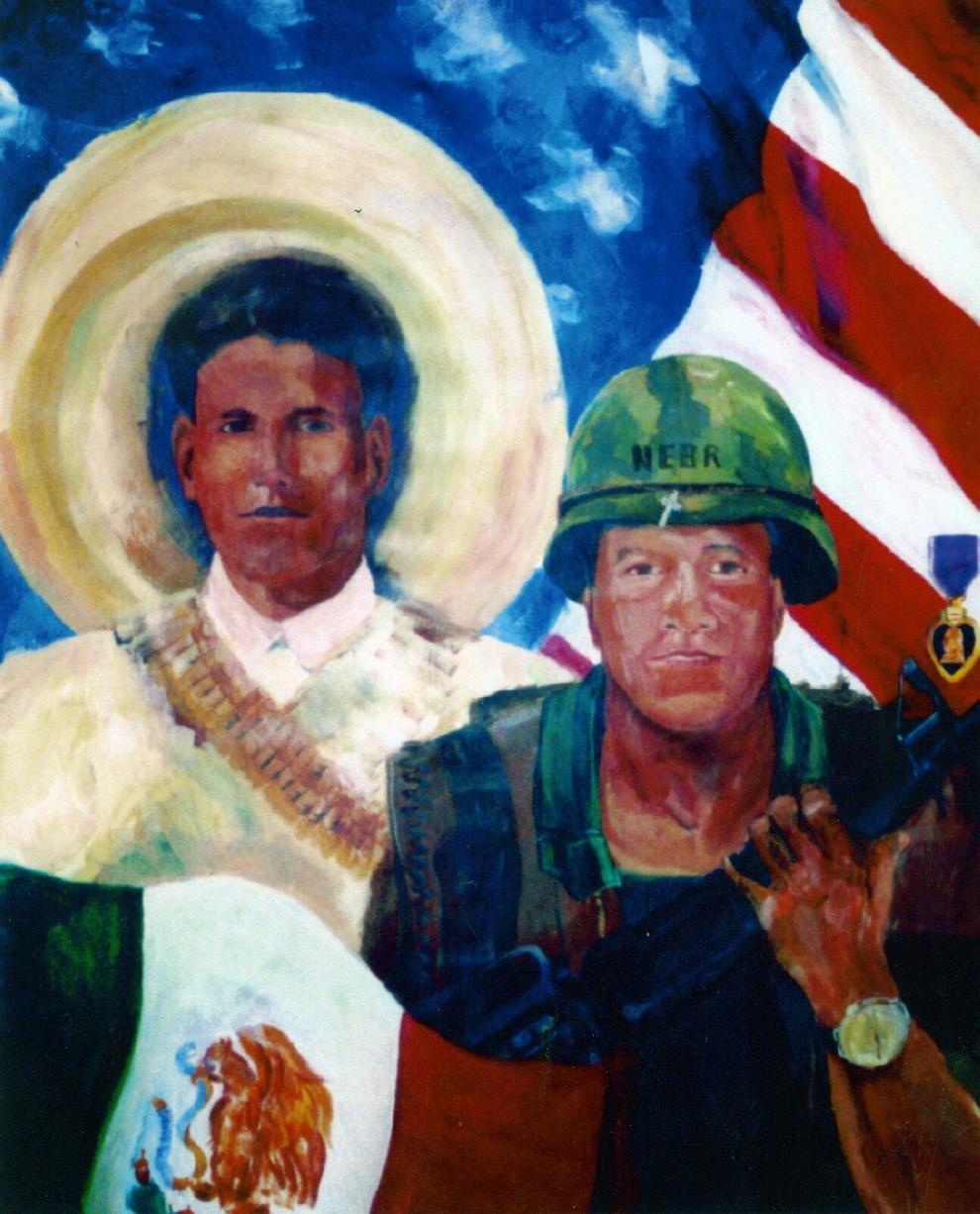 "There's a pride and a history that's been largely ignored," he said. "Now we're telling our story."
Marty Ramirez grew up the youngest of 11 kids, in a patriotic family that toiled in the sugar beet fields along the North Platte River valley.
His father fought in the early 1900s with Mexican revolutionary Pancho Villa and, as family lore goes, was a young teenager when he escaped assassination by government forces and crossed the Sierra Madre mountains to the United States.
Born Tiburcio Gonzales, the dad took the name Jose Ramirez after he heard it called by a railroad boss looking for workers. No one answered, and Gonzales broke the silence by yelling, "Soy yo (That's me)."
The alias stuck. Ramirez says the incident reflects a desire-to-work ethic he remembers in his neighborhood. Ramirez himself started laboring in the beet fields at age 9. His mom, Maria Concepcion, who also had emigrated from Mexico, ran the home. Dad arranged breaks from his railroad job to join the kids in the fields.
Their childhood home was modest, with no electricity and an outhouse for a bathroom. Ramirez said local leadership and policies at the time kept the largely Latino neighborhood and its residents on the fringes, disconnected from political and civic engagement.
Yet kids didn't lack for fun, mischief or cultural traditions, Ramirez said. He boxed in Golden Gloves tournaments. One of his brothers, Isabel, helped coach him and friends into championship baseball players.
It was Ramirez's athleticism — and a hand from a banker dad of a teammate who saw his potential — that propelled the infielder out of the barrio. At 17, Ramirez went to Chadron State College to pursue his then-dream to become a professional baseball player.
There, he caught the eye of a co-ed named Connie Holm.
In July of 1967, Ramirez graduated with his future wife at his side, and sociology and Spanish degrees in hand.
He was contemplating his next move when, two months after graduation, the order arrived from the U.S. Selective Service System.
Ramirez joined the 60% of Latino boys from his high school class of 1963 who were drafted, including five of his closest friends.
Later, the war's disproportionate casualty rate for minorities would shape his activism. But Ramirez didn't question his Vietnam assignment at the time.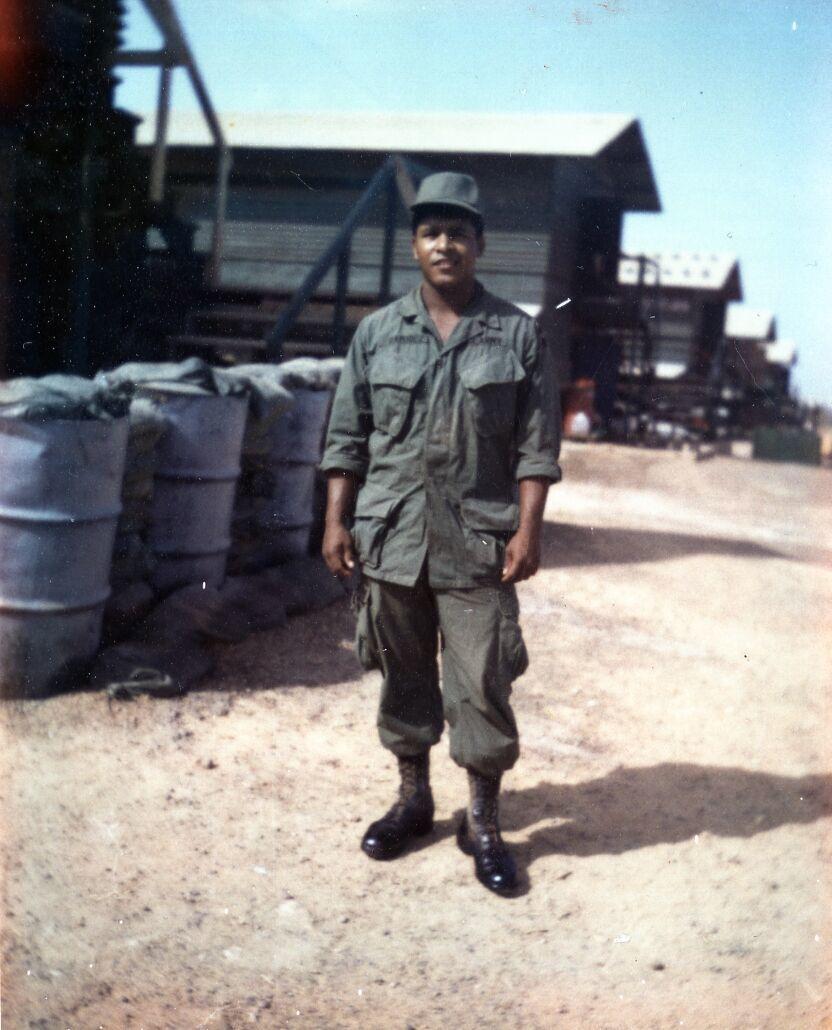 His brothers earlier had served in the military. Most households he knew had altars or walls respectfully devoted to loved ones in uniform. "Traditional Mexican mentality was, 'You serve, and serve proudly.'"
He and Connie married three months after he was drafted, and honeymooned in Hawaii. He said he was naive about the perils ahead in Vietnam.
After basic and advanced infantry training, he arrived on a sweltering 1968 day in Bien Hoa, as a member of the 199th Infantry Light Brigade during the high-casualty Tet offensive period.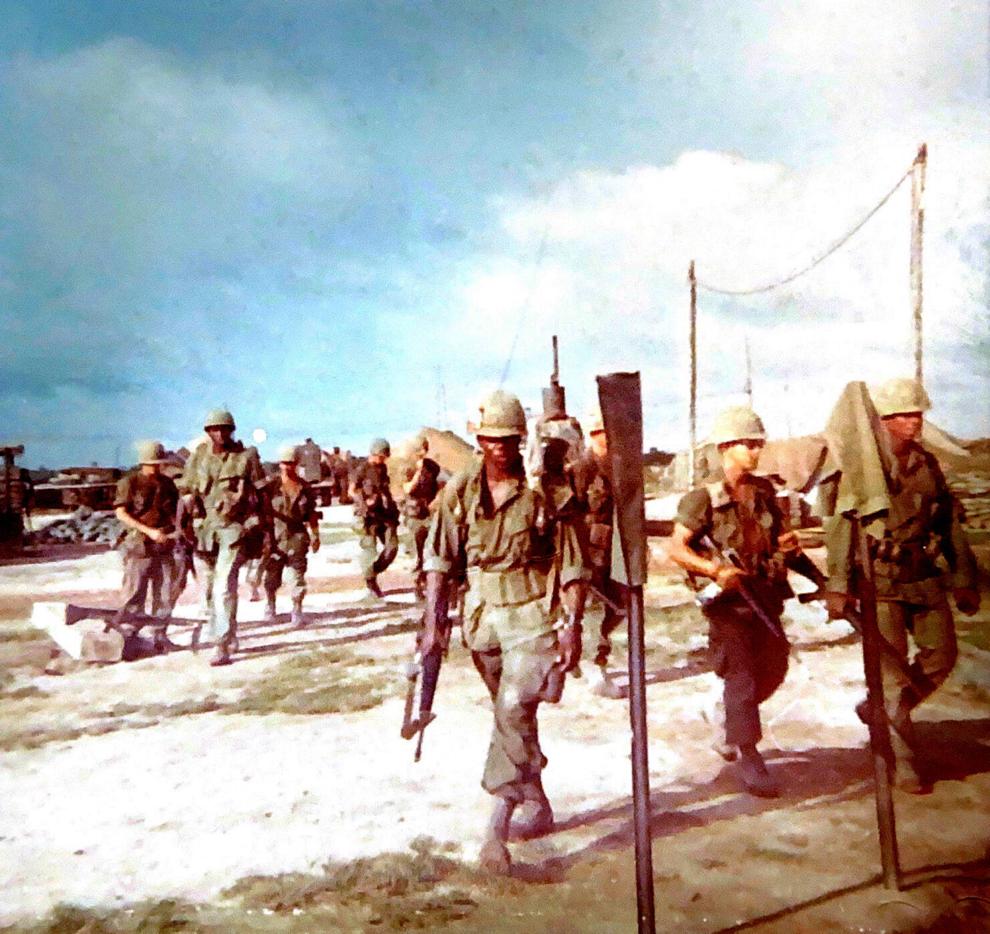 Ramirez served as a radioman, carrying a 75-pound backpack that made him a prime target of enemy troops hoping to wipe out communications of the scouting squad.
On his first field mission, Ramirez fell out of his No. 2 place in line when he stopped to stare curiously at a massive enemy campsite so fresh that cooking pots were boiling over. The pause saved his life, as seven soldiers ahead of him were killed when that mine detonated.
Ramirez's final battle occurred near Saigon, where his unit, guarding lots of ammunition, had stopped to rest under a bridge. The sound of rockets sent Ramirez scrambling in pitch dark to get out from the powder keg situation.
He was struck by explosive fragments as he climbed — and then fell about 50 feet and yelled for a medic before blacking out: "My leg. My leg."
He still has constant physical reminders: shrapnel scars, numbness in the leg.
Once back in western Nebraska in 1969, Ramirez saw the nation's racial and ethnic inequities more clearly. He watched demonstrations in Texas and California that protested discriminatory policies and pushed for civil rights.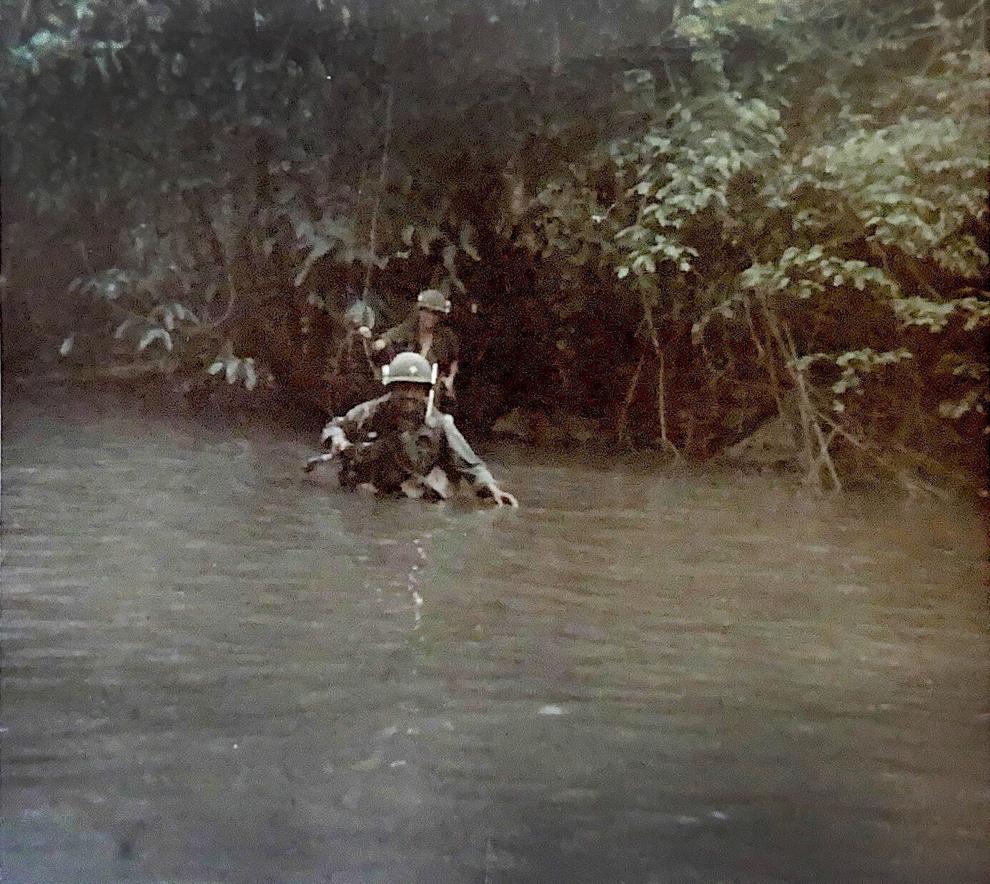 His own activism and advocacy fired up. He advised the Latino student group at the University of Nebraska-Lincoln, where he earned a master's degree and a doctorate.
A psychologist, Ramirez counseled students at UNL for 38 years. He took a special interest in recruiting and supporting underrepresented populations, including young people from the Scottsbluff area.
"If they dropped out, he went after them," brother Isabel recalled. "A lot of them returned."
Dora Olivares was one. The Lyman, Nebraska, native recalled returning to campus, newly divorced and with a toddler in tow. On the eve she was to start UNL again, she noticed her daughter's chicken pox. Ramirez told her to bring little Janelle to his house to stay with his family while she was in class.
"He went above and beyond," said Olivares. "Marty knew it wasn't enough to have his office in a building and have the title. He knew he had to be proactive and come find us."
Olivares, one of 11 kids of migrant workers, went on to become an assistant high school principal in Gering who often took "a page out of Marty's book" and found paths to higher education for other teens.
Michelle Suarez recalls how Ramirez connected her and twin sister, Marcella Sanchez-Nelsen, with major scholarships that helped them finish UNL. Both Scottsbluff natives became educators; Suarez is a retired Lincoln elementary principal.
"He planted seeds — started the ripples that have and still reverberate across lots of families," said Suarez. "The thing about Marty is he keeps circling back with people he knows to make sure they're invested, organized and working together in common goals."
Ramirez has racked up numerous honors for advocacy. Among those: Man of the Year from the League of United Latin American Citizens; Jim Wolf Equal Justice winner from Nebraska Appleseed; Distinguished Alumni Award from Chadron State College; the UNL Multicultural Center's Influencer Award.
More recently, Ramirez helped organize Las Voces, a statewide volunteer network that meets twice a month and aims to amplify "the voices" of Latinos and close gaps in health care, government, education.
And he felt a new inspiration after lifelong buddy Joe Perez grabbed the mic at their high school class reunion to give a shoutout to the "barrio boys" — a tight-knit group of six friends, including Ramirez, who survived Vietnam and went on to launch community-minded careers.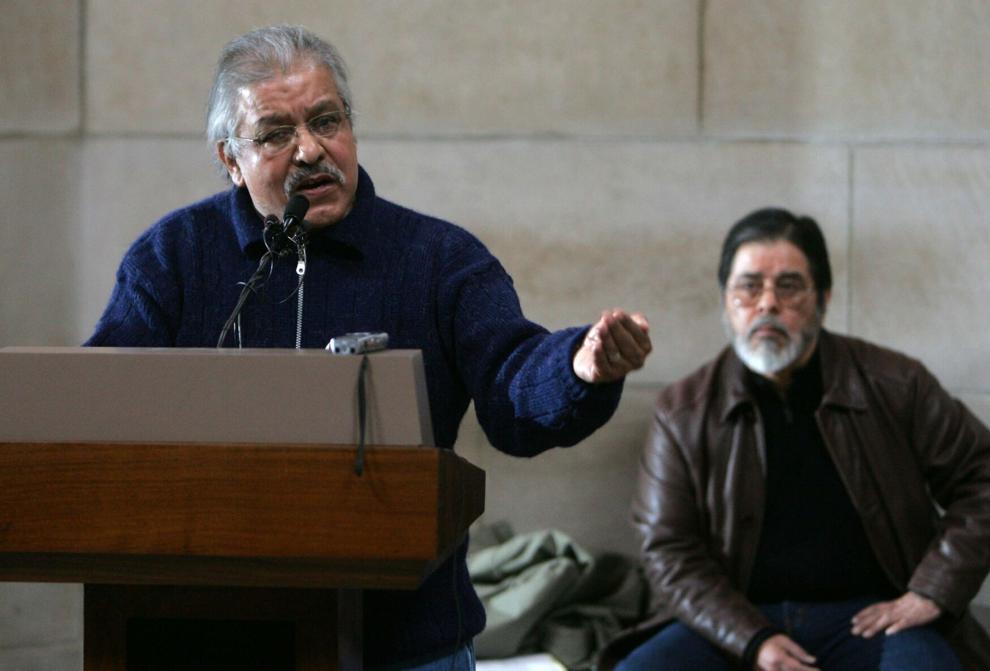 Ramirez felt that his friends, and other Hispanic vets and their families of the Scottsbluff area, deserved more for their contributions. He cites an estimate that Mexican-American casualties in Vietnam were close to double the ethnic group's share of the U.S. population. He and the buddies were bothered by headlines, even a half-century after Vietnam, that they said perpetuated a negative perception of people of Mexican descent.
Thus began the veterans memorial project.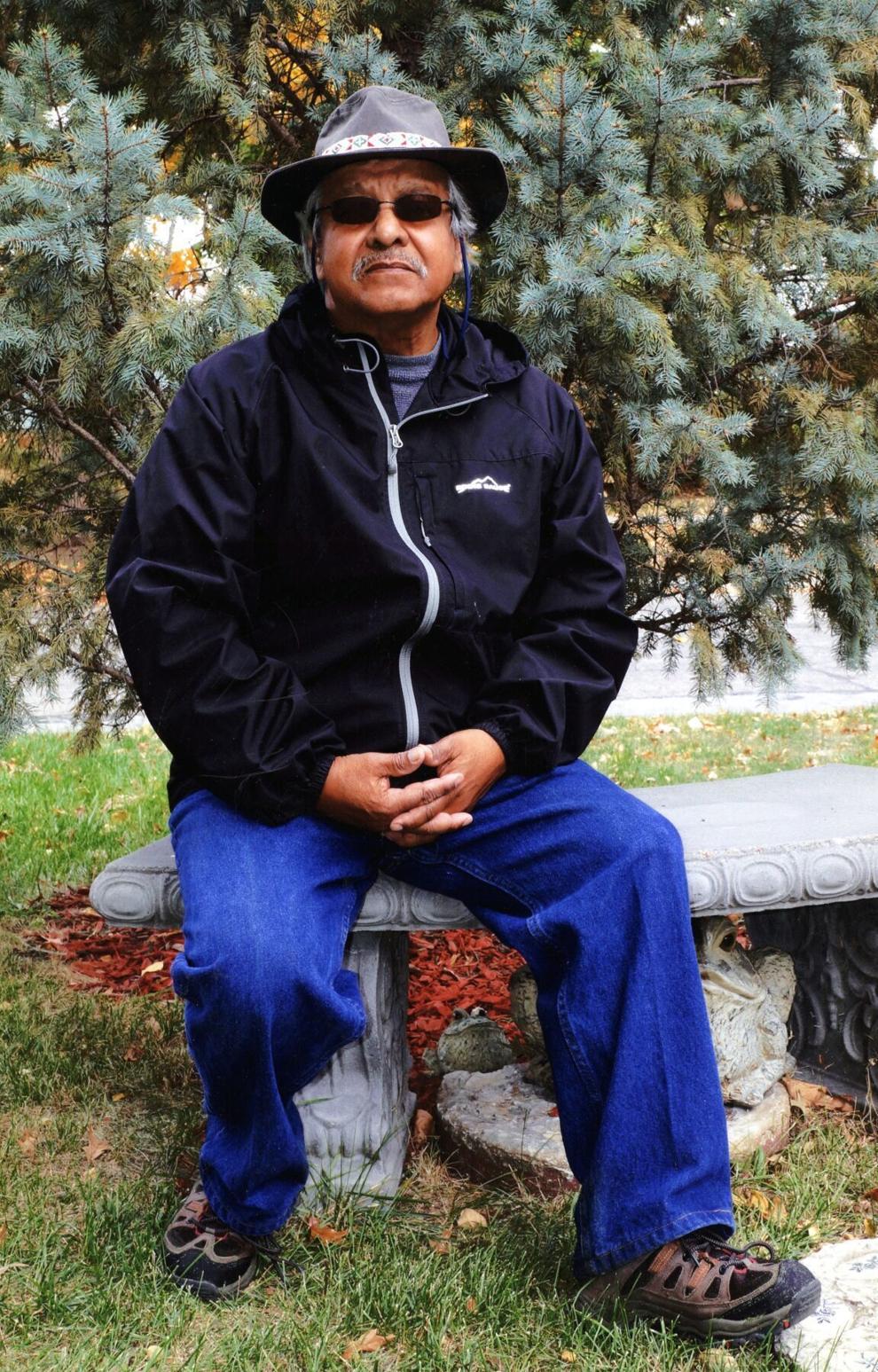 Two years in the making, the final pieces of the $30,000 project will be unveiled Nov. 11. Fundraising has come mostly in small increments from classmates and families.
Ramirez views the memorial, and advocacy work that followed Vietnam, as a reason God allowed him to survive.
He's thankful for the opportunity to have touched lives, and encourage education, including for his own seven kids who all earned college degrees (his dad had reached third grade; his mom, sixth).
Of his Vietnam service, Ramirez said, "I'd do it all over again."
"I found my voice through activism," he said. "In my heart I'll always be the little brown boy from the barrio."
Omaha WWII vet, 103, who built bridges across the Rhine has 'just kept going'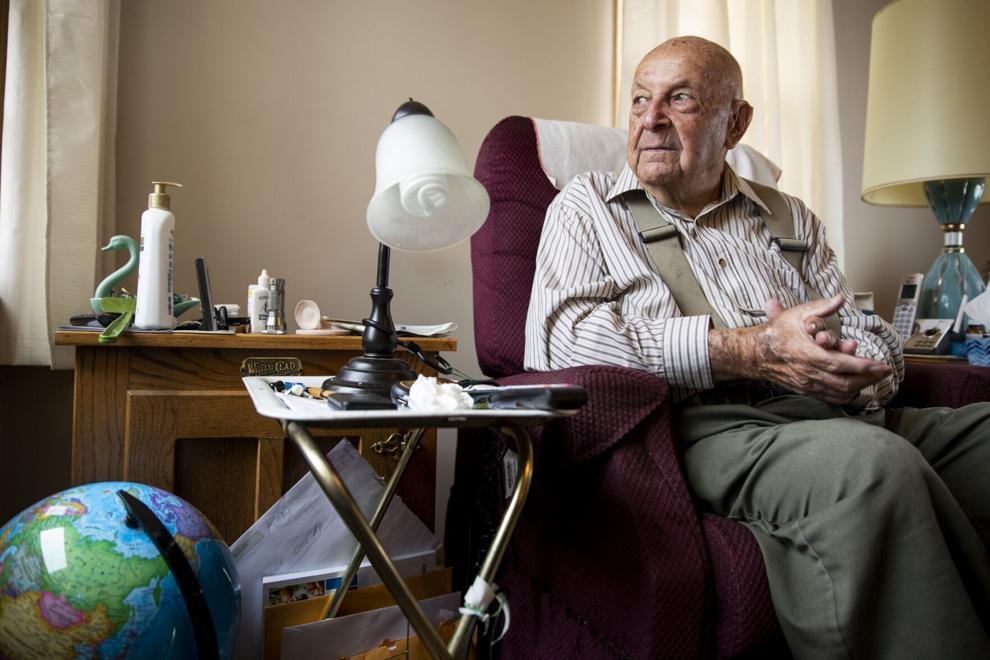 Drive by Walter Coy's South Omaha house on a summer day, and you may catch the World War II Army veteran cutting the grass in his front yard.
Now 103 years old, he's been on Earth for every Veterans Day since the first one (then called Armistice Day) to celebrate the end of World War I in 1918.
His one concession to age: He uses a riding lawn mower.
"I'm glad I've still got a clear mind," said Coy, relaxing in a power chair in the living room of the house he built himself in the 1950s. "All I can say is, I kept living. Just kept going."
Coy is one of thousands of local veterans who will be honored this week as Nebraska and the nation commemorate the men and women who served in uniform.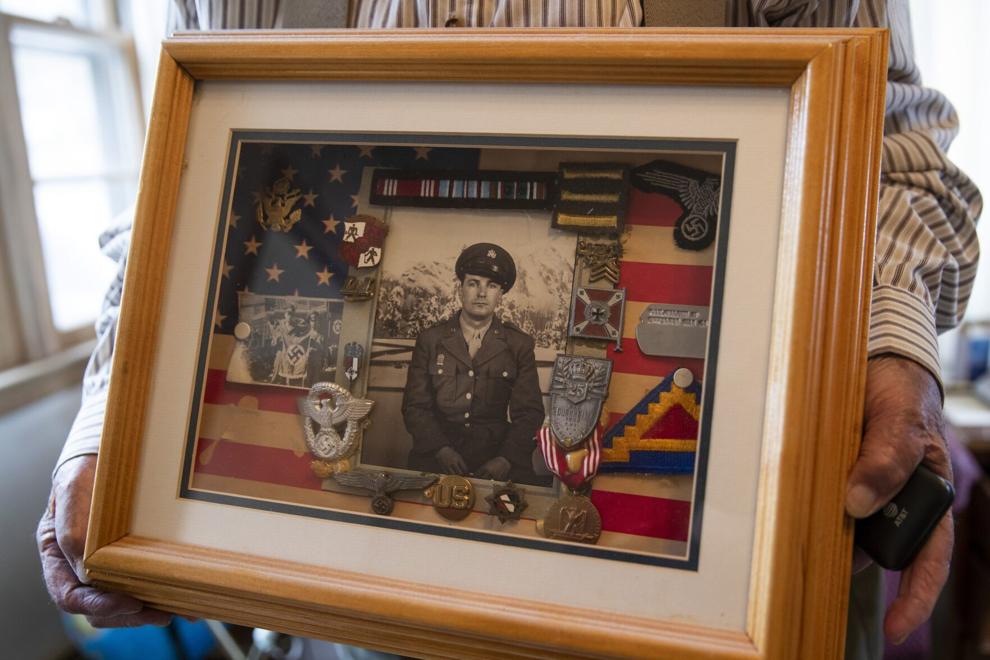 Many, like Coy, left families and jobs behind. They trained hard, traveled far from home, and witnessed historical — and, sometimes, terrible — events before returning home to normal lives.
Coy's service stands out because he is among the state's oldest living veterans.
He was born May 30, 1918, in Stewartsville, Missouri, the fifth of 10 children. His impoverished parents moved their brood to nearby St. Joseph while he was still young.
His father worked for the New Deal-era Works Progress Administration and two of his brothers for the Civilian Conservation Corps. Coy remembers listening to President Franklin Roosevelt's "fireside chats" on the radio.
He was working two days a week at a grocery store and had recently married his sweetheart, Hester, in 1938 when he heard about a full-time delivery job with an oil company in Omaha. The couple moved there; a year later their daughter, Judyth, was born.
Coy also worked for a railroad and a brewery in Omaha before landing a job as a laborer with the Metropolitan Utilities District in the summer of 1941, earning 55 cents an hour.
A few months later, the Japanese attacked Pearl Harbor. Because Coy had a wife and daughter, he initially had a draft deferment.
But by 1944, the U.S. badly needed soldiers as it prepared a massive push to liberate Europe and crush the Nazi Germany forces. Coy wasn't surprised when his deferment expired.
"I just got a notice in the mail," he said. "It didn't bother me."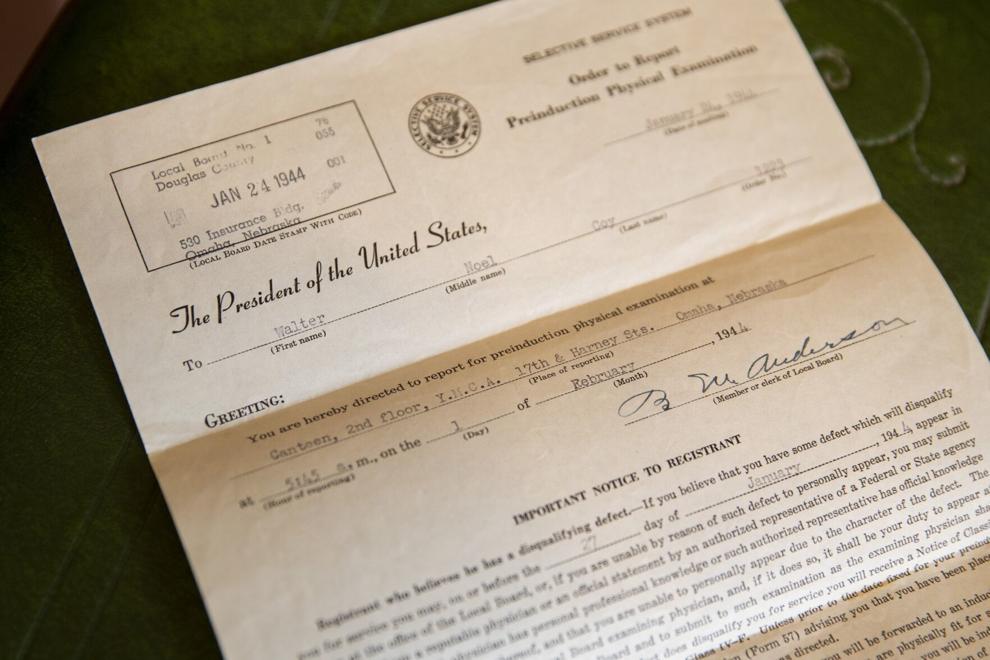 He was inducted at Fort Leavenworth, Kansas, in March 1944. After boot camp on the West Coast, he was trained as a truck driver and assigned to the 1019th Engineer Treadway Bridge Company.
As the unit assembled at Camp Swift near Austin, Texas, its soldiers readied for their overseas job: hauling portable bridges to the front lines. The Treadway pontoon bridges could be assembled quickly and allow soldiers, trucks and even tanks to cross rivers where permanent bridges had been bombed out.
The 1019th, with 137 men, boarded a transport ship in New York on Jan. 31, 1945, and arrived in England nine days later. The unit proceeded to Le Havre, on the French coast, in late February where its members picked up bridges and equipment for delivery to the front in Germany.
"Our view of Le Havre was one of wonderment, as we gazed at the rubble that had been huge brick buildings," according to the unnamed author of a history of the 1019th published just after the war. "One could easily see that the war had passed here."
Coy and his fellow engineers built a bridge across the Rhine River near Mannheim. The 1,164-foot structure was assembled in just 10 hours. The unit would go on to build 21 more bridges in the next several weeks, including five on the Main River near Würzburg and Schweinfurt.
Sometimes the work got dicey. Though the war was winding down, Coy remembers several times the engineers came under fire from German 88 millimeter anti-aircraft guns.
"We were unloading the bridge," he recalled. "They were shooting shrapnel. They were hitting the wires above us."
He also remembers a solo German pilot the engineers called "Goodtime Charlie" who would come and fire on their camp each day, without causing damage.
"We were glad he didn't have any bombs," Coy said.
The 1019th advanced with the U.S. 7th Army across Bavaria and was near the Austrian border when Germany surrendered on May 7, 1945. The engineers named their camp Fort Victory and celebrated with wine pilfered from Hitler's nearby mountain retreat at Berchtesgaden.
For Coy, though, the end of the war didn't mean a quick ticket home. His unit remained in Germany for occupation duty, which gave him an opportunity to visit places like Stuttgart and Paris. He was discharged in March 1946.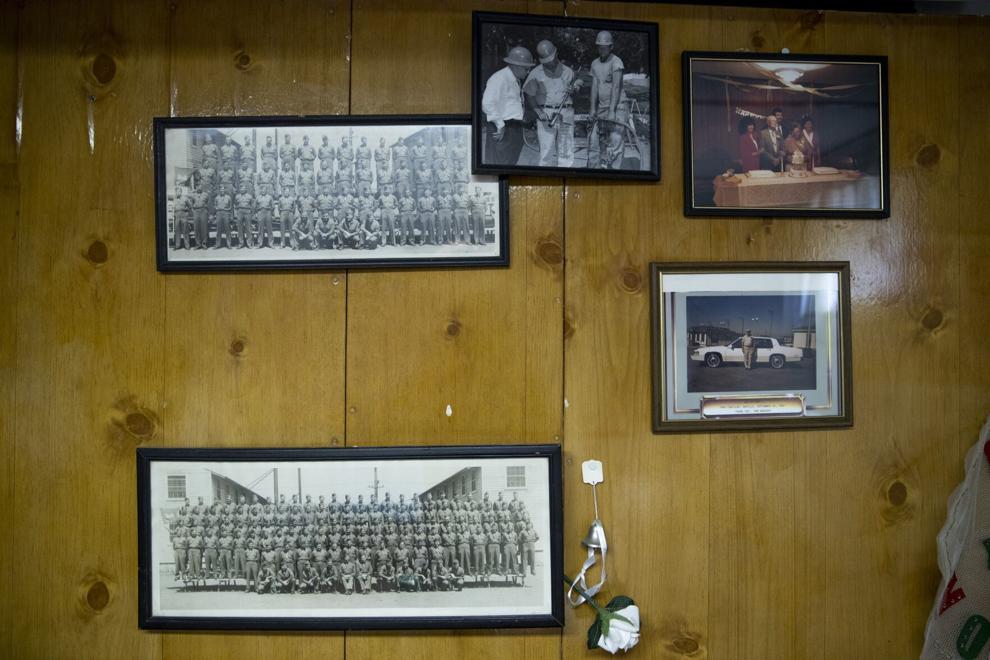 Coy returned to construction work at MUD, and in a few years became a foreman. He retired in 1983, at age 65. He is still known there for inventing a tool that protects workers' toes when they are digging into concrete with air-powered pneumatic drills.
Coy is still friends with MUD retirees, and meets a group of them for lunch each month in Ralston. He is especially close friends with Bob Hoult, who once worked on one of his construction crews.
"He was honest. He treated everybody fairly," Hoult said. "He'd help a guy out if he was in trouble."
Coy's marriage did not survive the war. Walt and Hester were divorced in 1946. He later married and divorced a second time but has been happily single since 1966.
"I've dated. I never had marriage in mind anymore," he said, chuckling.
His daughter, Judyth, died of leukemia in 1968. Three of her four sons are still living, all of them in Missouri. He has seven great-grandchildren and one great-great grandchild. His grandniece, Jennifer, lives in Omaha. She takes him out for lunch and gets him to doctor's appointments.
Coy's neighbors near 52nd and O Streets look out for him. One bakes cookies for him. Another clears the snow from his driveway.
"If it ain't too heavy, I can get it myself," he said.
Coy never joined the American Legion or VFW. And on Veterans Day, he probably won't stray far from that chair in the living room of the house he built with his own hands.
But maybe he'll thumb through that old Army book, the one with the black-and-white photos showing the World War II bridge-building exploits of the 1019th Engineers.
"When I got drafted, I done my part," Coy said. "That's about it."
Ex-Central High football star piloted helicopters in Vietnam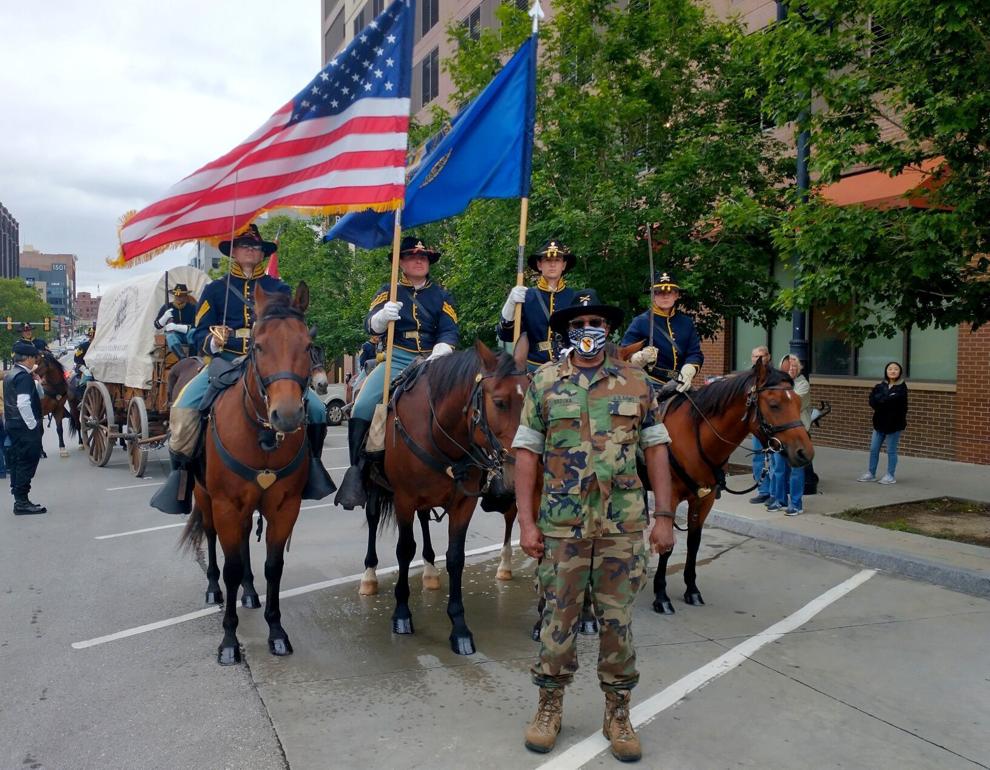 This Veterans Day, odds are good you'll find Vince Orduña puttering in the backyard of his modest Plattsmouth home.
If he's not chopping away at a chunk of wood or sprinkling feed for the chickens, he'll probably be kicking back in a lounge chair next to a bubbling koi pond he built himself, inside a screened patio, where his seven cats roam free.
He calls it his "serenity garden." He loves the life he and his wife, Marcella, have built here.
"Sometimes there's tears rolling down my cheeks," said Orduña, 71. "Gratitude is an attitude."
His gratitude and inner peace are hard-won, following battles in Vietnam as an Army helicopter pilot, battles against racism during a long career in the military, law enforcement and the VA, and battles with post-traumatic stress disorder and cancer linked to Agent Orange.
Orduña's struggles sometimes led to conflict with his high-achieving North Omaha family, and through four marriages that produced six children.
And it culminated in an emotional 2017 honor flight to Washington, D.C., with more than 650 other Vietnam veterans.
At the Vietnam Veterans Memorial, he confronted the memories of soldiers he knew who died fighting in Southeast Asia, and forgave himself for surviving while they didn't.
The memory still moves him to tears.
"It broke me down as I remembered what I have tried to forget," he wrote in a thank-you note to Bill and Evonne Williams, the Omaha couple who organized the honor flight. "My new brothers picked me up. I knew it takes a real man to shed tears for fallen comrades."
This newfound serenity is not something you would have expected from Vince Orduña, if you knew him back in the day.
Not back in the late 1960s, when he starred in football and track at Omaha Central — dancing in the footsteps of his older brother, Joe Orduña, a Nebraska Cornhuskers star.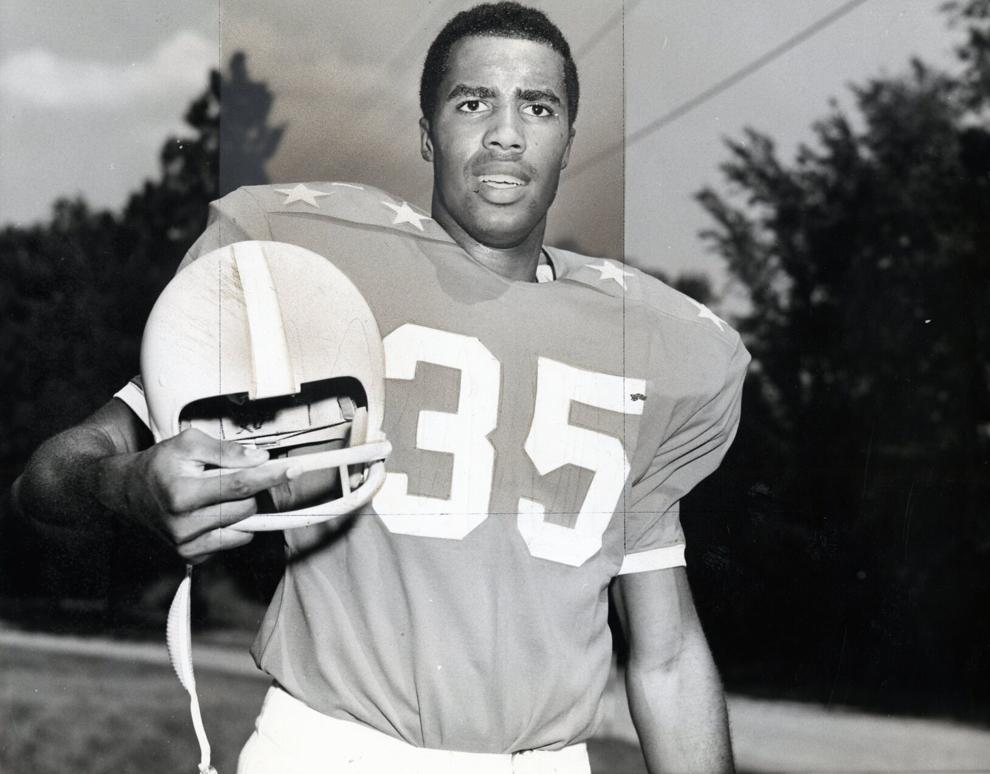 Certainly not when he was skimming the treetops of Vietnam's Mekong Delta in 1970-71, at the controls of an Army OH-6A Cayuse helicopter. He was shot down four times, and survived.
In those days, if someone made a racist remark or treated him unfairly, Orduña set them straight.
Like the time in Army flight school, when he smashed a stack of wooden shelves with his fist in response to one too many racial jabs by a White roommate from the South.
"I grew up fighting," Orduña said. "But there comes a time in every man's life when you have to say, 'Enough is enough.'"
Orduña was the third of six children of the Rev. John Orduña and his wife, Doris, the leaders of the Friends of Christ Evangelical Church in North Omaha.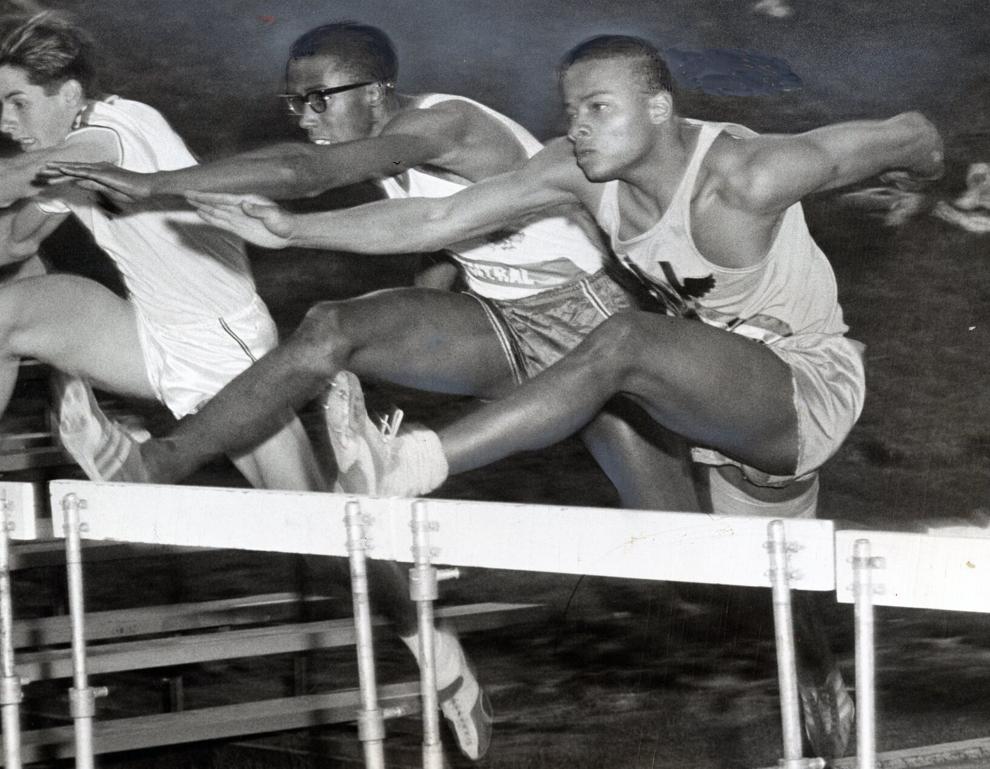 Vince said teachers compared him with his oldest brother, John Jr., in academics, and his second-oldest, Joe, in athletics. Two younger sisters, Carmen and Juanita, followed, and then the youngest brother, Paul.
He broke records in the hurdles and played running back on Central's football team, graduating in 1968. His exploits prompted Coach Bob Devaney to offer him a football scholarship at the University of Nebraska-Lincoln — a team on the cusp of greatness, with Joe Orduña in its offensive backfield. Joe led the team in rushing in its first national championship year, 1970, and played several years in the NFL.
Could Vince Orduña have achieved that kind of success? He'll never know; he chose a different path, following a different family tradition.
Vince's Mexican grandfather fought alongside the revolutionary Pancho Villa in the early 20th century . His father and uncles had fought in World War II. One uncle, Ralph Orduña, had flown with the storied Tuskegee Airmen, a pioneering squadron of Black fighter pilots.
Vince had been turned off by the antiwar protests roiling college campuses, and thrilled by the Army helicopters he saw on the evening news. Plus, he was newly married to his high school sweetheart, Johnice, and would soon have a baby on the way. He enlisted in the spring of 1969.
By early 1970, he was in Vietnam, piloting an OH-6 scout helicopter in the 1st Air Cavalry Division as part of a "hunter-killer" team, paired with a monster Cobra gunship. His speedy little "Loach," lighter than a VW Beetle, would fly low over the jungle to draw enemy gunfire.
Yes, this was dangerous work. Life expectancy was short — only 45 days, on average, Orduña said. He flew for 120 days, and was shot down four times.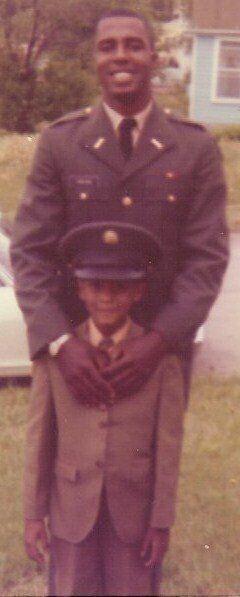 He can tell you what it's like to kill someone. But Orduña prefers to tell a story of saving lives.
Like the time he returned from a mission with unused ammunition. So he flew to a designed "free-fire zone," with orders to empty his weapons.
Usually he just fired away. But this time he saw movement on the ground.
"A voice inside me said, 'Don't shoot.'" Orduña said.
"It turned out they were kids, in the wrong area, at the wrong time. How many other times did I listen to the voice on the other end of the radio and just open fire?"
Another time, he spent his off-duty hours for 10 days searching for the wreckage of a helicopter that had crashed in a river, leaving three crewmen missing. The Army had given up.
Orduña found the wreckage, saving three families the hellish limbo of "missing in action."
His own family in Omaha was on edge while he was in Vietnam.
"I was physically sick the entire time he was gone," said Juanita, his youngest sister, who was 13 when he left.
Carmen, a year younger than Vince, had been so close to him that people thought of them as twins. She had covered up for him when he eloped with Johnice, and then joined the Army.
But she, too, feared for his safety — and with good reason.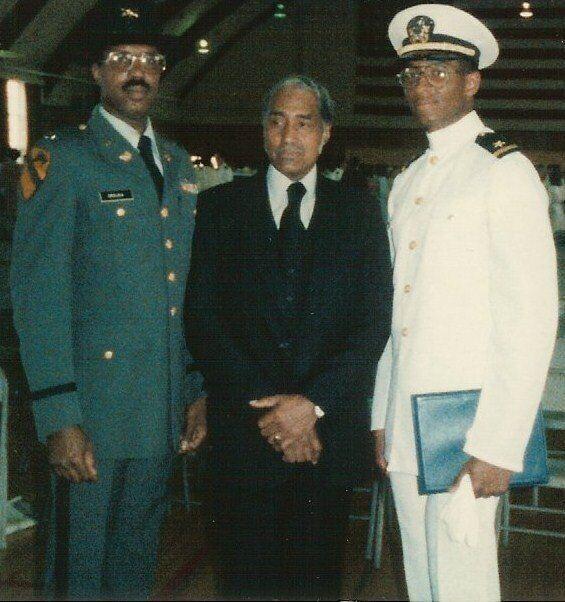 "It was hard to imagine my brother being in a war where people were being blown up, shot at, catching diseases, and (getting) killed," she said in an email. "I was afraid that he wasn't going to make it back."
He did come home to Nebraska in 1971, to wait for his next assignment.
He also had a decision to make: Devaney and his then-offensive coordinator, Tom Osborne, had said they would hold his scholarship for two years. The team was coming off of its first-ever national championship. They looked like a good bet to win another behind quarterback Jerry Tagge, who had been Vince's freshman teammate.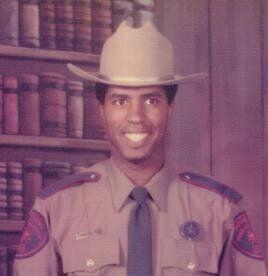 But Orduña let go of the golden ring.
Vietnam had been hell, but he still loved flying. He had a wife and two children to support. He also had a chance for a tour in Germany, which excited Johnice.
So Orduña stuck with the Army, for what he says were two enjoyable years in Europe, plus one in Texas. Then he got out, and took a job as a Texas state trooper.
But Vietnam stayed with him. It tormented his sleep, made him edgy and short-tempered. At least once, he tried to kill himself. He ended up in a VA psychiatric ward.
Johnice, he said, stuck with him for 15 years before they split up.
"Vietnam changed me so much," he said. "She couldn't take it."
He left the Texas State Patrol after 10 years, cycling through jobs with a trucking company, as a sheriff's deputy in Washington state, as a garbage collector in Seattle. And he cycled through two more marriages.
After the second one broke up, in the late 1990s, Orduña came home to Nebraska, and his family.
"I needed a change of scenery," he said.
Juanita said Vince had changed "in ways that can't necessarily be put in words." He seemed to have built a protective shell around himself.
Now the healing could finally begin.
He got a job at the Omaha VA hospital, with the hospital police force, and later he worked in the records department. He also got therapy for his PTSD.
One night on security duty, Orduña escorted a nurse to her car. Her name was Marcella, and he ventured that her husband was a lucky man.
She said she wasn't married. That led to a date, and then another. Now they've been together for more than 20 years. They've lived on the quiet street in Plattsmouth for 11.
In 2017, his younger brother, Paul — who became a naval officer and, later, a Drug Enforcement Administration agent — signed him up for the Vietnam veterans flight of honor.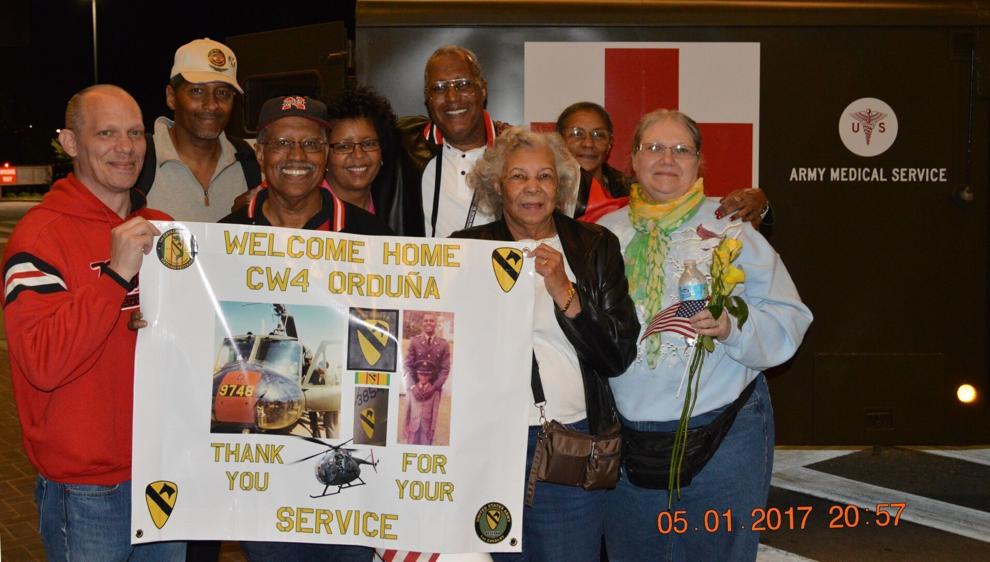 Orduña said he had long resisted visiting the Vietnam Veterans Memorial in Washington, which was dedicated in 1982. He had a spooky fear that he would see his name on it, and then disappear.
That's not what happened, of course. But he saw many names he knew.
"They all represent someone's son, someone's brother," he said. "Now they're just a name etched in stone."
Orduña pondered the unanswerable question asked by so many veterans at the Wall: "Why did I come home, and they didn't?"
"It made me say, 'As long as I'm breathing, I want to be the best version of who I am — for those who don't get to be that person,' " Orduña said.
They flowed again when the three planeloads of veterans arrived home, at the Lincoln Airport, and were greeted by cheering crowds yelling, "Welcome home, Vietnam vets! We love you, and the USA!"
Vince's family was there, too, jumping up and down and waving a flag. Doris, who is now 95, and John Jr. and Paul and Juanita.
"This homecoming was for her, as well," Orduña later wrote. "Her mission of saving me is over, and a new one of just loving and enjoying me — spending the rest of our lives together — has begun."
Still his heart is light.
"Life is precious," he said. "If you've ever taken a life, you know that."
Typhoon capped Nebraska merchant mariner's WWII service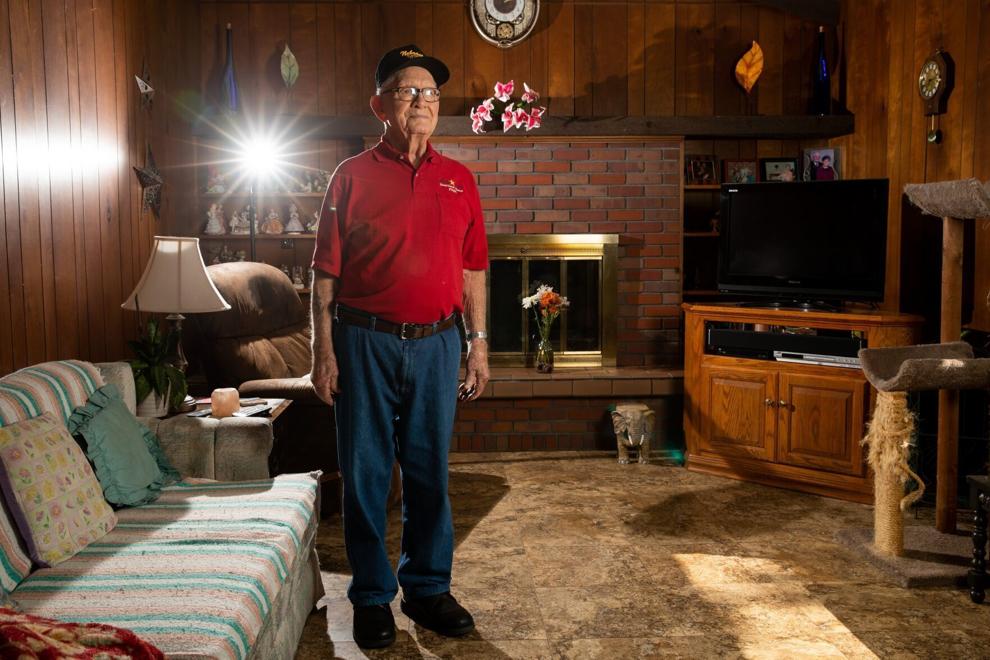 In the waning days of World War II, Merchant Marine seaman Bob Wiegand served in the engine room of a ship convoying war supplies to American service members fighting Japan in the Far East.
He endured boot camp, wore a uniform and saluted officers like other members of the U.S. armed forces. He bore the risk of sudden attack by kamikaze aircraft or submarine-launched torpedoes.
It was dangerous work. One in 26 merchant mariners died in the line of duty during World War II — a higher rate than the Army, Navy or Marine Corps.
Yet when Wiegand returned home to Cedar Bluffs, Nebraska, in January 1946, he couldn't tap veterans benefits or use the GI Bill for college. Neither the government nor veterans groups recognized his Merchant Marine service.
"We were not part of the military, so we couldn't join the American Legion," said Wiegand, 96. "I was pretty burned up about that."
Not until 1988, as the result of a successful lawsuit by a Merchant Marine veteran, did the Defense Department recognize merchant mariners who served in World War II as military veterans and extend military benefits.
Now Wiegand's name could be added to the town's veterans memorial. He could finally buy a beer at the local Legion hall, which he helped build.
An odd chain of events sent Bob Wiegand to sea with the Merchant Marine instead of his first choice, the U.S. Navy.
Born in 1925, he grew up on a farm outside Cedar Bluffs, a town of 600 people near Fremont.
The Wiegands raised milk cows and chickens, so no one went hungry during the Depression.
"We had no money; the neighbors had no money. Nobody had any," he recalled.
Each Saturday, Bob's mother gathered extra eggs from the hen house and sold them in town. That was the money the family got by on each week.
Wiegand graduated from high school in 1943, then studied agriculture at the University of Nebraska for a year before getting his draft notice at the same time as two friends from Cedar Bluffs.
By the time they reported for their physicals in November 1944, they had decided to enlist in the Navy. But they were told that the Navy had no slots available.
Their choice: the Army, or the Merchant Marine.
"We were Nebraska farm boys. We didn't know the Merchant Marine from a bale of hay," Wiegand said. They picked it anyway.
They traveled by train to Los Angeles, getting their first-ever glimpse of mountains, in Colorado, and the ocean, in California.
After basic training on Santa Catalina Island, Wiegand and other newly minted merchant mariners were sent to San Francisco.
"Our first inkling that we were not part of the armed forces was when they sent us to a union hall," Wiegand said.
He was assigned to the Liberty Ship SS Isaac I. Stevens, a 441-foot cargo vessel bound for the Philippines, to a low-level job wiping down boilers in the engine room.
The ship put to sea in early January 1945. Wiegand was thrilled sailing under the Golden Gate Bridge.
But he found it unsettling steaming in the broad Pacific.
"What got to a farm boy was getting away where you couldn't see land. Just water and a few fish," Wiegand said. "That took some getting used to."
The Isaac I. Stevens joined a convoy of 40 to 50 cargo ships, protected by Navy destroyers. They zigzagged across the ocean to throw off submarines.
The danger only increased as the convoy reached the Philippines in mid-January with supplies for Gen. Douglas MacArthur's invasion of Luzon. Wiegand's ship anchored in the nearby Lingayen Gulf.
"We were just a week behind the invasion," he said. "We could see the fighting up on the hill."
They also were sitting ducks for Japanese kamikazes. That month, nine U.S. merchant ships were damaged or sunk off the Philippines, all but one by kamikazes, according to the website American Merchant Marine at War, usmm.org.
By May, the Isaac I. Stevens had returned to San Francisco. Wiegand, promoted to the rank of fireman, joined the crew of another ship, the MacArthur Victory. It was carrying explosives for the U.S. forces fighting in Okinawa, but the battle ended before the convoy arrived.
Wiegand's ship was anchored in Okinawa's Buckner Bay when a pair of atomic bombs were dropped on Hiroshima and Nagasaki, Japan, on Aug. 6 and 9. Then Japan surrendered, eliminating the need for a bloody D-Day-style invasion of the Japanese mainland that everyone had assumed would follow.
"We were so happy because we knew what was coming," Wiegand said. "We would have lost a lot of people."
But the most harrowing moment of Wiegand's Merchant Marine career still lay ahead.
In mid-September, the powerful Typhoon Ida struck Okinawa. The MacArthur Victory headed out to sea, which is considered safer for ships during a heavy storm than staying at anchor.
All the other firemen became violently seasick, leaving Wiegand to tend to the boilers himself as waves that topped 70 feet tossed the ship.
"I stayed on duty all through that storm, probably 30 hours," he said. "I had to keep turning valves. Otherwise, you'd blow the whole ship up."
The storm killed more than 2,000 people in Japan. But the MacArthur Victory rode it out.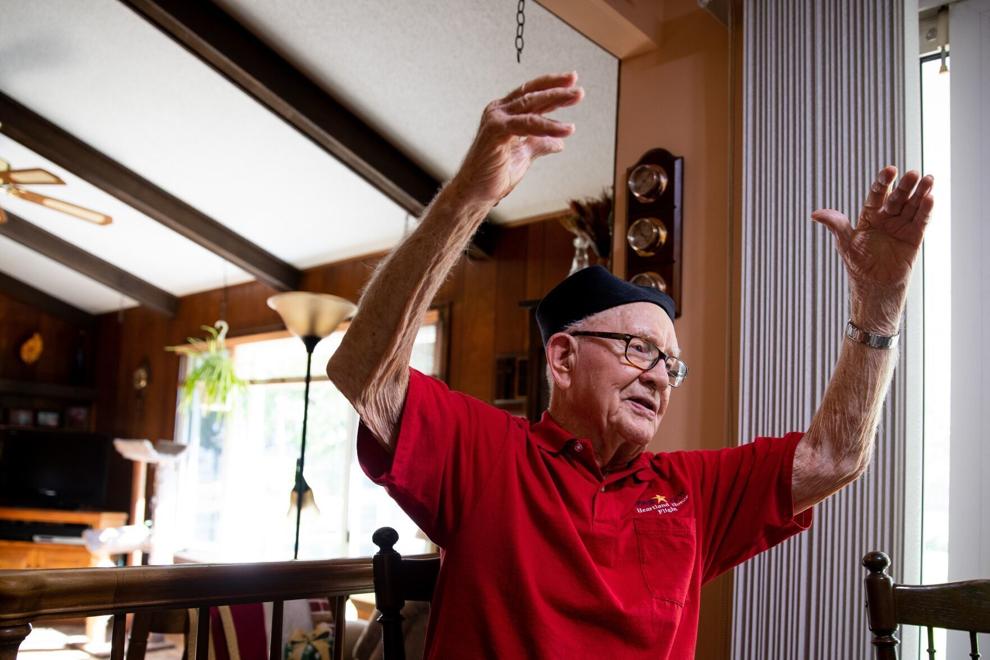 Three months later, the ship sailed to Los Angeles. Wiegand was discharged from the Merchant Marine in January 1946, and he headed home by train for a no-fuss homecoming in Cedar Bluffs.
"No fanfare," he said. "I was just happy to be back home."
Wiegand helped his father on the farm. A year later, he started farming his own land.
In 1949, he met Donna Hoegemeyer, a farm girl from just up the road in Scribner, at a dance. It was a good match. They soon married and raised two daughters, Deborah and Rebecca.
"We've been happily married for 72 years," said Donna, 93.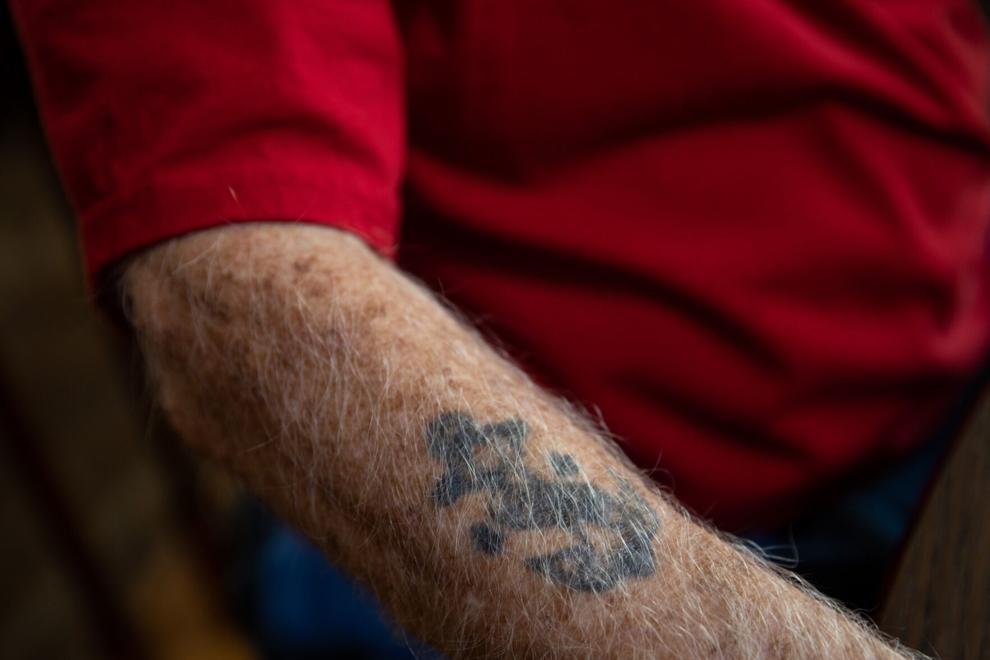 Bob took a part-time job at a co-op to supplement the farm income, and in the 1960s, he became a full-time co-op manager in Mead. He retired from that job in the mid-1980s — and then drove a school bus for 20 years, retiring again at age 80.
He also found time to serve on Cedar Bluffs' rescue squad, and on the town council for 10 years. He and Donna have been active for decades in the village's First Presbyterian Church.
Although he was long denied membership in the American Legion, Wiegand is now its senior member. And his service earned him a chapter in "Forever Heroes," a 2017 book by retired Midland College journalism professor Joyce Winfield of Fremont profiling local World War II veterans.
All these years later, he would not change the decision he made to go to sea as a merchant mariner.
"I didn't know what I was getting into, but I enjoyed the time I was there." Wiegand said. "It wasn't an easy thing. But I survived."
Nebraska nurse practitioner aided women, babies during 24-year Air Force career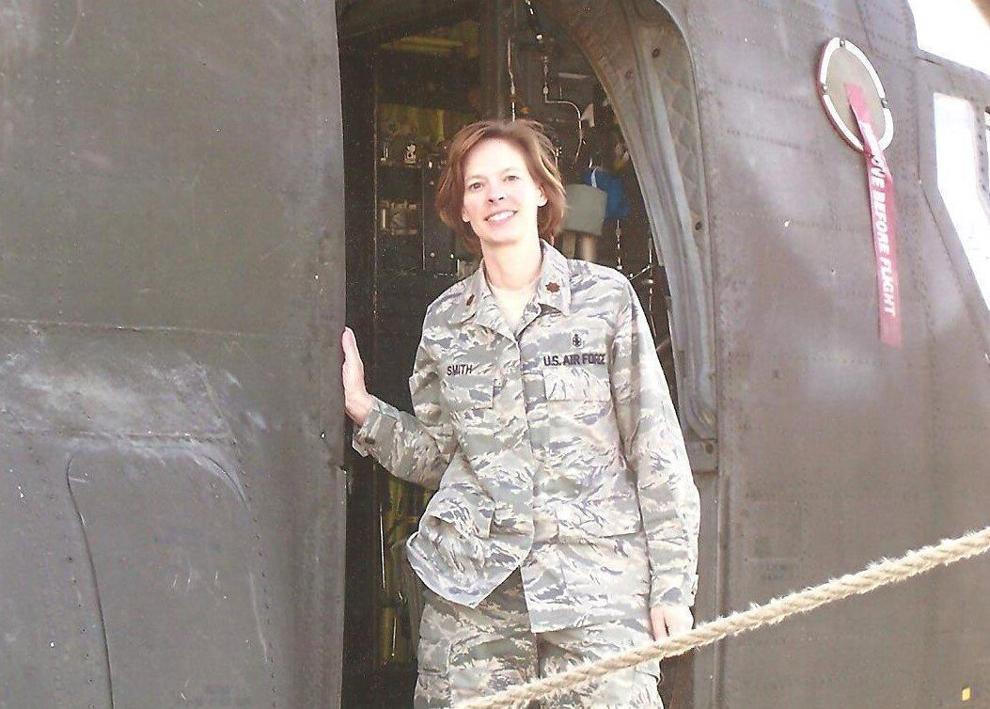 During 24 years in Air Force medicine, Mary Smith, a retired Air Force nurse practitioner, had put in many long, hard days.
Never before, though, had one ended with crowds of sign-wielding strangers — and a few friends — cheering for her and for her 134 fellow Nebraska veterans, all of them women.
That was Sept. 24, 2018, and the scene was Eppley Airfield, at the conclusion of Patriotic Productions' honor flight trip to Washington, D.C., for female vets.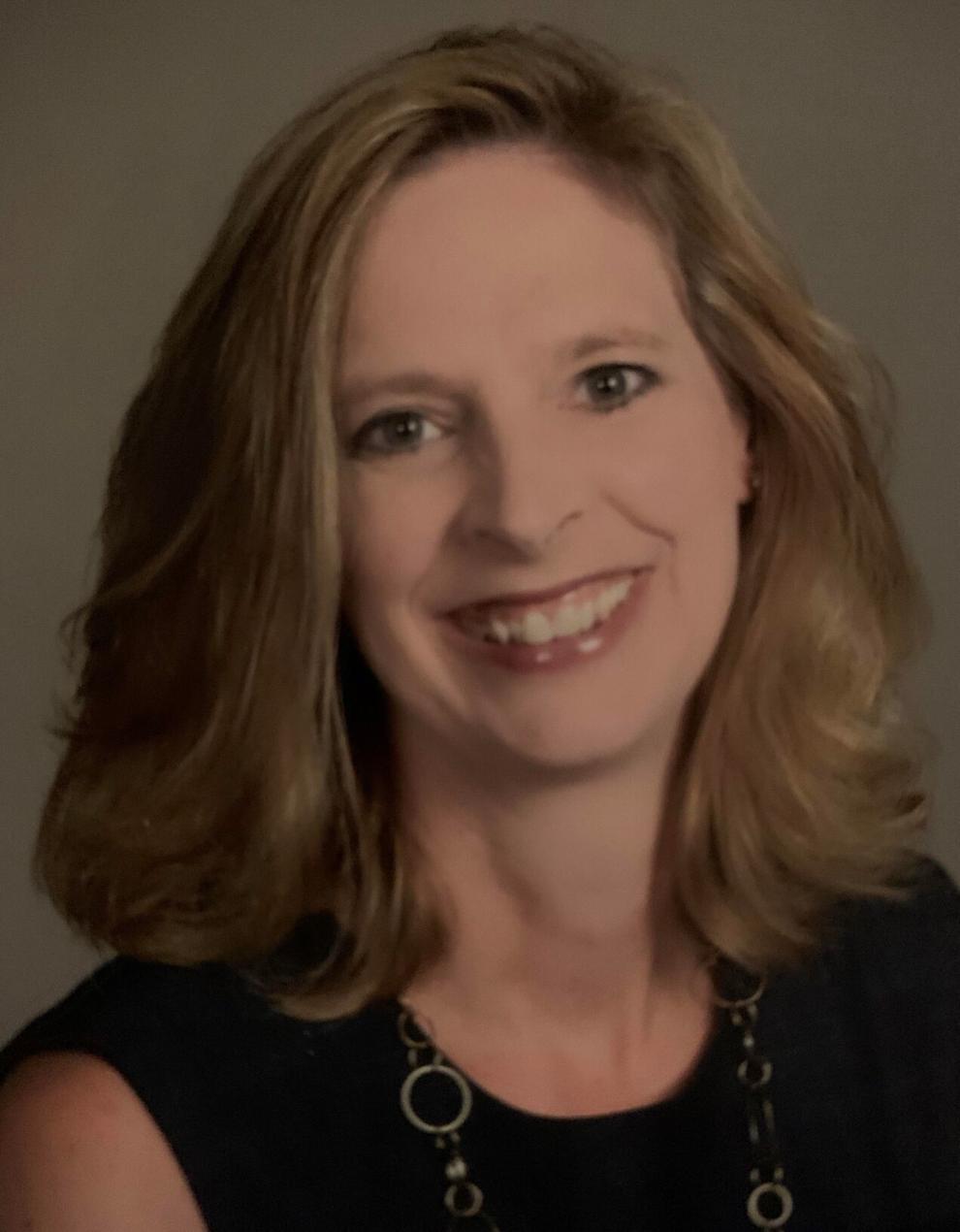 "It was like an indoor parade, with thousands of people," Smith said. "It was very emotional, at the end of a very long day."
Smith could hardly have imagined such a rousing welcome home that day 30 years earlier when she had left her hometown of Howells, Nebraska, to join the Air Force.
The daughter of a seed corn dealer, Smith had deep roots in the town of 600 about 60 miles northwest of Omaha. She graduated from the local high school in 1986 and attended Nebraska Wesleyan for a year.
But the private-school tuition threatened to leave her loaded with student-loan debt. In the Air Force, she saw a chance to see the world beyond Howells while earning some college money — and scratching a patriotic itch.
Smith's father had served in the military during World War II. And her aunt and uncle in nearby Dodge, Nebraska, had 11 sons, 10 of whom served in uniform.
"I just felt like it was something I wanted to do," Smith said. "I always joke: Because I was born on the Fourth of July, I had some patriotism in me."
The Air Force trained her to be an aeromedical specialist, a kind of combination EMT, certified nursing assistant, and medical aide. She was assigned to RAF Alconbury, a U.S. Air Force base in England about 60 miles north of London.
"I had always been interested in science and medicine," Smith said. "That first tour kind of cemented my plans."
After that first tour, she stepped away from active-duty service to earn a nursing degree from the University of Iowa while serving in the Air National Guard. She rejoined the Air Force as a nurse, and as an officer, in 1995.
That led to a rewarding assignment in the neonatal intensive care unit at a military hospital in Okinawa from 1998-2001, a tour that reinforced her decision to become a nurse.
NICU nurses can't help but become attached to their tiny patients, who are sick and vulnerable.
"You work with the same baby — especially if it was a sick baby — for days or weeks," Smith said. "You spend 12 hours a day, several times a week."
The joy from the cases that end well lingers for a long time. So does the pain from those that didn't — like one little boy who was born premature, just 23 weeks into his mother's pregnancy.
"I worked with him for 42 days," Smith said quietly. "I was with him when he passed."
Following that tour, Smith faced a choice. She could remain a nurse, and move into management, or earn a master's degree and become a nurse practitioner.
Nurse practitioners are qualified to take a larger role in managing patient care, including ordering and interpreting diagnostic tests, treating chronic conditions such as diabetes and high blood pressure, and prescribing drugs. It also meant she could continue to treat patients.
So she headed home from Japan to study close to home at University of Nebraska Medical Center while her husband, Command Chief Master Sgt. Martin Smith — whom she had met during her first tour in England — took an assignment at Offutt Air Force Base.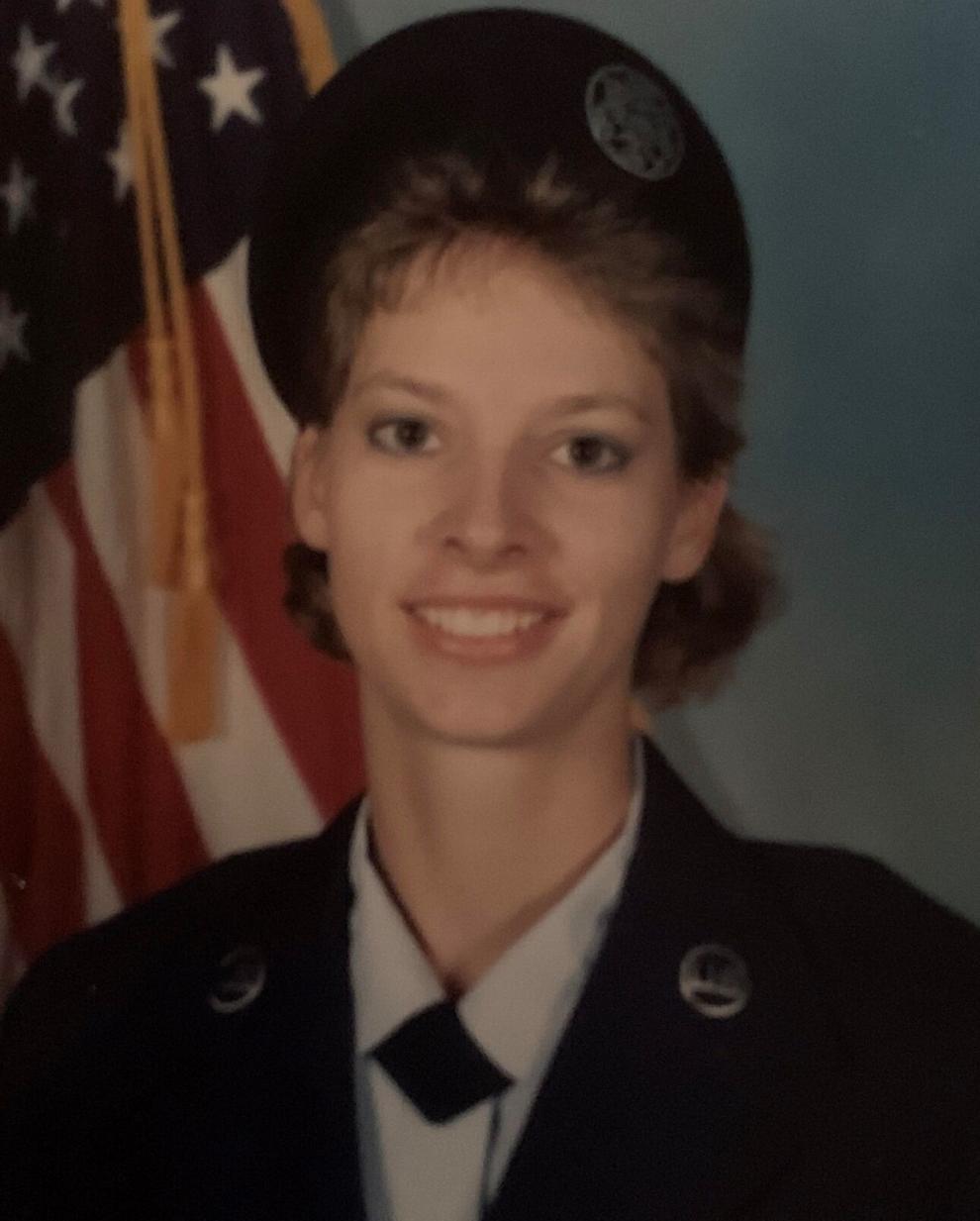 Smith was in class on Sept. 11, 2001, when al-Qaida terrorists hijacked commercial airliners and crashed them into the World Trade Center and Pentagon, killing nearly 3,000. In the aftermath, President George W. Bush launched wars in Afghanistan and Iraq.
After earning her master's — specializing in women's health — Smith was ready to deploy. She got the call in 2008, when she was sent to Bagram Air Base, Afghanistan, for five months.
"It was eye-opening — scary at times," Smith said. "You could hear gunshots all the time outside of the base."
Smith was the only women's health practitioner in the Afghanistan and Iraq combat zones. She joined an American OB/GYN doctor on weekly visits to an Egyptian hospital at Bagram that served Afghan patients. She assisted in performing hysterectomies and treating cancer patients in a country without oncologists or chemotherapy.
For the first time, Smith also treated combat casualties at Bagram.
"We were the hub. If somebody got injured in Afghanistan, they would come to our hospital," she said. "I saw some things I honestly thought I would never see."
In 2011, Martin Smith retired from the Air Force as a command chief master sergeant, the top enlisted rank. A year later, Smith retired as a major.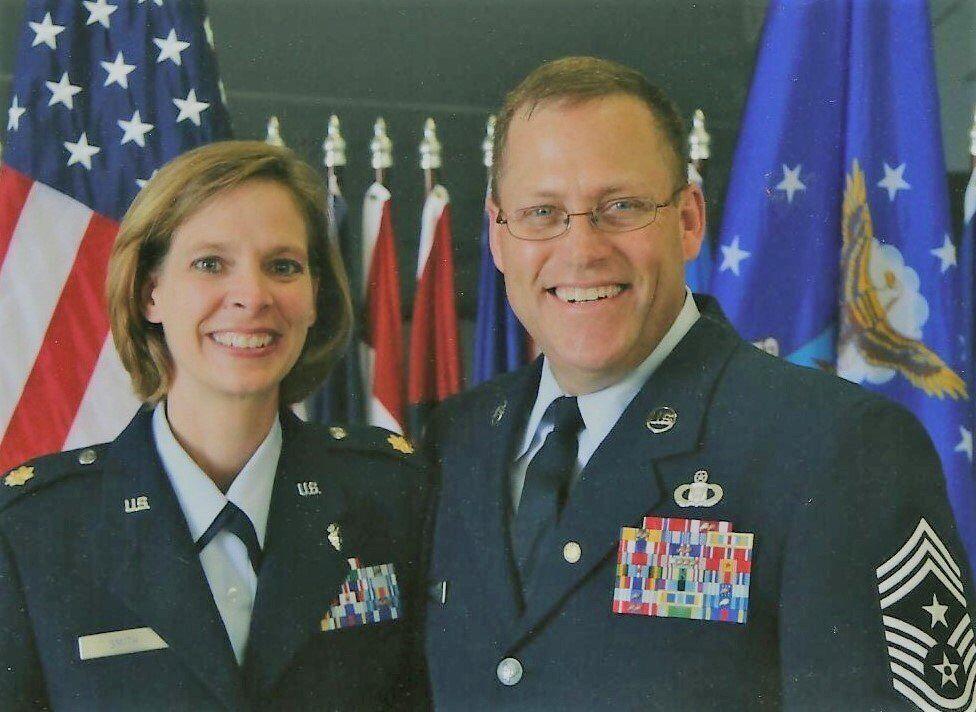 Having traveled all over the world — 13 tours for Martin, nine for Mary — the couple settled back home in Howells to be near Mary's family.
Soon after retiring, Mary got a job as a women's health practitioner with Midtown Health Center in Norfolk. She enjoys the work, but it's different than treating military patients.
"I work mostly with uninsured or low-income people," she said. "Finding ways to get them the care they need — that was a huge change."
In 2018, Smith's sister saw an article about the honor flight for women veterans and encouraged her to apply for a slot. She and her cousin, Jackie Wallick, also a veteran, both made the journey to patriotic sites in Washington, D.C.
The best part, she said, was bonding with nurses who had served before her, in Vietnam and World War II.
And, of course, the memorable homecoming.
Honoring Our Heroes: Nebraska veterans and their service
Watch now: Veterans honored during parade in downtown Lincoln
Lincoln residents lined K Street on Sunday to celebrate veterans during the city's third annual Veterans Day Parade, which included five Lincoln high school marching bands and more than 50 other local groups.
Former city councilman and veteran Roy Christensen said this year's theme — Welcome Home Vietnam Veterans — aimed to "honor those who were not honored then."
Resident Ronda Hilker stood in front of the state Capitol with her husband to view the parade and show support for local veterans.
"I come from a long line of Marines including my brother," Hilker said. "I came to remember those who gave us our freedom."
Dionray Macias also sat in the front row with his wife, kids and other family members.
"I'm proud of my country; we want to show veterans that we are proud of them," Macias said.
In addition to the marching bands and 59 other local groups that marched past the Capitol, the parade also included two large inflatables.
University of Nebraska President Ted Carter, who served in the U.S. Navy for 38 years, rode in a Mustang convertible led by the Marine Corps League Color Guard as part of the parade.
"This is a special day to remember our Vietnam veterans because they didn't get these type of parades when they came home, and we should never forget that," said Carter, who previously was the superintendent of the U.S. Naval Academy. "We should thank them today and every day for their service."
Carter reminded the crowd of the history of Veterans Day dating back to 1918, when it was called Armistice Day.
"We've celebrated it ever since, remembering those who stand up and take an oath to defend and protect our constitution and our way of life," Carter said.
Carter said there are Nebraskans who have served in every conflict in the nation's history.
"We are in a really unique time in American history. There is so much divisiveness. There is a lot of distrust in people that lead in all different levels of government," Carter said. "But the one thing that our country has never done is they have never stopped thanking our American veterans."