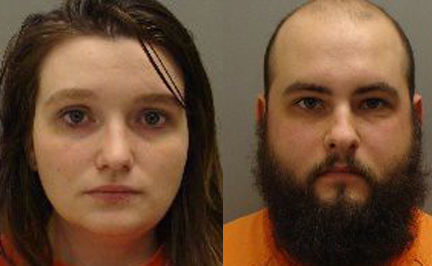 The Louisville parents who faced child neglect charges after one of their premature twins died of malnourishment have been sentenced to five years of probation.
Monday, Cass County District Judge Michael A. Smith sentenced David Krutina, 24, and Kassandra Krutina, 21, on two counts of negligent child abuse causing serious bodily injury.
They pleaded guilty at a hearing in August. The state and defense both recommended the probation term.
The Krutinas' twins were born Feb. 19, 2018, at 27 weeks, Samantha weighing 2 pounds, 3 ounces, and Charlotte weighing 2 pounds, 5 ounces, Cass County Sheriff's Sgt. Douglas Durkan said in an affidavit for the couple's arrests.
They remained in the neonatal intensive care unit in Omaha for more than two months until they had gained more than 2 pounds and were discharged.
On Sept. 1, 2018, a hospital social worker called the Cass County Sheriff's Office after the Krutinas brought the girls into Children's Hospital in Omaha. The 6-month-old girls appeared malnourished, and Samantha died later that night, the affidavit said.
The day she died, Samantha weighed less than when she was discharged from the ICU, Durkan said. He said an autopsy determined she died of a septic bacterial infection caused by malnourishment.
Medical records showed that after the babies were discharged in April they were only taken to their doctor once, two days later.
Today's jail mugshots
Be the first to know
Get local news delivered to your inbox!