A Florida man stuck in Omaha with a broken car saw his luck change when he found a lucky penny — and then won $200,000 in the Nebraska Lottery.
Humberto Alejandre, 61, told lottery officials he used to be a long-haul truck driver. He missed the open road and set out from his home in Morriston, Florida, for Colorado in his car.
But Alejandre suffered car trouble along the way, according to a Nebraska Lottery press release. So he stopped at a hotel near Interstate 80 at the Nebraska Highway 50 exit in Sarpy County.
Dejected, Alejandre went out for a walk to clear his head. When he found a shiny penny face-up in the parking lot, he took it as a sign his luck was about to change, he told lottery officials.
Alejandre put the coin in his pocket and walked across the street to the Anderson Convenience Market on South 145th Street. He plunked down $20 for a single "50X the Cash" scratch ticket and used his lucky penny to scratch it off right at the counter, according to the press release.
When Alejandre saw that he had won the game's top prize of $200,000, he literally couldn't believe his eyes.
"I wasn't sure if I was reading it right," he told lottery officials. "I had to go back to the hotel to get my glasses."
His eyes were not lying. A clerk at the store scanned Alejandre's ticket and confirmed it was a winner, beating odds of 1 in 140,000. He returned to his hotel in a happy state of shock.
"I felt so hot I started sweating," he told lottery officials.
Alejandre claimed his winnings Wednesday in Lincoln. After that, his top priority?
Getting his car fixed, and getting back on the road.
He was not the only man in shock locally after a scratch-ticket lottery win this week.
Franklin "Bob" Huff, 75, of Glenwood, Iowa, picked up a pair of Iowa Lottery tickets at a BP gas station in his hometown.
One of them was a "Living Lucky with Luke Combs" scratch ticket, named for a country-music star. The top cash prize is $100,000.
Huff scratched off the ticket when he got home. He got "the shakes" when he saw that he had won $100,000.
"I couldn't sign my name or anything else," Huff told lottery officials when he claimed his prize Wednesday. "You're dumbfounded. You're thinking in the back of your head, 'This can't be real!'"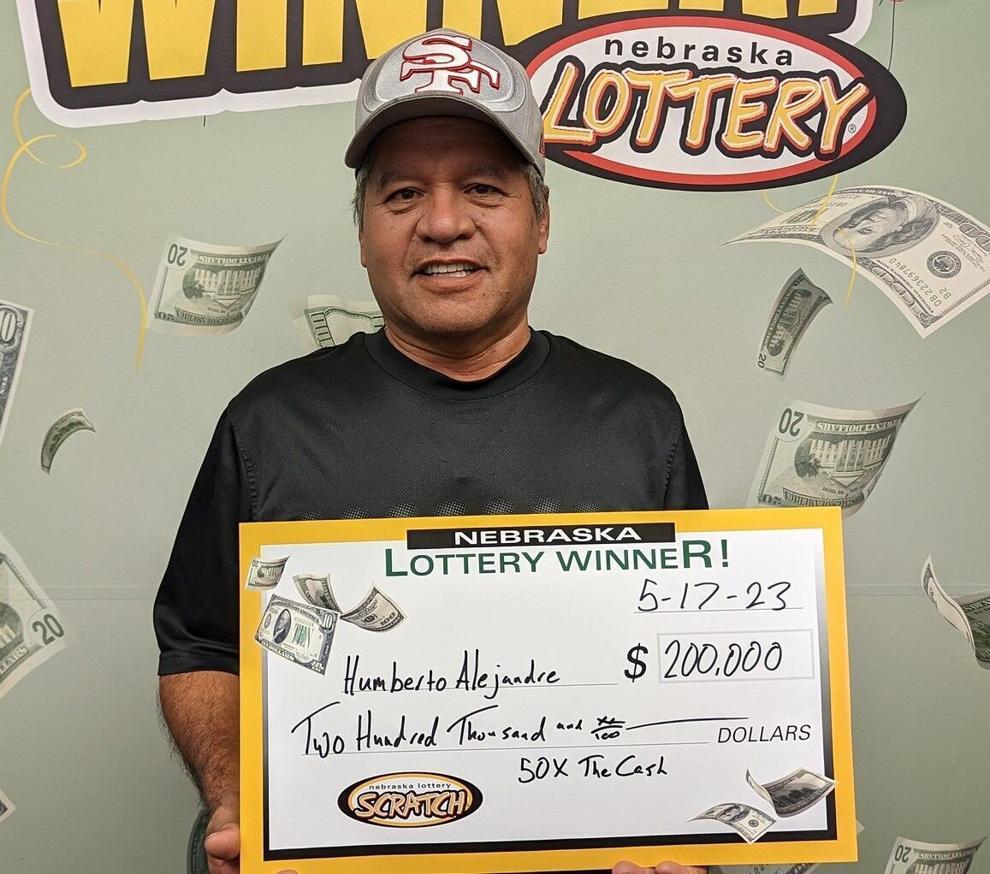 Nebraska Lottery officials are planning changes to the daily Nebraska Pick 5 that will make it harder to win but also likely to boost jackpots.
Currently, players choose five numbers from the numbers 1 to 38. Beginning Aug. 13, players will select five numbers between 1 and 40.
Matching four of the five winning numbers will win $500. And every time the jackpot is not won, it will increase by $10,000. The odds of winning the jackpot will stretch to 1 in 658,008, while the overall odds will be 1 in 9.2, compared with 1 in 8 currently.
The Nebraska Lottery: 25 years of fun
A look at how the state has benefited from more than $700 million in funding for education, the environment, the State Fair and gambling assistance programs.