The long hard winter of 2019 refused to leave peacefully, doubling down this week with a blinding blizzard in the Panhandle and unleashing walls of water that inundated towns and closed highways across the eastern half of Nebraska.
Widespread flooding forced the evacuation of thousands as swollen streams and rivers — fed by rain and rapid snowmelt — overwhelmed their banks, burying roads, breaching dams and isolating communities.
So many roads and bridges were washed out or otherwise impassable that officials were running out of barricades. The only way out of Boyd County was through South Dakota.
"There are no bridges anymore around our area," said Roger Miller, O'Neill's assistant fire chief. "We are pretty landlocked around here."
Miller's department had just returned from a rescue mission — boating through swift water to pluck a man off his porch — near what used to be the Spencer Dam on the Niobrara River. The dam failed Thursday, taking out the bridge on U.S. 281 and sweeping away at least one home. It wasn't yet known if it was empty, he said.
Conditions were changing and deteriorating so quickly first responders couldn't keep up. He'd heard most of bridges to the north — like the Standing Bear Bridge over the Missouri — and bridges to the south were compromised.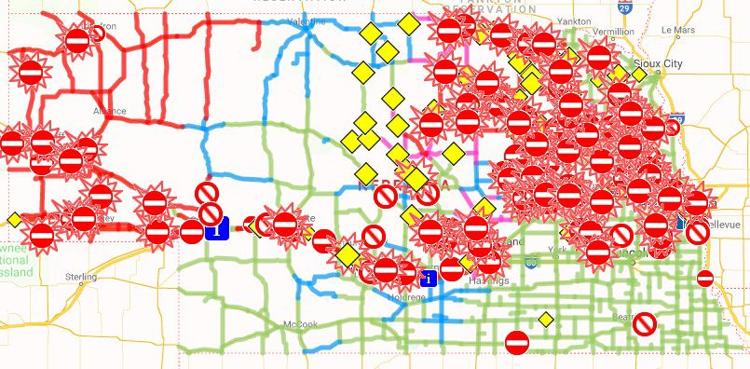 "There are so just many things going on in the state," he said.
And the chaos is expected to continue as the damage follows the water downstream.
"This event is going to be ongoing for at least the next several days, if not the next couple of weeks," Bryan Tuma, assistant director of the Nebraska Emergency Management Association, told members of the Legislature.
Later, at a news conference, Tuma said the water had claimed at least one Nebraskan — a farmer who tried to travel a flooded road and was swept away. He wouldn't say where.
Multiple communities — from Cedar Rapids to Burwell, Pierce to Lynch — began evacuating Wednesday, as the waters started to rise.
In Dannebrog, volunteers continued to fill sandbags Wednesday even as a blizzard moved in. But by Thursday morning, Oak Creek had backed up and spilled over, sending a 5-foot torrent of floodwater down main street, past the Pawnee Arts Center and the Danish Baker.
Most of the town of 300 had emptied. "We're essentially isolated here. They're pulling people out of their houses," said longtime resident Roger Welsch. "It's really pretty damn serious."
Welsch's rural home was still dry, but he was monitoring the flooding on his police scanner. The same voices he'd heard Wednesday night sounded exhausted Thursday morning, he said.
Nearly a third of Norfolk fell under an evacuation order Thursday morning, as officials monitored the levee protecting the city of 25,000 from the Elkhorn River. Shelters were already filling, and officials were looking for more mattresses and more space.
"This is going to require neighbors helping neighbors to get through this event," Mayor Josh Moenning said at a news conference. "It's a very serious event, one of the most serious we've seen in our history."
Water rescues played out across eastern Nebraska, many documented on social media. Photos of first responders in borrowed fan boats. Troopers using their armored SWAT vehicles. Game and Parks officers in their state boats. National Guard members in their tall-tired trucks.
Many more photos and videos showed an unfamiliar landscape. A bridge deck floating away. Boulder-sized ice chunks strewn across roads. A lake covering the busiest intersection in Columbus. Speed limit signs surrounded by acres of water. Long Pine Creek lapping at its cabins.
The threat continued to move downstream Thursday, with evacuation orders following the Platte from North Bend to the Fremont area and those living on low ground near Ashland, like the Linoma Beach area, where water spilled over U.S. 6.
Sarpy County warned residents who live near the Platte to be ready to leave at a moment's notice, and Plattsmouth declared a water emergency, shutting down its treatment plant after it was inundated by floodwaters.
Some flooding was reported on Platte River wellfields providing drinking water for Lincoln residents but operations remained normal on Thursday, said Donna Garden of Lincoln Transportation and Utilities.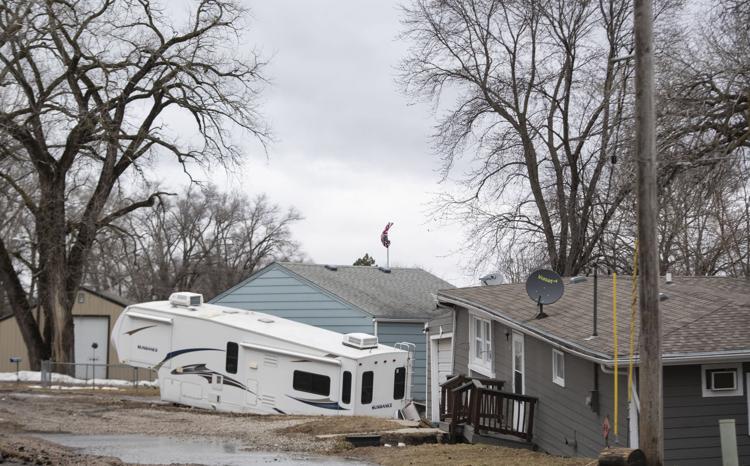 And on the other end of Nebraska, state crews continued to try to clear hundreds of miles of highway — including long stretches of Interstate 80 — still closed by Wednesday's blizzard. The snowfall had stopped, but the winds were still whipping it across the highways.
"They are being hampered by extremely high winds causing issues with blowing and drifting snow," said Jeni Campana, a spokeswoman for the state Department of Transportation.
The state began to reopen Interstate 80 on Thursday evening.
Parts of the Panhandle were buried by a foot and a half of snow, and all of that moisture will ultimately move east, toward the already swollen rivers.
"Our other problem is with the snowfall that's out in the Panhandle that's going to melt," Tuma said. "So we've got to wait for that to get flushed through the system."
Photos, videos from across the state
Be the first to know
Get local news delivered to your inbox!