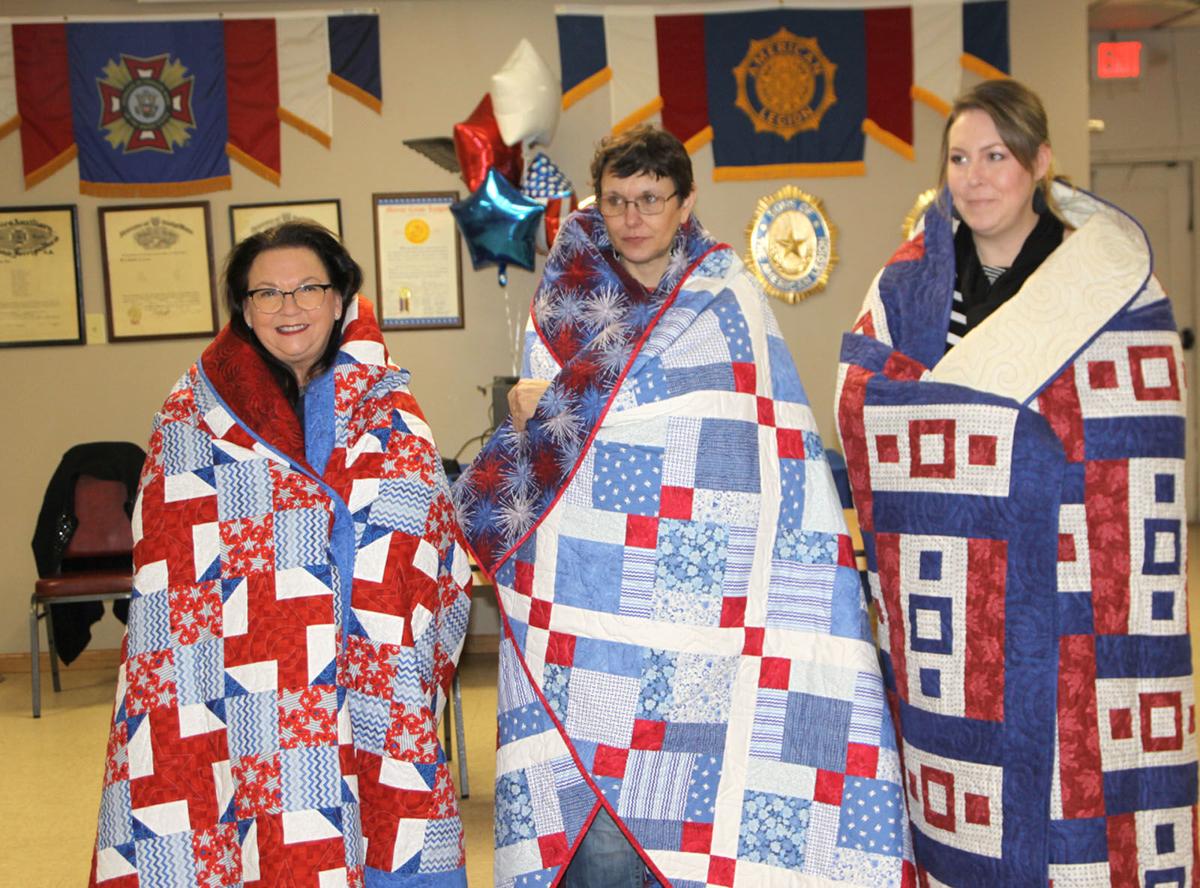 The Beatrice American Legion Auxiliary awarded three Quilts of Valor to women have served their country in the armed forces on Sunday afternoon. 
In a ceremony at the Beatrice Veteran's Club, quilts were given to Elizabeth Shotkosky-Jurgens and Tami Schmidt, who served in the Marines Corps; and Erin Schoen, who served in the Air Force.
"We have (previously) given 11 quilts out and are very pleased that these quilts are going to women," said Loree Dienstbier, President of the American Legion Auxiliary. "These quilts are to be used and a symbol of appreciation from a grateful nation."
Elizabeth Shotkosky-Jurgens joined the United States Marine Corps on Feb. 6, 1978 in the delayed entry program. She received many medals and ribbons during her service, including the USMC Good Conduct Medal and the Meritorious Service Medal.
She served with the 2nd MAW 533 AW Attack Squadron: West Pac Tour, Japan, Korea, and the Phillipines 1981—1982. She discharged in 1982 as a Sergeant.
Shotkosky-Jurgens joined the Nebraska Army National Guard in 1982 and retired in 2001 at the rank of Major.
"I feel so overwhelmed and honored to receive this quilt. It's very humbling," said Shotkosky-Jurgens.
Shotkosky-Jurgens quilt was provided by memorial money from Luann Hohbein, a long time member of the Legion Auxiliary. It was presented by Hohbein's family in her memory.
Tami Schmidt enlisted in the Army in December 1981. She completed boot camp at Ft. McClellan, Alabama, however was discharged in February 1982 for failing to qualify with the rifle. She returned to Nebraska and worked as an office clerk for the Army recruiting office in Lincoln.
Schmidt was permanently attached to Hams 32 OMD Avionics in January, 1984. She received a Good Conduct Medal in 1985 and discharged January 15, 1986.
In 1988, Schmidt joined the Engineering Maintenance Battalion Reserve Unit at Ft. Omaha. She served in the Training office until 1989 and was promoted to Corporal.
Tami is a charter member of the NE 1 Lady Leathernecks Chapter of the Women Marines Association and is a national member as well. She is also a charter member of the Homestead Leathernecks Detachment 1430 of the Marine Corps League.
"Many of my family have served in the United States military," Schmidt said. "Patriotism was instilled in us at a very young age. I never felt worthy and receiving this quilt is so incredible."
Erin Schoen served with the United States Air Force beginning in February, 2004. She received training in Morse Code and Medical Logistics. She was deployed to Kabul, Afghanistan as a combat advisor, completing over 300 combat missions beyond the wire from February 2010 to November 2010. She also worked at Osan Air Force Base in South Korea.
Schoen retired from the Air Force on May 28, 2017 and is now living in Soldotna, Alaska. She was home visiting her parents near Odell when told of the quilt honor.
"I'm just so honored," Schoen said.
In 2003 Catherine Roberts started the Quilts of Valor Foundation after a dream of panic when her son was deployed in Iraq. The mission of the Quilts of Valor Foundation is to cover service members and veterans touched by war with comforting and healing Quilts of Valor.
Be the first to know
Get local news delivered to your inbox!