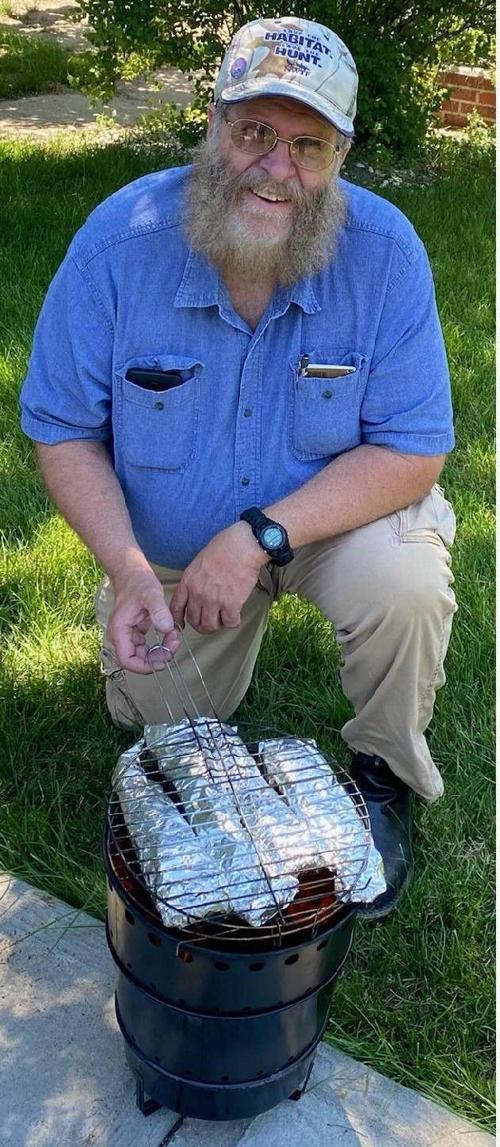 Prices are going up everywhere and on everything. Outdoor gear is no exception. You have to really look for bargains!
I learned long ago that you can find some great deals on outdoor gear at auctions, pawn shops and garage sales. Your outdoor gear does not have to be purchased new to work, equipment in good condition and for budget prices will work just fine.
I often stop by a garage sale if I see any hunting, fishing or camping gear as I pass by. I did that recently and found a unique grill that I had not seen before. The grill was still in its original box. While it was used, it had not been used very much. It even had the original directions in the box. I quickly read through the pamphlet and discovered that the Safari Quick Grill was sold back in the early 1990s.
What really caught my eye was a mention in the instructions that stated the grill did not use charcoal or lighter fluid. If you remember back to the early 1990s, we had a big push for environmental conscientiousness. Before plastics and greenhouse gasses were the daily trepidation of mankind, we were told that newspapers were a major threat to the environment and we had to clean it up.
This grill was designed with that in mind! The directions stated that 10 to 12 tightly wadded up pieces of newspaper was enough to fire the grill and cook a meal. Drop the balls of newspaper in the bottom of the grill, toss in a match and you are cooking!
The grill was in a round nylon tote bag that measured 12-inches across and 6-inches high. The unit is made from thin metal to minimize weight. There are four pieces to the unit: A base pan, middle ring and the upper ring. These rings fit inside one another in the tote bag. The concept reminded me of Matryoshka Dolls, the Russian dolls that are made so each smaller doll fits inside a bigger doll.
The metal rings stack up on one another to create a structure that resembled the shape of a SOLO cup to me. It stands about 18 inches tall. The last piece is the actual grill, which is a clamshell design that sits on top. You put whatever you are cooking in between the grills and set it on top of the unit. This grill design makes it easy to flip what you are cooking very easy! The handles of the grill slide out for cooking and slide back in for easy storage. The overall design is well thought out.
Another item in the small print of the directions told me this grill was initially patented in South Africa. It was obvious to me that the name Safari Quick Grill was connected to it being from South Africa. I paid the $2 that the owner wanted for the grill and headed home.
The connection to South Africa intrigued me and I wanted to research that a bit more. It took maybe an hour of research but I found out that the grill was originally called the SWANNBraai Grill. It invented by a native South African named Willie Swannbraai Landman. He had been working on the design from the late 1980s. You can find some examples of the original marketing of this grill in the United State on You Tube. Mr. Landman is doing the demonstration in one video and you can hear his Afrikaner accent.
Marketing doesn't change much…these paid advertisements follow the same format for the infomercials we see now on air fryers. However, it is easy to see why the marketing folks changed the name from Swannbraai Grill to Safari Grill to sell in this country.
OK…research was done and it was now time to test the grill. It assembled very easily. As the directions stated, I rolled up 12 tight balls of newspaper and dropped then in the pan. One match was all it took to get the grill going and it is a hot fire. My first cooking attempt was going to be some trout. I tightly wrapped the trout in aluminum foil ala Sakana style, placed them in the clamshell grill and set the grill in place. I could hear the fish cooking almost instantly.
However, it did take more than the initial 12 balls of newspaper to finish cooking my fish, but I had more newspaper handy. Some further field testing tells me it will take you about three days of the Daily Sun to cook a meal of burgers or bratwursts. Still not bad!
There is an old adage that says, "One man's trash is another man's treasure". While I don't think the original owner thought this grill was trash, I do consider it a treasure and it will be part of my regular camp cooking gear. I'm sure I'll use in many times.