The Wyoming Game and Fish Department captured and relocated a male grizzly bear to the greater Yellowstone area Wednesday after the bear killed cattle on an undisclosed ranch in Wyoming.
"After consultation with the United States Fish and Wildlife Service, the Wyoming Game and Fish Department captured and relocated an adult male grizzly bear on May 4," the department said in a press release Friday.
The bear was captured for "cattle depredation on private land" and relocated in the Sunlight creek drainage approximately 30 miles from the northeast entrance of Yellowstone National Park.
State and federal law governs the capture and relocation of grizzly bears and the agencies involved are required to notify the public when such encounters occur. According to Wyoming Game and Fish the use of relocations is a management tool for large carnivore conservation efforts that seek to minimize conflicts between bears and humans.
Grizzlies are only relocated into areas already populated by the species, the press release said, and bears that threaten human life or are considered a hazard to people are never relocated under the program, the agency said.
Grizzly bear relocation is a management tool large carnivore biologists use to minimize conflicts between humans and grizzly bears. It is critical to managing the expanding population of grizzly bears in Wyoming.
"Capture is necessary when other deterrent or preventative options are exhausted or unattainable," the department's release read. "Once the animal is captured, all circumstances are taken into account when determining if the individual should be relocated. If relocation is warranted, a site is determined by considering the age, sex, and type of conflict the bear was involved in as well as potential human activity nearby."
If a bear is not eligible for relocation, the animal is euthanized.
"In some cases, a bear may be removed from the population if it cannot be relocated successfully," the department said.
The public has a responsibility in bear management, according to Fish and Game, by realizing the "importance of keeping all attractants such as food, garbage, horse feed, bird seed unavailable to bears."
The report also included interesting details into the lives of bears requiring relocation. In one instance a subadult male captured in Park County exhibited "bold behavior around guest lodges and trailheads, including following horseback riders on several occasions."
In the fall, a bear was captured after feeding in a pumpkin patch and corn maze while another was trapped and euthanized after hanging out about two miles downstream from Cody and exhibiting "aggressive behavior towards people rafting the [Shoshone] river."
What you need to know to stay safe in bear country
Bear behavior
Although sometimes portrayed in the media as voracious predators, grizzly bears are normally reclusive creatures.  Grizzly bears are intelligent, curious, and have excellent memory, particularly regarding where food sources are located.
They have good eyesight and excellent senses of hearing and smell.  Grizzly bears are active during the day and night, but will often alter their habits to avoid humans in areas of high human use.
In the heat of the day, grizzly bears will rest in day beds in dense vegetation, including willows, alders, dense forest, and tall grass. Most grizzly bears spend their time alone except when breeding or raising cubs.
Grizzly bears often live to be around 20 to 25 years of age  Mating occurs from May through July with a peak in mid-June. Female grizzlies begin bearing young at 3 to 8 years of age, and litter size varies from one to four cubs, with an average litter of two.
Grizzly bears are opportunistic omnivores. In Washington and Idaho, a typical grizzly bear diet is less than 10% fish or meat, and much of the meat is carrion from winter-killed deer and elk.  In areas where animal matter is less available, grasses, roots, bulbs, tubers, and fungi are important parts of the grizzly diet.
Grizzly bears visit wetlands in the spring for succulent plants that are easy to digest and are high in nutrients.  Summer foods include thistle, cow parsnip, mushrooms, roots, spawning fish, wild berries, and insects (including clusters of adult moths at high-elevations).  Fall foods include berries very important, plants, and ants.
During years when there are shortages of natural food sources, conflicts between humans and grizzly bears are more frequent, resulting in higher numbers of human- caused grizzly bear mortalities due to defense of life or property, and management removals of nuisance bears.
A bear's body language can help reveal its mood. Bears may stand on their hind legs or approach to get a better view, but these actions are not necessarily signs of aggression.  In general, bears show agitation by swaying their heads, huffing, popping their jaws, blowing and snorting, or clacking their teeth. Lowered head and laid-back ears also indicate aggression.
Bear Identification: Black Bear or Grizzly?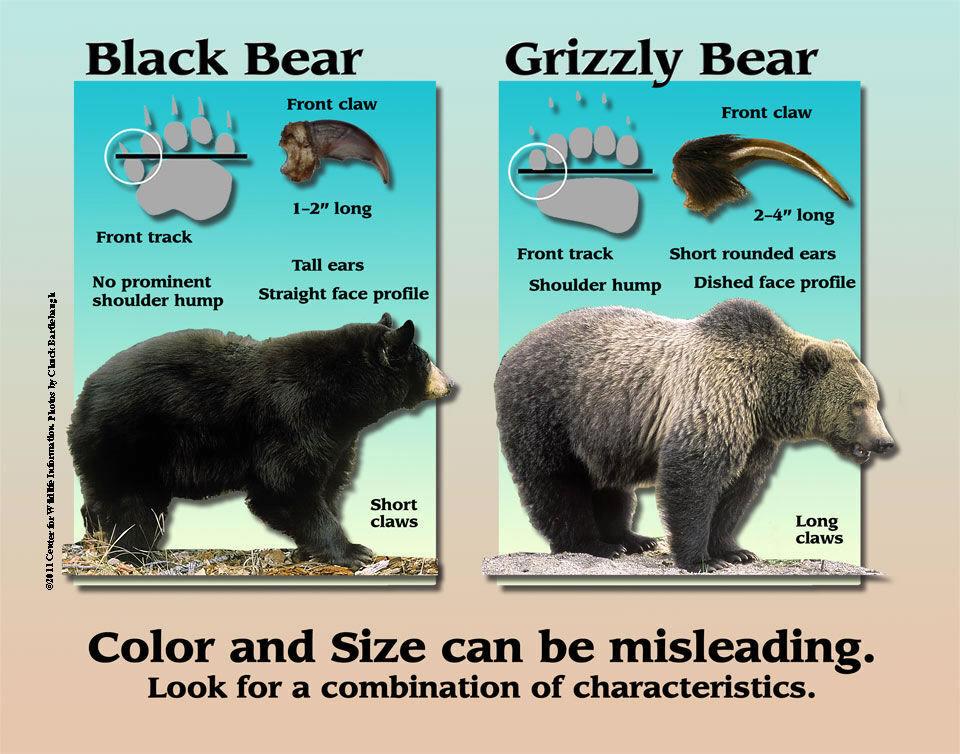 Color varies from blond to black.

No distinctive shoulder hump.

Rump is higher than front shoulders.

Face profile is straight.

Ears are taller and less rounded than grizzly ears.

Front claws are 1-2 inches long and curved to facilitate climbing.
Color varies from blond to black.

Distinctive shoulder hump.

Rump is lower than shoulder hump.

Face profile appears dished in.

Ears are short and rounded.

Front claws are 2-4 inches long, depending on the amount of digging the bear does, and are slightly curved. Claw marks are usually visible in tracks.
Color and size can be misleading and should not be used as identifying features. Take a bear ID test.
If you encounter a bear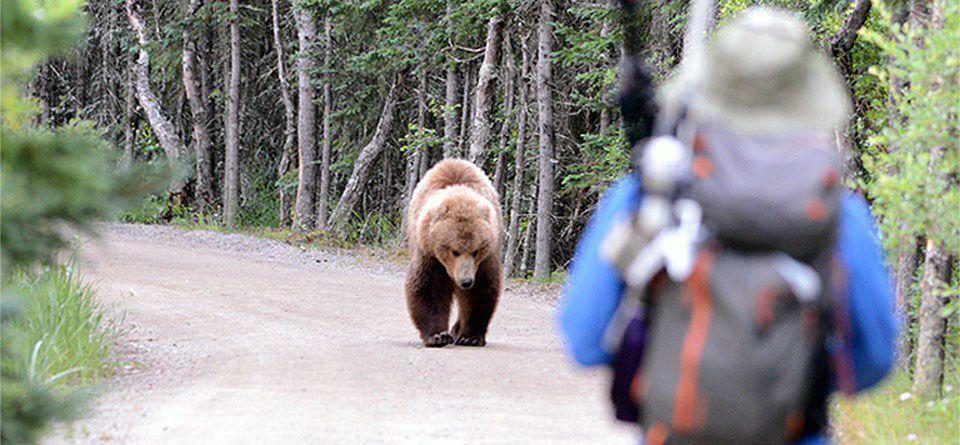 Make certain you have bear pepper spray at the ready and know how to use it.

Always maintain a safe distance from bears.

Stay calm.

Immediately pick up small children and stay in a group.

Behave in a non-threatening manner.

Speak softly.

Do NOT make eye contact.

Throw a backpack or other object (like a hat or gloves) on the ground as you move away to distract the animal's attention.

Slowly back away, if possible. Keep a distance of at least 100 yards.

Do not run from a bear. Running may trigger a natural predator-prey attack response and a grizzly can easily outrun the world's fastest human.

Don't climb a tree unless you are sure you can get at least 10' from the ground before the bear reaches you. Many experts recommend against climbing trees in most situations.

Do not attempt to frighten away or haze a grizzly bear that is near or feeding on a carcass.

If a grizzly bear charges your first option is to remain standing and direct your pepper spray at the charging bear. The bear may "bluff charge" or run past you. As a last resort, either curl up in a ball or lie face down (flat). Leave your pack on to provide protection, cover your neck and head with your arms and hands. Do not attempt to look at the bear until you are sure it's gone.

If a black or grizzly bear attacks, and if you have a firearm and know how to use it safely and effectively, Montana law allows you to kill a bear to defend yourself, another person or a domestic dog. If you do kill a bear in self defense you must report it to FWP within 72 hours.

If you are armed, using a weapon on a grizzly bear does not guarantee your safety. Wounding a grizzly bear will put you and others in danger.

If a grizzly bear attacks during the day, most experts recommend either curling up in a ball or laying face down (flat). Use your hands and arms to protect the back of your neck and face, and keep your backpack on for added protection. Do not move or make noise until you are sure the bear has left the area.

If a black or grizzly bear attacks at night while you're in a tent, fight back aggressively with whatever you have available to use as a defensive weapon or deterrent. The bear may be seeking food rather than trying to neutralize a threat, so fight back to show the bear you are dangerous.

Report all encounters to your local authorities. Your report can prevent someone else from being hurt.
Bear Spray
Bear spray is a good last line of defense, but it is not a substitute for vigilance and following appropriate bear avoidance safety techniques. Bear spray is intended to create a wide barrier between you and the bear, so the spray can affect the bear's eyes, nose, throat, and lungs.  Spray when a bear is no less than 25 feet away.  Point the canister slightly downwards and spray in 2 to 3 second bursts in the direction of the bear with a slight side-to-side motion. This distributes an expanding cloud of spray that the bear must pass through before it gets close to you. Spray additional bursts if the bear continues toward you. Continue spraying until the bear either breaks off its charge or is going to make contact.  Bear spray has been shown to reduce the length and severity of serious physical attacks when used properly. Bear spray should not be used as a preventative measure: never spray your backpack, tent or person with bear spray.
Hunting in bear country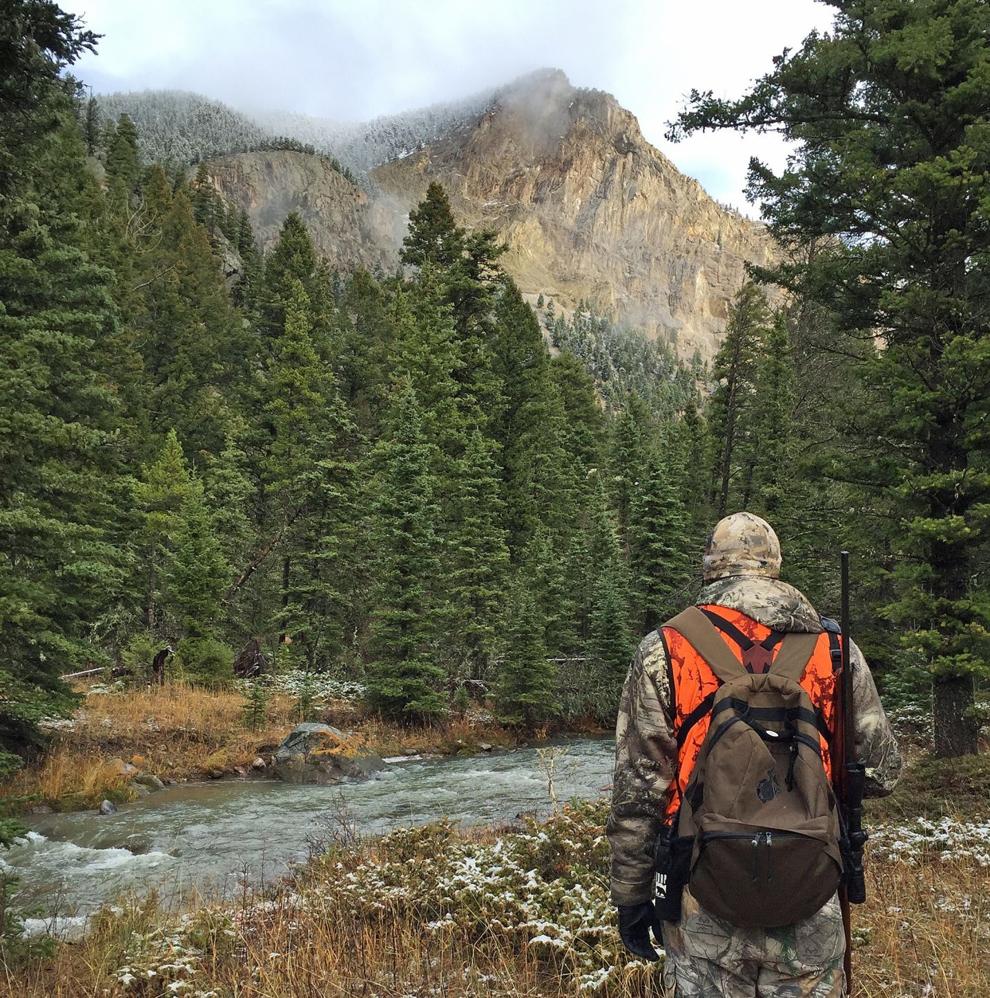 It is illegal to hunt grizzly bears in most of the country.  Learn how to identify the difference between grizzly and black bears.  Be absolutely sure of your target. If in doubt, do not shoot.

When hunting in grizzly country, carry bear spray. Keep the spray within reach, and be familiar with the firing mechanism.  Hunters are the group of recreationalists most vulnerable to  grizzly bear attacks. Grizzlies are attracted to freshly-killed game.  If you hunt in grizzly bear country take extra precautions such as never hunting alone, and having bear spray always at the ready in a belt  or chest holster.

Leave detailed plans with someone, and check-in periodically.

Field dress and remove your kill from the field immediately. The longer a carcass remains lying on the ground, hung near hunting camp, or in the back of a truck, the more likely it is to attract a bear.

If you must leave a carcass in the field, hang it so the lowest part of the carcass is at least 10 feet off the ground and 300 feet away from recreation/camping/sleeping sites.

If a grizzly bear is at the kill site, do not attempt to frighten away or haze a grizzly that does not leave a carcass! Leave it to the bear and leave the scene.

If you see no sign of a bear when returning to the site, approach the carcass slowly. Yell repeatedly, and make noise to frighten away any bear you didn't see!
Hiking or horse packing in bear country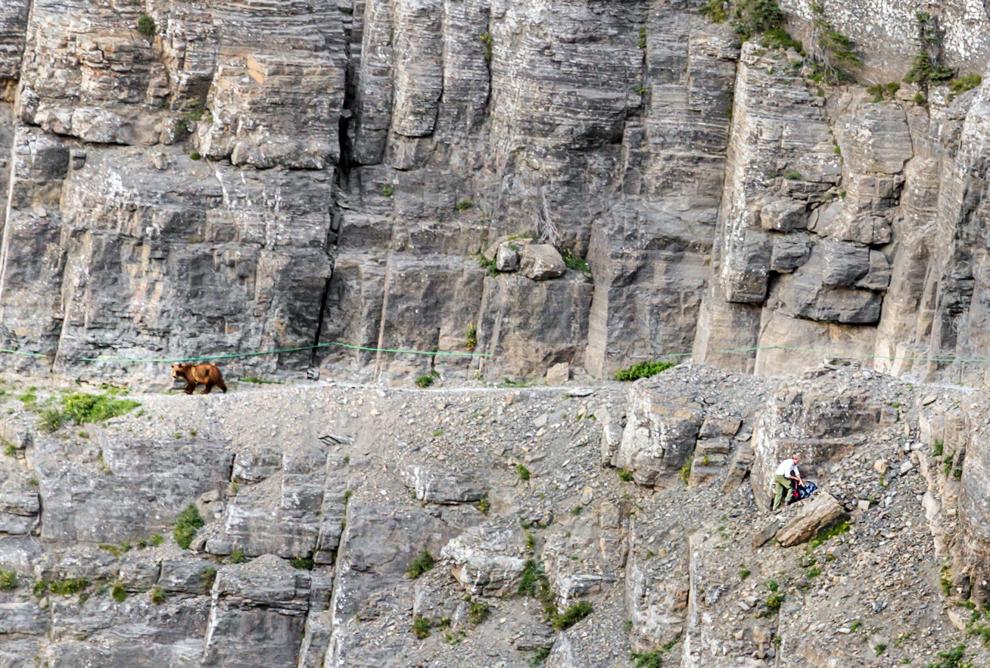 Talk or sing songs as you walk – especially in dense brush where visibility is limited, near running water or when the wind is in your face. Your voice will help bears to identify you as human.

Hike in a group and during daylight hours.

Be aware. Learn about and watch for bear sign. Overturned rocks or broken-up, rotten logs can be a sign that a bear has been foraging for grubs or insects. Claw marks on trees, five-toed tracks in the dirt or snow, berries on the ground, plant root diggings or fur on the bark of trees are all signs that a bear has been in the area. If you see fresh bear sign, leave the area immediately.

Stay away from abundant food sources and dead animals – bears may be foraging in the area or protecting a carcass.

Keep dogs on a leash and under control. Dogs may be helpful in detecting bears, but they may also fight with them or lead them back to you.

Avoid wearing scented cosmetics and hair products.

Carry bear spray.
Dealing with food waste and garbage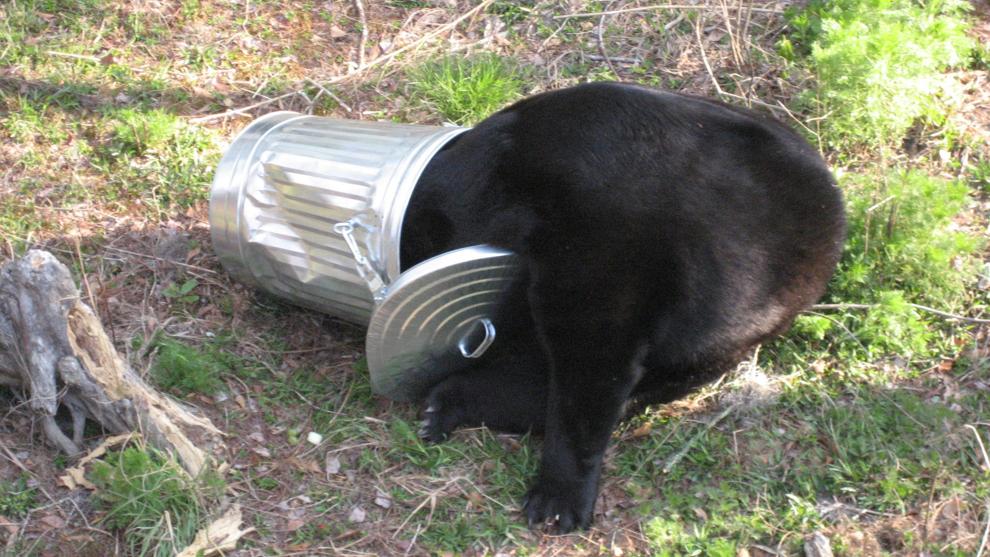 Never leave garbage unattended, unless it is properly stored.

Do not bury your garbage. Garbage should be deposited in bear-resistant garbage cans or stored in your vehicle until it can be dumped.

If you are unable to store garbage in a bear-resistant container, hang garbage in the same way as your food.

Remember: "pack it in, pack it out". This includes ALL garbage (including biodegradable items such as fruit peels).
Storing food in bear country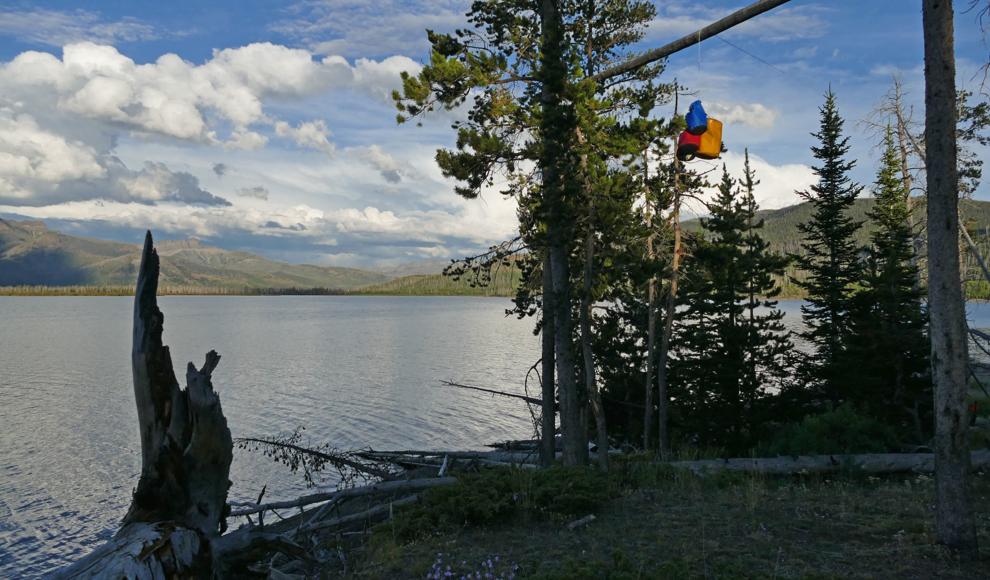 Do not forget: when hanging your food and garbage you'll need 100 feet of strong nylon accessory cord (1/8 inch minimum) and a carabiner to attach bags to cord.

Never leave food items unattended unless it is properly stored.  Food items include all edibles (even in sealed packaging), drinks, coolers (even when empty), and pet food (even fishing bait).

DO NOT bring food, drinks, or odorous non-food items into your tent.  This includes toothpaste, perfume, deodorant, chocolate, candy and wrappers. Store in a bear safe container, or hang with your food items. Always seal food and other items with odors in plastic sealable bags inside of bear cannisters or hanging sacks or packs.

Avoid canned foods with strong odors such as tuna. Wash cans after eating.

All food items should be placed in bear-resistant food storage containers (where available) or stored in your vehicle's trunk or your truck cab.  Bear-resistant containers are constructed of a securable, solid non-pliable material capable of withstanding force from a bear. Visit www.igbconline.org to learn about certified bear-resistant containers.

When you are not able to keep food stored in bear-resistant containers, hang your food. Place food inside several layers of sealed plastic bags and a stuff-sac ('bear bags' or waterproof 'dry-bags' can be purchased for this use) and hang the bags at least 15 off the ground between two trees that are 20 feet apart. Some campgrounds provide communal bear wires for this purpose.

If two trees are not available, sling your bags at least 15 feet from the ground over the branch of one tree so that the bags hang at least 5 feet out from the tree trunk and hang 5 feet below the branch.

Remember to hang pots, utensils, cosmetics, toiletries and any other odorous items with your food and garbage.

Bear-resistant food containers (BRFCs) can be borrowed from some National Park and Forest Service offices.
Setting up camp in bear country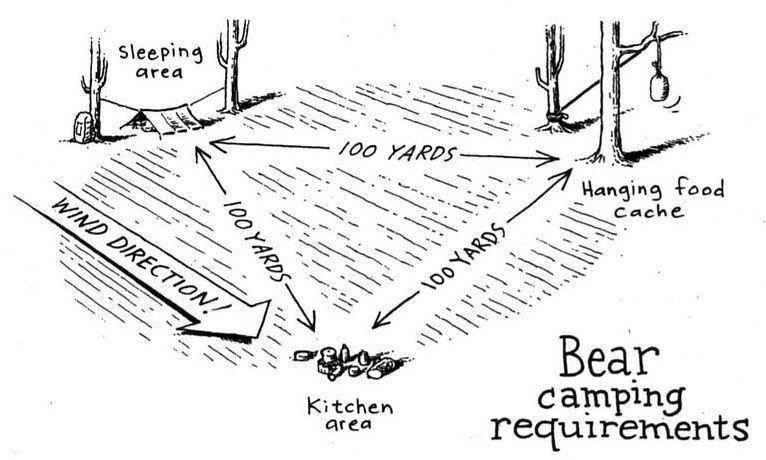 If camping in National Parks, camp in established campsites and follow park guidelines. Most Parks require proper food and waste storage inside established "Bear Boxes" or have established "Bear Wires" for hanging food.  In a pinch and in the absence of these permanent storage solutions, carry a bear keg.

Be aware of your surroundings – look at them from a bear's perspective.  Investigate your site for bear sign before setting up camp and then establish a clean camp free of odors

Avoid camping near bear food sources such as berries. Never camp near an animal carcass, garbage or bear sign such as tracks, scat or tree scratchings.

Avoid camping next to trails or streams, as bears and other wildlife use these as travel routes.

Remember the 100 yard rule: locate your cook area and food cache at least 100 yards downwind from your tent when not in established campgrounds.

Pitch tents in a line or a semicircle facing your cooking areas. You will be more likely to spot a bear that wanders into your camp and the bear will have a clear escape route.
Bear country cooking
NEVER cook or eat in your tent – the tent will smell of food and may attract bears. Avoid cooking greasy, odorous foods.

Locate your cook area and hang your food at least 100 yards downwind from your tent.

Remove the clothing you wore while cooking before going to sleep. Store these clothes in your vehicle or with your food and garbage.

Wash all dishes immediately after eating. Dump water at least 100 yards from your campsite.