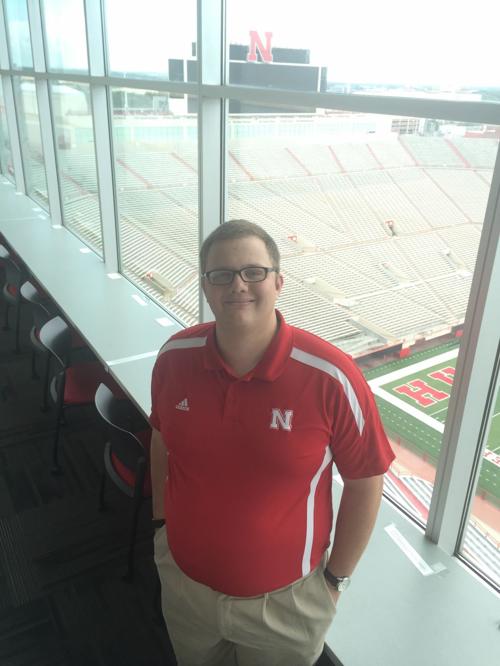 LINCOLN – Beatrice residents attending Husker football games will now have a little touch of home as they sit in the stadium amongst 90,000 other screaming fans.
On Wednesday, Beatrice native Nate Rohr was named the new public address announcer for Nebraska football games. He has previously been the play-by-play announcer for Nebraska softball for 12 seasons, a job he will maintain.
Rohr said he was approached about the job towards the end of last softball season. He took time to think about it, making sure it wouldn't interfere with other tasks – such as working for the Husker Network and doing high school play-by-play for Time Warner Cable.
"All that was cleared and we met later in the summer and agreed this would happen," Rohr said.
Despite knowing for a while that the job was likely his, Rohr said it didn't hit him until recently when he was formally offered the job at the Osborne Complex on the north side of the stadium.
"That's the side of the stadium where their main speakers are and they have the national championship years written on the back of those speakers," Rohr said. "I thought to myself, 'oh my gosh, my voice is going to be coming out the other end of those.' That's when it hit me and it got me really excited."
Rohr, a lifelong Husker and Kansas City Royals fan, has been working towards a job like this his entire life. He said to get a chance to do something this big and prominent is really exciting.
"I've worked towards this," Rohr said. "Whether it's reading up on sports or doing any job I could get my hands on to build my resume. Even here at Nebraska, I've done events like soccer, gymnastics and swimming. I feel like I've put a lot of work and there's never any guarantees that someone will see that, so to get a position like this is very gratifying."
Rohr will be tasked with keeping the stadium informed on details of the game, such has who carries the ball, who passes the ball, who makes tackles and what the down and distance is. He'll also be in charge of announcing promotional items during timeouts.
The only time he won't be announcing is when the band is doing their performances.
When it comes to a Nebraska touchdown, Rohr isn't sure how he'll announce it yet.
"I haven't thought about that yet," Rohr said laughing. "I don't know exactly what I'll say or what the call will be."
Despite the excitement of getting the new PA job, it still ranked as the second most exciting announcement of the week for Rohr. On Monday, he proposed to his girlfriend Ellie Schunk and she said yes.
"It has been one heck of a week," Rohr said. "I'm bunching all my good news into one week and it's been a bit overwhelming. But it has also been fantastic."
The first Husker game day is just over a month away and Rohr suspects having nerves when he enters the booth for the first time with 90,000 fans screaming below him.
"I suspect that the first Friday before the home opener and the hours leading up to the game on Saturday will be pretty nerve wracking," Rohr said. "My heart rate will be higher than usual when the Huskers takes the field and probably for the first series I'll be jacked up, but once the game gets going, I think I'll settle in and be more comfortable."
Rohr said he looks forward to having his voice rattle amongst 90,000 fans on Saturdays, saying he hopes to make people's game day experience better.
"Nobody comes to the game to hear my voice, they come to watch the game," Rohr said. "I just hope I can complement that experience for them."
Rohr has come a long ways since doing PA at Beatrice Orangemen football games and the congratulatory messages he's received via text message, Facebook and Twitter have been overwhelming – especially from his Beatrice friends.
"I got my start in Beatrice and I was always encouraged in high school to follow my dreams," Rohr said. "I can't imagine making it this far without the strong support from folks in Beatrice. I will always be thankful to them. I'm proud to be from Beatrice and I hope to carry the banner well."
Be the first to know
Get local news delivered to your inbox!