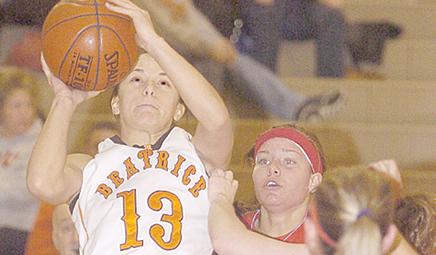 Beatrice's Lady Orange defense clamped down on the Ralston Lady Rams Tuesday night, holding their guests to nine points through three quarters of play.
The Lady Orange ended up winning the River Cities Conference regular-season game, 48-20, at The O Zone.
"I liked how we played," Beatrice coach Ryan Luke said. "I thought we played really well on the defensive end."
Luke said the team talked about some things before Tuesday night's game and went out on the court and executed those things.
"Whenever you do that, as a coach, it makes you happy," Luke said.
Beatrice's defensive execution was a big factor in the win, Luke said.
The Lady Orange pressed Ralston on the wings, which made a difference, Luke said.
Beatrice's full-court defense was also a key factor.
"We're starting to get it," Luke said. "We starting to understand what we want to do with our full-court defense."
Offensively, Luke said the Lady Orange did some "good things" against Ralston's zone defense.
"We worked the ball inside," Luke said. "At the beginning, we settled for shots outside, but we got better at working the ball inside and getting easy buckets, which is what we want."
Luke said the Lady Orange's post play is getting better.
"That's good for us," Luke said. "We need to continue to emphasis that."
The biggest key in the win, however, was an intangible.
"Our effort was there and that makes me pleased," Luke said.
Beatrice's Daleigh Fossler opened the game's scoring with a three-point goal less than a minute into the contest.
Neither team scored again until, with 3:48 left in the period, Ralston scored from the field.
The Lady Orange's offense then went to work, scoring 10 unanswered points.
Hanah Barnard started the run with two free throws. Kayla Randel hit two, Jill Faxon scored back-to-back field goals and Alicia Armstrong hit a two.
Wih 46 seconds left in the first quarter, Beatrice led 13-2.
Ralston added a single charity toss to end the period's scoring with Beatrice leading by 10 points.
Like the first quarter, Fossler opened the second-quarter scoring with a two-point goal and bonus free throw.
Ralston hit a two, making it a 16-5 game.
A three-pointer by Kayla Randel and a free throw by Fossler made it a 20-5 contest with 2:34 left in the quarter.
Fossler connected from behind the arc with 51 seconds left in the period, making it a 23-5 game at halftime.
Ralston went through the entire third quarter without breaking into double-figure scoring as a team, while Beatrice continued to add to its lead.
Lindsey Schlake scored from the field to open the Beatrice and her shot was answered by Ralston with a two.
Beatrice then went on a 12-0 run. Armstrong hit a two, Bruhn and Harlan each had two back-to-back field goals and Faxon added a two.
With 3:34 left in the third quarter, Beatrice led 37-7.
Ralston scored the final bucket of the period, making it a 37-9 game heading into the fourth period.
Beatrice opened the final quarter with a a two-pointer by Armstrong, a bucket by Randel and another field goal by Armstrong.
The Lady Orange led 43-9 with 5:53 left in the game.
Ralston answered with a field goal and two free throws, making it a 30-point game, 43-13.
After a bucket by Faxon for Beatrice, the Lady Rams hit to field goals.
Gemma Pretzer hit a three for Beatrice with 1:30 left on the clock, increasing the Lady Orange lead to 48-17.
Ralston ended the game's scoring by going 3-for-6 from the free-throw line in the final 44 seconds of play.
Fossler led Beatrice in scoring with 10 points.
While the senior was the only player in double figures, eight other Lady Orange players put their names in the scorebook.
"We have lots of scoring threats," Luke said. "When we share the basketball and play as a team, we are really good."
Next action for the Lady Orange, 10-3, will be Friday at Omaha Skutt.
Ralston    3    2    4             11-20
Beatrice    13    10    14             11-48
Rylee Bruhn four, Gemma Pretzer three, Kayla Randel seven, Daleigh Fossler 10, Lindsey Schlake two, Alicia Armstrong eight, Ciara Harlan four, Hanah Barnard two, Jill Faxon eight.
Get in the game with our Prep Sports Newsletter
Sent weekly directly to your inbox!