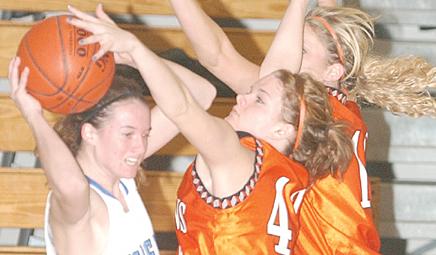 JOHNSON - For the second time this season, the Diller-Odell Lady Griffins faced off with the Falls City Sacred Heart Lady Irish in a championship game.
And, for the second time, the Lady Griffins came up on the short end of the final score.
Diller-Odell fell to Sacred Heart, 46-26, Friday in the Pioneer Conference girls basketball tournament championship final at Johnson-Brock.
Earlier this season, the Lady Griffins fell to Sacred Heart, 31-28, in the MUDECAS girls A Division final.
In the third-place contest Friday, Sterling defeated Nebraska City Lourdes, 56-40.
Diller-Odell coach John Mohr said the Lady Griffins "hung around" with Sacred Heart in the first half.
Sacred Heart led 15-8 at the end of the first quarter and 26-18 at halftime.
"In the second half, we let things get away," Mohr said. "We only scored eight points in the second half, two in the third quarter and six in the fourth quarter."
Mohr said the Lady Griffins weren't as aggressive in the second half offensively.
"We didn't take many shots," Mohr said. "We weren't looking to the basket like we should."
Sacred Heart, which starts two 6-foot players, two 5-11 players and one 5-10 player, is a hard team to run an offense against, Mohr said.
"We tried about every trick in the book and nothing worked consistently," Mohr said.
Leading the Lady Griffins in scoring was Morgan Vitosh with 12 points.
"Morgan hit two threes for us in the first quarter, so she kept us in it," Mohr said.
Defensively, Mohr said the Lady Griffins tried to stop Sacred Heart's top two scorers in the first quarter with a triangle-and-two defense.
Mohr said other Lady Irish players stepped up.
"The other girls picked up the slack," Mohr said.
After the first quarter, Mohr said the Lady Griffins defended better.
The Lady Irish's size was still tough to defend, however, Mohr said.
"We gave up a few offensive rebounds, which is easy to do against them, and they had some putbacks," Mohr said.
Mohr said it was a "physical" game, which helped Sacred Heart, with their size and strength inside.
Having faced Sacred Heart twice in tournament action, Mohr said the Lady Irish have improved between the MUDECAS final and the Pioneer championship.
"Since we played them in MUDECAS, they've gotten better," Mohr said. "They have more contributors. They've become better shooters and have more weapons on offense."
Mohr said the learn from their championship-game experiences and that will help the team in post-season play.
"Hopefully, this prepares us," Mohr said. "Our subdistrict will be tough, but, hopefully, we can advance out of that."
Now that the Lady Griffins have played in championship games, Mohr said they need to "get over the hump" and figure out how to win one.
Dilller-O    8    10    2               6-26
FCSH    15    11    10             10-46
Hannah Kostal two, Jenna Koch five, Hillary Kostal five, Morgan Vitosh 12, Heidi Nelson two.
Molly Chopple two, Sarah Magdanz six, Hannah Malcolm 12, Kelly Schwang two, Mallory Hillyard four, Sara Landis six, Tori Olberding 14.
Three-point goals: Diller-Odell (Hillary Kostal one, Vitosh two).
Sterling                   56
NC Lourdes                   40
Three players in double-figure scoring helped the Sterling Lady Jets to a 56-40 win over Lourdes in the girls third-place contest.
Courtney VanGroningen led Sterling's offense with 22 points, while Jenna Nieveen and Willow Hunt added 12 each.
Sterling coach John Cockerill said VanGroningen and Nieveen both had "great games," while Hunt and freshman Alexa Magill hit some key three-pointers for the Lady Jets.
After being outscored 11-9 in the first quarter, Sterling "won" each of the final three quarters, 13-11, 12-11 and 17-7.
"We got off to a slow start," Cockerill said. "It was our fifth game in eight days and we were a little tired in the first half.
"In the second, we came out as a different team. We took care of the ball, forced some turnovers and got some easy shots."
Cockerill said it was a "good win" for the Lady Jets.
"I believe our girls have a ton of heart and I'll stand by that to the end," Cockerill said.
Lourdes was led in scoring by Haley Kreifels with 13 points.
Lourdes    11    11    11              7-40
Sterling    9    13    12             17-56
Kim Osorski three, Lauren Heng two, Haley Kreifels 13, Hannah Morrison seven, Erin DuBois five, Kelsey Kreifels eight, Elise Heng two.
Courtney VanGroningen 22, Jenna Nieveen 12, Willow Hunt 12, Alexa Magill six, Reba Hestermann four.
Three-point goals: Lourdes (Osorski one, Haley Kreifels one, Kelsey Kreifels two ). Sterling (Hunt three, Magill two).
Get in the game with our Prep Sports Newsletter
Sent weekly directly to your inbox!