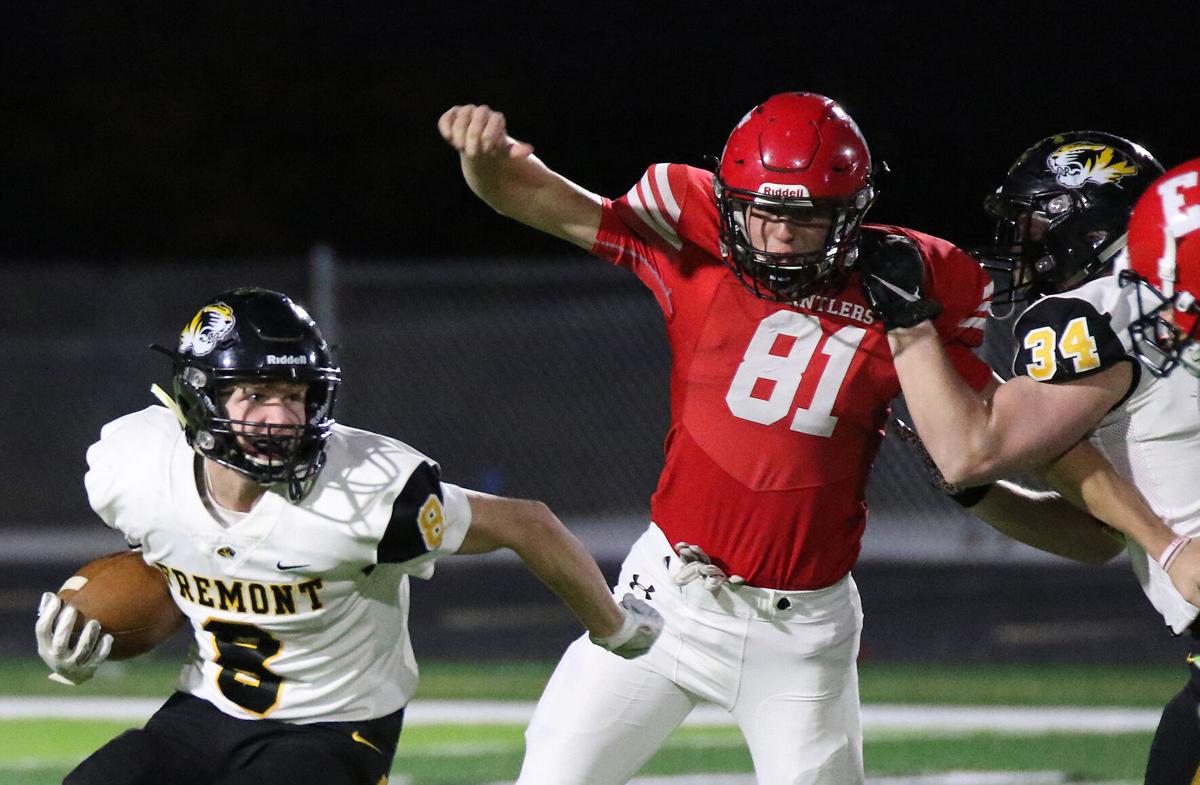 The day will come when Drew Christo will be delivering 94-mph fastballs to home plate at Haymarket Park.
Considered the state's top baseball prospect, Christo recently solidified the next chapter of his athletic career by signing to play for Will Bolt and the Huskers.
And then he went to football practice as Elkhorn prepared for a Class B semifinal clash with Hastings.
A year earlier, Christo chose college baseball over college football. He had interest from Division I schools in both sports. He could have turned his full focus to baseball and put football in the rearview mirror.
But this season, and this week in particular, is the very reason why Christo gave football one more go-around.
"Football has always been my first love as an athlete," said Christo, whose father, Monte, was a backup quarterback for the Huskers in the mid-'90s. "Coming into this year and knowing that I had to give it up after my senior year, I just wanted to make every practice and every game count, this year especially.
"After Friday, win or lose, I know I'm going to be extremely emotional."
No. 4 Elhkorn will host No. 8 Aurora in Friday's 6 p.m. Class B state football final. The Antlers got there with wins against Omaha Gross (53-7), Waverly (41-16) and Hastings (33-28) in a wide-open Class B race.
Standing at 6-foot-4 and 230 pounds, and equipped with an electric arm, Christo has a big presence on the baseball mound.
He also stands out on the football field. Longtime Elkhorn coach Mark Wortman and his staff use Christo in a variety of ways on offense.
Listed as a split back, Christo can be positioned on the line and create lanes for running back Aiden Young. He'll also line up at wide receiver, run routes over the middle or run fade routes and go over smaller defensive backs for jump balls. He has 33 catches for 433 yards and three TDs.
"We'll throw it to him frequently," Wortman said. "He's a go-to guy and he's a clutch guy. He can do something when the average person can't.
"We can put him in a lot of positions and he'd be our best player there."
For Christo, who also plays outside linebacker, playing at a variety of spots on the field is what makes football a fun sport to play.
Baseball is fun, too, and Christo spent a good amount time in high school going back and forth between what sport he would pursue for college.
Christo is ranked No. 44 nationally by Perfect Game and No. 82 by Prep Baseball Report. But schools such as Nebraska and Iowa State were showing interest in him as a football player.
Husker inside linebackers coach Barrett Ruud went to Elkhorn High School once or twice to visit with Christo, and Scott Frost told the multi-sport standout during a Junior Day event that he could possibly play football and baseball at NU.
A strong summer baseball season in 2019 gave the edge to college baseball.
And Christo heard the question from people: Are you done with football?
"To me, there was never any question to be answered," he said. "I love playing any type of sport whenever I can in high school. Football, especially.
"When you retire, you can always hit a baseball or go play catch or go to the gym and shoot hoops when you're 55, but you're never going to strap on a helmet and hit someone in a real-game scenario. Missing out on my last year of football was never going to happen for me."
Among those glad Christo stuck with football was his head football coach.
"He's a team player, he's a multi-sport guy, he loves competition and he loves his teammates," Wortman said. "He's there for the school spirit and school pride. It registers with him. He is an Elkhorn Antler. He's not just a baseball player. He's an Elkhorn Antler. He does all the sports and loves every minute of it."
It was a brief bummer for Christo, who said he liked the idea of playing on the same field as his dad did. Instead, the Antler seniors will get another chance to play on their home field.
"Once we found out it was at Elkhorn, that made the game so much more special for me because I had already thought I played my last game at Elkhorn, on that football field," Christo said. "To be able to play the last game of our last year at your own high school in front of our own stands and your own friends and teammates, I think it's going to make the experience that much more special and that much more memorable for us."
Get in the game with our Prep Sports Newsletter
Sent weekly directly to your inbox!