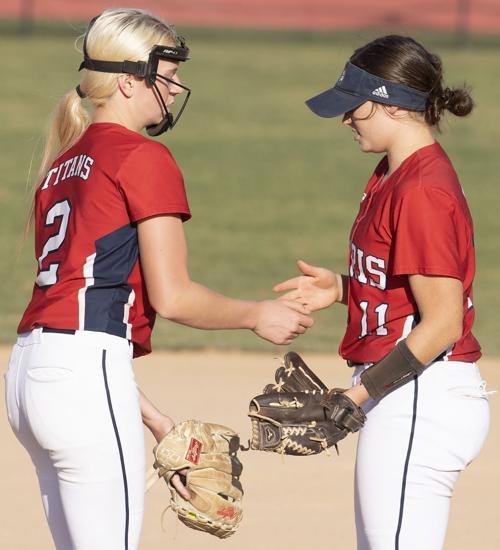 The Norris softball team has accomplished many feats this season.
Its 26 wins have tied a school record. The Titans also won a conference tournament title for the first time in 10 years, hit a school-record 43 homers and clinched a return trip to the Class B state tournament.
And on Senior Day, somehow, some way, the Titans were able to make room in the infield to honor 11 seniors, each with two parents by their side.
"It was pretty crazy just to see how many there are," said senior pitcher Alexis Wiggins of the line that stretched from first base to third base. "In years prior we've only had five or six and this year it's 11, so it's doubling."
Of the eight teams in the Class B state field, only Grand Island Central Catholic and Elkhorn, each with seven, come close to matching Norris' senior numbers.
The heavy senior presence — the 11-player class outnumbers the other three classes combined (seven) — goes well beyond a Senior Day salute at Norris. The Titans have used experience to their advantage in each game and practice.
Norris (26-4), ranked No. 3, has been a part of many tight games this season, including nine decided by one run. The Titans are 6-3 in those contests, and when the pressure is on during the fifth, sixth and seventh innings, a calmness remains intact with this group.
Crunch-time moments, Taylor McMurray calls them.
"Those moments when we need someone to make a play, or we need someone to get a hit," the senior outfielder said. "I think it's just in those moments that you can tell the senior leadership and the experience in being a senior has a really big impact on how we play."
Wiggins said it comes down to confidence.
The thinking is, "You are a senior, you're going against seniors and younger (players)," Wiggins added. "Honestly, it's just confidence in you've been put in this situation multiple times throughout the years and it's going there knowing that you're ready."
As the team's ace pitcher, Wiggins is a natural leader. She is the gameday vocal leader, Norris coach Kyle McMurray said.
The other 10 seniors — McMurray, Madison Collier, Isabel Havel, Taylon Diederichs, Sierra Bryant, Matthea Boon, Grace Dowding, Bailee Zavala, Lydia Brown and Jayci Osborn — have their own way of leading, too, whether it's having more of a vocal presence during practice or quietly leading by example. Like getting to the field early to set up tees and bases for practice.
"I feel like over the years it's been more coming together as a team and we're not singling out players," Havel said. "It's us working together doing team at-bats, team plays. Everything is more together and unified, which is going to help us a lot."
Said Dowding, "It's nice to hold each other accountable and not relying on two or three people to make sure the whole team's energy stays up. It's nice having 11 girls to make sure that happens."
The Titans will have plenty of energy, and an abundance of momentum, when they reach Bill Smith Softball Complex in Hastings on Wednesday for the state tournament. They have won 14 straight games, and players say the team will have a different mental approach.
Getting to state in 2019 was the end goal for Norris, which hadn't been to state since 2013.
"Last year our goal was just to get to state and once we accomplished that, I feel like we thought we could show up at state and be fine, or we show up and we just have fun," Taylor McMurray said. "This year we have that end goal of making it the state championship and I think we are all on the same page with that."
For the 11 seniors, this week will be a chance to add another page or two for a proud program.
"They're seniors; they've been through a lot both on the softball field and off the softball field," first-year head coach Kyle McMurray said. "They have set a really good precedent for the underclassmen; hopefully they've set a good precedent for the future of Norris softball, and I think that helps out quite a bit."
Get in the game with our Prep Sports Newsletter
Sent weekly directly to your inbox!