When Matthew Musselman dropped his bar on an attempted jerk during his workout Friday, he sat down and looked up at his coach, Jason Jensen of Enzo Athletic Performance, for some advice on what went wrong.
The amount of reps had finally caught up to the weightlifter.
It was a busy hourlong session full of various movements, and Musselman made sure his bar featured enough weight to make things challenging. But that's how his training usually goes.
"It was heavy almost every day," Musselman said. "I would feel like almost passing out when I was done working out. Just grinding and grinding and trying to work."
First came the hang squat snatches. Three or four sets of three reps, and don't let the bar drop until you were done.
Then came the clean and jerks. Again, three or four sets of three reps. Bring the bar in the clean position, then jerk the bar above your head. Again, don't let the bar drop until you were done or absolutely have to.
All these workouts are tough, and for good reason. Musselman is heading to Saudi Arabia to represent Team USA in the 102-kilogram weight class at the 2021 IWF Youth World Championships from Oct. 3 to Oct. 12.
"I'm super excited about it, and I'm super excited to represent America in a world competition," he said.
He qualified after competing at the national competition a few weeks ago. Musselman was in the last group to go, so he had the advantage of knowing what weight he needed to hit in his lifts to earn that spot. Jensen said both of those weights were new personal bests.
"I did all the calculations, and we knew exactly the number he had to hit to make the team," Jensen said. "We put it on the bar and he hit it."
Musselman said he clean and jerks around 149 kilograms, or about 330 pounds, and he snatches around 127 kilograms, or about 280 pounds. Jensen said Musselman hit a pair of personal bests, 10 kilograms above his best clean and jerk and four kilograms above his previous best snatch attempt at the national competition to earn his spot at the world championship.
"At the time, that's basically capped out with what he could have lifted," Jensen said. "So now we have the next three months to work on some weaknesses and really hammer down, and hopefully we can go to Saudi Arabia and hit some more PRs then."
Musselman's weightlifting is just a part of his busy work schedule. He said he begins the day by heading to North Platte High School around 6:15 a.m. for summer weights, then does football or wrestling training.
As a team leader for the football team, Musselman is also a part of team meetings. He was at the high school Thursday from 6:15 a.m. to 9:10 a.m. Then, he goes home to shower and heads to Enzo Athletic Performance for his weightlifting training.
"There are a lot of days where I want to hide in my room and not do it, but I have a very good support group of my parents and coaches and the administrative staff that really pushed me to be the best for myself," Musselman said.
Jensen, who works with many athletes from local high schools, says he tailors his workouts to complement the workouts of the high school. For example, if they squatted at the high school that day, his workouts won't include squats.
"I'm not going to contradict what they already did by doing more of it," Jensen said.
Musselman's workouts vary from day to day, but they remain just as tough. He said the workouts are actually harder now that he qualified because he's in a different level of competition than he's used to.
"We had a moment of realization," Musselman said. "Is this what a world-class athlete would be lifting right now? And if it's not, then go harder."
Musselman is coming off a big sophomore campaign. He was a part of the North Platte football team that won its first playoff game since 2004. He also reached state in his first year wrestling.
The trip to Saudi Arabia is in the middle of football season, and Musselman said they aren't sure if they're going to go the full two weeks of the competition because he doesn't want to miss too much of the season.
"We're trying to miss a minimal amount of games because I don't want to do that to my team and my coach because they've been so supportive of me doing what I've been doing," Musselman said. "They've done a great job of helping me along."
Nebraska in the Guinness Book of World Records
Record-setting American flag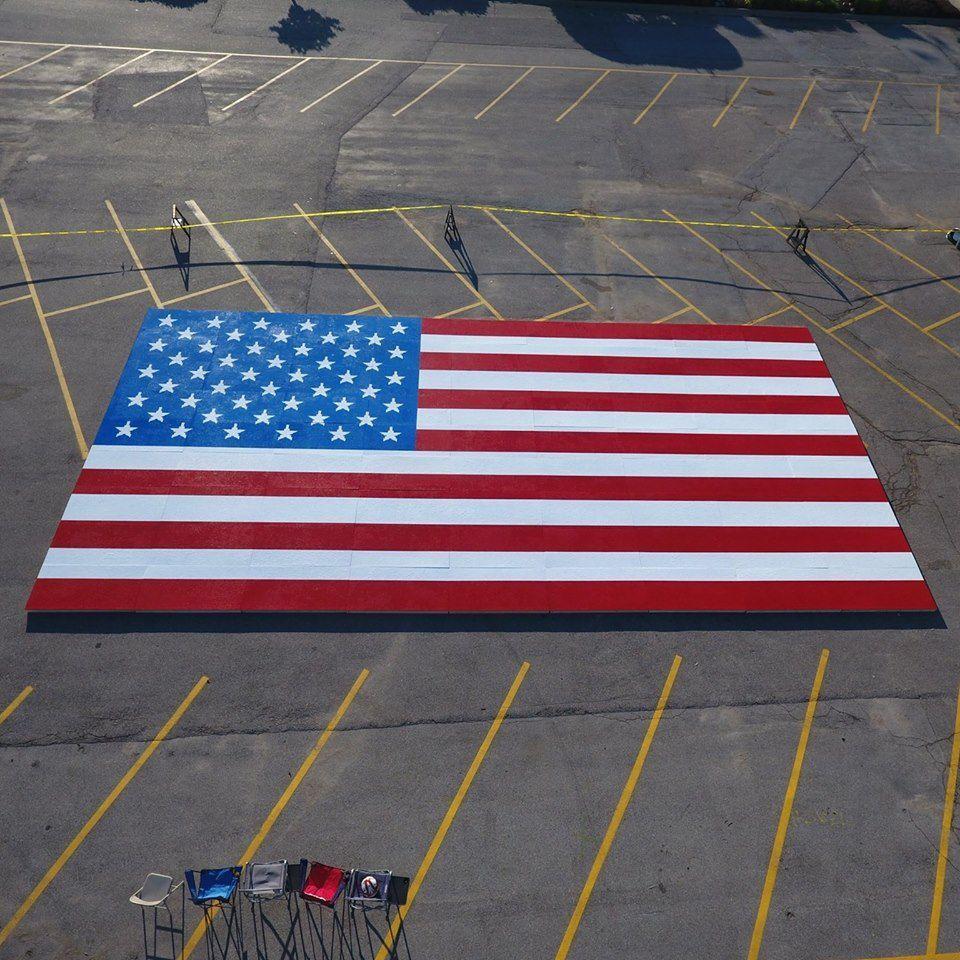 On May 27, 2017, Omaha Westside graduate John Lang led a group of hundreds of volunteers in building a gigantic flag that broke a Guinness Book record.
The 60-foot by 30-foot flag was made from MegaConstrux bricks. At 1,813.52 square feet, it broke the previous record of 1,687.78 by 125.74 square feet.  
Tallest Lincoln Logs structure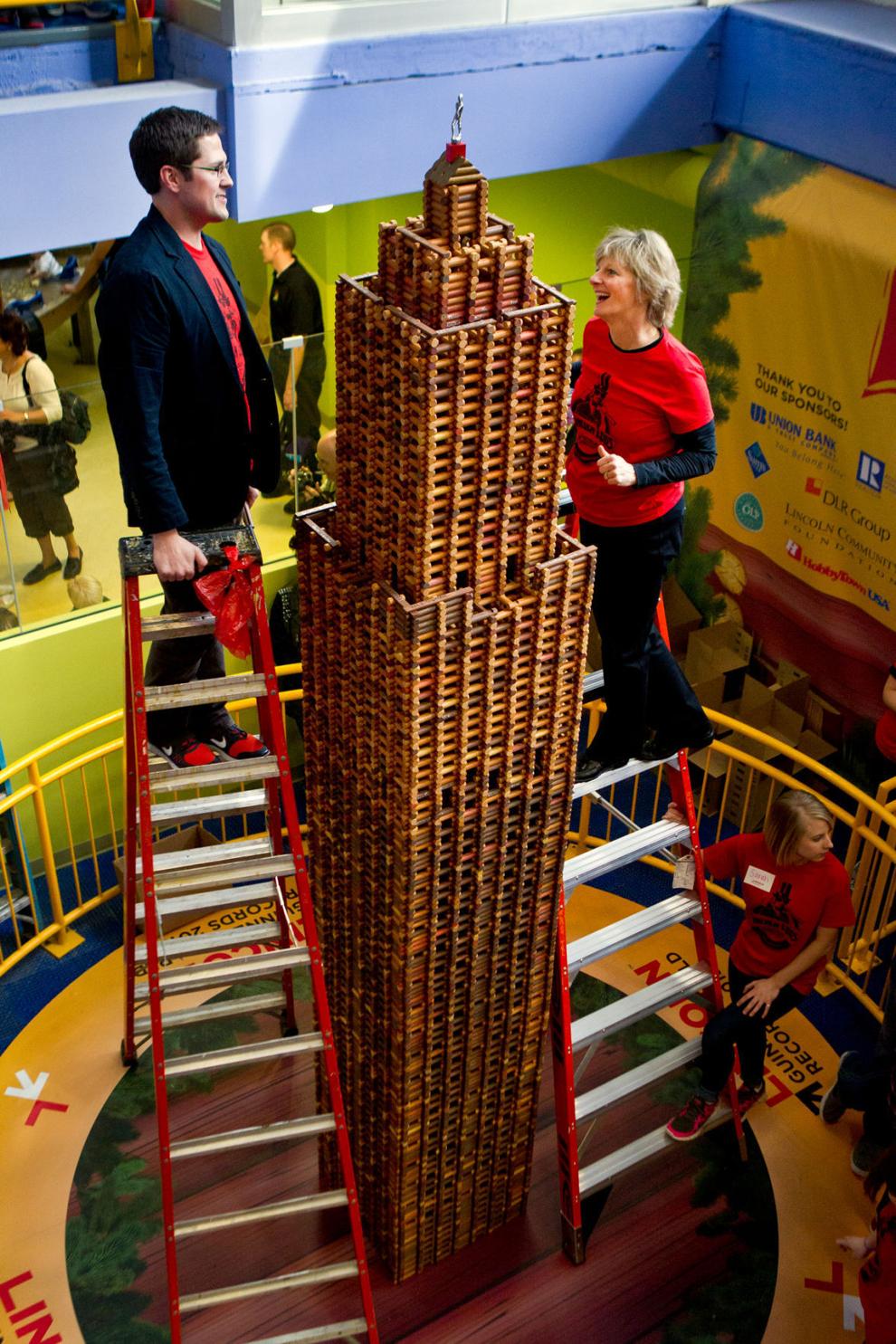 The tallest structure of Lincoln Logs was 12 feet, 4 inches tall and was constructed by the city of Lincoln April 13, 2013, at the Lincoln Children's Museum.
University of Nebraska-Lincoln architecture students and DLR Group's architects and engineers built the replica of the Nebraska State Capitol.
Certificates from Guinness World Records also name Lincoln as the holder of a second title: home of the largest structure built out of Lincoln Logs for using 10,036 logs to build the replica.
Lincoln's Lincoln Log capitol has been a favorite among Guinness World Record fans, taking the Fan Choice Record on June 14, 2013. With 87.49 percent of the vote on the world organization's website, it beat the fastest marathon dribbling two basketballs, most lit candles in the mouth, most wreaths made in 24 hours and largest collection of masks.
Widest tornado damage path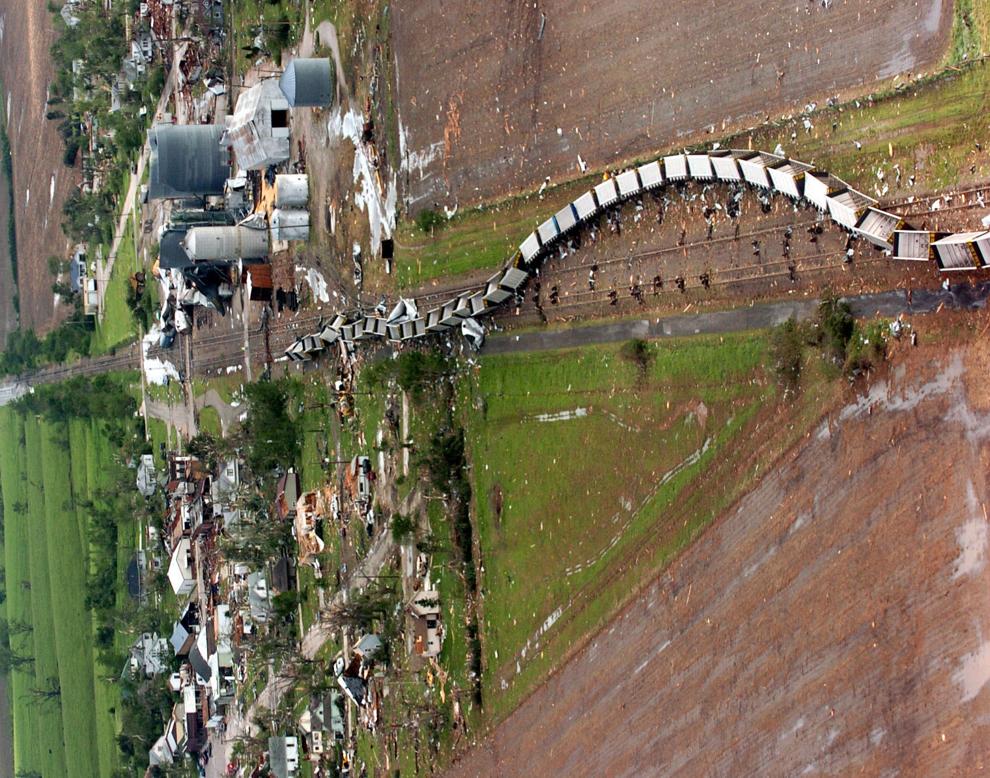 The widest tornado damage path was estimated at 2.49 miles wide and was caused by the Hallam tornado on May 22, 2004. That day, some 56 tornadoes were reported in the Midwest. 
Largest car bumper sticker collection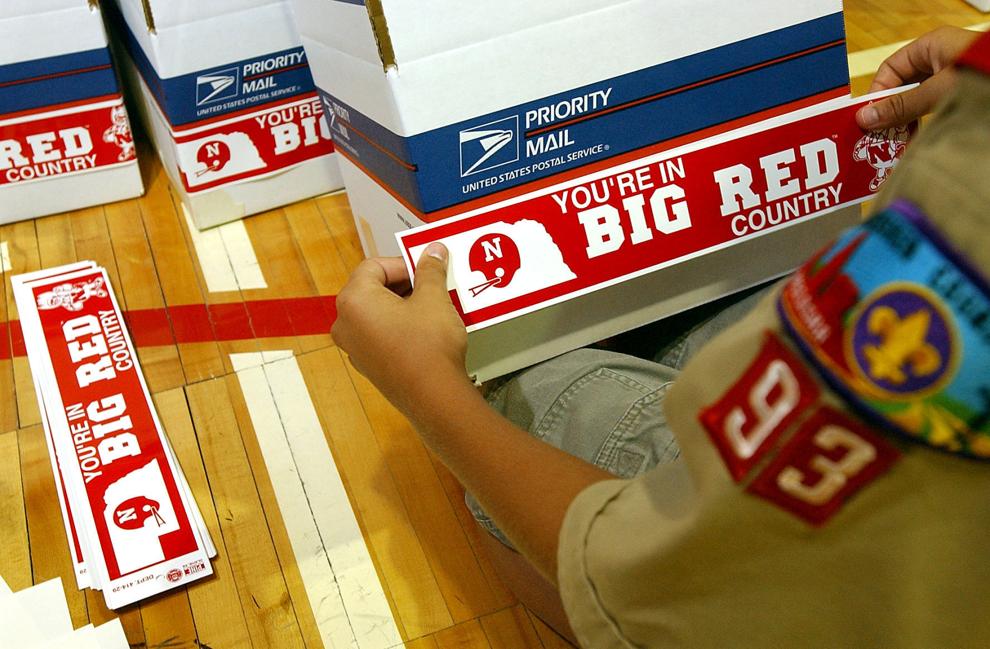 The largest collection of car bumper stickers is owned by Bill Heermann of Lincoln, who has collected 4,131 since 1984. Bill began his bumper sticker collection in 1984 when he was in the eighth grade. Bill was on his way to Eagle Scouts when he was handed a number of stickers from passers-by. He was hooked on collecting from that point forward.
Longest marathon square dance calling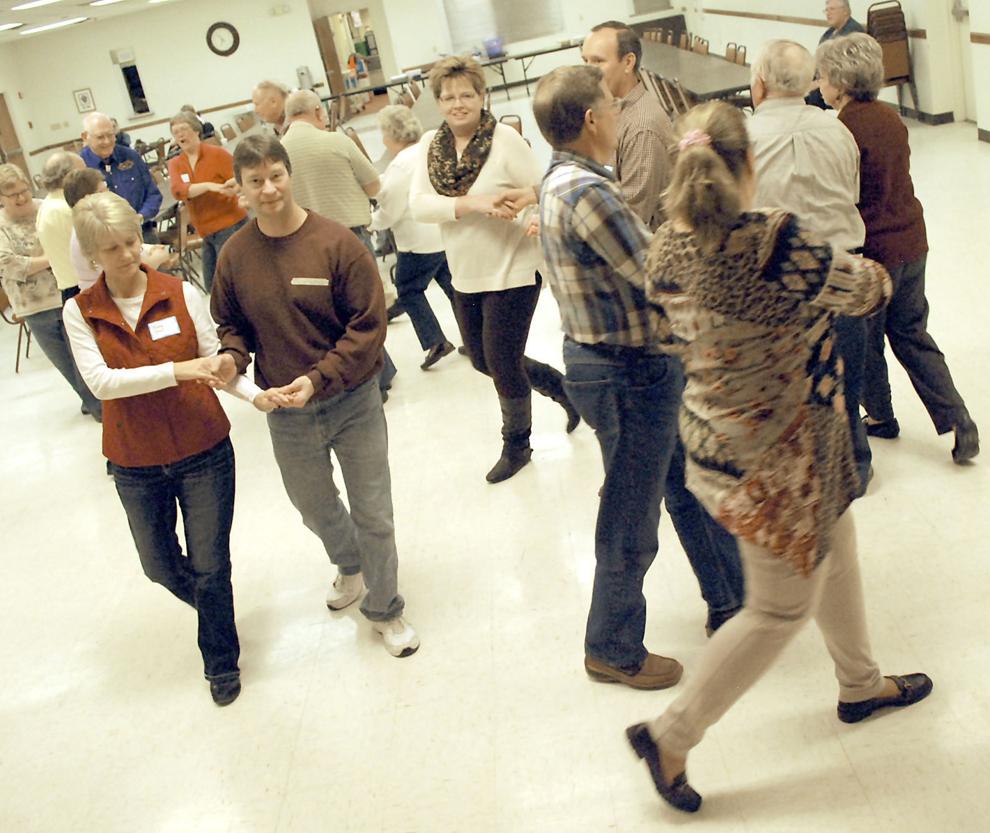 Dale F Muehlmeier called for 28 hours for the American Cancer Society at a Wal-Mart parking lot in Norfolk in May 2000.
Largest dessert party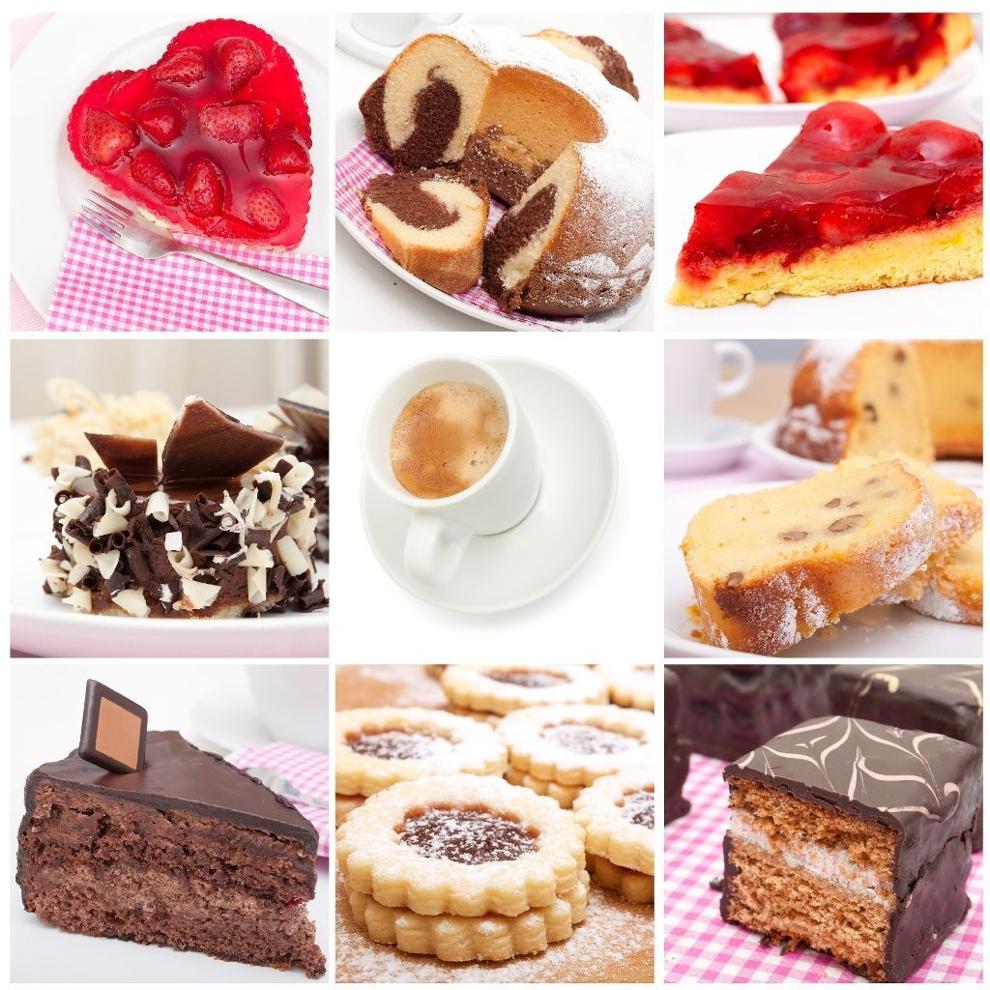 The largest dessert party was held in August 2012 in Omaha, with 740 people noshing on over 3,800 desserts. Organized by Physicians Mutual, the desserts were made by Treat America Food Services.
To secure the record, at least three varieties of dessert had to have been made available to the guests, and everyone must have consumed at least one of them.
The lineup of delicious delicacies included:
• 537 lemon meringue tartlets
• 250 dipped strawberries
The event was emceed by former Husker football player Matt Davison.