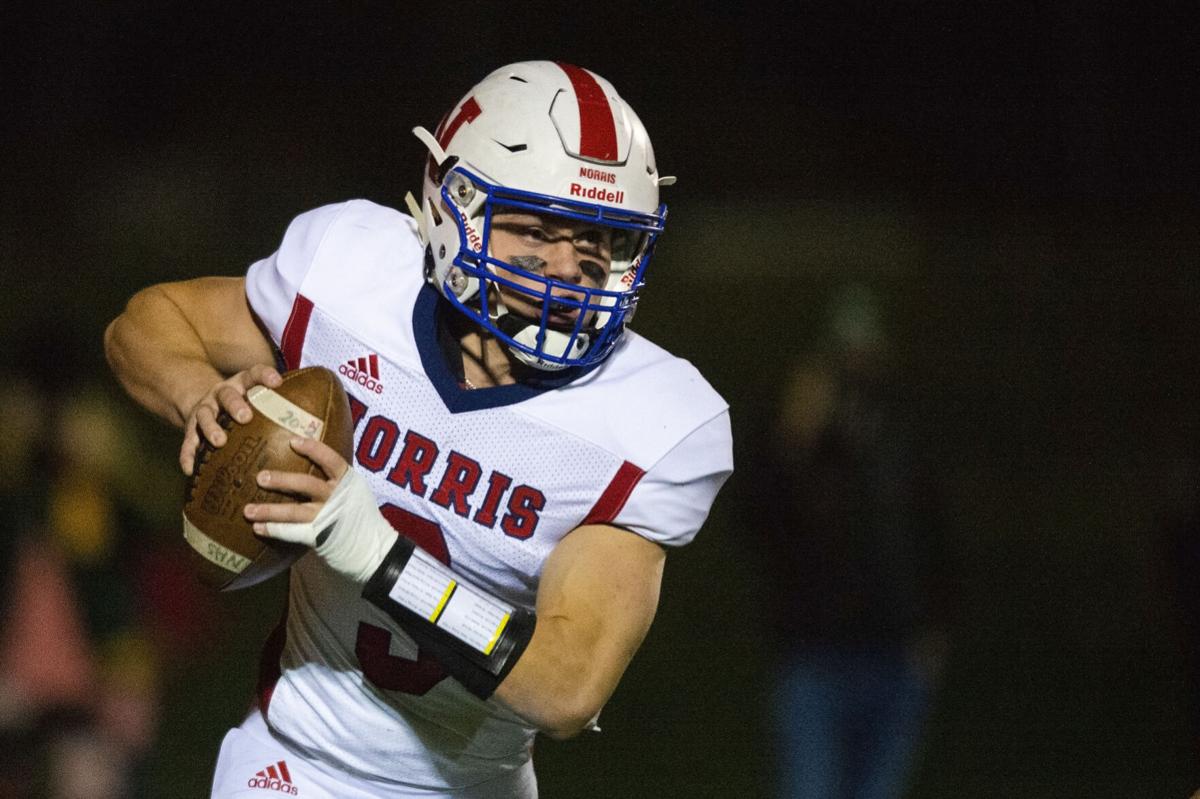 When Cooper Hausmann was growing up, he knew he had to improvise every time he found his older brother, Ashton, on the other side of the football.
Perfectly understandable, since Ashton's blazing straight ahead speed and size was awfully hard for Cooper, two years younger, to match. The fact that the 6-foot, 205-pound Ashton Hausmann was an all-state football player and a state champion sprinter in track at Norris before joining the Nebraska football team this fall as a freshman made it difficult for Cooper to find any edge at all.
But that may be the reason why the junior quarterback's skill set includes the quick feet necessary to escape the pocket and then either throw an accurate pass downfield or tuck it and keep the defense honest by running for a first down.
"When we played in the backyard, Ashton was always faster than me," said the 5-10, 175-pound Cooper Hausmann. "I couldn't run him over either, so I'd have to be quick going side to side and find my own way of doing it."
Cooper Hausmann has turned a question mark at quarterback at the beginning of the season into an exclamation point as the Class B No. 3 Titans (7-1) head into their regular-season finale — a district championship game at rival No. 5 Waverly at 7 p.m. Friday.
Not only did the Titans have to replace Cooper's older brother from last year's team that reached the quarterfinals of the Class B playoffs, they also graduated all-state quarterback Aidan Oerter, a dual threat who fit Coach Ty Twarling's pro spread offense perfectly.
Oerter and Cooper's older brother are close friends, and Cooper has used that relationship to his advantage in his quarterback development.
"Aidan is like an older brother to me, and I talk through stuff with him all the time," Cooper Hausmann said of Oerter, now a freshman quarterback at Lindenwood University in St. Charles, Missouri. "I was on the phone with him two days ago talking through the (Pius X) game. He's helped me a lot. He's taught me everything I know and kind of took me under his wing."
Cooper Hausmann has come into his own in recent weeks and has the Norris attack operating at a high level both running and passing. In the 38-7 win at Lincoln Pius X last Friday, he led the team in rushing with 68 yards on 11 carries while completing 14 of 28 passes for 163 yards and a pair of scores.
Hausmann's escapibility concerns opposing coaches as much as his arm.
"The thing that makes them (Norris) really special is their quarterback," Waverly coach Reed Manstedt said. "His ability to extend plays and give those big receivers a chance to streak across the field and make a play. He can put tremendous pressure on a defense."
He's also proven to be clutch. In a 29-26 win at No. 9 Plattsmouth in week 6, Cooper Hausmann was 17-of-27 for 261 yards and four TDs, the last one going 27 yards to Trey Deveaux for the game winner on fourth-and-13 with 4:36 left in the game to wipe out a five-point deficit.
Hausmann has thrown for 1,399 yards and 21 touchdowns on the season.
"Cooper's really come on," Twarling said. "He just needed reps, and when COVID hit, we weren't able to get him as many during the offseason as we would've liked. But now obviously, he just keeps getting better and better every game, and he's fully utilizing the talent we have on the field around him."
Get in the game with our Prep Sports Newsletter
Sent weekly directly to your inbox!