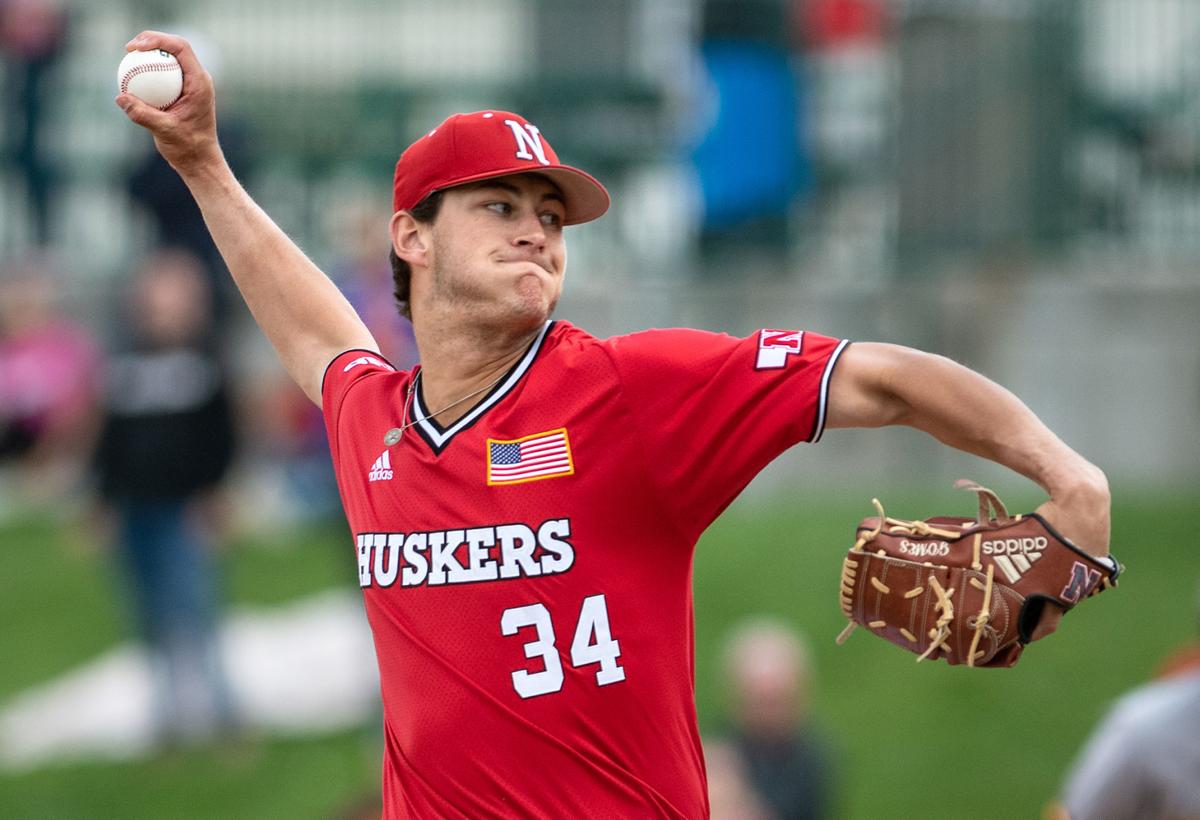 OMAHA — Colby Gomes knows the feeling of getting around on a pitch and driving it over the outfield wall.
He has done it multiple times during his freshman year at Nebraska. Three, to be exact, before the Huskers' last series of the regular season against Michigan this past weekend in Lincoln.
In the second game of NU's doubleheader, he drove Benjamin Keizer's opening pitch of the seventh inning deep into the Lincoln night and over the left-field wall at Haymarket Park.
While Gomes had put three balls over the wall earlier in the year, this was the first one that stayed.
That's right, on the other three long balls he hit, he got robbed by an outfielder.
"It's a very different feeling," Gomes said. "Instead of tipping your cap, people are tipping their cap towards you. It sucks it took 48 games, but I told my dad after that hit that it's just going to keep happening. Just needed to get that first one of the year."
Less than a week after Gomes got the home-run monkey off his back, he and the Huskers make a trip to Gomes' backyard for the Big Ten Tournament.
It's fitting, too, because he said this year has felt so much like his playing career at Millard West.
He pitched and carried a big bat in the Wildcat lineup for four years under head coach Steve Frey.
"It's nothing new. I've been doing it my entire life," Gomes said. "It's just going from hitting and flipping the switch to pitching. They are two completely different things, but you have to be ready."
Gomes said it's like high school Legion ball again, "just a lot harder."
Nebraska coach Darin Erstad said he didn't know what the pitching role for Gomes was going to be coming into the year, but it's been a pleasant surprise what he has done.
"I don't put expectations on them other than going out there and competing, and he's surpassed that," Erstad said. "He's raw at the plate, we know that; plays well defensively. On the mound we didn't know if we were going to start him or relieve him, but just the way it worked out where he's playing, it kind of turns into that closer role."
Gomes has earned the closer title and collected 11 saves in his freshman year, which leads the team by a wide margin.
He is the first Husker to have double-digit pitching appearances and more than 100 at-bats in a season since Jake Meyers did it in 2017.
Because of the versatility, Gomes has to take a different practice approach than most of his teammates.
He will work with the infielders on some days during the week.
On others, he will throw his bullpen session and then go to field ground balls, though refraining from throwing the ball around the infield in an effort to minimize his arm usage.
"That's all the coaches, they just do a great job of breaking it up into segments for me," Gomes said.
As Gomes got on the team bus Tuesday to make the short trip down Interstate 80 to Omaha for the Big Ten Tournament, the "Legion versatility" feeling he has had the majority of the year sank in even further.
He said he just feels at home in Omaha. He could feel it as soon as he got on the bus.
The freshman has played at TD Ameritrade Park in his hometown twice this season, both against Creighton, but he couldn't hide his excitement for the homecoming and Nebraska's potential run in the Big Ten Tournament.
"Lincoln is my home away from home, but my home is Omaha," he said.