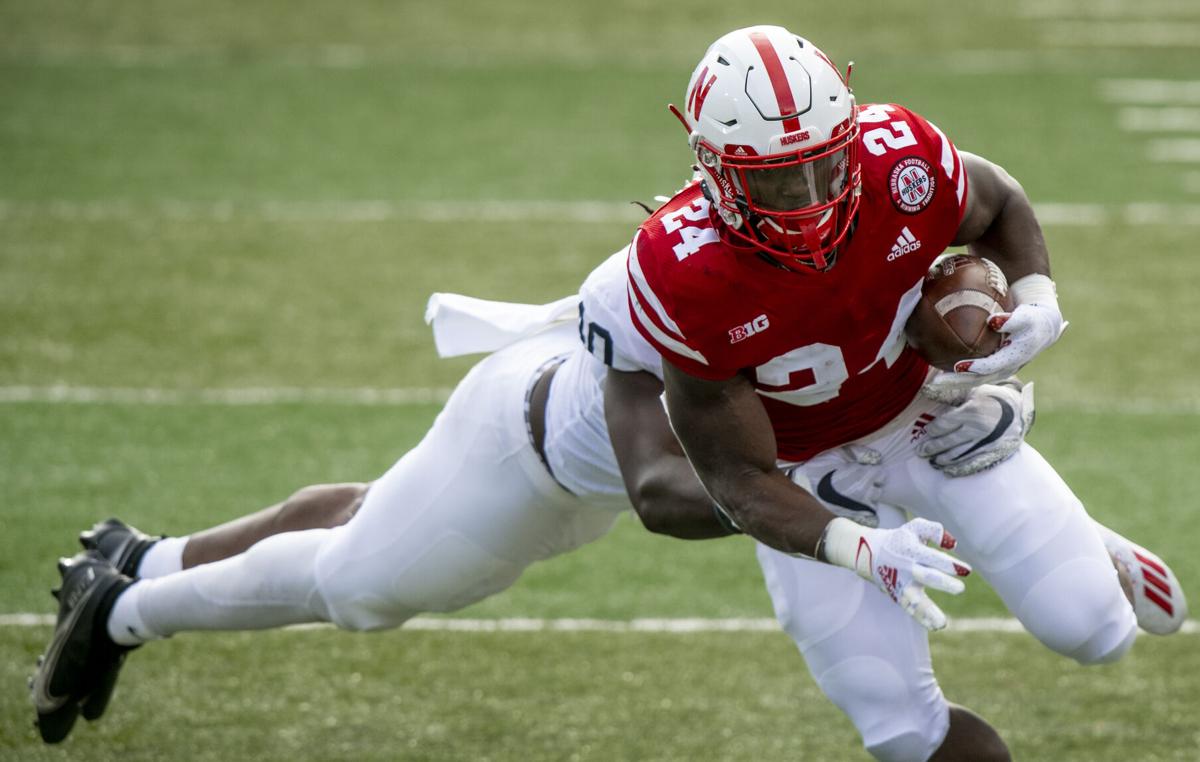 Nebraska running backs coach Ryan Held complimented the work his group has done overall through three games but said it has a long way to go during an hourlong appearance on the "Sports Nightly" radio program Thursday night. 
Here are the highlights from the coach:
* Held had encouraging words about senior running back Dedrick Mills, who has not put together big numbers so far through three games and was sidelined for the majority of Saturday's 30-23 victory over Penn State with what looked like a potential right knee issue. 
Mills played in NU's first drive but then didn't appear the rest of the game, and he sported a sleeve over his right knee that wasn't there to begin the game. 
The Georgia native so far has 110 rushing yards and two touchdowns and is averaging 3.1 yards per carry after averaging 5.2 per carry last year. 
"He's a guy that, when you watch him, he's always going to play hard every time you watch him, he runs hard, he gets it," Held said. "We've obviously faced some really, really good defenses and he's really been able to get that thing downhill. … He's done a really good job. There's a lot of season left. We expect really good things from him going forward. He's just gotten better, I think. His footwork has got better, his reads have got better from last year.
"There's a lot more carries left for him and a lot more plays left in the season." 
* Held also called freshman Marvin Scott a guy "who has really come along," in the past two to three weeks, thanks to continued improvement in understanding the offense and also in getting into game shape. 
Against Penn State, Scott had five carries for 11 yards and a catch for 14 yards and a first down on a third-and-long.
"He just did some really good things that aren't on the stat sheet but were big in helping us score touchdowns and keep drives moving," Held said. 
* Freshman running back Sevion Morrison has been dealing with an injury but is getting closer and closer to potentially making his debut for the Huskers. 
"He's been a little banged up in fall camp, so he's been working himself back," Held said. "He's had a really good week of practice and I'm getting closer to being able to introduce him out there. He's very talented. He catches the ball well, he's really smooth in his running style. 
"Really smart. He's picked up the offense well. I'm excited about where he's at and, again, where he'll be. He's just got better and better. He's not 100%, but he's really close."
* Redshirt freshman Rahmir Johnson has battled consistency issues in practice, Held said, but the running backs coach likes the way Johnson has responded to his challenge to be a more even player. 
"I think that there's opportunities for him this season," Held said. "There's competitive work in our room each day, I challenge our guys every day, and you've got to bring it in practice. I'm going to reward the guys getting it done in practice in the game when there's opportunities. … He's had a good week of practice, so we'll see how the game goes on Saturday." 
* Held had high praise for NU offensive line coach and running game coordinator Greg Austin in a particular area of game preparation. 
"Greg Austin is the best in the country at putting together a third-down pass-protection plan … to put us in position so the other team doesn't hit home," Held said. "So far this year, other than we did miss one protection in the last game, nobody's hit home on us because of our preparation.
"But the technique and fundamentals are very important in pass protection for the running backs. We scout linebackers. What are they? Are they bull-rushers? Are they swimmers? Are they going to try to get to the edge? Just like the offensive line scouts the defensive line." 
Be the first to know
Get local news delivered to your inbox!