Take a look at Iowa's passing statistics this fall, and it all looks relatively normal.
Junior quarterback Nathan Stanley has thrown for 2,468 yards on 59 percent completions for 22 touchdowns and 11 interceptions. It's just the kind of solid numbers one might expect from a veteran Big Ten signal-caller.
The way the Hawkeyes go about throwing the ball, though, is quite a bit different from many teams in the league and the country. Mainly, it's the extent to which Iowa uses its two standout tight ends, T.J. Hockenson and Noah Fant.
That makes for an intriguing challenge on Friday in Iowa City for the Nebraska defense.
"They're really good players," Husker outside linebackers coach Jovan Dewitt said simply. "Really, really good players. We're going to have to play extremely well to give ourselves a chance to have success."
And they account for a big portion of Iowa's passing numbers.
Hockenson, a sophomore, leads the team with 41 catches and 663 receiving yards, and has six touchdowns. Fant, a junior from Omaha, is close behind with 38 for 507 and a team-best seven scores even though he's had outings of one catch for no yards and three for 14 in the past month.
That pair combines for more than 45 percent of the Hawkeyes' passing yards. For perspective, tally up Iowa's three leading wide receivers — Nick Easley, Brandon Smith and Ihmir Smith-Marsette — and you get 81 catches for 977 and six touchdowns, compared with the tight ends' 79 for 1,170 and 13.
"Definitely NFL guys," senior safety Tre Neal said of Hockenson and Fant. "A lot of the hype is on (Fant). He's from here, so he's going to be ready to play this game. And (Hockenson) is a good tight end, too. We've been focusing on them. They try to get the ball to those guys a lot and just let them use their bodies and make plays. They're really good players."
You have free articles remaining.
They're not just receiving threats, either. Hockenson, in particular, is known as a tenacious blocker. According to Husker defensive coordinator Erik Chinander, Fant, when he splits out, is "just as good a receiver (as there is) in the Big Ten."
So Nebraska must decide how it's going to match up against the pair. Typically, a coordinator would use his base personnel against two tight ends. With these guys, it's not that simple.
"What you kind of have to do is break down who's in what and who maybe does what better," Dewitt said. "There are some instances where they'll go out in 12 (one back, two tight ends) personnel and end up in 11 personnel looks, break the formation a little bit with one guy or the other.
"So you just try to match it up based on down and distance and which one of the tight ends is in the game."
For Nebraska, Luke Gifford rarely comes off the field at one outside linebacker spot. Tyrin Ferguson played probably his best game of the season against Michigan State, but JoJo Domann's been used more the past month in passing situations. The Huskers aren't afraid to play three safeties with Neal and fellow seniors Aaron Williams and Antonio Reed.
NU has faced several good tight ends this year and hasn't been immune to issues, but only Purdue's Brycen Hopkins really put up big numbers with five catches for 103 yards and a touchdown in late September.
It's safe to say the Huskers will try to mix and match personnel against Iowa, and of course they can't focus solely on two players.
"We are going to have to be very clean with our run-pass keys because they are really versatile," Gifford said. "They both can block well and also run really well, too. They run good routes and it is basically like having a couple more receivers out there. We are going to have to be really keyed into that, looking into formations and kind of see what they do in certain sets.
"That will be big for us."
1. MICHIGAN (10-1, 8-0)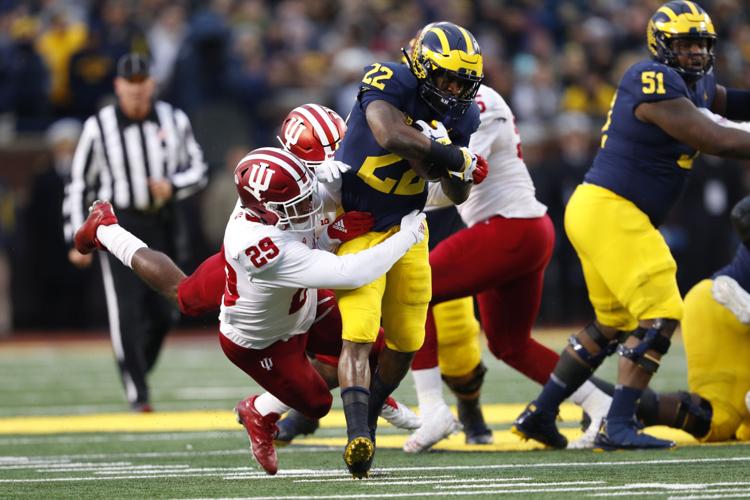 Previous: 1. Last week: W 31-20 vs. Indiana.
It was dicey for a while, but Michigan preserved its perfect Big Ten record. Now, it's all about The Game. Win, and the Wolverines are a big favorite in the title game and a powerful Playoff contender. Lose, and the Rose Bowl or another New Year's Six destination will be an awfully bitter pill.
2. OHIO STATE (10-1, 7-1)
Previous: 2. Last week: W 52-51 OT at Maryland.
The Buckeyes could have lost to the Terps. Maybe should have. It's gone like that a lot for Urban Meyer's team this year. But here they are, with a win-and-in situation on the last week of the season. It's sort of remarkable that they're 10-1, even if most project the road to a conference title ends here.
3. NORTHWESTERN (7-4, 7-1)
Previous: 3. Last week: W 24-14 at Minnesota.
The Wildcats could have packed it in for the final two weeks, but beat Minnesota on the road. That's all well and good. Keep everybody healthy this weekend and take your best shot in Indianapolis.
4. PENN STATE (8-3, 5-3)
Previous: 4. Last week: W 20-7 at Rutgers.
An uninspiring win, but a win nonetheless for PSU. Now the Nittany Lions are a win against Maryland away from finishing 9-3 and likely getting a plum bowl destination. It's not the season James Franklin hoped for, but it certainly isn't bad.
5. WISCONSIN (7-4, 5-3)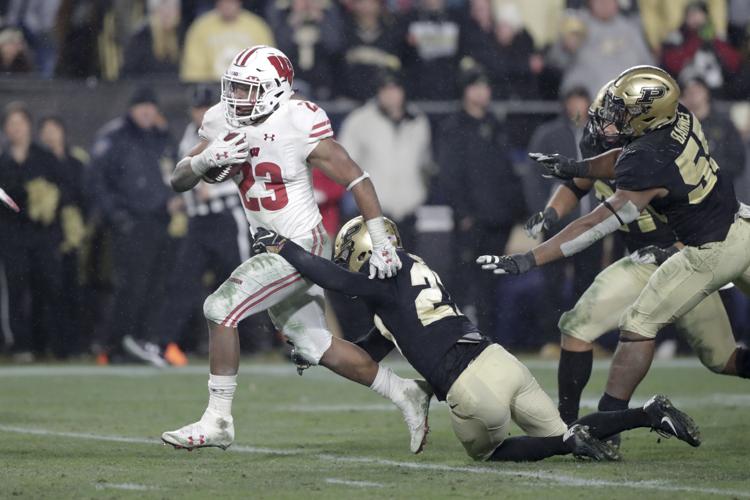 Previous: 6. Last week: W 47-44 3OT at Purdue.
Jonathan Taylor's line Saturday against Purdue: 32 carries, 321 yards, three touchdowns. That's how Wisconsin survived triple overtime on the road against the Boilermakers without their quarterback or their All-American right tackle. The Badgers are in salvage mode, basically. Taylor's line for the year: 1,869 yards (7.2 per carry) and 15 touchdowns.
6. IOWA (7-4, 4-4)
Previous: 8. Last week: W 63-0 at Illinois.
Iowa scored in all three phases of the game in the process of absolutely routing Illinois. Noah Fant got back on track with a first-quarter touchdown and the Hawkeyes needed just 400 offensive yards to hang 63 on the board. Of note ahead of Friday's game against Nebraska: Iowa did a good job against dual-threat AJ Bush, holding him to 18 yards on 12 carries. Adrian Martinez is the next challenge.
7. MICHIGAN STATE (6-5, 4-4)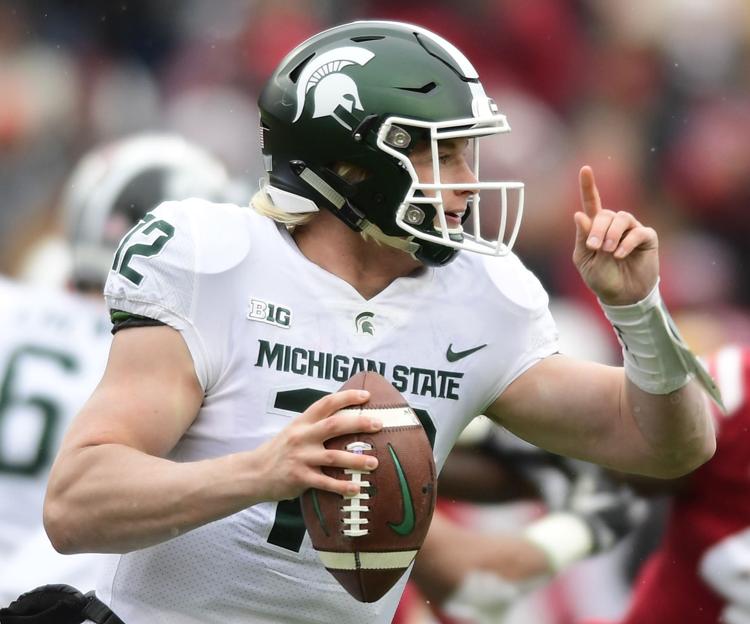 Previous: 5. Last week: L 9-6 at Nebraska.
The Spartans are beat up and reeling a little bit after a 9-6 loss against the Huskers on the road. They've got a get-right game against Rutgers to close the regular season and it will be very interesting to see if this group shows up for Mark Dantonio in a bowl game. The natives in East Lansing might be a touch restless.
8. PURDUE (5-6, 4-4)
Previous: 7. Last week: L 47-44 3OT vs. Wisconsin.
Purdue went from the talk of the Big Ten to needing a final-week win against in-state rival Indiana to qualify for a bowl game. Is the Jeff Brohm-to-Louisville talk a distraction? Who knows, but his team has lost three of four. Rondale Moore is up to 91 catches for 1,023 receiving yards and 11 total touchdowns.
9. NEBRASKA (4-7, 3-5)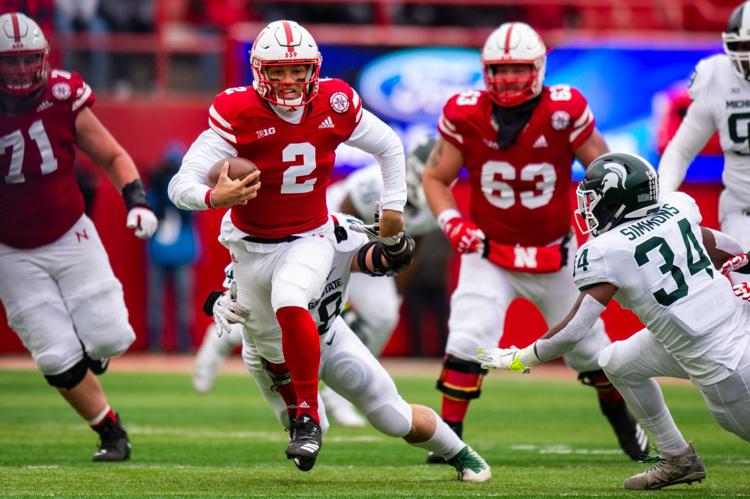 Previous: 10. Last week: W 9-6 vs. Michigan State.
The surging Huskers have won four of five since their 0-6 start. At Iowa on Black Friday is a big challenge but would be a heck of a way to close the season. There's a lot of what-ifs, even with a feel-good end. Still, Scott Frost's group is headed in the right direction.
10. MARYLAND (5-6, 3-5)
Previous: 9. Last week: L 52-51 OT vs. Ohio State.
Oh, so close for Matt Canada's team. The acting head coach went for two and the win in overtime and his backup quarterback misfired to an open receiver. Now, the Terps need a win at Penn State to ensure bowl eligibility.
11. INDIANA (5-6, 2-6)
Previous: 11. Last week: L 31-20 at Michigan.
The Hoosiers gave the Wolverines a good scare, but couldn't pull off the major upset. Now an in-state game against Purdue will decide a bowl berth.
12. MINNESOTA (5-6, 2-6)
Previous: 12. Last week: L 24-14 vs. Northwestern.
The Gophers have lost six of their past seven but can get into a bowl game with a win over Wisconsin this weekend. That's easier said than done: UM has lost 13 straight against the Badgers. Redshirt freshman running back Mohamed Ibrahim (815 yards, six touchdowns) is a nice surprise for P.J. Fleck's team and has a bright future.
13. ILLINOIS (4-7, 2-6)
Previous: 13. Last week: L 63-0 vs. Iowa.
What an embarrassing loss for Lovie Smith's team. The Illini seemed to be building a bit of momentum, but that's a tough loss. Now Illinois closes out its season against Northwestern, which has already clinched the West, in a game that means very little aside from in-state bragging rights.
14. RUTGERS (1-10, 0-8)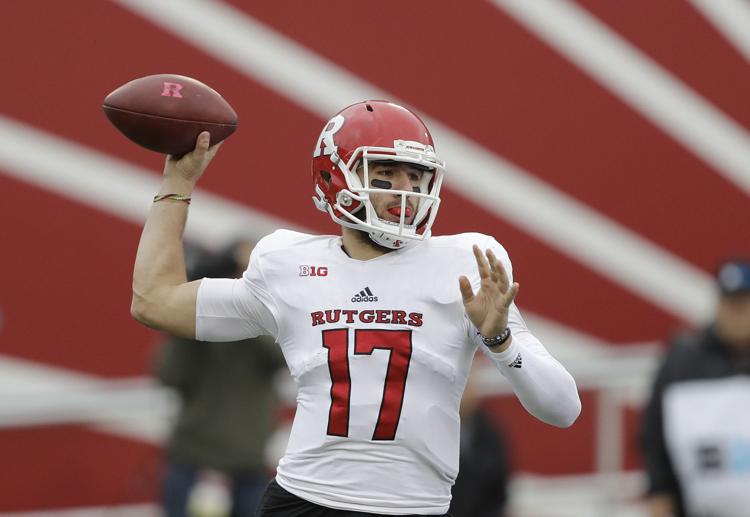 Previous: 14. Last week: L 20-7 vs. Penn State.
Rutgers will try to avoid a winless Big Ten slate and an 11-loss season at Michigan State. The drama is palpable.