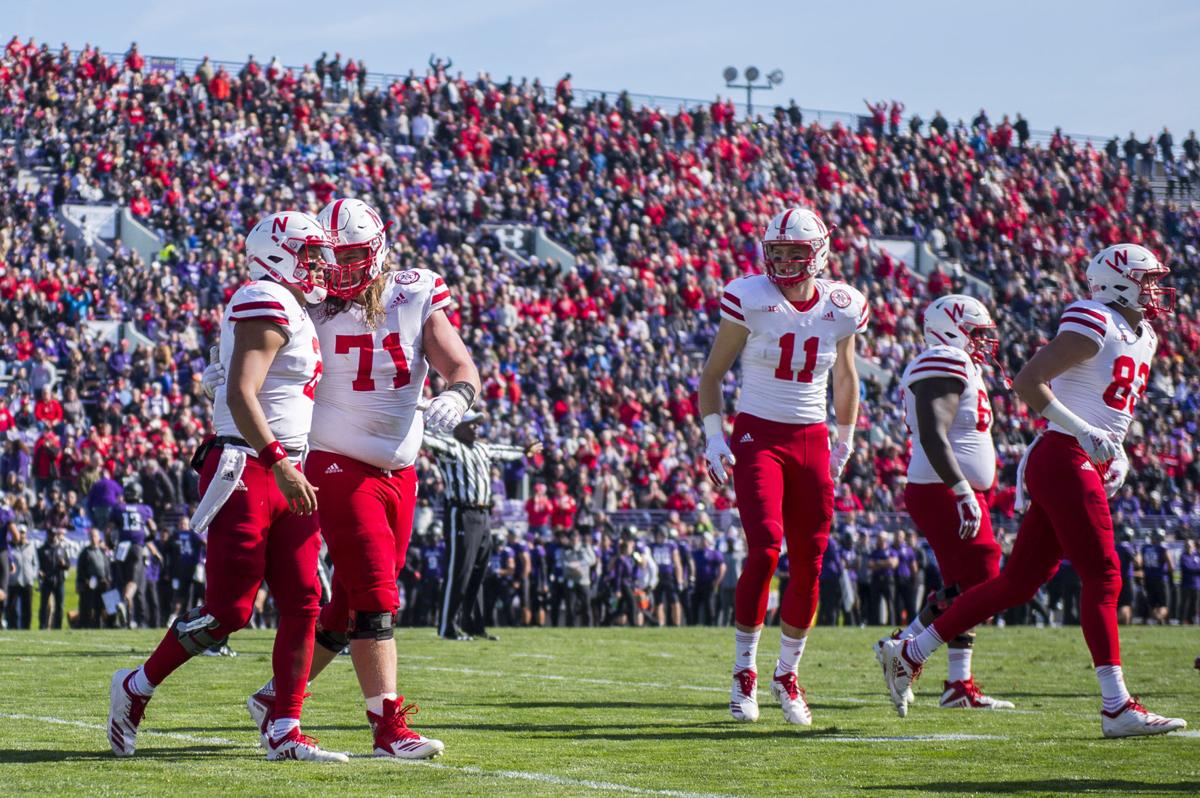 Devine Ozigbo ran like someone who's tired of losing. He had 70 yards on eight carries by halftime and played a lead role on Nebraska's 15-play, 97-yard touchdown drive to begin the third quarter, capping it with 1-yard plunge that gave the Huskers a 20-14 lead. Ozigbo finished with 159 yards on 22 carries (7.2 per rush). Maurice Washington scored his first career TD, a 3-yard burst that pushed the lead to 28-14.
Adrian Martinez's 42-yard TD pass on the first drive was a layup — JD Spielman was wide open. Then, late in the second quarter, Trae Williams blitzed off the edge, knocking the ball from Martinez's hand. The scoop and score made it 14-7. Martinez's improvised 24-yard completion to Mike Williams ignited an eight-play, 83-yard TD march that represented an excellent response. Alas, Martinez didn't seem to see the safety on his third-quarter interception. He finished 25-for-35 for 251 yards and a touchdown, with two picks.
Northwestern, the nation's 127th-ranked rushing offense entering the day at 77.4 yards per game, rushed 23 times for 32 yards (1.4). The Wildcats' longest rush went for 8 yards.
You have free articles remaining.
Nebraska came up with two interceptions that led to 10 points. But allowing completions on two late fourth-and-10s was ridiculous. And, really, the Huskers' fourth-quarter collapse was all about Northwestern receivers simply making play after play. On the bright side, senior safety Antonio Reed came across coverage and picked off Clayton Thorson's deep pass for the Huskers' third interception of the season. Later, safety Tre Neal came up with another pick, leading to a field goal. On the other hand, the Blackshirts had only two sacks even though Thorson threw 63 times.
Caleb Lightbourn's struggles continued when he booted Nebraska's first kickoff out of bounds. Barret Pickering had the distance on his 45-yard first-quarter field goal, but it clanged off the upright. He then clanged a second-quarter extra point off the upright. CJ Smith was called for holding on a sizable third-quarter punt return by JD Spielman. On the bright side, punter Isaac Armstrong did his job well, twice pinning Northwestern near its goal line in the fourth quarter.
Three minutes into the game, Nebraska already had penalties on offense, defense and special teams. Senior captain Jerald Foster had a false start and holding call before halftime, the second flag occurring as the Huskers struggled to maintain momentum. Bottom line, the disparity in penalties — nine for Nebraska, one for Northwestern — was a leading reason the Huskers are still without a win.
The decision to pass deep on third-and-6 from Northwestern's 28 in the first quarter was curious, as was the decision to kick a 45-yard field goal into the wind on fourth down. The kick was wide right. We did like Frost's decision to punt on fourth-and-inches late, as Armstrong's punt pinned the Wildcats at their 8. Nothing wrong with leaning on the "D" against an average offense. However, the play-calling was surprisingly conservative at times.
Scott Frost said a mouthful when he uttered, "There are so many ways we could've won that game." The late collapse was memorable for all the wrong reasons if you bleed Husker red.