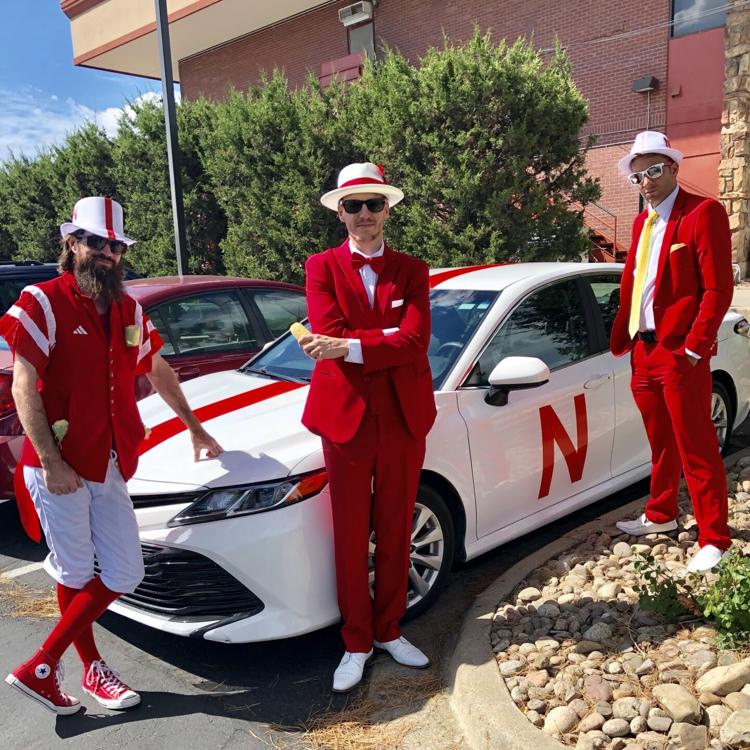 Usually, Eric Crouch is the one being asked for a picture from fans.
But in 2017 in Eugene, Oregon, the former Heisman Trophy winner spotted three guys decked out in red and white duck-hunting ghillie suits and asked if he could get his picture with them.
Sean Caudill, Will Dam and Bryon Pinkes are big-time Husker fans. But when it comes to dressing in Husker gear for gameday, the trio doesn't hold back. It's an all-out on face paint and costumes.
If game sites hosted costume contests, these guys would probably win.
Dam and Caudill started the tradition in 2012 when Nebraska hosted Michigan near Halloween. So the two Springfield natives, who live in Arizona, painted their faces like skeletons.
"The next year after that, it was like, 'OK, we've got to step (up) our game again," Caudill said.
And stepped up they have. 
They turned their heads into replica Husker helmets in 2014 at Fresno State, shaving their heads. They went back to a ghosts and goblins theme — think Oakland Raiders Black Hole fans — for Halloween in 2016 at Wisconsin.
It's all in good fun, but make no mistake, the Husker fans take this very seriously.
1. You need an idea (An excellent idea)
Dam and Caudill will look at the Huskers' schedule and identify the perfect road game, factoring in time of the year, opponent or a cool place to visit.
"If it's around Halloween, we do sort of a Halloween type of thing," Caudill said. "But we also pull it from pop culture, so those Raiders fans were really our inspiration. That was our nod to them; we appreciate the effort those guys go through."
Sometimes an opponent presents the idea. That's what sparked the duck hunting ghillie suits for the Oregon trip.
"That's kind of the first go-to, is there some way to tie it to this particular game?" Dam said. "If there isn't, we just kind of go with brainstorming what's good."
And, yes, these guys have ideas tabled for future years. They have their sights set on Norman, Oklahoma, in 2021, but Caudill says no spoilers.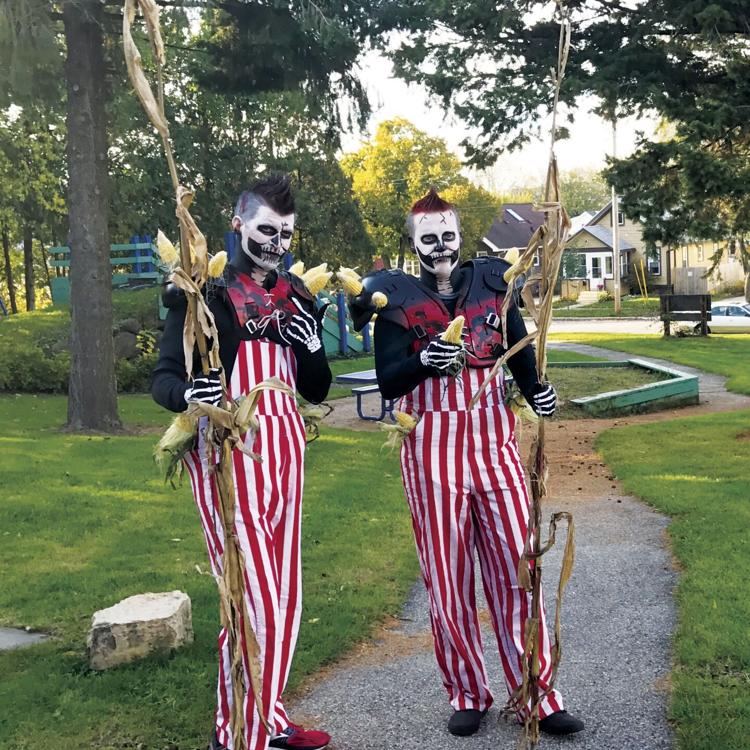 2. Planning and execution are critical
Think Dam and Caudill just wing these ideas on gameday? Think again.
"We usually do a couple dry runs in Arizona to see how much preparation it takes," Dam said.
Added Caudill, "We usually get everything ready about a month before and test it out and do a full trial run."
For example, the painted head helmets for Fresno State required multiple layers, paint to dry before painting on some more. They'll make the necessary tweaks.
What time does the game start? How early do they need to get up to apply paint and all?
It took four to five hours to make the ghillie costumes.
3. You need props … and corn
You've got to have ears of corn. Dam and Caudill make sure to include the Nebraska staple in their designs.
The Raider-inspired skeleton costumes for the Wisconsin roadie included half ears of corn popping out of their shoulder pads. Their classy fan suits for games at Michigan (2018) and Colorado (2019) included corn in the pockets.
Because they are flying to a lot of these places, it requires a trip to the vegetable section at the local grocery store or market place. In Miami, in 2015, the search for ears of corn led them to a Haitian bodega.
The Wisconsin costumes also included dry corn stocks, picked up at a store in Madison, but Dam and Caudill had to ditch them upon entering the stadium. Corn stalks, apparently, are on the ban list at Wisconsin games.
And if you plan to tag along with the Springfield natives, you better bring your A game. "If you're coming, you're going to have to face paint," Dam said.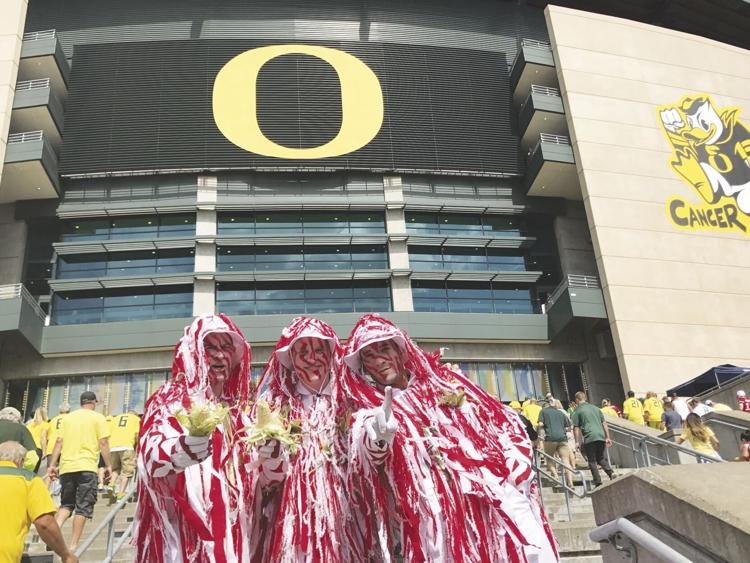 4. Be prepared to get some long looks
When you dress to stand out, people are going to stare. But that's OK, the interaction with fans is a big part of why Dam, Caudill and Pinkes do what they do.
People want to take their pictures with the guys, and it's not just those dressed in red. Dam said it's cool to see opposing fans acknowledging them in a positive way.
"The fan's reactions, both Husker fans and the opposing teams, they all love it," Caudill said. "We're all sports fans and I think they really appreciate the effort and they get the picture and it's kind of fun."
The guys will put put on their costumes at the hotel, so yeah, there are some long looks from hotel workers, and later Uber drivers.
If you want to get on TV at a football game, you need to pop, and Dam, Caudill and Pinkes have that covered.
Their strategy: Get to the first row.
It's not always an easy ticket to get, right? "It can get a little pricey," Caudill said.
Part of the guys' research includes scouting stadiums. What spots or corners would be the best? How close can they get to the field?
"A lot of time we've actually been in sections where we're the only Husker fans in the section," Caudill said.
A pandemic will keep Dam and Caudill from finding a road game this fall (They were eyeing Rutgers). But Dam said he has no plans to stop dressing up like it's Halloween.
"I'm already 36, so it's not like I'm going to outgrow it," he said. "I would have by now, I think."
Be the first to know
Get local news delivered to your inbox!