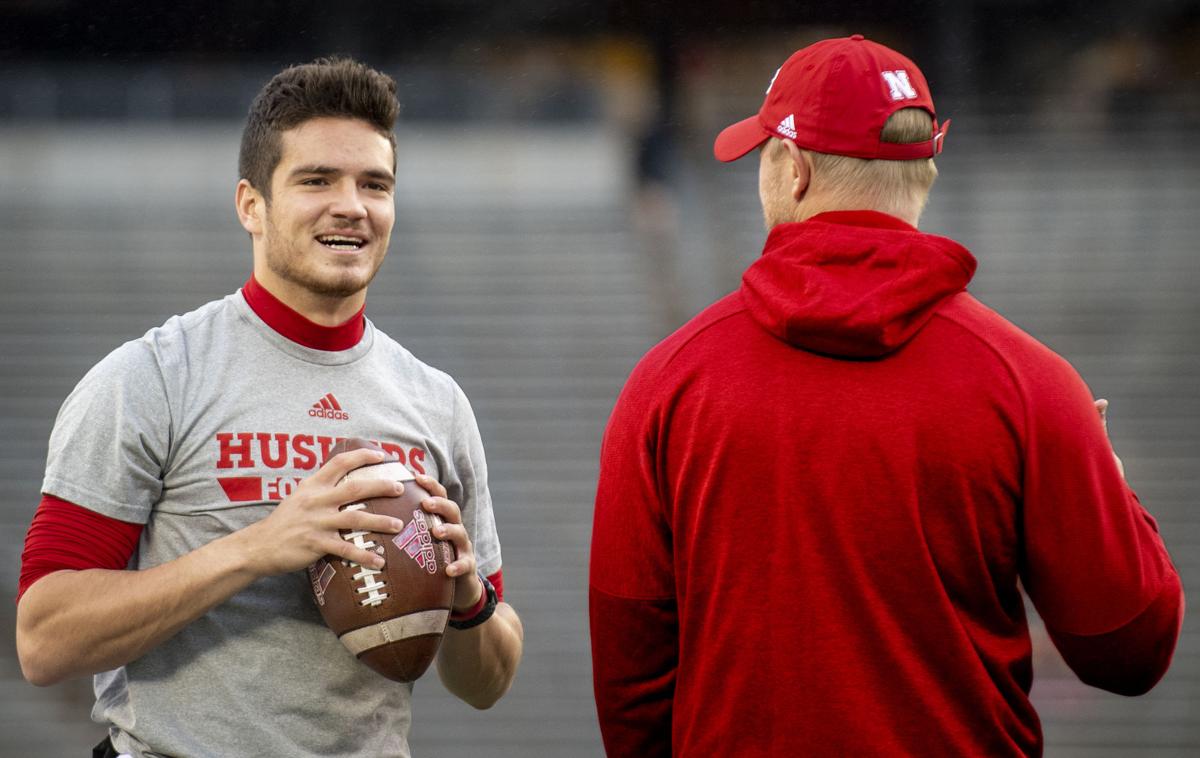 The plan all along for Noah Vedral was to try to use spring football to try to win the Nebraska starting quarterback job.
That went awry, though, when the coronavirus pandemic halted operations after just two practices. What didn't stop was Vedral's eligibility clock. He knew if he was going to make a transfer move, it had to be this spring, given that he was wrapping up his degree from UNL and has two years of immediate eligibility remaining.
That all set in motion a wild couple of weeks that finally settled out Wednesday morning when Vedral announced his commitment to Rutgers, meaning he'll stay in the Big Ten and perhaps even play against Nebraska this fall in New Jersey.
"COVID-19 is rightfully closing things down but it did throw a wrench in my plan," Vedral told the Journal Star on Wednesday morning. "I wanted to compete for the job here, but I also knew that … if it came to pass, that this spring would be the time I need to leave.
"It was not an easy decision. I have a lot of love for Nebraska, obviously, and for coach (Scott) Frost and his staff. They've done a lot for me. But it also just came time that I knew I was ready to be the guy somewhere."
Said Vedral, "I talked to both Coach Frost and (quarterbacks coach Mario Verduzco) before any decision was made and they were both supportive and helpful and I know they've given positive reviews for me to other coaches on my behalf. I'm forever grateful for that.
"I hope to maintain relationships with them for the rest of my life. I owe a lot to them and they'll always have their fingerprints on me as a quarterback."
Vedral's name first appeared in the NCAA's transfer portal just after 4 p.m. April 28. He was on the phone with coaches by 5 p.m. and spent several hours a day for a week sifting through options.
Rutgers was in it early and ultimately prevailed.
"I think the most attractive thing about Rutgers is (head coach Greg) Schiano and (offensive coordinator Sean) Gleeson," said Vedral, who is held in such high regard by the NU coaching staff that he was the rare player who had the option to return after submitting his name into the transfer portal. "(Schiano) is a really good coach and he's had success. He's been a lot of places and he knows how the process of rebuilding is. I believe in him.
"I'm also really excited about Coach Gleeson. I think I'll do well in his offense. It's my style and it's things I do well."
And yes, the Bishop Neumann graduate knows that, should the college football season proceed on schedule this fall, the Huskers are set to visit Rutgers on Oct. 24.
"I knew that would be kind of a big thing," Vedral said. "It will be really weird. I love everybody at Nebraska. I have relationships with my teammates there that I'll have forever. There's no doubt about that. The guys have been really supportive and helpful through this whole thing. It will be weird to play against them and not with them and it will be a weird day, but we'll cross that bridge when we get there."
This isn't exactly how Vedral hoped 2020 would go, but he's confident he's found a spot where he has a great opportunity for playing time and he has the prospect of potentially being a multi-year Big Ten starter right in front of him.
"I really wanted to push Adrian (Martinez) for that spot and I really felt like I had a chance, but with the way spring ball went, that chance wasn't there," he said. "You've got to do what's best for you and at the end of the day it is kind of a business. That sounds so shallow to say it that way because there's so much more that comes into it, but you only get to play this game for so long and nothing's guaranteed."
Be the first to know
Get local news delivered to your inbox!