The pizza was warm, the salad crisp, and the conversation lively.
Nebraska held its weekly news luncheon Monday in advance of Saturday night's game against No. 20 Michigan State.
Some nonfood-related takeaways:  
1. Shift in Frost: Nebraska junior tight end Austin Allen thinks he detected a subtle shift in his head coach's demeanor last week as the team prepared to play third-ranked Oklahoma. 
"You could just tell there was something different with (Scott) Frost," Allen said. "It's kind of carried over (to this week), too." 
What was different about the fourth-year Husker head coach? 
"It was really that there was no more nice guy," Allen said. "It was he's got to be a mean guy. It's kind of what we need. We need a disciplinary guy." 
A team as talent-laden as Oklahoma tends to bring out the best in opponents. If there really was some sort of shift in Frost's demeanor, if he really is operating with a bit of a harder edge, that may help explain it.
He also may be becoming increasingly tired of coming up short in games.
"You could just tell the details were going to matter that much more that week, and every week, really," Allen said. "It was almost like he was setting an example for us of what he wants a leader on the team to look like. It was really promising to me."  
Of course, many Nebraska fans will read this and say, "Why now? Where was this before?" 
Which is partly why I asked Frost about Allen's comments. Was the coach really less tolerant of mistakes last week? 
Frost chuckled a bit before saying, "Maybe. We're not very tolerant of them any time." 
"I'm just going to continue to harp on the guys that if we play with speed and precision, we've got enough talent to be in every game that we play," said Frost, who's 14-22 at NU. "This league's tough. We're going to have eight (more) conference games. I think five of the eight are ranked right now. I don't think there's a team that we can't play with and aren't going to have a chance against.  
"But if you don't play well, any of them can beat you. That's kind of where we are, and that's kind of where the league is. So, mistakes get you beat. They've gotten us beat too often. 
"We need to keep being intolerant."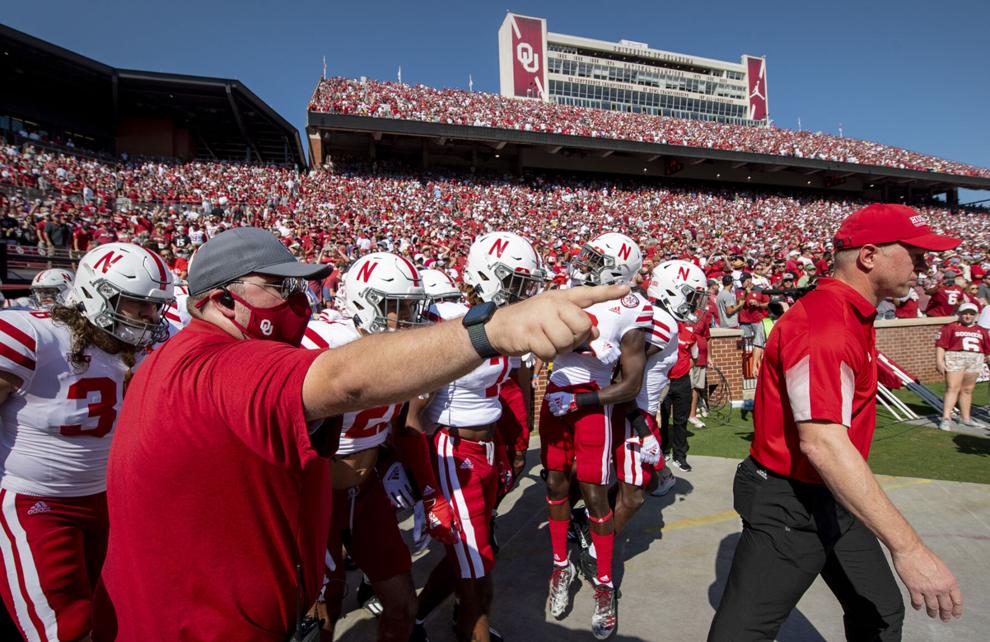 2. Pregame jawing: The atmosphere was intense Saturday at Gaylord Family Memorial Stadium in Norman, Oklahoma. 
Heck, it was intense at 8 a.m. walking to the stadium. You could feel it. It's hard to explain. 
During warmups — about 30 minutes before kickoff — Nebraska and Oklahoma players near midfield jawed back and forth. It was definitely an intense scene. There was a lot of barking and woofing. There was some finger-pointing. 
Allen isn't a big fan of such moments. 
"I think that's the softest thing in football — jabbering and talking," he said. "You have to speak with your play on the field." 
Allen, one of four Nebraska team captains, shoved a handful of teammates away from the fray. He clearly thought the situation could detract from his teammates' focus. 
"Just go play football, that's what I told everybody," Allen said. "I said, 'They can do all the talking they want, we've got to take care of us.' That starts with being the smarter football team. It would have been stupid of us to get a penalty at that moment." 
Sounds like excellent leadership to me. 
3. Fine line: Based on what I heard from several Nebraska players Saturday and Monday, there's no question in my mind that the Huskers are a confident team.  
Frost said they believed wholeheartedly they would beat Oklahoma even though they were three-touchdown underdogs. Many players came away feeling they should've won. But this is where you get to a fine-line conversation. I mean, it's good that Nebraska players are taking positives away from the game. But they shouldn't feel too good about the result, right? 
Make no mistake, Husker senior safety Deontai Williams walks on the correct side of that line. 
"We're tired of being so close," he said. "That takes a toll on you, when you're tired of being so close. We want to win. We get tired of handing out moral victories and stuff like that."
That's what you want to hear from competitive athletes. 
"Nine out of 10 times, we should've beaten them," he said of the Sooners.  
Again, Nebraska is a confident team. But if it keeps losing close games, even against ranked teams, confidence obviously will wane and frustration will mount. Bottom line, this program could really use a big win. Saturday night's game would qualify in that regard. 
4. Perfect answer: Someone pointed out to Nebraska junior Adrian Martinez that he's the first quarterback in school history to have four 1,000-yard passing seasons. Does he ever reflect on all he's accomplished statistically at NU? 
"There's a lot to do right now," he said. "There'll be a time for reflection, and I'll have that time, for sure. But right now it's all about doing, it's all about executing. There's a lot more I want to accomplish, you know? 
"Stats are cool, but at the end of the day, it's about winning. So we've got to do that."